System and Organization Controls, better known as the SOC framework, was developed by the American Institute of CPAs (AICPA).
The AICPA defines three different types of SOC reports.
Understanding the differences between SOC 1 vs SOC 2 vs SOC 3 is important when deciding which type of compliance you need for your business.
Here is the difference between SOC 1, SOC 2, and SOC 3: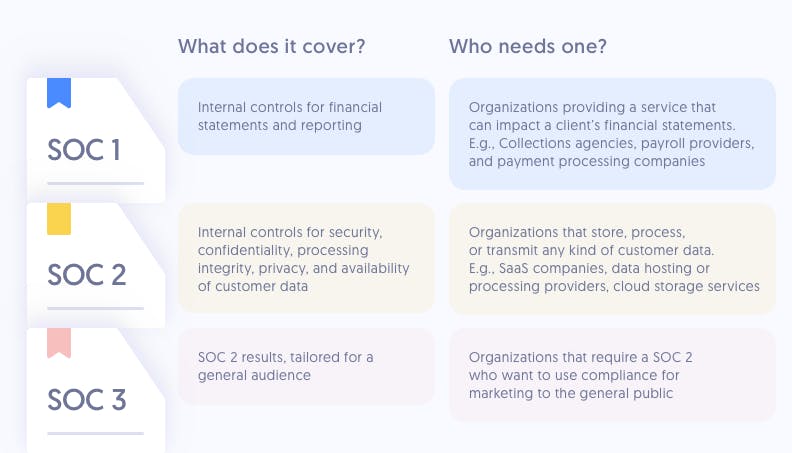 SOC 1 vs 2 vs 3: Understanding Different Types of SOC Reports
A few common questions: is SOC 3 better than SOC 2? Do you need a SOC 1 report before you can get a SOC 2?
It's important to note that the numbers don't indicate a particular sequence or a higher set of standards. A SOC 3 isn't harder to get or more prestigious than a SOC 2, and you don't need a SOC 1 before starting a SOC 2 audit.
SOC 1, 2, and 3 are simply different reporting types.

SOC 1 vs SOC 2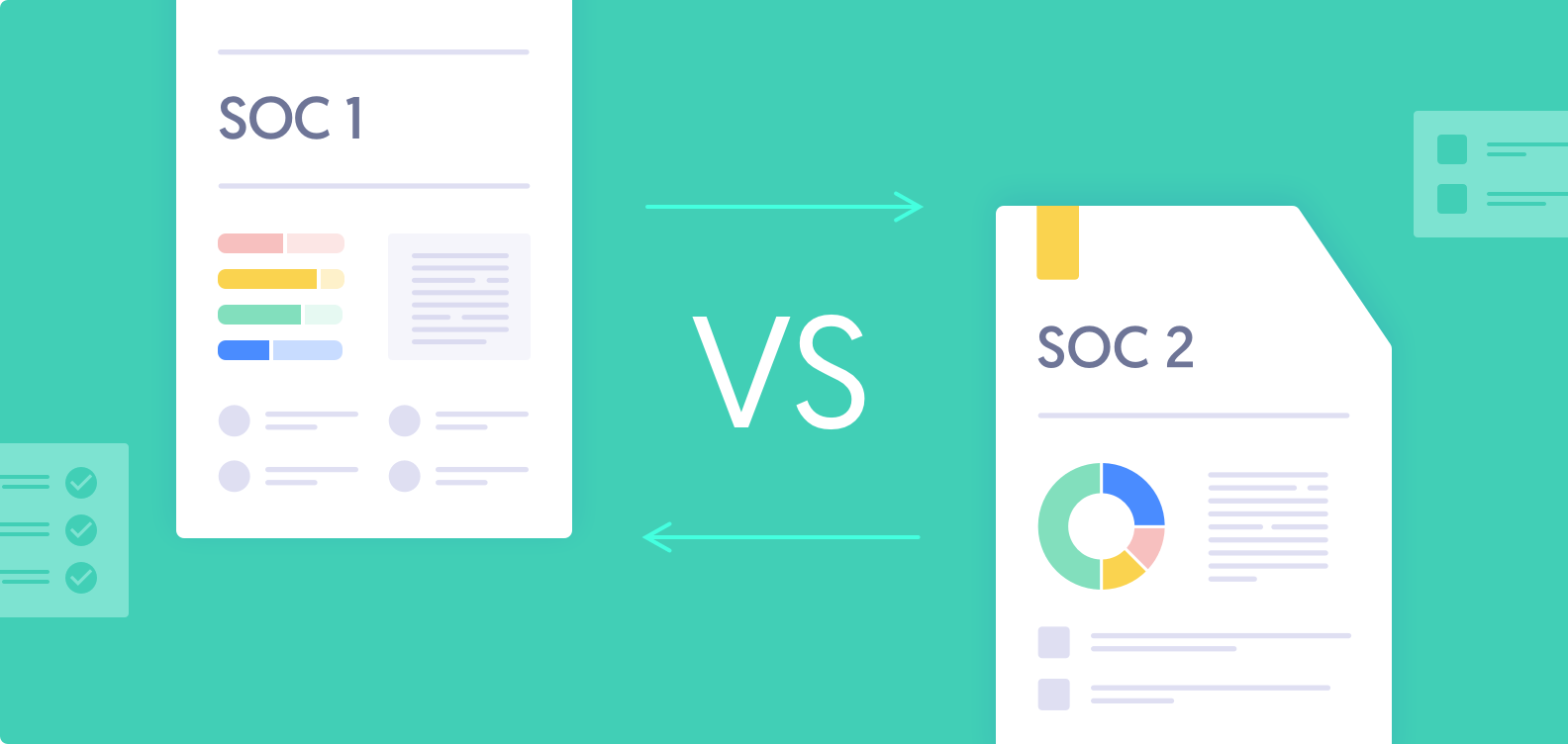 A SOC 1 report is for organizations whose internal security controls can impact a customer's financial statements. Think payroll, claims, or payment processing companies. SOC 1 reports can assure customers that their financial information is being handled securely.
SOC 2 reports help organizations demonstrate their cloud and data center security controls. This security framework is based on the Trust Services Criteria (more on that in a bit).
Both SOC 1 and SOC 2 are attestation reports, where management attests that certain security controls are in place. An independent CPA firm is brought in to verify those claims and either agree or disagree.
Both SOC 1 and SOC 2 also offer Type I and Type II reports.
What is the Difference Between SOC Type I vs Type II?
Type I reports evaluate an organization's controls at a single point in time.
Essentially, the goal is to determine whether the controls put in place are designed correctly. 
A Type II report examines how well those controls perform over a period of time (typically 3-12 months).
Do I want a SOC 2 Type I or SOC 2 Type II?
The most obvious difference between SOC 2 Type I vs SOC 2 Type II is the time period covered by the reports. Type II takes more time and resources, but it's also more valuable to your customers. Enterprise companies or certain industries like finance often prefer to work with companies that have a SOC 2 Type II report.
There are a few scenarios where a Type I report might make sense for your company's needs. For example, say your company hasn't had formal systems in place for very long. A Type I report might be an effective way to demonstrate compliance without waiting months for a Type II report.
A Type II report that covers a shorter, 3-month review period might be the optimal choice if you're on a tight deadline. Especially if your customers are pushing for a more thorough Type II report.
SOC 3 Reports vs SOC 2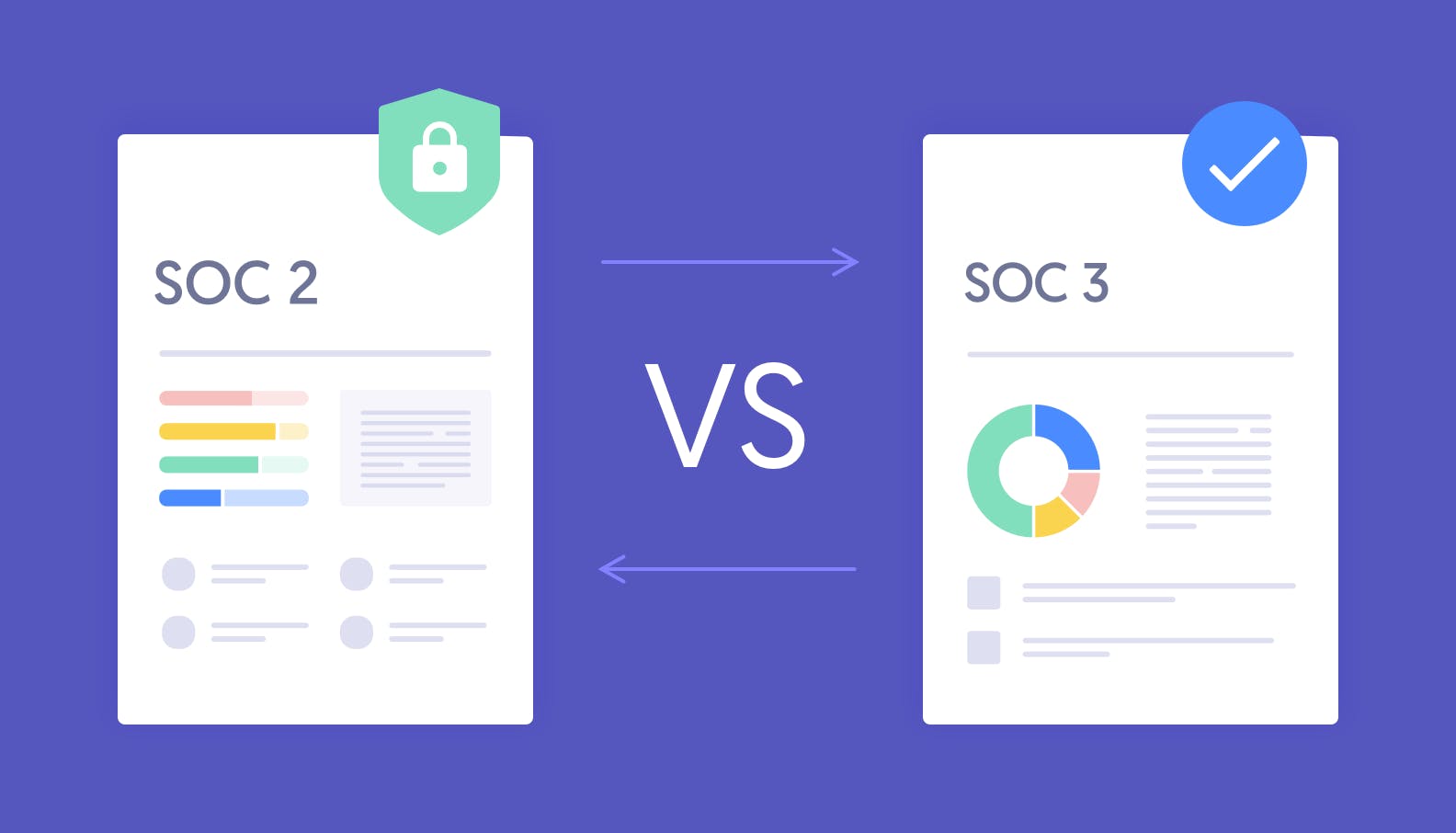 Both SOC 2 and SOC 3 reports are conducted according to SSAE 18 standards, as outlined by the AICPA. Both reports also involve a CPA audit and rigorous testing of an organization's security controls.
But there are a few key differences:
Reporting type: As mentioned above, SOC 2 offers both Type I and Type II reports. SOC 3 reports are always Type II reports.
Level of detail: SOC 3 Type 2 reports do not include detailed descriptions of the auditor's control tests, test procedures, or test results. They do contain the auditor's opinion, management assertion, and system description. Because the report doesn't go into as much detail as a SOC 2, SOC 3 reports usually won't satisfy the needs of your customers or their auditors.
Level of privacy: SOC 2 reports are private, which means they are typically shared only with customers and prospects under an NDA. SOC 3 reports are general use reports that can be distributed freely or posted to the public on an organization's website.
Why Do Customers Always Ask for a SOC 2?
The most commonly referenced report is the SOC 2.
SaaS vendors are commonly asked by their customers' legal, security, and procurement departments to provide a copy of their SOC 2 report.
SOC 2 is not motivated by compliance with legal regulations, unlike many other frameworks such as HIPAA, GDPR, and CCPA. Instead, it helps organizations prove that their internal controls protect customer data.
What are the SOC 2 Trust Services Criteria?
For SOC 2, there are five Trust Services Criteria to evaluate. Out of the five, only Security is required for a SOC 2 report.
Security: Protecting information from unauthorized access
Availability: Ensuring employees and clients can rely on your systems to do their work 
Processing integrity: Verifying that company systems operate as intended
Confidentiality: Protecting confidential information by limiting its access, storage, and use
Privacy: Safeguarding sensitive personal information against unauthorized users
Will I Need Both a SOC 1 and SOC 2 Report?
Which SOC report do you need?
Deciding which SOC report makes the most sense for your company depends on the type of information you're processing for your customers.
For example, if you're providing payroll processing services, you'll most likely need a SOC 1. If you're hosting or processing customer data, you'll need a SOC 2 report. SOC 3 reports are less formal and are best used as marketing material.
Some organizations need both a SOC 1 and SOC 2 report. This will depend on the services you provide and your customers. You may have customers requesting a SOC 1 and other customers requesting a SOC 2. There is overlap across both, which can streamline readiness and testing.