The Cost Benefits of SOC 2 Automation
Join the thousands of companies using Secureframe
No matter how you slice it, a SOC 2 report requires a substantial investment of time, money, and effort to achieve.
But it doesn't have to be so costly.
Automation can slash the time and money needed to achieve compliance by making the entire process more efficient.
How Long Does a SOC 2 Audit Take Without Automation?
Because SOC 2 audits require so much upfront work, it's worth breaking the process down into pre-audit prep and the audit itself.
The pre-audit phase typically lasts 2-9 months, consisting of:
Scoping your audit
Evaluating your systems
Conducting a gap analysis
Implementing new controls
Training your employees
Writing new policies and procedures
Compiling the necessary documentation
Completing a readiness assessment
The formal audit itself can take between 1-3 months, depending on the scope and complexity of your audit. And the number of additional evidence requests and control tests your auditor has to issue.
The auditor will gather and review all of your evidence documentation, interview members of your team, and finally issue your formal SOC 2 report.
Altogether, most organizations are able to complete a SOC 2 Type I report in 1-4 months. A SOC 2 Type II report can be completed in 3-12 months.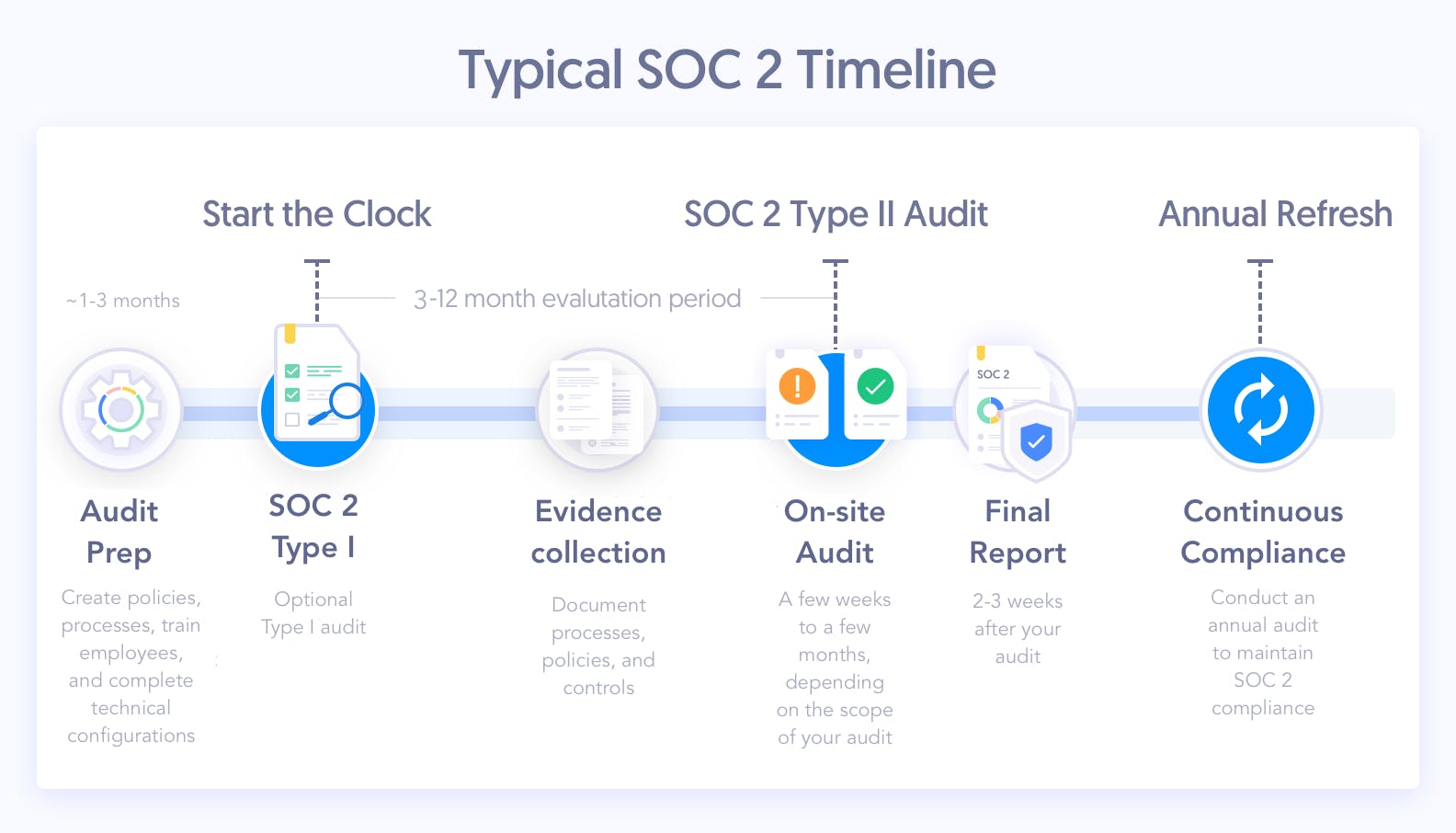 How Much Does a SOC 2 Audit Cost Without Automation?
The cost of a SOC 2 audit varies. It depends on:
The size of your company
Whether you're pursuing a Type I or a Type II report
The scope and complexity of your audit
The level of prestige of your auditing firm
On average, companies can expect to pay between $10-60k for the audit alone.
In addition to the formal audit, SOC 2 costs often include:
Readiness Assessments
A readiness assessment determines how ready your organization is for a successful SOC 2 audit. It will also help you spot potential gaps in your controls and create a plan for fixing them. A professional SOC 2 readiness assessment costs between $10-17k, depending on the size of your organization and the scope of your audit.
Security Tools and Training
Fixing gaps in your data management system can mean purchasing new security tools. You might also need to invest in employee security training or even hire more employees.
Consulting Fees
Some companies without an internal compliance team choose to hire a consultant. These security consultants can help conduct a gap analysis, remediation plan, and assist in audit prep. If you choose to hire a consultant, expect to pay an additional $25-85k depending on the scope of your systems.
Between preparation and the audit itself, the total cost of achieving SOC 2 compliance can land between $60k and over $100k. And because SOC 2 reports need to be renewed on an annual basis, many of these are recurring costs.
Why Automation is a Game-Changer for SOC 2 Audits
Secureframe's compliance automation streamlines the entire audit process.
We save teams hundreds of hours and thousands of dollars spent writing security policies, collecting evidence, hiring security consultants, and performing readiness assessments.
Our customers have prepared for a successful SOC 2 audit in just a few weeks. And because Secureframe continuously monitors your infrastructure and alerts you of vulnerabilities, you'll get your SOC 2 report faster, save money, and strengthen your security posture.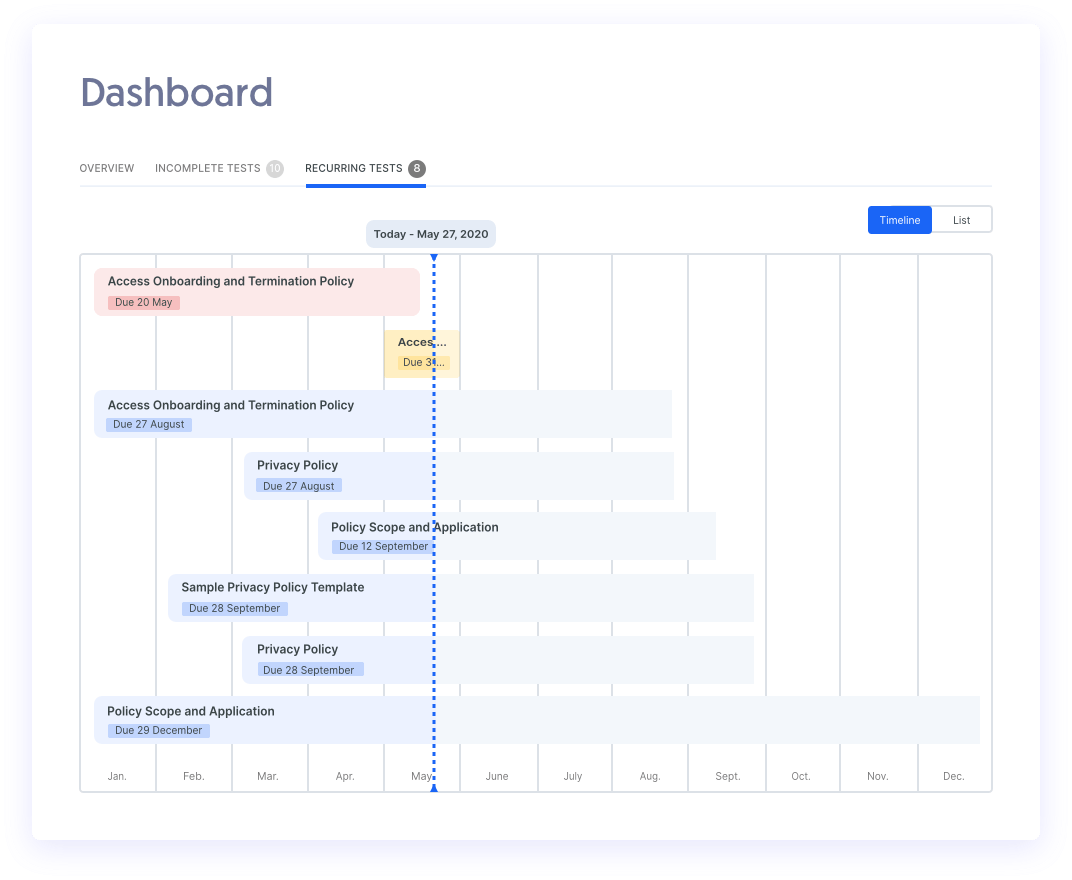 Checklists and Dashboards for Easy Audit Prep
Assign tasks to individuals on your team throughout your preparation and audit and track your progress towards being audit-ready. You'll get a real-time view of what's looking good and what you can do to improve before bringing in your auditor.
Automated Evidence Collection to Streamline Audits
We automatically pull evidence throughout the year for seamless submission to your auditor. Easily upload and classify any additional evidence to the Data Room for export.
Expert Support from Readiness to Report
Our team of in-house compliance experts has decades of audit advisory and consulting experience. They understand your company's specific requirements, provide tailored advice for an ironclad security posture, and guide you through a successful audit.
Continuous Monitoring to Maintain Compliance
From your cloud infrastructure to your vendor ecosystem, we continuously scan and monitor your tech stack for vulnerabilities and help you stay compliant.
Hundreds of companies trust Secureframe to streamline SOC 2 compliance.