SOC 2 Type II Compliance: Definition, Requirements, and Why You Need It
In 2022, over 422 million people were affected by data breaches, leakage, and exposure. According to research by IBM & Ponemon Institute, nearly 30% of businesses will experience a data breach in the next two years.  With this kind of risk environment, potential customers want proof that they can trust you to keep their sensitive data safe. One of the best ways to provide this assurance is a SOC 2 Type II report. 
What is a SOC 2 Type II, and how do you get one? How is it different than a SOC 2 Type I?
In this article, we'll explain everything you need to know about SOC 2 Type II compliance. Learn how it differs from other SOC reports, how it can benefit your SaaS business, and what it takes to get SOC 2 Type II compliant.
What is the AICPA SOC 2 framework? SOC 1 vs SOC 2 vs SOC 3
In today's cyberthreat-infested landscape, customers demand honesty and transparency in how you handle their sensitive data. They'll want you to complete detailed security questionnaires or see proof that your organization complies with security frameworks such as SOC 2 or ISO 27001.
The System and Organizations Control (SOC) framework's series of reports offer some of the best ways to demonstrate effective information security controls. 
SOC 1, SOC 2, and SOC 3 are different types of SOC reports.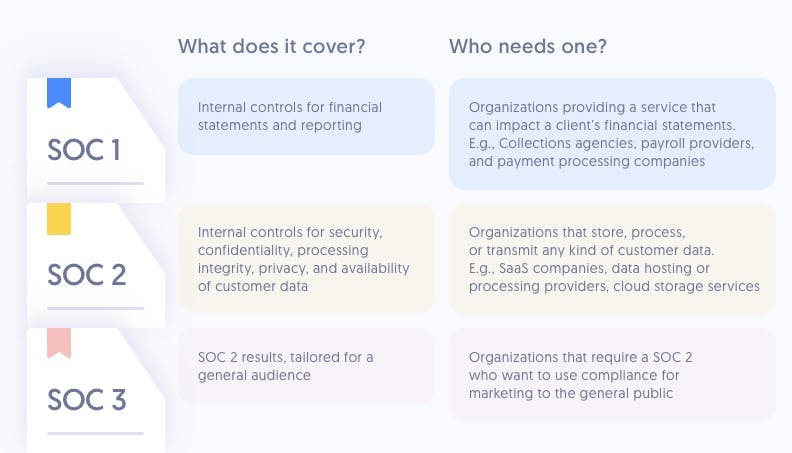 A SOC 1 report is for companies whose internal security controls can affect a user entity's financial reporting, such as payroll or payment processing companies. 
SOC 2 reports help organizations prove their information security controls based on five Trust Services Criteria (TSC): security, availability, processing integrity, confidentiality, and privacy. 
A SOC 2 report assures user entities that:
You have the required data security controls in place to protect customer data against unauthorized access 
You can detect anomalies and security incidents across the entire ecosystem
Besides preventing risk situations, you can quickly repair damage and restore functionality in the event of a data breach or system failure 
SOC 3 reports are similar to SOC 2 in that they are both assessed against AICPA SSAE 18 standards. However, SOC 3 reports are less detailed, general use reports that can be distributed or posted to the public. SOC 2 reports are private internal documents, typically only shared with customers and prospects under an NDA. 
Recommended Reading
What is the difference between a SOC 2 Type 1 and SOC 2 Type 2 report?
There are two different types of SOC 2 reports: SOC 2 Type I and SOC 2 Type II.
The SOC 2 Type I report covers the suitability of design controls and the operating effectiveness of your systems at a specific point in time. It affirms that your security systems and controls are comprehensive and designed effectively. 
Because of this shorter audit window, a SOC 2 Type I report is faster and less expensive than a SOC 2 Type II report. 
The SOC 2 Type II report assesses the operating effectiveness of your internal controls over a period of time, typically 3-12 months. SOC 2 Type II audits require a greater investment of both time and resources.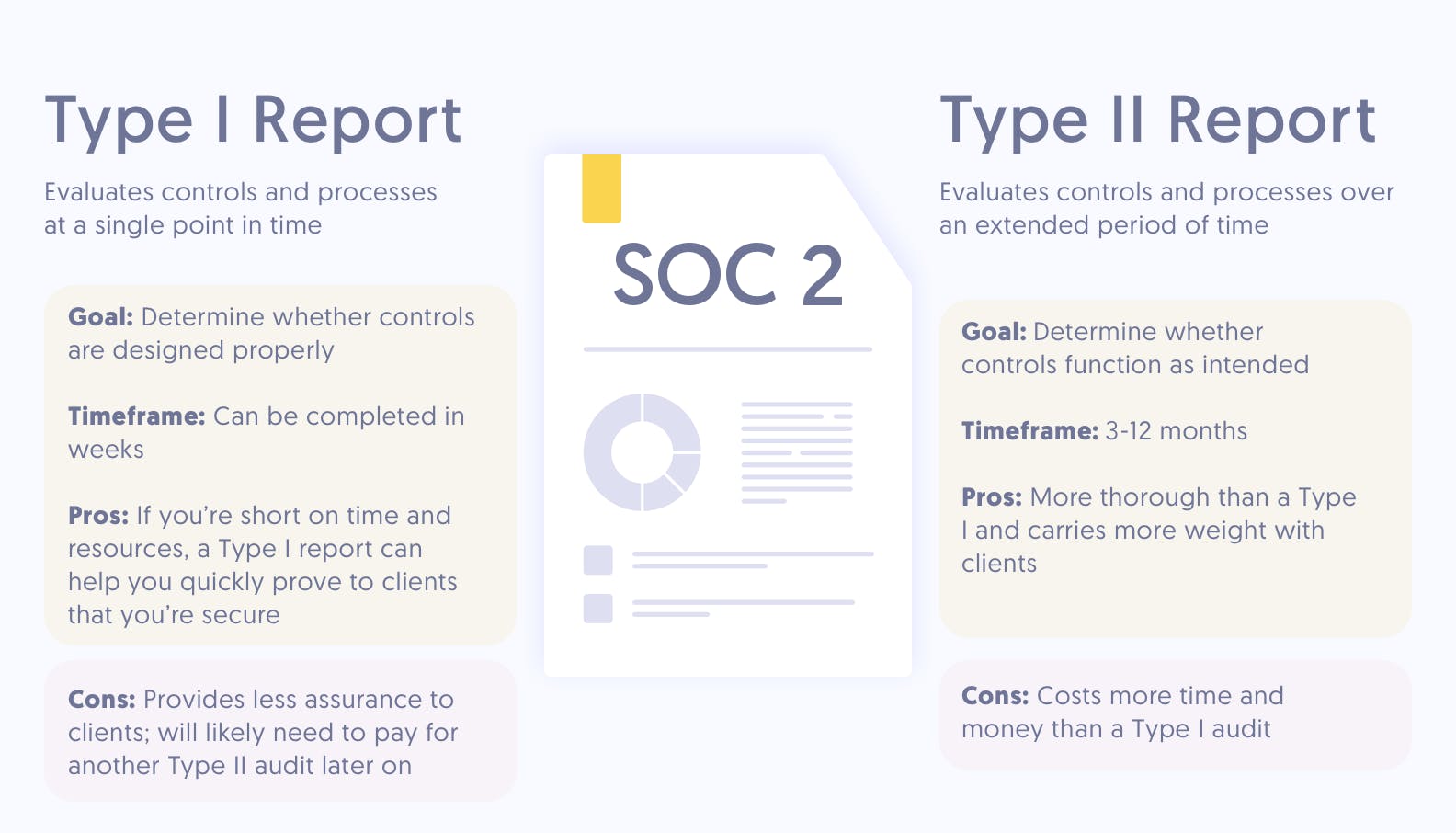 Benefits of SOC 2 Type II compliance
Businesses have been moving operations from on-premise software to a cloud-based infrastructure, which boosts processing efficiency while cutting overhead expenses. However, moving to cloud services means losing tight control over the security of data and system resources. 
People outside your organization will host, handle, and maintain data on your behalf. The sub-processor will have access to your sensitive information, which leaves you vulnerable to data breaches. Research by Verizon shows that 72% of large businesses and 28% of small businesses are victims of data breaches.
A SOC 2 report assures your customers that your security program is properly designed and operates effectively to safeguard data against threat actors. 
It shows that you're responsible with: 
Process monitoring
Encryption control
Intrusion detection
User access authentication
Disaster recovery
The extra time and money you invest in a SOC 2 Type II audit can deliver incredible value to your organization. SaaS vendors are typically asked by their customers' legal, security, and procurement departments to provide a copy of their SOC 2 report. Without one, the sales process can grind to a halt — especially when moving upmarket. 
Other benefits of SOC 2 compliance include: 
Protection against data breaches: A SOC 2 report can also protect your brand's reputation by establishing best practice security controls and processes and preventing a costly data breach. 
Competitive differentiation: A SOC 2 report offers potential and current customers definitive proof that you are committed to keeping their sensitive data safe. Having a report in hand provides a significant advantage to your company over competitors that don't have one. 
Efficient internal processes: Going through a SOC 2 audit can pinpoint areas where your organization can streamline processes. It also ensures everyone within your company understands their role and responsibilities regarding data security. 
If you're working towards a SOC 2 Type II report, here are a few things you should know.
SOC 2 Type II report scope
A SOC 2 Type II report focuses on the American Institute of Certified Public Accountants (AICPA) Trust Service Criteria (formerly the Trust Service Principles). It examines a service provider's internal controls and systems related to security, availability, processing integrity, confidentiality, and privacy of data.
Moreover, SOC 2 Type II delves into the nitty-gritty details of your infrastructure service system throughout the specified period. 
It focuses on the following areas:
Infrastructure: The physical and hardware components (networks, facilities, and equipment) that support your IT environment and help you deliver services. 
Software: The operating software and programs (utilities, applications, and systems) you use to facilitate data and system processing.
People: The personnel (managers, developers, users, and operators) involved in the management, security, governance, and operations to deliver services to customers. 
Data: The information (files, databases, transaction stream, and tables) you use or process within the service organization. 
Procedures: The manual or automated procedures that bind processes and keep service delivery ticking along. 
Who needs a SOC 2 Type II report?
SOC 2 Type II applies to any business handling sensitive customer information. It's useful for cloud computing vendors, managed IT services providers, software-as-a-service (SaaS) providers, and data centers. 
Why do service organizations choose SOC 2 Type II over SOC 2 Type I? Generally, it comes down to what customers, prospects, partners, and investors demand.
A SOC 2 Type I report demonstrates your commitment to protecting sensitive data. However, it only represents a point-in-time snapshot, which may not be sufficient for enterprise clients.
The SOC 2 Type II report breaks that ceiling, allowing businesses to scale to the next level and net contracts with larger enterprises that know their databases are prime targets for cybercriminals and want to avoid costly hacking incidents.
Whether you're wooing startups or enterprise clients, customers want assurance that you've woven security controls into your organization's DNA. They also want to see that you have defined risk management, access controls, and change management in place, and that you monitor controls on an ongoing basis to make sure they are working optimally. 
What happens during a SOC 2 Type II audit?
A typical SOC 2 Type II audit involves the following stages:
Scoping procedures: Determine applicable trust principles with the help of a certified CPA. 
Gap analysis or readiness assessment: The auditor will pinpoint gaps in your security practices and controls. Moreover, the CPA firm will create a remediation plan and help you implement it.
Attestation engagement: The auditor will set the list of deliverables as per the AICPA attestation standards (described below). They will then perform the examination to determine the suitability of design controls and operating effectiveness of systems relevant to the applicable TSC over the specified period. 
Report writing and delivery: The auditor will deliver the report covering all the areas described above. 
As per AICPA requirements, only licensed CPA firms can conduct a SOC 2 audit. 
The SOC 2 Type II report includes four main sections:
1. Management assertion
The management assertion is where organization leadership makes claims about its own systems and organization controls. The auditor measures your description of infrastructure service systems throughout the specified period against the relevant Trust Services Criteria. 
2. Independent auditor's report
In this section, the auditor provides a summary of their examinations per AICPA's attestation standards. 
The auditor will deliver their opinion on whether:
The management assertion is fairly presented as per the description criteria
The internal controls were suitably designed and worked effectively to meet applicable TSPs throughout the specified period
3. System description
This section offers a detailed overview of the services you provide and the systems under audit, including people, processes, data, software, and infrastructure.
It also describes relevant aspects of the internal control environment, monitoring, information and communication, and risk assessment processes. 
4. Control tests for applicable Trust Services Criteria
Here you'll find a description of every test the auditor performed over the course of the audit, including test results, for the applicable TSC.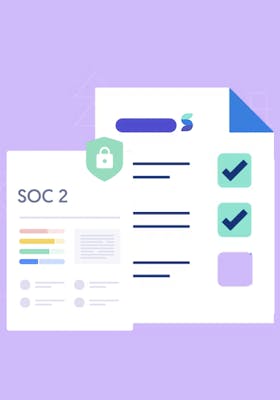 The SOC 2 Compliance Kit
Simplify the SOC 2 compliance process with key assets you'll need to get your report, including a SOC 2 guidebook, customizable policy templates, readiness checklist, and more.
How long is a SOC 2 Type II report valid?
The SOC 2 (Type I or Type II) report is valid for one year following the date the report was issued. Any report that's older than one year becomes "stale" and is of limited value to potential customers.
As a result, the golden rule is to schedule a SOC audit every 12 months. 
However, the annual audit rule isn't written in stone. You can undertake the audit as often as you make significant changes that impact the control environment. For example, if your service organization is facing ongoing concerns about cybersecurity controls, you can undergo SOC 2 Type II audits bi-annually. 
Keep in mind your customers are watching how frequently you schedule SOC 2 reports. Any irregular scheduling could signal a lack of commitment to SOC 2 compliance. 
How much does a SOC 2 Type II audit cost?
SOC 2 Type II auditing costs vary between $10,000 and $60,000, on average. The cost will depend on factors such as:
The number of applicable Trust Service Criteria
The scope and complexity of your control environment
The number of in-scope applications
The number of employees and physical locations included in the audit
The level of support needed throughout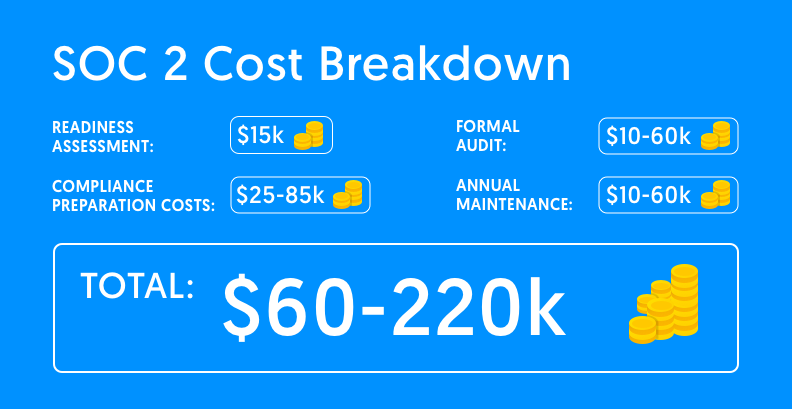 A faster, easier path to SOC 2 Type II compliance
Getting a SOC 2 Type II audit report can be expensive, time-consuming, and overwhelming. Beyond the capital investments, the auditing process can take precious time away from your employees, impacting overall productivity. 
Secureframe's compliance automation platform streamlines the entire process, helping you get audit-ready in weeks, not months: 
Save time on policy creation with our library of auditor-approved policy templates
Automatically collect evidence and share with your auditor in a secure Data Room
Continuously monitor your tech stack and get alerts for threats and non-conformities to easily maintain compliance year after year
Achieve compliance across multiple frameworks, including ISO 27001, PCI DSS, HIPAA and over a dozen more
Get expert, end-to-end support from compliance experts and former auditors throughout the entire process
Learn more about how our platform can help you achieve SOC 2 compliance, or schedule a demo today.
Use trust to accelerate growth