How Long Does a SOC 2 Audit Take?
The traditional process of getting a SOC 2 report can be pretty lengthy and involved. Especially if you opt for a SOC 2 Type II report.
Compliance automation software can slash this timeline from months to weeks. By automatically monitoring your infrastructure and collecting evidence, it cuts audit preparation from months to weeks.
Regardless of which approach you choose, SOC 2 has three phases: the pre-audit, audit window, and the audit itself.
In this article, we'll outline how long it takes to get a SOC 2 report with and without automation.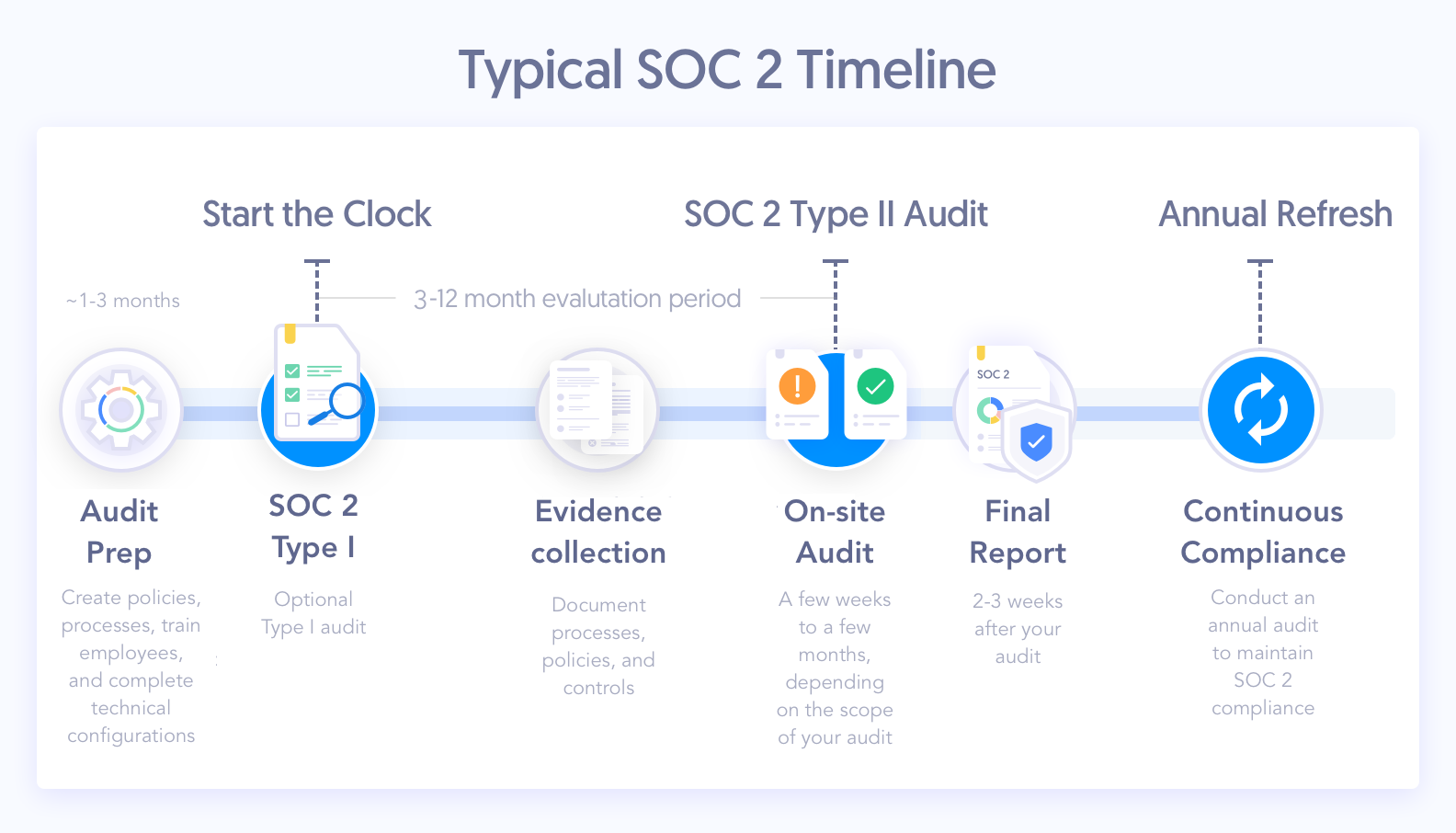 SOC 2 Type I Audit Timeline
Pre-Audit Phase Month 1 - Month 3
Step 1: Create policies
Step 2: Establish and document procedures
Step 3: Update internal processes
Step 4: Complete technical configuration remediation
Step 5: Train and educate employees
Audit Phase Month 4
Step 6: Begin the Type I audit
Step 7: Receive your SOC 2 Type I report
SOC 2 Type II Audit Timeline
Pre-Audit Phase Month 1 - Month 9
Step 1: Select SOC 2 Type I or Type II
Step 2: Define the audit scope
Step 3: Conduct a gap analysis
Step 4: Complete technical configuration remediation
Step 5: Collect documentation
Step 6: Complete a readiness assessment
Audit Window Phase 
Step 7: Begin 3, 6, 9, or 12 month review period 
Audit Phase Month 9 - Month 12
Step 8: Start the formal audit process
Step 9: Receive your SOC 2 report
How Long Does It Take to Get SOC 2 Compliance?
Pre-audit phase: 2 weeks-9 months
First, you'll choose your report type, Type I or Type II, and select your Trust Services Criteria. You can include only Security or all five TSC. You'll also determine the time frame and scope of your audit.
Next, you'll assess the current state of your systems. Conduct a gap analysis to determine what you need to bring your controls in line with SOC 2 requirements.
Then you can work to close the gaps and compile the necessary documentation. You may also complete a readiness assessment to ensure you're prepared. After passing the readiness test, you can start the SOC 2 audit process.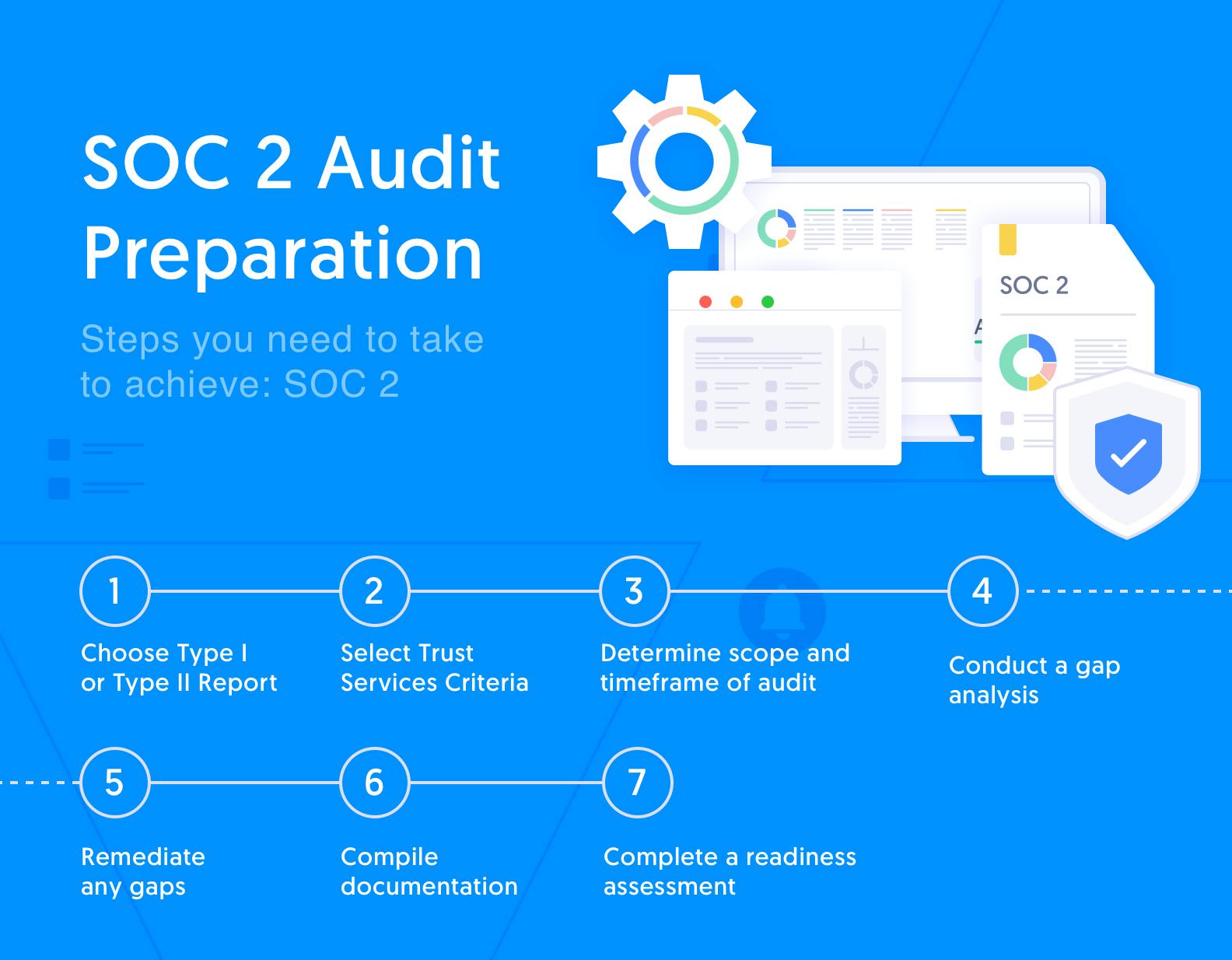 Audit Window Phase (Type II Report): 3, 6, 9, or 12 months
This is your audit window and will determine the period of time that's covered in your final SOC 2 Type II report. This is when you'll collect evidence and document how your controls are performing. 
Audit phase: 1-3 months
Your auditor will set a list of deliverables and perform a series of control tests based on the Trust Service Criteria you've selected.
Next, your auditor will gather evidence, collect and review documentation, and interview members of your team.
Once they have the information they need, they'll write up your formal SOC 2 report. This report will include the auditor's decision on whether you passed the audit.
The actual SOC 2 audit typically takes between five weeks and three months. This depends on factors like the scope of your audit and the number of controls involved.
How Compliance Automation Streamlines SOC 2
Traditional SOC 2 audits require a ton of prep work.
You have to write a bunch of policies, collect and organize hundreds of pieces of evidence, hunt down vendor security certificates, and do a slew of other tedious, time-consuming tasks. It's a slog.
Secureframe can make the entire audit process way more efficient.
We help companies get their SOC 2 in a fraction of the time — even compared to other compliance automation vendors. 
Here's how:
Automated Evidence Collection
Our platform automatically collects evidence during your audit window. It also ensures you stay secure by alerting you of any vulnerabilities in your tech stack and telling you how to fix them.  
Policy Libraries
Instead of writing a bunch of policies from scratch, you can choose from our library of templated policies and customize from there. They're all vetted and approved by ex-auditors and compliance experts.
Vendor Management
Instead of you requesting security certificates from all of your vendors, Secureframe fetches their security data for you. We'll also perform vendor risk assessments and provide detailed risk reports.
Audit Prep Dashboards
Assign tasks to individuals on your team and track your progress towards being audit-ready. You'll get a real-time view of what's looking good and what you can do to improve before bringing in an auditor.
Our customers have gotten ready for a successful SOC 2 audit in just a few weeks.
Join the hundreds of companies using Secureframe