Join the thousands of companies using Secureframe
Attaining a SOC 2 report is no small endeavor. It takes a significant amount of planning, work, and money to achieve, so it's natural to wonder if it's all worthwhile. Does having those three little letters really make that big of a difference? Why is SOC 2 compliance important?
The benefits of SOC 2 compliance extend far beyond having the actual report in hand.
Here are some of the many advantages you'll see by complying with the SOC 2 framework.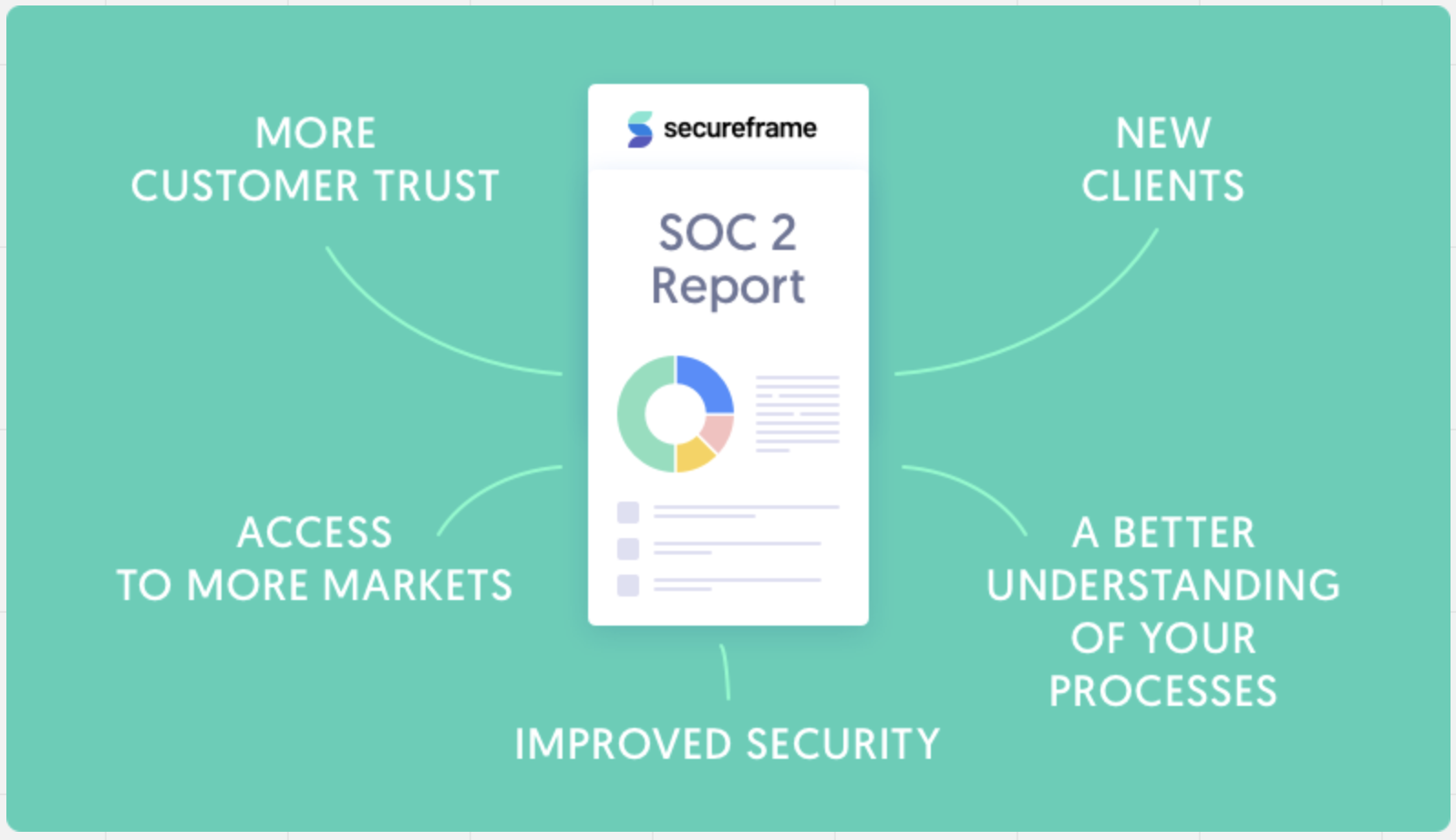 Protects Your Brand's Reputation
SOC 2 helps protect your brand's reputation.
It doesn't matter how excellent your brand is or how loyal your customers are. If you get lax about security and experience a data breach or exposure, customers will leave your company in droves.
A single breach can be devastating to your brand reputation. Not to mention cost millions on recovery and cleanup, implementing new controls, and recovering customer trust.
SOC 2 processes and controls can protect your company from these devastating consequences.
Distinguishes You from the Competition
Any company can say they make the customer's safety and security a top priority. But customers don't care much for these claims without the evidence to back them up.
That's exactly what a formal SOC 2 audit can provide you.
Achieving and maintaining SOC 2 compliance proves that you have top-notch security.
It also shows customers that you're committed to keeping their data safe. This differentiation might just be the nudge they need to choose your company over a competitor that lacks a SOC 2 report.
Having that SOC 2 certification is a tangible way to give prospects the peace of mind they need to do business with you.
Attracts More Customers
By becoming compliant with SOC 2, you can attract security-conscious prospects, boosting your sales. Prospective clients certified in SOC 2 will often only work with your firm if you also have a SOC 2 report for certain Trust Services Criteria.
You'll also build trust with customers much faster. Stronger trust creates more long-term customers. It increases customer lifetime value and growth opportunities while cutting marketing costs.
Improves Your Services
A SOC 2 audit doesn't just tell you where security can and should be improved. It also shows you ways you can streamline your organization's controls and processes.
This allows you to make security improvements that increase efficiency within your organization. You'll have more time and resources to invest in your products and services, boosting quality and customer satisfaction.
SOC 2 pushes organizations to build strong, sustainable security processes, not put out fires as they arise.
It also encourages companies to establish security processes that become ingrained in the company culture. Things like enabling multi-factor authentication or single sign-on, establishing documentation and policies, etc. These all become part of the everyday DNA of how work gets done at your company.
Having all of this baked in makes it that much easier for you to land bigger deals, prepare for mergers or acquisitions, or secure a new funding round.
Saves You Time and Money in the Long Run
Without a SOC 2 report in hand, you'll probably have to fill out lengthy security questionnaires for every enterprise customer.
These questionnaires can be incredibly detailed, specific, and difficult to fill out if you don't already have processes and documents in place. Having a SOC 2 report helps you sell to larger companies and gives you a set of solid best practices for protecting sensitive data.
In addition, SOC 2 compliant policies, procedures, and controls will make it easier to achieve other security certifications.
For example, SOC 2 compliance shares a lot of requirements with ISO 27001 guidelines. Getting a SOC 2 report makes getting your ISO 27001 certification faster and less expensive.
Are SOC 2 reports required?
Technically, no. But in practice, they might as well be.
SOC 2 compliance is becoming an expectation among customers, particularly enterprise brands. Not to mention, getting a SOC 2 report offers a long list of compelling benefits.
The faster you can become compliant, the sooner you can bolster customer trust and stand out in the marketplace.