Define Your SOC 2 Audit Scope
Join the thousands of companies using Secureframe
One of the most crucial aspects of preparing for your SOC 2 audit is defining scope.
Why is scoping your audit correctly important?
Include too much in your audit, and you waste time and resources putting controls in place for risks that don't exist for your organization. Not to mention the audit itself will take longer and cost more to complete.
But if your SOC 2 scope is too narrow, you could be overlooking security risks and leaving your business vulnerable. And you're not giving your customers the depth of assurance they need to do business with you.
Here are some essential questions that can help you define the scope of a SOC 2 audit.
Which Service(s) Do You Need to Get a SOC 2 For?
Some organizations choose to get a SOC 2 report on a specific service. 
For example, Google has a SOC 2 for Google Workspace, one for Google Cloud, etc. Or you can get a SOC 2 on your company's service as a whole. 
Ultimately, it depends on how uniquely different your company's services are. 
Which Trust Services Criteria Apply to Your Business?
Your SOC 2 audit will only cover the Trust Services Criteria that you choose to include.
Deciding which ones are relevant can be tricky, especially for companies that haven't been through the audit process before.
To decide if a TSC is relevant, ask yourself this question. If we can't guarantee that we live up to this TSC, does it fundamentally damage our relationship with our customers? I
f the answer is yes, that TSC is likely within the scope of your audit.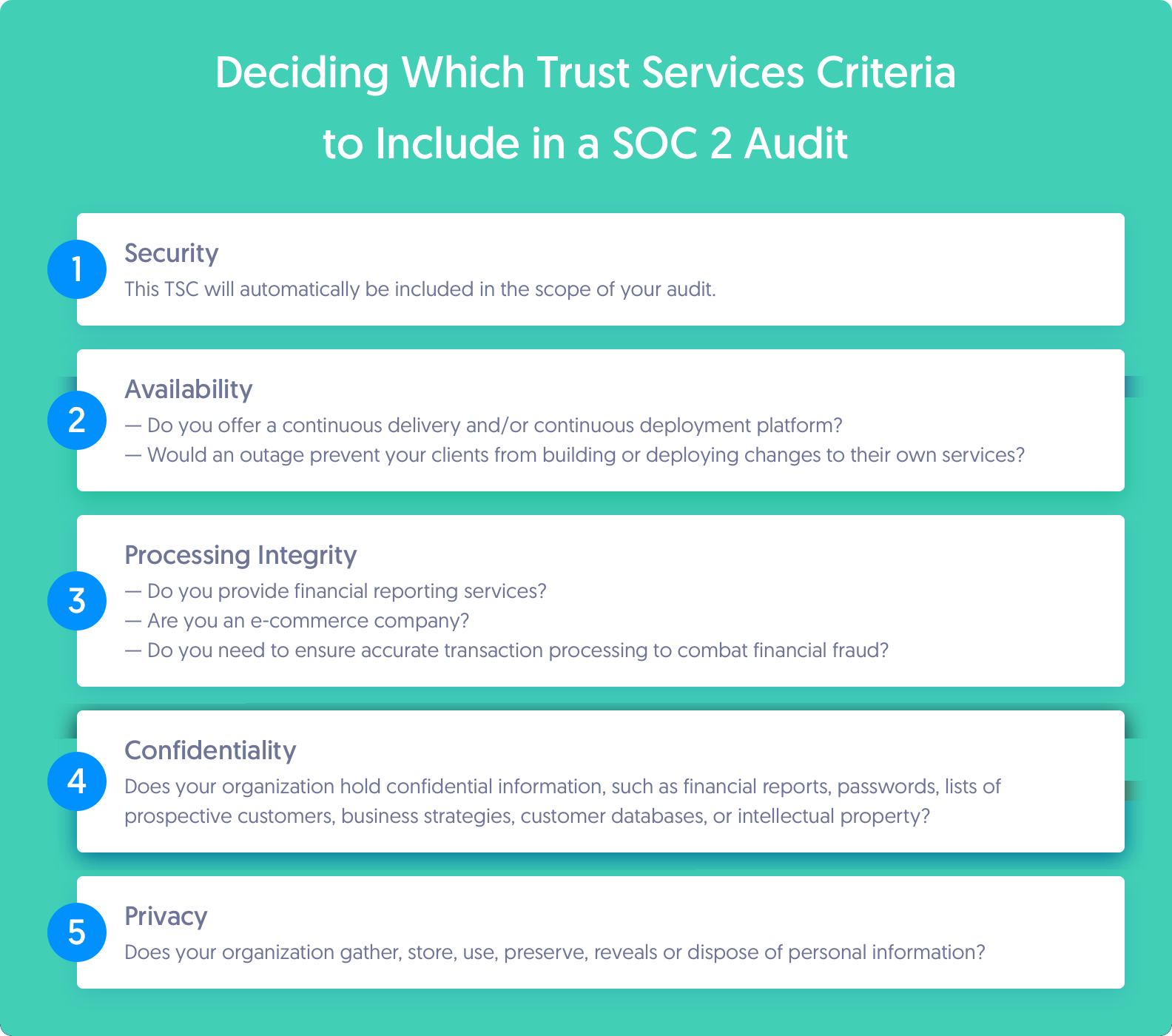 Which Systems, Policies, and Procedures Support Your TSC?
These systems and policies are the foundation you'll build your internal controls around.
They're also the details your auditor will examine when deciding whether your organization is SOC 2 compliant. You'll need to collect documentation and evidence to support each one.
Do You Need a Type I or Type II Report?
Most often, the decision boils down to how fast you need a SOC 2 report.
Type I reports evaluate your internal controls at a single point in time.
Type II reports assess how well your controls perform over an extended period of time. 
Because of the nature of the different report types, Type I reports can be completed much faster than Type II reports.
If you can't wait months to put systems in place, a Type I report or a 3-month Type II report is likely the best option for your business. Going straight for a Type II report is recommended since more customers are refusing a Type I report. If your customers include finance or insurance companies, they may require a Type II report to work with you.