 GDPR
Achieve and maintain GDPR compliance quickly and securely
Secureframe streamlines the General Data Protection Regulation (GDPR) compliance process with guidance at every step so you stay compliant with European data privacy regulations.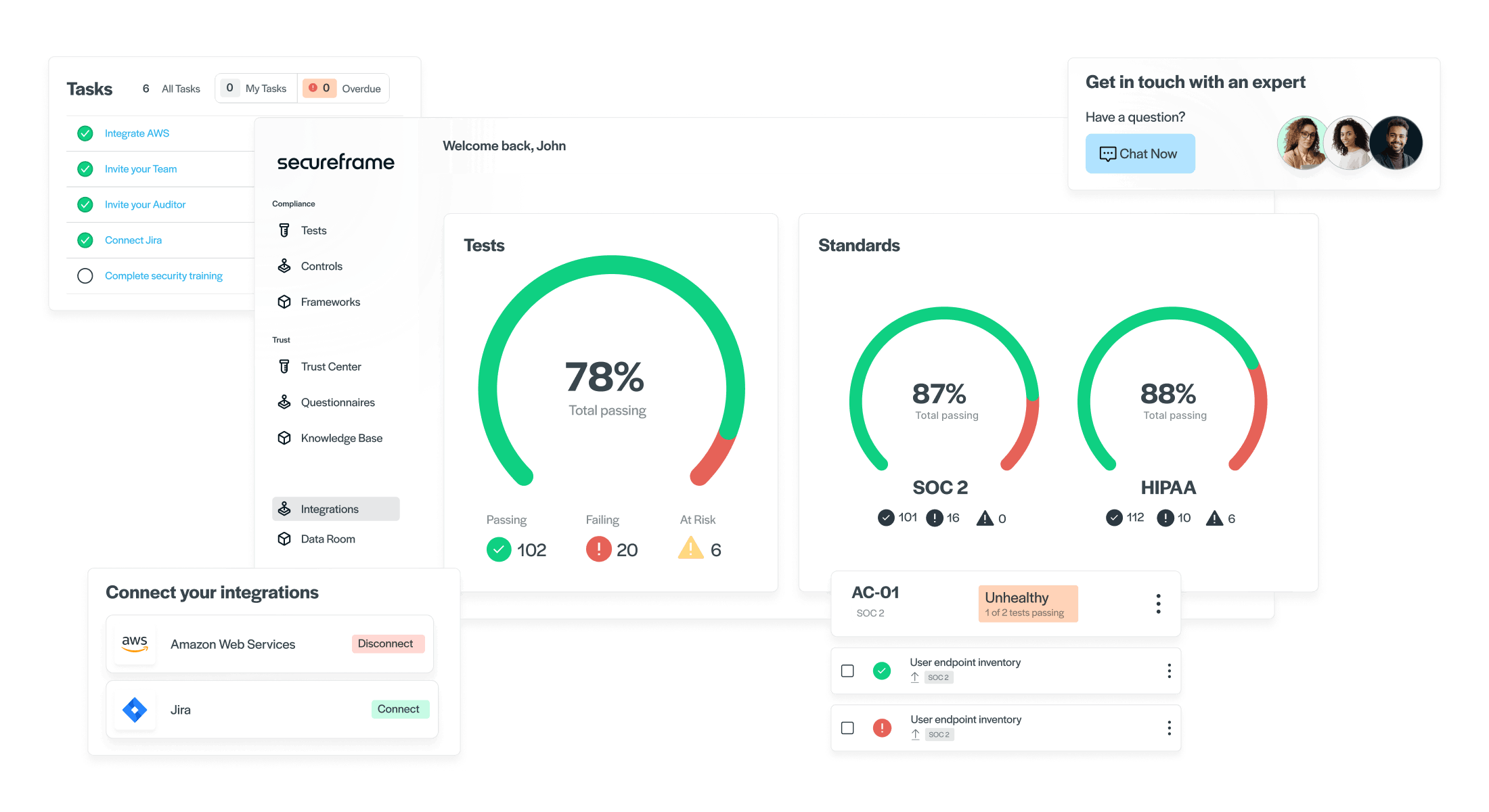 Easily uphold EU privacy and security requirements
GDPR is required for all organizations that handle European Union (EU) and United Kingdom (UK) customer data. Uphold the various privacy and security requirements to avoid costly fines.
Ensure you are GDPR compliant
Secureframe simplifies GDPR requirements so you know exactly what steps you need to take.  Save time, strengthen your privacy posture, and confidently achieve compliance.
End-to-end compliance
Meet our dedicated customer support team, set up your GDPR policies, and train your employees.
Automated cloud scanning
Connect your cloud services to automatically check if you are configured for GDPR.
Continuous monitoring
Continuously monitor your security controls to ensure you stay compliant and avoid fines.
Set up GDPR policies and procedures fast
Secureframe enables you to design GDPR security policies that are right for your business. Select from our library of policies, adapt them for your organization, and publish them to your personnel for review — all through the Secureframe platform.
Key benefits
Access dozens of policies developed and vetted by our in-house compliance experts and auditors to pass regulatory inspection
Easily publish policies for your personnel to review and acknowledge through the Secureframe platform
Gain expert guidance from compliance industry veterans and former privacy and information security professionals
Scan and secure your cloud infrastructure automatically
We connect with, monitor, and help configure your cloud infrastructure to be GDPR compliant. Plus, no need to install agents — we scan through read-only access.
Key benefits
Monitor 150+ cloud services including AWS, Google Cloud, and Azure
Review vulnerabilities through our dashboard with associated risk scores and step-by-step remediation guidance
Train personnel with Secureframe's proprietary GDPR training
GDPR training can be expensive and complex. We've built our own proprietary training for personnel working with GDPR-protected data and those responsible for protecting it so you get everything you need from one platform.
Key benefits
Complete complex regulatory training within 30 minutes
Educate each of your departments on their responsibilities around collecting, processing, or transferring GDPR-protected data
Track employee training completion automatically in Secureframe's platform
Stay in compliance with GDPR requirements
We help you maintain compliance by continuously checking your security control health around GDPR's encryption and access control requirements. Our compliance experts ensure our frameworks are up-to-date on the latest changes in requirements so you can ensure you are in compliance.
Key benefits
Automatically collect evidence and review processes for readiness assessments and auditor validations
Stay current with any changes to GDPR requirements 
Ensure automatic, continuous security control assessment through our 150+ integrations
"The process was so seamless with SOC 2," said Mirmotahari. "It felt much more daunting before we started, but now that we've gone through it with Secureframe, it's much easier than it seemed. That's why we're moving forward with Secureframe for GDPR."
Thomas Mirmotahari
CEO and Co-Founder, PerkUp
Easily unlock new frameworks
Secureframe's automated compliance platform has a common control layer that makes it easy to apply the same controls you have completed to additional frameworks, so you can save time meeting new standards.
Obtaining GDPR compliance gives you a jumpstart to these other frameworks with Secureframe-authored common controls:
GDPR Compliance Checklist
Get an interactive checklist to help you gauge your organization's level of GDPR compliance and identify and remedy any gaps.
End-to-end compliance right at your fingertips
Automated tests, continuous monitoring, and risk management with the support you need — all in one place.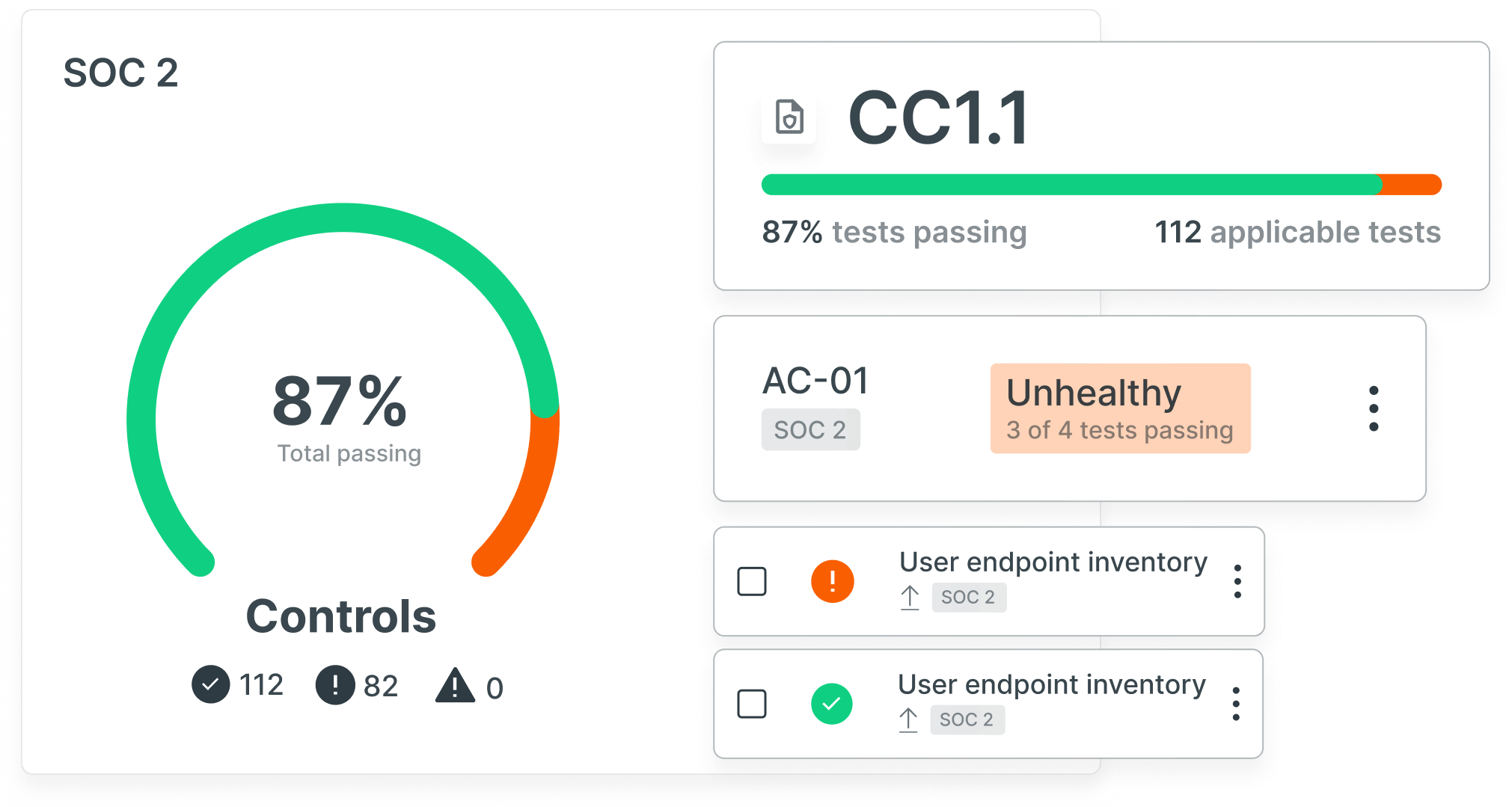 Spend less time on compliance
Easily comply with GDPR and strengthen your security posture with automated evidence collection and real-time monitoring.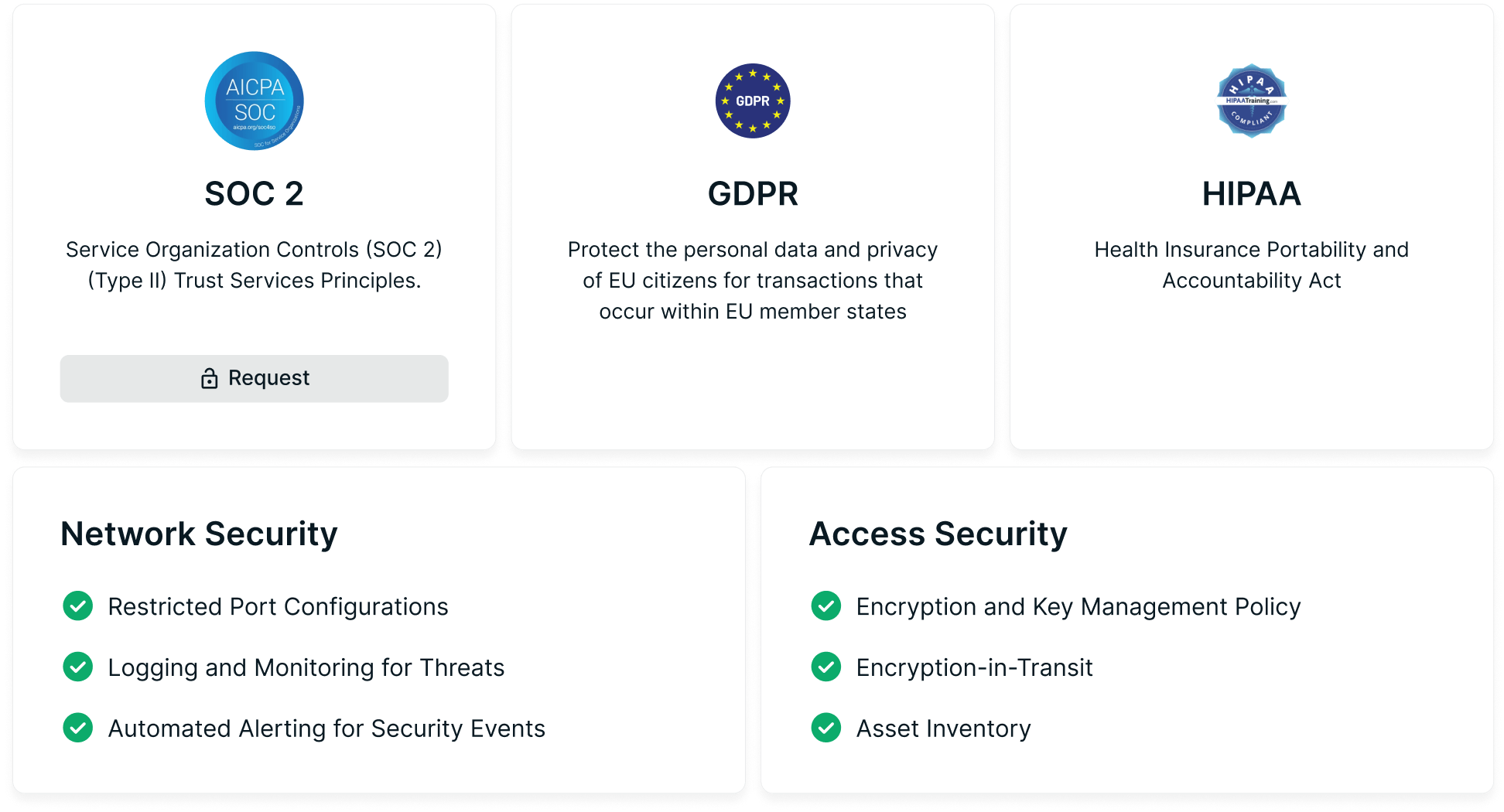 Use security as a launchpad
Demonstrate your security posture and save time responding to security questionnaires to build customer confidence and accelerate sales.
Spend less time on compliance
Easily comply with GDPR and strengthen your security posture with automated evidence collection and real-time monitoring.