 NIST 800-171
Easily self-attest to NIST 800-171 compliance
Secureframe helps organizations that operate in Controlled Unclassified Information (CIU) environments understand requirements, manage controls, streamline workflows, and automate tasks and evidence collection to protect sensitive data, self-assess, and self-attest.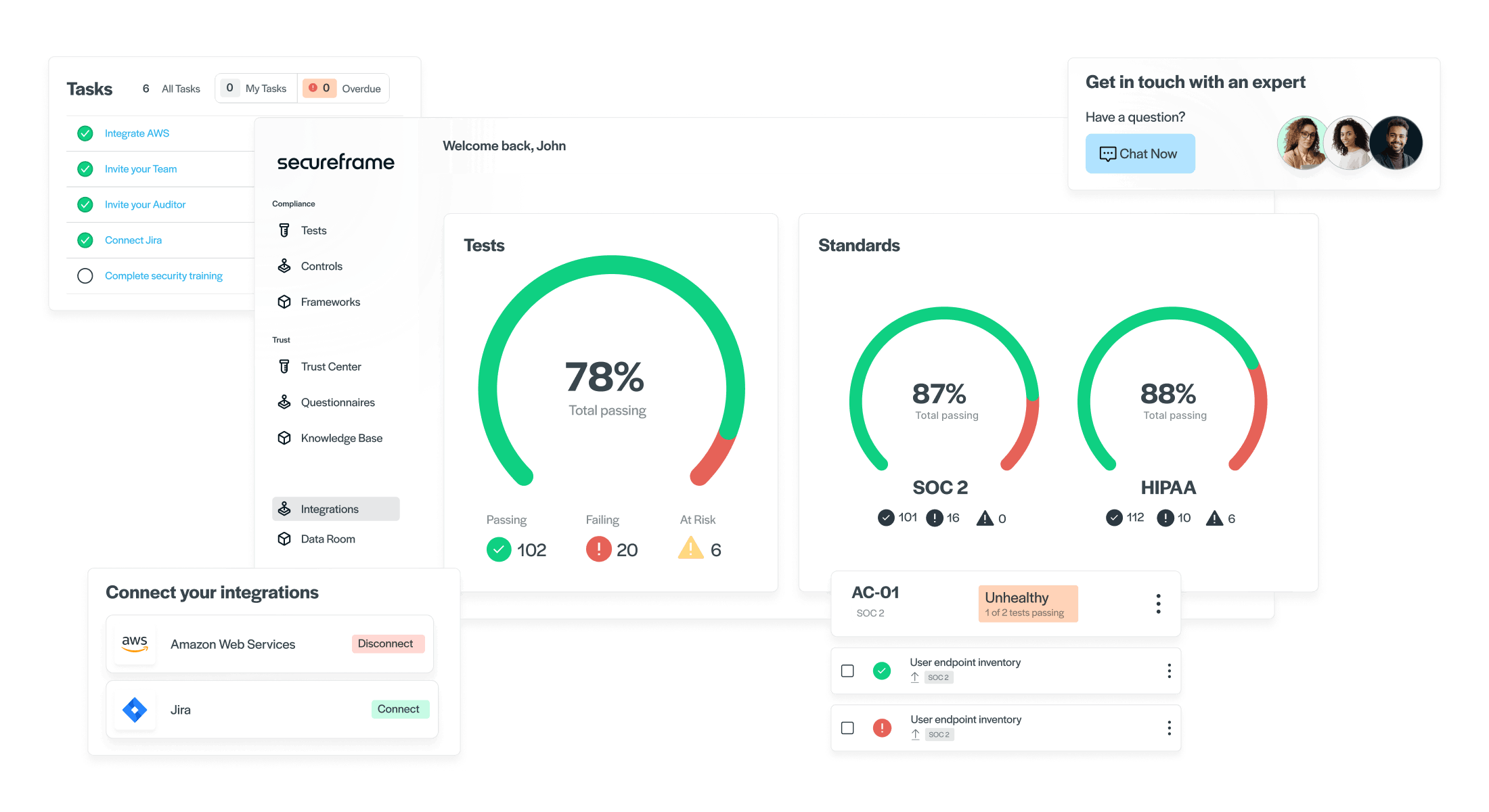 Everything you need to achieve and maintain NIST 800-171 compliance
Set up
policies and procedures needed to meet NIST 800-171 requirements
Connect
and monitor your tech stack through our 100+ integrations
Mitigate
your organization's regulatory, legal, financial, and cybersecurity risk
Achieve
and maintain continuous compliance with the NIST 800-171 standard
NIST 800-171 - A framework to protect sensitive information on federal contractor systems and networks
NIST 800-171 is focused on the protection of the Controlled Unclassified Information (CUI) environment, which is where sensitive data related to United States national security is stored, processed, or transmitted. Contractors and subcontractors working with federal or state agencies that handle CUI generally have to comply with NIST 800-171 to do business with them.
How it works
Secureframe's security and privacy compliance automation platform helps companies achieve and maintain NIST 800-171 compliance with speed and ease. We streamline the compliance process by providing procedures and policies vetted by NIST experts, proprietary security and privacy training for automated employee compliance, and everything else you need to get NIST compliant.  We also stay current on the latest NIST 800-171 requirements for you, so you can focus limited resources on your biggest priorities.
Meet your dedicated account manager
Scan and secure your cloud infrastructure
Set up your NIST 800-171 related policies and procedures
Easily train personnel on NIST 800-171 security and privacy requirements
Assess and manage vendor risk
Complete your NIST 800-171 readiness assessment
Complete your NIST 800-171 self assessment
Maintain NIST 800-171 compliance
Set up NIST 800-171 policies and procedures fast
We provide NIST 800-171 policies and procedures that are right for your business. Select from our library of policies, adapt them for your organization, and publish to your personnel for review.
Key benefits
Access dozens of policies developed and vetted by our in-house compliance experts and auditors, including System Security Plan (SSP) and Plan of Action and Milestones (POAM) templates
Easily publish policies for your personnel to review and acknowledge through the Secureframe platform
Set up custom and automated tests
Leverage our pre-built tests or create custom upload tests for your organization's unique processes, policies, and controls to comply with NIST 800-171.
Key benefits
View and manage NIST 800-171 tests in a single place
Create custom tests to cover a use case specific to your business
Assign owners to tests to ensure failing tests are remediated quickly
Access best practice remediation steps for pre-built tests
Easily maintain NIST 800-171 compliance
We help you maintain compliance by staying current on the latest regulations. As new policies, procedures, or other requirements are added to NIST 800-171, our platform and frameworks are updated so you stay compliant.
Key benefits
Automatically collect evidence and review processes for compliance assessments
Stay current with any changes to 800-171 requirements
Easily onboard and offboard your employees 
Our workflows streamline the on- and offboarding process for your employees. Easily track that your team has completed background checks, privacy training, and acceptance of security and privacy policies—all through our progress dashboard.
Key benefits
Accelerate employee onboarding with our automated self-serve process
View employee progress across key security and privacy areas through our reports and dashboards