SOC Audit: What It Is, How it Works & How to Prepare Your Service Organization
SOC stands for "System and Organization Controls" (previously, it stood for "Service Organization Controls"). A SOC audit is an often-misunderstood method of building trust between a service organization and its customers.
A service organization is any third party that a company might go to for services they can't perform internally. Think of it as the business equivalent of calling in a plumber.
Of course, people shouldn't hire a plumber without first reviewing testimonials about their service. A service organization is no different — except instead of customer reviews, they get audits.
A SOC audit is one of the best ways a service organization can build trust. If you're part of a service organization, keep reading to learn precisely what a SOC audit is and how you can get one.
What is a SOC audit?
A SOC audit is a way to build trust in the services you provide as a third-party entity. 
Specifically, it tells potential customers that your company follows best practices for securing and managing the information entrusted to your care.
Of course, the ideal way to build trust is to have a fruitful provider-client relationship over many years, but that's not something you can lay down as table stakes. A report from a SOC audit can be an excellent reference from a known key player in the industry and can help establish trust more quickly with prospects.
However, passing a SOC audit is neither quick nor easy. It takes a lot of work to achieve compliance — if it didn't, a positive SOC report wouldn't be worth the paper it was printed on.
The process revolves around a visit from an unbiased third-party auditor known as a Certified Public Accountant (CPA). The CPA will take stock of your documented information security controls and evaluate how close your documentation comes to each SOC control objective. 
Once the CPA assesses whether your company's internal cybersecurity posture upholds SOC security standards and requirements, they will issue a SOC report with their opinion.
Technically speaking, there is no pass/fail for a SOC report. An unqualified opinion means you passed with flying colors. A qualified opinion means you're almost there. An adverse opinion means your security posture and control implementations need to be improved. And a disclaimer of opinion means the CPA doesn't have enough evidence.
To better understand these options, let's take a look at how a SOC audit works.
Recommended reading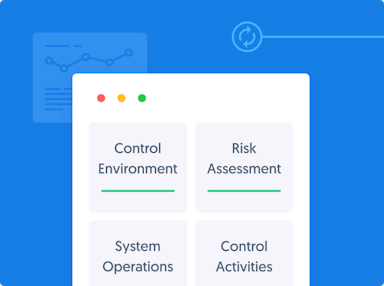 SOC 2 Compliance: Definitions, Requirements, and Benefits for Business Growth
How does a SOC audit work?
Let's explore the SOC audit process in more detail by walking through an example. 
Imagine a service provider called Cloudtopia that lets businesses store their customer mailing lists in the cloud. The Cloudtopia team is about to hook a huge enterprise client, but the client, skittish about recent data breaches in the news, has asked for a SOC 2 audit.
First, Cloudtopia's team has to decide which type of SOC 2 audit they want, Type I or Type II. They settle on Type I because it takes less time, and they need to land this client.
The next step is to figure out which Trust Services Criteria (formerly called the Trust Services Principles) apply to Cloudtopia. They don't know which ones the auditor will choose to focus on, but they can make an educated guess, sort of like studying for an exam. They decide to focus on Security, Availability, and Processing Integrity.
They leave out Privacy and Confidentiality since none of the info they work with is especially sensitive.
Now they've got to gather all the documentation about every control that fits into one of their three chosen areas. Cloudtopia's team conducts a gap analysis with the documentation in place, checking to see whether any of their controls fall short of full SOC compliance.
After they take steps to close all gaps, it's finally time to meet with the auditor.
Cloudtopia's team picks out a CPA they'd like to work with, meets with them, and schedules a time for the SOC audit. Because they did their due diligence before inviting the auditor, they receive an unqualified opinion — a pass with flying colors.
What is the difference between a SOC 1, SOC 2, and SOC 3 report?
There are three kinds of SOC reports to choose from. Depending on the nature of a service organization, they might seek one SOC audit, two of them, or all three.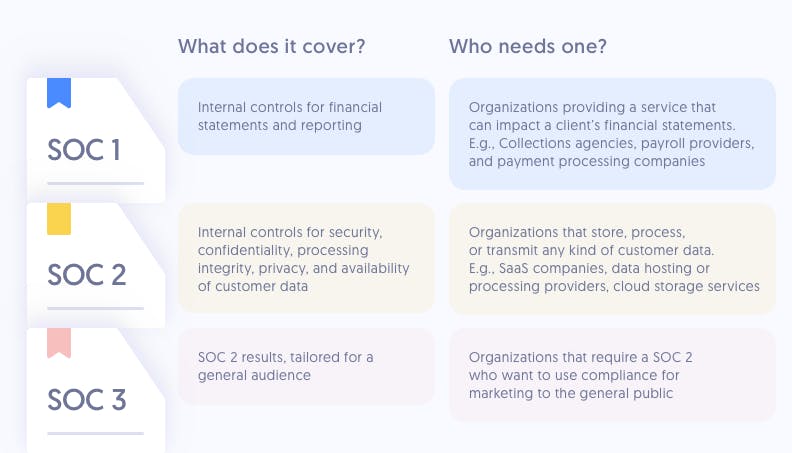 SOC 1 report
SOC 1 is a set of controls designed for service organizations that provide financial reporting services. Financial information is especially sensitive, as any irregularities can have massive consequences. Inaccurate accounting can lead to tax liability, investor revolts, and even legal action for the user entity.
Examples of companies that might seek a SOC 1 audit include accounting firms, payroll managers, and anybody who stores financial information on the cloud. These types of organizations have internal security controls that can impact a customer's financial statements.
SOC 2 report
SOC 2 is a more general set of controls and is available to all service organizations. SOC 2 audits are based on the five Trust Services Criteria: Security, Privacy, Confidentiality, Availability, and Processing Integrity. If a company is large enough to provide financial reporting services alongside other services, it might seek both a SOC 1 report and a SOC 2 report.
SOC 3 report
SOC 3 is very similar to SOC 2. Both are evaluations of a company's information security policies based on Trust Services Criteria. The difference lies in their intended audiences. SOC 2 is a long, detailed audit report designed mainly for reading by other businesses. By contrast, SOC 3 is a shorter, more readable audit report intended for public consumption.
If a service organization provides services to both businesses and individual customers, they might seek both a SOC 2 and SOC 3 report. If they also provide financial reporting services, they might seek a SOC 1 audit too.
What is the difference between a SOC Type I and Type II report?
In addition to the three overarching categories, there are also two types of SOC reports. They are Type I and Type II reports. These types can be applied to both SOC 1 and SOC 2.
SOC Type I is a shorter, less detailed report that evaluates for a point in time. It focuses on the documented design of the audited company's information management systems, evaluating how close it adheres to the Trust Services Criteria. A SOC 2 Type I report can take as little as three weeks from start to finish.
SOC Type II is a more involved report evaluated over a period of time. In addition to reviewing the design of a company's security systems, Type II also uses experimental processes (such as penetration testing) to understand how the system works in practice. Because of the extensive tests needed, SOC 2 Type II audits can take up to a year.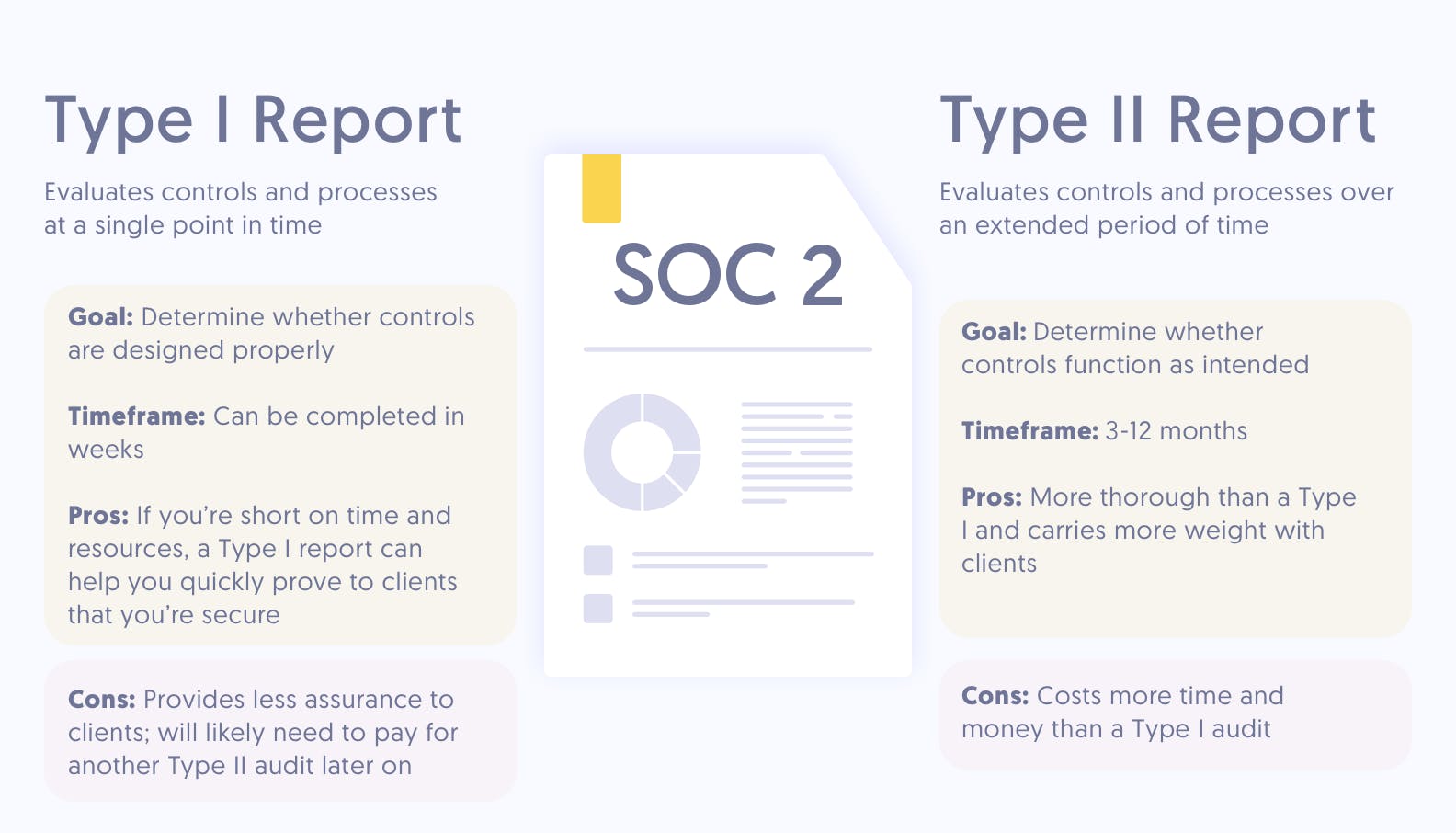 Recommended reading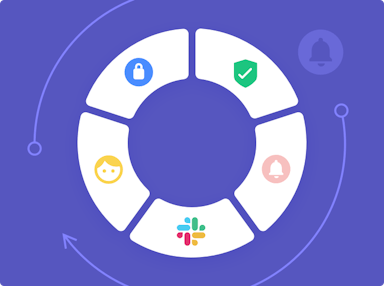 SOC 2 Type II Compliance: Definition, Scope, and Why You Need It
Who performs a SOC audit?
Audits can only be conducted by a qualified CPA or an agency accredited by the American Institute of Certified Public Accountants (AICPA). Non-accountants might be enlisted to help, but everyone is held to the same set of rigorous standards.
Choosing an auditor is one of the most crucial steps in the SOC audit process, yet companies often overlook it. An auditor should have clear experience conducting SOC audits and should be able to point to examples of reports they've generated in the past. Ideally, they should have experience working with your specific type of service organization.
Additionally, a SOC auditor should be somebody you can work with. They'll be your partner for anywhere from a few weeks to a year, so make sure your personalities and cultures are compatible.
Most service organizations conduct interviews with several auditors before deciding on one, which makes sense. Essentially, you're hiring an employee, so you should treat this process as a talent search.
What are SOC controls?
We've mentioned the AICPA Trust Services Criteria (TSC) several times so far. By now, you understand that these criteria are several overarching principles that guide SOC 2 auditors in determining what they should evaluate.
The TSC gives SOC 2 its unique structure. Instead of focusing on a pre-written list of controls like many ISO audits, they focus on guiding the auditor toward generating a report that focuses on the unique traits of each service organization.
This makes it harder to prepare for a SOC 2 audit since there's no checklist to run down. It also makes the process a lot more flexible and relevant to each audited company.
The five trust services categories are:
Security: Measures how well the service organization protects its systems against unauthorized intrusion. The controls in Security are the only ones that are mandatory for every SOC 2 audit. If you don't pay attention to these, you can't be in SOC 2 compliance.
Availability: Measures how accessible the service organization's information systems are. Systems should be easy to use, monitor, and maintain, but access should also be carefully controlled.
Confidentiality: Measures how well the service organization secures confidential information, i.e., information that is shared but restricted to certain parties.
Processing Integrity: Measures whether the systems maintained by the service organization are able to do their jobs effectively.
Privacy: Measures how well the service organization complies with regulations for the use and disposal of private personal data.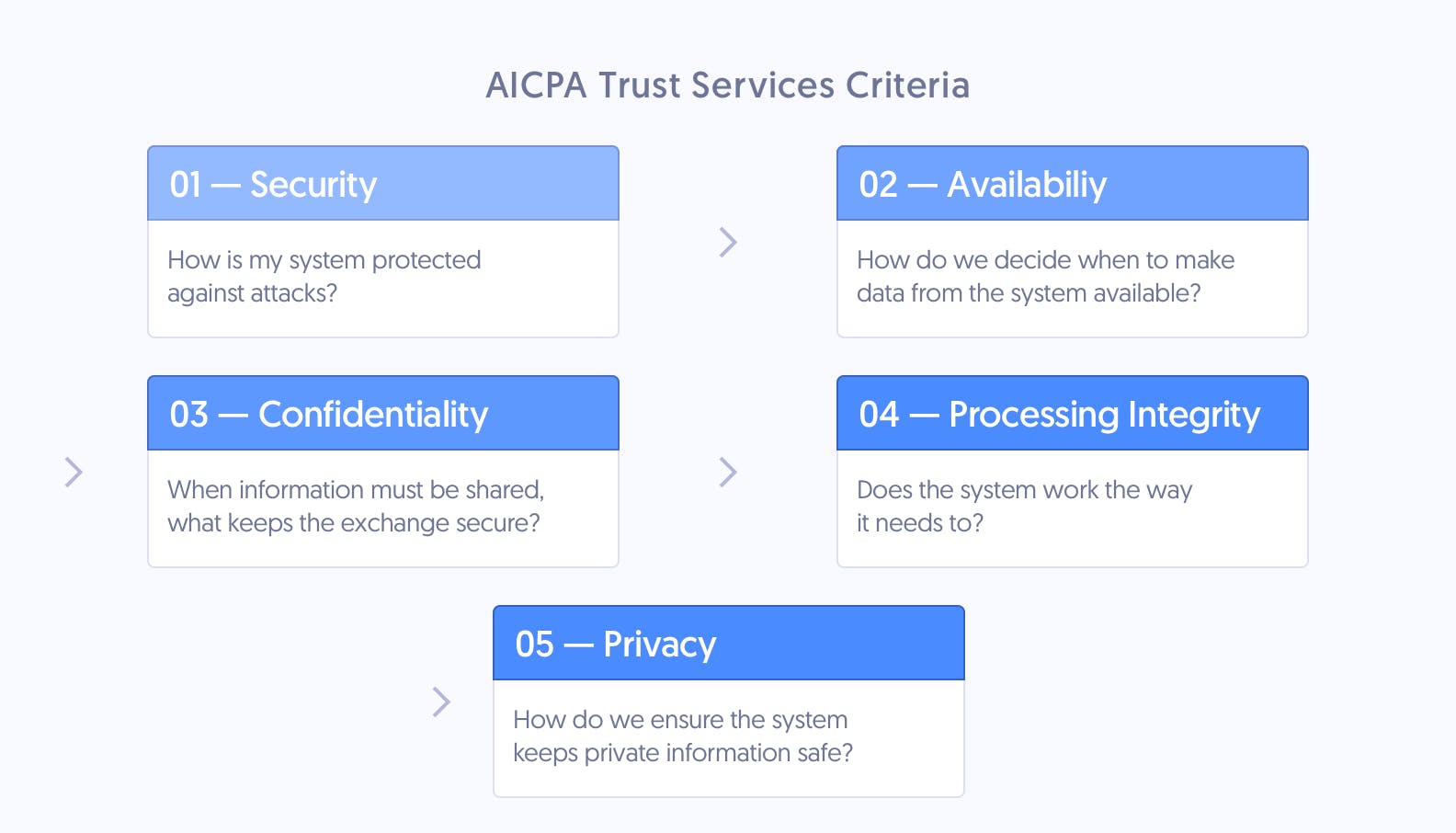 To help you comprehend the TSC, here are some examples of how each one applies to a real company:
Security: A cloud storage company requires two-factor authentication to access any account, preventing hackers from viewing sensitive material using credentials dumped onto the dark web.
Availability: A cloud-based content management system is open to both businesses and customers. The organization's internal control prevents individual customers from accidentally viewing proprietary content owned by others.
Confidentiality: A firm that manages healthcare records regularly sends them between hospitals and specialists. To comply with HIPAA, they encrypt the records for as long as they're in transit.
Processing Integrity: A company that manages the supply chains of businesses ensures 99.99% uptime so products can be produced and delivered to meet customer expectations.
Privacy: A company regularly monitors for appearances of its users' account information on illicit channels.
Choosing which TSCs apply to your company is as much an art as a science. It's always better to document too many than too few. This leads to a more effective gap analysis and better prepares you for the moment of truth when the auditor arrives.
What are the benefits of a SOC audit?
A lot of companies, from startups to enterprises, are frightened of the word "audit." It conjures images of IRS agents combing through years of records, looking for any irregularities they can prosecute.
That's not an accurate picture of a SOC audit. SOC is a totally voluntary process, and it's proactive, not punitive. Let's take a look at a few key benefits of undergoing an audit.
Provides peace of mind
Undergoing a SOC audit can help provide you and your customers peace of mind.
The reality is that the digital environment is more fraught with danger than ever before. Hackers are getting bolder, and not a month goes by without news of a massive ransomware attack or a record-breaking data breach.
By preparing and undergoing a SOC audit and getting a SOC report, you can prove that the policies, procedures, and controls you have in place to protect the data you process are effective and reliable. This helps assure prospects and customers that their data is safe with your organization, and helps assure you and your employees that you are prepared to protect, detect, and mitigate risks of cyber attacks.
Helps streamline controls and processes
A SOC audit can show you ways you can streamline your organization's controls and processes to increase efficiency within your organization.
Preparing for and undergoing an audit pushes organizations to build strong, sustainable security processes before security incidents and events occur — rather than reacting to them.
It also encourages companies to establish security processes that become ingrained in the company culture. Best practices like enabling multi-factor authentication or single sign-on and establishing documentation and policies become part of the DNA of your company and further mitigate risk.
Reduces number of questionnaires to fill out
Most customers, especially enterprise ones, ask you to fill out security questionnaires to prove your organization's security and privacy compliance posture. These questionnaires can be incredibly long and tedious to fill out if you don't already have processes and documents in place.
By undergoing a SOC audit, you can get a SOC report to prove your organization's security posture — often in lieu of a security questionnaire.
Now that we understand why SOC audits are important, let's look at how to prepare for one.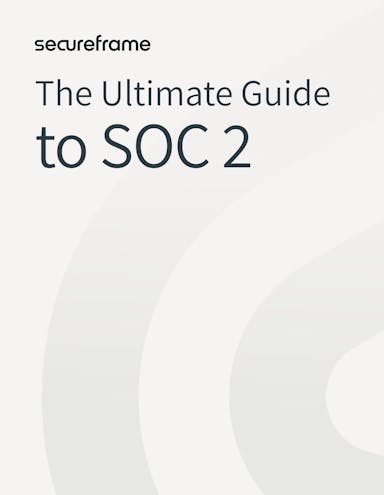 The Ultimate Guide to SOC 2
SOC 2 is a set of compliance criteria concerning how companies handle customer data and information. Here's everything you need to know about becoming compliant fast.
How to prepare for a SOC audit
Getting a SOC audit can feel like a daunting process. You have to select your Trust Service Criteria, write policies, implement information security controls, and more. It's difficult to know where to start. 
Below are tips that can help you best prepare, whether you're undertaking the SOC 2 audit process for the first time or a seasoned pro. 
1. Select a report type.
Before you invite an auditor to your office, your first step is to decide what type of SOC report your service organization needs. Your choices are:
SOC 1 Type I or Type II
SOC 2 Type I or Type II
SOC 3
Choose your audit type based on your services, who you provide those services to, your budget, and your level of urgency.
2. Define your audit scope.
Your next step is defining your audit scope. To do so, ask yourself the following questions:
Are you pursuing a SOC report at the company level or for a specific service?
What period of time will your audit cover?
What Trust Services Criteria apply to your business?
3. Conduct a gap analysis.
Once you have all your systems, controls, and documents in place, you can conduct a gap analysis to identify any areas where you fall short in protecting customer data. You can then create a remediation plan to bring them in line before your formal SOC audit.
4. Complete a readiness assessment. 
At this point in the audit process, you can begin to perform a readiness assessment.
During the readiness assessment, an auditor or consultant will perform its own gap analysis and give you some recommendations. They'll also explain the requirements of the TSC you've selected.
At the end of the assessment, the auditor will advise you on what you're doing right and wrong and let you know what needs to be done prior to going to audit.
This would complete your preparation work. Your next step would be finding an accredited CPA who can perform a SOC audit and issue your company a formal report.
A SOC audit can be complex, but fortunately there are tools — like Secureframe — that take the pain out of the process.
How Secureframe can help you prepare for a SOC audit
A SOC audit is a voluntary process that takes some work but provides huge benefits. If you can present a SOC 2 certificate, business clients will feel more comfortable working with you, individual customers will be more likely to entrust you with their information, and growth will follow.
Secureframe is designed to save you work, time, and resources on the front end of an audit. Our automations vastly increase your chances of getting a favorable report by helping you monitor your systems, close security gaps, integrate your security stack, and more.
If you've decided to get your own SOC report — and you should — contact Secureframe today.
FAQs
What is SOC audit vs SOX audit?
A SOC audit is how organizations can get a SOC 1, SOC 2, or SOC 3 report. It involves an external auditor assessing an organization's internal controls over financial reporting (in the case of SOC 1) or controls that are relevant to security, availability, processing integrity, confidentiality, and /or privacy (n the case of SOC 2 and SOC 3). SOC audits are voluntary for organizations, although customers may request an organization complete one.
A SOX audit is a requirement for organizations to comply with the Sarbanes-Oxley Act of 2022. Management must conduct a yearly audit of their financial statements and controls over financial reporting, and an external auditor must report if they agree with management's assessment of those controls. A SOX audit is mandatory for publicly traded companies in the US.
What are the different types of SOC audits?
There are three types of SOC audits. SOC 1 evaluates an organization's internal controls over financial reporting, whereas SOC 2 and SOC 3 examine the organization's controls relevant to security and any other applicable Trust Services Criteria. The difference between SOC 2 and SOC 3 is how organizations can use the resulting report. Organizations can post their SOC 3 report on their website or distribute them in another way to customers and prospects freely. But SOC 2 reports contain some confidential information about the organization's system and controls and detailed information about the auditor's tests, procedures, and results and therefore cannot be released publicly.
Who needs a SOC audit?
Organizations that handle sensitive customer data likely need a SOC audit. The type depends on what user needs they are looking to meet with the SOC report. If the organization's service impacts the financial operations of their users, they should likely get a SOC 1 report. If their service impacts customer's sensitive information not related to financial reporting, then they should get a SOC 2 report. If they fall into the latter category and want to be able to share the results of their audit with the general public, then they should get a SOC 3 report.
Is SOC 2 audit mandatory?
SOC 2 audits are not mandatory. However, they are increasingly requested by customers looking for companies that can protect the security and privacy of their data and interests. A SOC 2 report is an ideal way to demonstrate a commitment to security and privacy to those customers.
What happens if you fail a SOC 2 audit?
Technically speaking, you cannot fail a SOC 2 audit. However, you can get results other than an "unqualified opinion" which indicate that the auditor was not able to assess that your controls were designed and operating effectively. You can get a qualified opinion, which might mean some of your controls fail to meet SOC 2 requirements due to their design or implementation. You can also get an adverse opinion, which means there are pervasive issues with your control design and implementation. You can also get a disclaimer of opinion, which means the CPA doesn't have enough evidence to make an opinion. In any of these cases, you should pay close attention to the report and highlighted issues and take steps to solve them. You should also be prepared to address customer questions in the mean time and assure them that you'll be resolving any outstanding issues and working on getting an unqualified opinion on your next SOC 2 audit.