SOC 2® Compliance Checklist: 35+ Questions to Prepare for a Successful SOC 2 Audit
Getting a SOC 2 report is an important step for any service organization.
But getting compliant for the first time can be confusing. How do you know when you're ready for an audit?
After all, there's no one-size-fits-all approach, and SOC 2 compliance requirements can vary. 
But that doesn't mean you can't go into an audit with confidence. In this article, we'll explain how to prepare for a SOC 2 audit, and share an interactive checklist to help you gauge your audit readiness. 
An introduction to SOC 2®
SOC 2 stands for Service Organization Controls 2. It's an attestation report created by the American Institute of Certified Public Accountants (AICPA) that's designed to help build trust between service organizations and their customers. aims to provide more clarity on the security controls used by service organizations. 
SOC 2 compares a service organization's security controls against five Trust Services Criteria:
Security: How you secure data against unauthorized access
Availability: How available and accessible your services are to users
Confidentiality: How you protect confidential information from a data breach
Processing integrity: How you ensure data is processed in a timely, accurate manner
Privacy: How you keep user and customer data anonymous and protected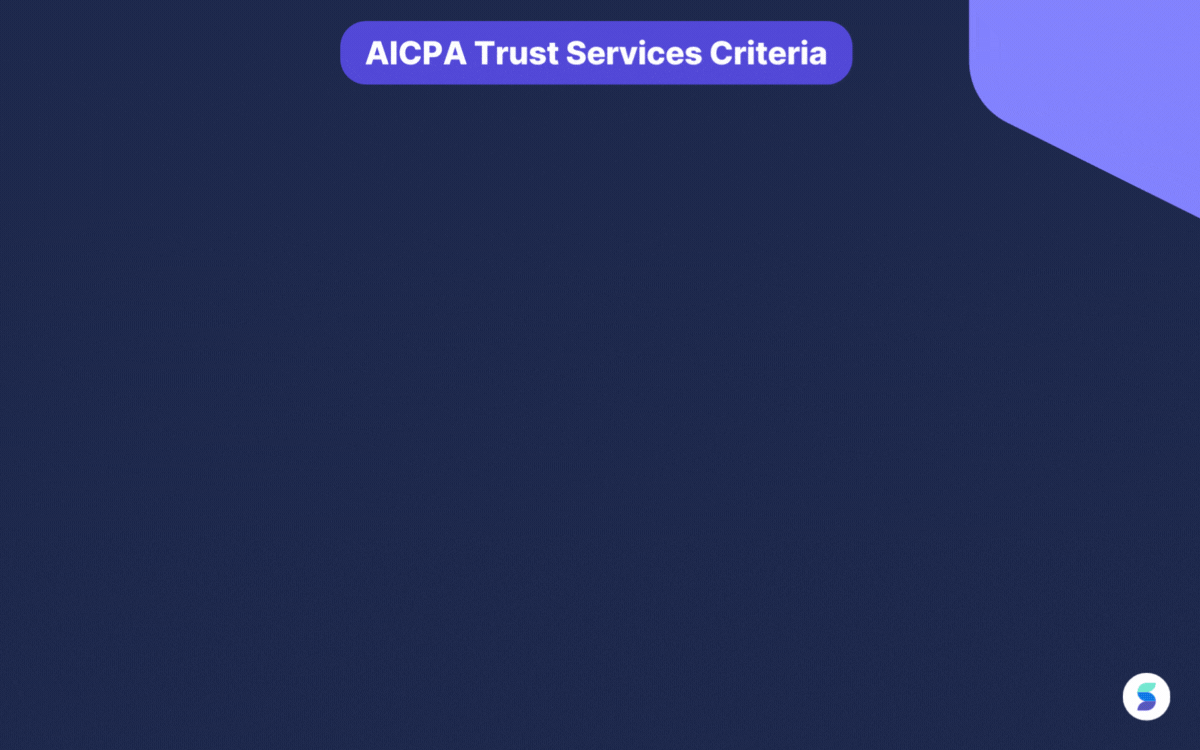 We'll cover these Trust Services Criteria a bit more in-depth later, but first, let's answer a crucial question. 
Why does your organization need a SOC 2® report?
SOC 2 compliance is not mandatory or legally required. However, if you're a service organization that directly affects users' operational efficiency (e.g., cloud service provider, SaaS, data center, etc.) and you carry customer data, you probably need to become SOC 2 compliant. 
Why?
It's likely that prospects and customers will request a SOC 2 report during vendor selection or for their own auditing processes. Not providing this report may stall sales cycles, affect credibility with customers, and hinder your ability to move upmarket. 
A SOC 2 audit will also help you better understand the current performance of your security controls and spot potential gaps. You'll be able to identify vulnerabilities, keep your organization safe, and build more efficient business processes. 
Some of the main benefits of SOC 2 compliance include:
Build stronger client relationships: Committing to SOC 2 compliance proves to prospects, customers, and partners that you care about the security and integrity of their data.
Prevent security incidents: A SOC 2 report will help you meet the highest security standards to avoid a data breach.
Get valuable information about your business: Completing a SOC 2 audit will help you build a stronger security posture and give you valuable insights into the overall design and performance of your security controls.
Who conducts a SOC 2® audit?
SOC 2 examinations are attestation audits, which means an external, third-party auditor will assess your security controls and issue a final report about how well they meet SOC 2 requirements. 
This report typically includes:
Audit summary: A summary of the audit scope, time period, and auditor's final opinion regarding the organization's level of SOC 2 compliance.
Management assertion: Organization leadership explains the systems and internal controls that are under audit. 
System description: A detailed overview of the system under audit, including system components, procedures, and incidents. 
Control tests: A description of the tests performed during the audit and the results. 
Keep in mind; SOC 2 examinations are governed by the AICPA and must be performed by a licensed and accredited CPA firm. The auditing firm must also be completely independent from the organization that's undergoing the audit to maintain objectivity.
5-Step guide to SOC 2® audit prep
Preparing for a SOC 2 audit without any guidance is like navigating a jungle without a map.
To help you stay on track and avoid common pitfalls, we've put together a list of 35+ questions to prepare for a SOC 2 audit. 
This step-by-step guide will break down the entire process. Let's get into it!
Step 1: Choose your SOC 2® report type
First, you need to understand the different types of SOC 2 reports to decide what you need right now. 
There are two types of SOC 2 reports: Type I and Type II.
SOC 2 Type I reports assess your organization's controls at a single point in time. It answers the question: are your internal controls designed in a way that meets SOC 2 requirements? SOC 2 Type II reports evaluate the performance of your controls over a longer period of time, typically 6-12 months, but can be as little as 3 months. 
How do you decide which report type you need? Ask yourself:
Which report type are your customers asking for? While some may accept a Type I report, most require a Type II.
How urgently do you need a SOC 2 report? Type I audits are faster to complete and can satisfy customers while you pursue a Type II report.
Do you have the resources to complete multiple audits? Some customers will accept a Type I report in the interim as you prepare for a Type II audit. If you opt to go straight for a Type II report, you will only need to complete one annual audit, rather than both a Type I and a Type II.
Step 2: Select your Trust Services Criteria
As we stated earlier, SOC 2 audits assess your security controls against five Trust Services Criteria defined by the AICPA:
Security
Availability
Processing integrity
Confidentiality
Privacy
Security is the only TSC that's required for every audit. That's why it's often referred to as the "common criteria." The other four TSC are optional. You'll need to decide which other TSC to include (if any) based on customer demands and specific industry regulations. 
For example, a cloud service provider might need to include the availability and security principles, while a payment processor system may need to include processing integrity and privacy. 
That said, we share some helpful questions for each principle below.
Security
Security is the only required principle by the AICPA, so you must pay special attention to the security controls you have in place to protect users' sensitive information from unauthorized access. 
What are you doing to monitor and prevent cyber attacks and data breaches?
Do you have specific procedures to monitor and respond to security incidents?
Are your devices and applications updated on a regular basis?
How do you handle vulnerabilities within your systems?
Do you have defined backup and recovery procedures in place?
Have you tested and documented your security procedures?
Do you have defined access controls in place?
Availability
Availability refers to how accessible your system is for user operations. Often companies that need to be available and ready at all times for their customers will include availability within their scope. For example, if you offer payroll management services to large manufacturing companies, you must ensure that your system is available whenever your clients need it. 
Some helpful questions may include:
Are your services available at all times? 
Are your services restricted to certain users?
Do you have business continuity plans in place? How do you handle service issues that could affect your availability?
Processing integrity
Processing integrity aims to help service users protect the integrity of their information. Companies that process a lot of data, and/or have a lot of integrations, such as Secureframe, will include processing integrity in the scope of their SOC 2. For example, if you offer a payment gateway service, your system must process customer data quickly, securely, and accurately.
Are your processing systems working reliably? 
Are your processing systems providing timely, accurate data to users? 
How do you handle system failures and issues?
Do you have specific procedures in place to correct errors quickly?
Confidentiality
If you're handling confidential customer information or helping customers manage their users' sensitive information, ask yourself. 
How are you handling and processing data to ensure confidentiality? 
Is data protected and classified at all times?
Do you have strict access controls in place to avoid unauthorized access?
Privacy
Privacy refers to the protection and anonymity of user information. If your company has a lot of sensitive information you may want to include privacy in your scope. Here are some helpful questions:
Do you have a data retention policy in place?
How and where do you classify, process, and store personal data?
What controls are in place to protect personal data?
Step 3: Set your audit scope
Define the systems and controls you want to include in your audit and define why they matter from the user's perspective. If you're pursuing a Type II report, you'll also need to set an audit window.
What's the system in scope? (i.e., specific applications or databases, office locations, departments, etc.)
For SOC 2 Type II, what's the audit window? A typical audit window is 6-12 months, but it's possible to set a shorter, 3-month audit window. A longer audit window requires longer to be in compliance and more evidence to provide, however it also carries more weight than a 3-month report.
Step 4: Design and implement security controls
Once you have defined the scope of your report, it's time to identify risks and describe the actual controls you're going to test. 
Do you understand the risks associated with your information assets and systems?
Have you identified the likelihood and potential impact of these risks on your organization?
Do you have a risk treatment plan in place to accept or mitigate risks?
How often do you perform risk assessments to identify changes in your threat landscape?
How do you document and maintain internal controls to mitigate organizational risk?
Do you have an access control policy in place to define who can access data and when?
Do you maintain access logs to monitor activity and flag anomalies?
Do any security controls rely on any third-party software? If so, what steps have you taken to manage vendor risk?
Step 5: Conduct a gap analysis and readiness assessment
A gap analysis can identify any weaknesses in your controls that could affect the outcome of your audit.
The most efficient way to run a gap analysis is with an automated compliance tool, which can check all of your systems and controls against SOC 2 criteria to immediately flag any misconfigurations or gaps in your compliance posture. Platforms like Secureframe also offer tailored remediation guidance that make fixing any gaps quick and easy.
If you don't opt for an automated tool, your internal compliance or information security team can manually check your controls to ensure compliance before your auditor begins their examination.
A readiness assessment is an examination performed by the auditor to determine how prepared your organization is for a SOC 2 examination. This will help you better understand the current state of your organization's controls. 
A gap analysis and readiness assessment help you answer:
Is your organization ready for a SOC 2 examination?
Are your current controls sufficient to satisfy compliance requirements?
Are there any gaps you need to fix prior to your SOC 2 examination?
SOC 2 Compliance Checklist
Design and Implement Controls
Conduct a Gap Analysis and Readiness Assessment
Evaluate and Select a SOC 2 Audit Firm
Everything you need to prepare for your SOC 2® audit
SOC 2 compliance may be exhaustive, but it doesn't have to be exhausting. We've created a library of resources to demystify and simplify SOC 2:
Use trust to accelerate growth
FAQs
What is SOC compliance checklist?
A SOC 2 compliance checklist is a tool designed to help an organization evaluate its compliance with the SOC 2 framework and ensure it has completed the essential steps to prepare for a successful audit. Using the checklist, organizations can check off the boxes to visualize their level of audit readiness and quickly identify any gaps they need to remediate before undergoing an audit.
How do I check my SOC 2 compliance?
In addition to using a checklist to check your SOC 2 compliance, you can undergo a SOC 2 self-assessment or SOC 2 readiness assessment During a SOC 2 self-assessment, an organization maps existing information security controls and policies to their selected TSC, identifies any gaps, and creates a remediation plan ahead of their formal SOC 2 audit. A readiness assessment is similar except it's conducted by an auditor accredited by the American Institute of Certified Public Accountants (AICPA).
Who is responsible for SOC 2 compliance?
An organization may have a dedicated compliance team or individual that's responsible for SOC 2 compliance. This team or individual will work with the engineering team to ensure the technical controls are in place and the HR team to ensure the administrative controls are in place to achieve and maintain SOC 2 compliance. However, it's important that everyone at your organization understands their role and responsibilities in keeping your organization secure and compliant.
SOC 1®, SOC 2® and SOC 3® are registered trademarks of the American Institute of Certified Public Accountants in the United States. The AICPA® Trust Services Criteria for Security, Availability, Processing Integrity, Confidentiality, and Privacy is copyrighted by the Association of International Certified Professional Accountants. All rights reserved.