Who Needs a SOC 2® Report? Answers to Common SOC 2 Compliance Questions
SOC 2® is one of the most common security frameworks SaaS companies rely on today to build trust with customers, particularly for companies in the US. But does your organization need it? 
In this post, we'll explain the basics of SOC 2 then share seven questions that can help you decide if SOC 2 compliance is the right choice for your organization.
Crash course: What is SOC 2®?
SOC 2 stands for System and Organization Controls 2. It's a security framework that outlines how companies can securely handle customer data that's stored in the cloud. 
It was created by the American Institute of Certified Public Accountants (AICPA) in 2010 to help service providers build trust with customers.
Getting SOC 2 compliant tells current and potential customers that you have the appropriate safeguards in place to keep their sensitive data secure.
What are the SOC 2® Trust Services Criteria?
A SOC 2 report is an attestation made by an independent CPA that verifies your organization meets the rigorous security standards laid out in the SOC 2 framework. This framework is built on five Trust Services Criteria (formerly called the Trust Services Principles):
Security: Protecting information from vulnerabilities and unauthorized access
Availability: Ensuring employees and clients can rely on your systems to do their work 
Processing integrity: Verifying that company systems operate as intended
Confidentiality: Protecting confidential information by limiting its access, storage, and use
Privacy: Safeguarding sensitive personal information against unauthorized users
Every SOC 2 audit will include the Security criteria, also referred to as the common criteria, while the others are optional based on the services you provide and ways that you interact and/or handle customer data. 
Do you need a SOC 2® report? 7 questions to help you decide
Understanding SOC 2 compliance is just one half of the equation. The other half is deciding whether it's the right choice for your organization right now. If you answer "yes" to the majority of these questions, a SOC 2 report is likely worth your while.
1. Are customers and prospects requesting a SOC 2® report?
SOC 2 reports are not legally required. But many clients and potential customers will require a SOC 2 report before doing business with you, especially mid-market and enterprise companies. Even if it's not a hard requirement, prospects who are comparing similar service providers are likely to see a SOC 2 report as a differentiating factor when making their selection.
Ultimately, SOC 2 has gone from being a competitive advantage in the sales process to being table stakes for information security. Without a SOC 2 report, you'll likely see sales processes stall or fall through during procurement and security reviews.
Even if you don't have prospects requesting a SOC 2 report now, remember it can take over a year to prepare for and complete your SOC 2 audit. It's never too early to start laying the groundwork for compliance.
If you get into a tight timeline to get SOC 2 compliant, automation tools like Secureframe can efficiently speed up this process.
Recommended reading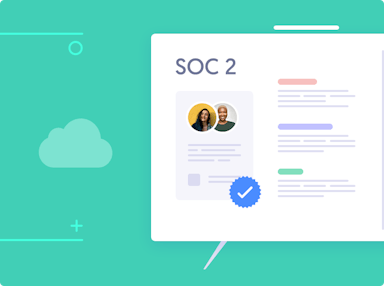 What is SOC 2 Compliance Automation?
2. Does your organization handle sensitive customer data?
Whether you're using, storing, accessing, or processing customer data, it's a best practice to be compliant with a cybersecurity standard like SOC 2 or ISO 27001.
Completing the SOC 2 audit process will help you meet your customer's expectations and protect sensitive information from data breaches.
3. Does your business need defined security processes and policies?
The SOC 2 framework can help strengthen your organization's security by requiring you to implement a variety of internal controls, including a formal risk management strategy, regular employee training, policy reviews, and periodic audits. These can all improve the way your entire organization thinks about and manages risk.
Not to mention it often uncovers operational inefficiencies like conflicting policies, redundant tools, and outdated software. Preparing for and undergoing a SOC 2 audit pushes organizations to address these issues and build strong, sustainable security processes and policies before security incidents and events occur.
4. Do you need a framework for managing organizational risk?
SOC 2 offers a framework for identifying and addressing risks to your business, whether they stem from security attacks, potential fraud, natural disasters, or faulty operational practices. Risk assessments and other risk management practices are often overlooked, but are crucial to a company's ability to scale securely and successfully navigate a shifting threat landscape
Achieving SOC 2 compliance provides third-party assurance that you have proper risk management processes and procedures in place. 
5. Do you want a company culture that prioritizes security?
Security isn't just the responsibility of senior management, the CISO, or the IT department – it's everybody's responsibility.
Building the internal controls necessary for SOC 2 helps foster a better understanding of security throughout your organization and sets the foundation for a culture that prioritizes security.
To build and maintain this security-first culture, start SOC 2 preparation as early as possible, be transparent with key stakeholders and team members about any new policies and procedures, and encourage them to speak up if they notice any potential risks or policy violations.
6. Do you need to evaluate controls relevant to the Trust Services Criteria?
If you want to evaluate controls relevant to the security, privacy, availability, processing integrity, and/or confidentiality of customer data, then a SOC 2 report likely makes sense for your organization.
However, SOC 2 is just one of the frameworks created by the AICPA. If you want to instead evaluate controls relevant to your clients' internal control over financial reporting, then a SOC 1 report is a better fit.  
Designed for organizations that impact a customer's financial reporting, like payroll or claims processing companies, SOC 1 reports attest that financial statements and other information is being handled securely.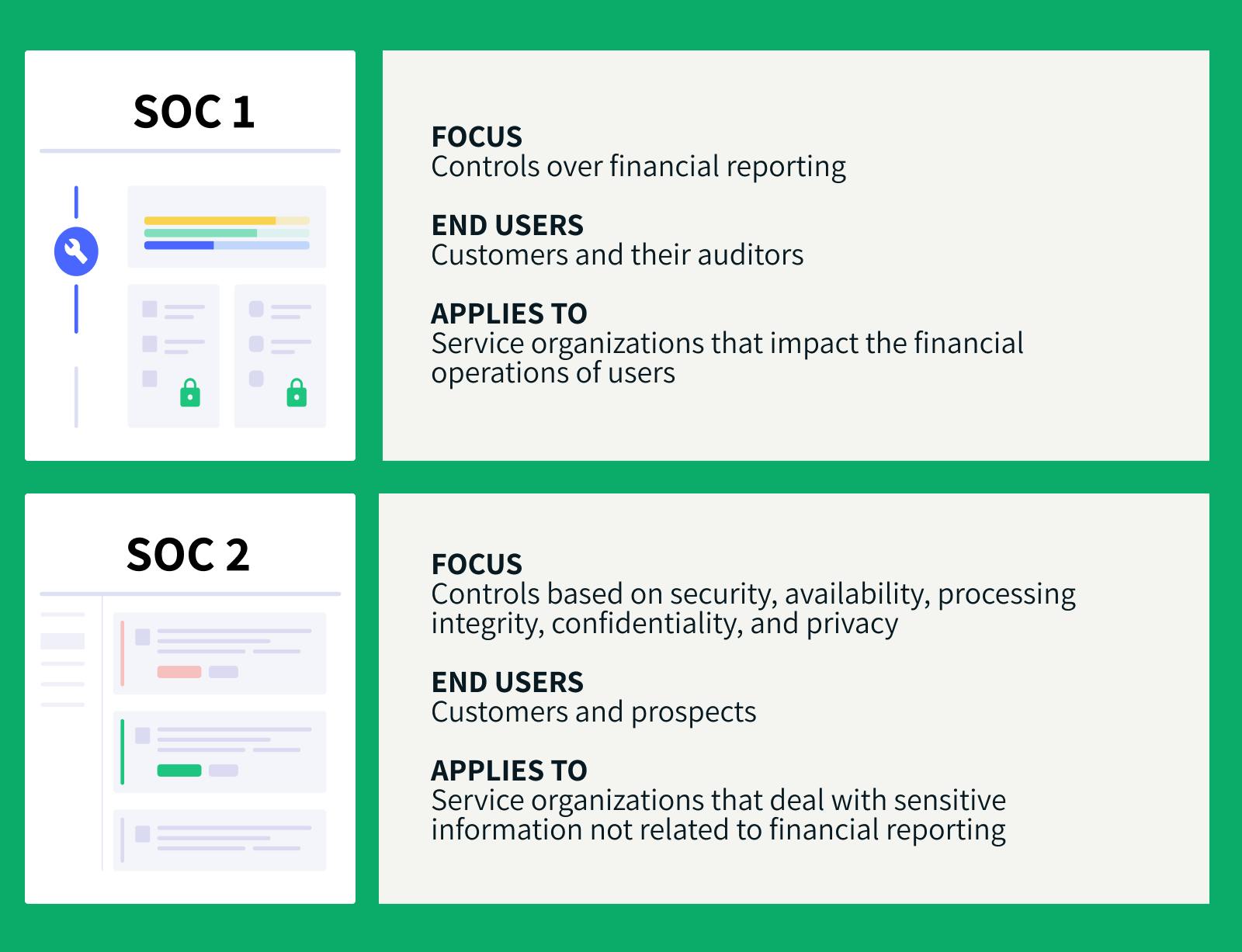 7. Will intended users understand detailed information about your organization's systems and controls?
If you do want to evaluate controls relevant to TSC, then the next question you have to ask is who your intended audience is.
If the intended users have the technical knowledge and expertise required to understand systems and controls, then they can likely make effective use of a SOC 2 report. However, if the intended users lack this knowledge and expertise, then they don't need detailed information about your systems and controls and therefore may be satisfied with another framework created by the AICPA: SOC 3.
A SOC 3 report is similar to SOC 2 in that both reports evaluate an organization's data security controls. However, unlike SOC 2 reports, SOC 3 reports don't go into detail about your systems and control tests and results. Because they're more high-level, SOC 3 reports can be shared publicly, like on a company website.
Alternatively, if intended users have this technical knowledge but want information about your organization's controls related to TSC to better understand and manage supply chain risks specifically, then you may want a SOC for Supply Chain examination and related report. 
Recommended reading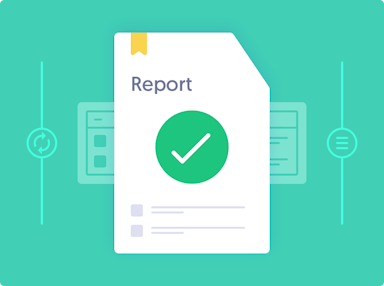 What are the different types of SOC reports?
Do you need a SOC 2® Type 1 or Type 2 report?
Once you've decided that a SOC 2 report is right for your organization, you have to decide between a Type I and Type II report. This is one of the most important decisions organizations need to make when pursuing SOC 2 compliance.
Here's the main difference between SOC 2 Type I and Type II reports: Type I reports assess your internal security controls at a single point in time. The auditing firm will evaluate whether your current security controls are sufficient for protecting sensitive data and whether they fulfill the applicable Trust Services Criteria requirements.
Type II audit reports evaluate how well a service organization's controls perform over a period of time, with a typical audit window of 3-12 months. This type of SOC report takes longer to complete and is typically more expensive.
Most organizations choose their report type based on timelines, resources, and customer requests. If you need a SOC 2 report as soon as possible, a Type I report can be completed in a matter of weeks. However, they're often a short-term solution. 
Many potential customers are rejecting Type I reports, and you'll likely need a Type II report at some point. Opting to complete a Type II report straight away can save you time and money since you'll only have to undergo one audit.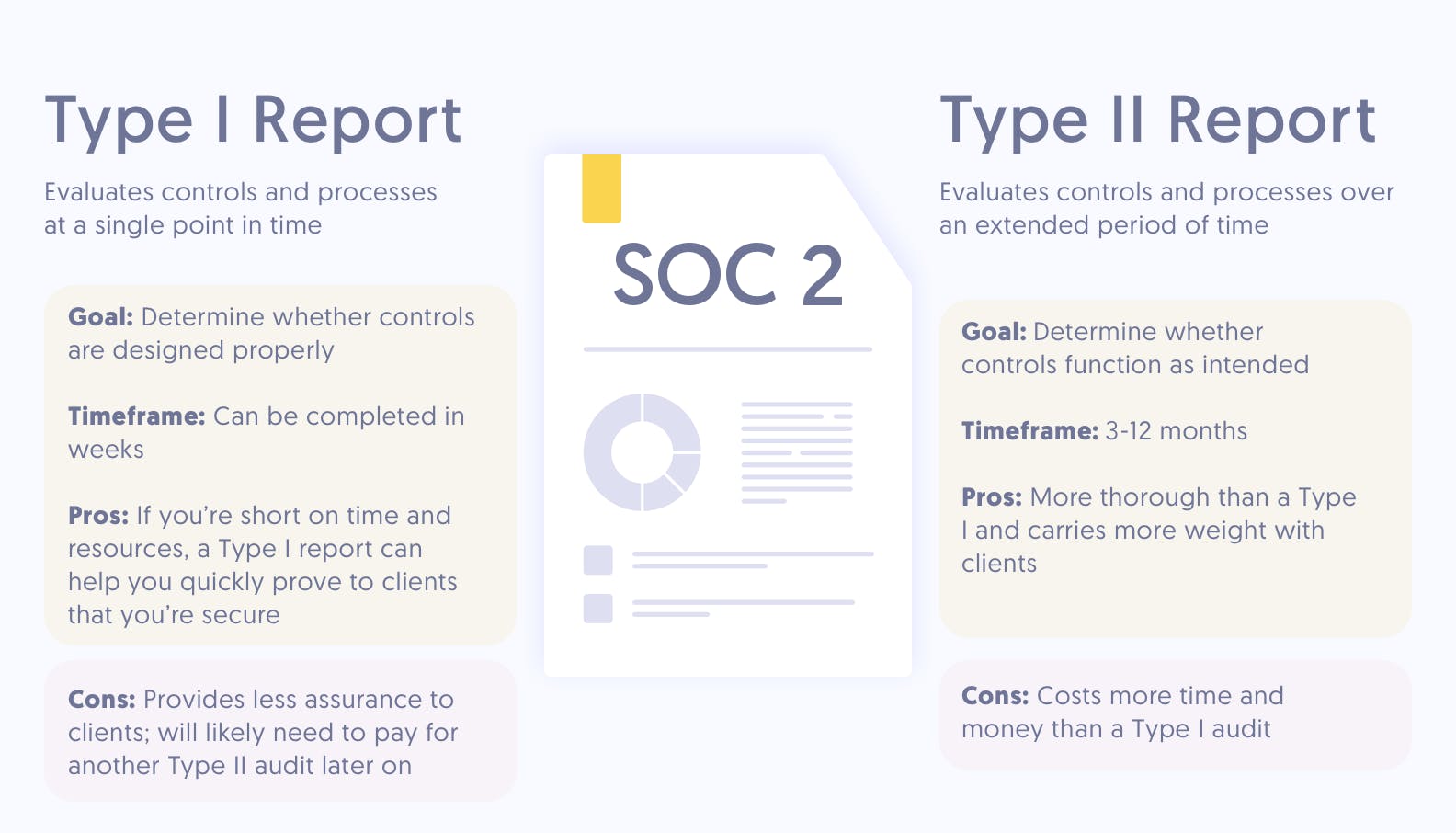 Why should you ask service providers for their SOC 2® reports?
Security doesn't start and end with your own company and employees — vendor risk management is an important part of keeping customer data safe. If you aren't completing a security review as part of your vendor selection process, you should be.
By reviewing a SOC 2 report, you'll get:
A deeper understanding of the system used to deliver services
A management assertion from the service provider
An independent auditor's assessment of the service provider's control environment and their formal opinion on its design and/or operating effectiveness
Reviewing a vendor's SOC 2 report can help you better understand any additional risks you might be taking on by doing business with them, and plan for any additional controls you need to implement to address those risks.
Recommended reading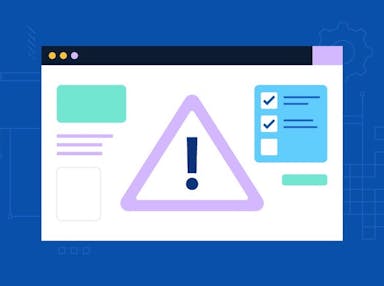 What Is Third-Party Risk Management? + Policy Template
How Secureframe simplifies SOC 2® compliance
We save teams hundreds of hours and thousands of dollars spent writing security policies, collecting evidence, hiring security consultants, and performing readiness assessments. And because Secureframe continuously monitors your infrastructure and alerts you of vulnerabilities, you'll get your SOC 2 report faster and save money while strengthening your security posture. 
Request a demo to learn more about how we can help you get SOC 2 compliant in weeks, not months.
Recommended reading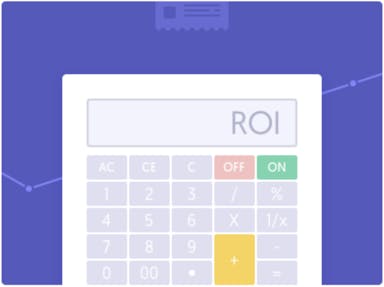 FAQs
What's the process for getting a SOC 2 report?
To start, you'll need to find an accredited CPA to issue your report, preferably one who has experience with similar companies in your industry. If working with Secureframe or any other automation tool, we recommend partnering with an audit firm that is familiar with that automation tool in order to streamline the process. 
Once the audit begins, the auditor will interview your team about company policies and processes. They will also review documentation and evidence of how your controls work, and consult with process owners for clarification or to request additional evidence. 
At the end of the audit, you'll receive a written SOC 2 report summarizing your audit scope, systems and control environment, and control tests. The report will also include the auditor's formal opinion about how well your controls perform.
What are the potential results for a SOC 2 report?
Every SOC 2 report includes the auditor's formal opinion about how well your controls perform. There are four types of opinions:
Unqualified opinion: The organization's controls satisfy the requirements for compliance
Qualified opinion: The organization is close to coming into compliance, but one or more areas aren't quite there yet
Adverse opinion: The organization's controls fall short in one or more non-negotiable areas 
Disclaimer of opinion: The auditor doesn't have enough information to support a formal opinion
How long does it take to get a SOC 2 report?
Depending on the type of report you choose, a SOC 2 audit can take anywhere from 1-12 months. But preparing for a successful audit can take much longer. You'll need to select your TSC, write policies and procedures, train your staff, conduct a gap analysis, implement any new controls, and select an auditor. All of these tasks can easily eat up hundreds of hours for your team.
Compliance automation can help you prepare for an audit in a fraction of the time. Secureframe automatically collects evidence during your audit window and alerts you of any nonconformities in your tech stack. You can also track your progress towards audit readiness with a central dashboard to get a real-time view of what you still need to do before bringing in an auditor. 
SOC 1®, SOC 2® and SOC 3® are registered trademarks of the American Institute of Certified Public Accountants in the United States. The AICPA® Trust Services Criteria for Security, Availability, Processing Integrity, Confidentiality, and Privacy is copyrighted by the Association of International Certified Professional Accountants. All rights reserved.