SOC 2 vs. ISO 27001: Similarities, Differences, and Benefits of Each
In today's age of cyber-attacks and data breaches, improving your business' data protection practices can be foundational to protecting sensitive information and setting yourself apart in the marketplace.
The best way to do that is to pursue compliance with a proven security control framework. 
Two of the most respected are SOC 2 and ISO 27001. Both have much in common and offer plenty of benefits, but there are a few key differences that may push you toward one or the other.
Below, we'll explore the details of each framework and discuss some things to consider when choosing between them. We'll then round this post out with a pair of walkthroughs detailing how to become compliant with each set of standards.
What are SOC 2 and ISO 27001?
First, here's some background on each security framework to help you better understand the differences later on.
SOC 2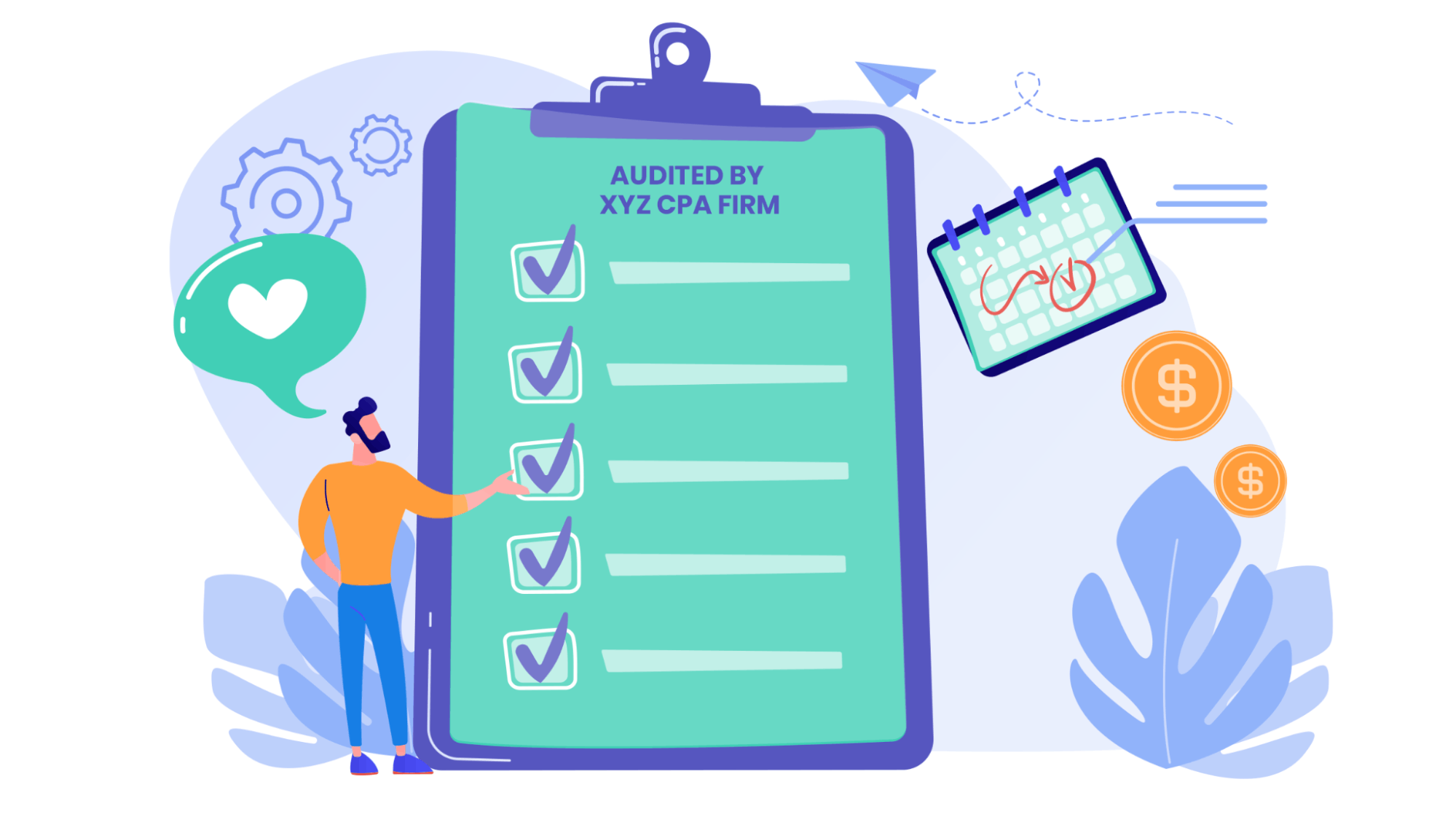 SOC 2, which stands for System and Organization Controls 2, is a security control framework created by the American Institute of Certified Public Accountants. It provides standards regarding the security of a company's processes, systems, and controls when it comes to handling customer data.
This is also an audit procedure that evaluates the operational effectiveness of these processes, systems, and controls.
It tells you how secure they are according to five trust principles:
Security
Availability
Processing integrity
Confidentiality
Privacy
There are two types of audit procedures:
Type I: Measures everything as of a specific date
Type II: Measures everything over a period lasting between three and 12 months
Upon completing a successful SOC 2 audit, you receive a SOC 2 report containing the auditor's professional opinion on whether you meet the trust criteria specified. 
ISO 27001
ISO 27001, which stands for International Organization for Standardization 27001, is an international security standard. It guides companies in creating secure systems and processes within their firms. 
This is part of a larger set of standards created by the ISO in partnership with the International Electrotechnical Commission. 
ISO 27001 consists of three security objectives:
Confidentiality
Integrity
Availability
ISO 27001 has ISO 27002 as a supplementary standard offering guidance on implementing some controls found in ISO 27001.
SOC 2 and ISO 27001 are pretty similar. However, ISO 27001 provides a lot of specific guidance on controls that you can implement. 
On the other hand, SOC 2 is more flexible — you can implement any controls as long as they meet the trust principles you specify.
SOC 2 vs ISO 27001: Five things to consider
Both security frameworks are reputable and can provide your firm with several benefits. They also both have a fair bit of overlap. 
Still, they differ in some areas.
You may not want to pursue both — at least right away — due to a lack of resources and time. 
To that end, let's look at what you should consider if you need to decide between SOC 2 and ISO 27001.
1. Target market
Your target market's location plays a significant role in determining which standard is best for you. 
ISO 27001 is the gold standard internationally. If you do a lot of business outside North America, then ISO 27001 might be the better choice.
While SOC 2 isn't recognized as much outside North America, it's highly regarded within the continent.
Of course, the trade-off is that it's more flexible and a bit easier to achieve. 
2. Audit and certification process
Both standards require an audit, which we'll cover more in-depth later.
However, both the auditors and the rigors of each audit are a bit different. 
Certified Public Accountants can perform SOC 2 audits and issue SOC 2 reports, although you'll want to prioritize working with a firm that specializes in information security.
You don't have to try and comply with all five trust principles. You can pick and choose those that you'd like to pursue first (such as those that offer the highest ROI) as long as the security principle is among them.
You can also choose between SOC 2 Type I and Type II audits.
As for ISO 27001 audits, only ISO 27001-accredited certification bodies can perform these and award ISO 27001 certification.
SOC 2 audits don't issue a certification. Instead, they provide a report that includes the auditor's opinion. This is partially why you can pick and choose your trust principles.
ISO 27001, on the other hand, does issue a certification. You just have to meet all ISO 27001 standards to get it.
3. Cost
Both standards will cost time and money.
You're going to have to invest resources into bringing your systems, processes, and controls into compliance with the relevant standard. 
Additionally, you must pay the auditor to perform the audit and issue the report or certification.
ISO 27001 audits tend to cost a lot more than SOC 2 audits since they involve more to achieve and maintain certification. Adding to this cost is the fact that only ISO 27001-accredited auditors can conduct them.
Since SOC 2 audits offer more flexibility and simplicity, they may cost less.
4. Penetration testing requirements
Penetration testing involves a cybersecurity professional attempting to ethically hack into a firm's system. In doing so, they test the firm's cyber defenses and identify weaknesses that may need fixing.
ISO 27001 audits require penetration testing as part of certification. As for SOC 2 audits, it depends.
Type I audits usually don't require penetration testing as part of the procedure, but Type II audits typically will. 
That said, penetration testing requirements may vary based on your auditor, customer needs, and environment.
5. Recertification
Cybersecurity never stops evolving. To that end, both standards require regular audits to ensure you're still compliant.
SOC 2 requires yearly audits, with each offering you an updated SOC 2 report.
ISO 27001 requires you to have an audit once every three years. 
However, many recommend internally auditing your firm according to ISO 27001 standards annually to ensure you're always in compliance and prepared when the recertification audit rolls around.
How to get your SOC 2 report
1. Pick your trust criteria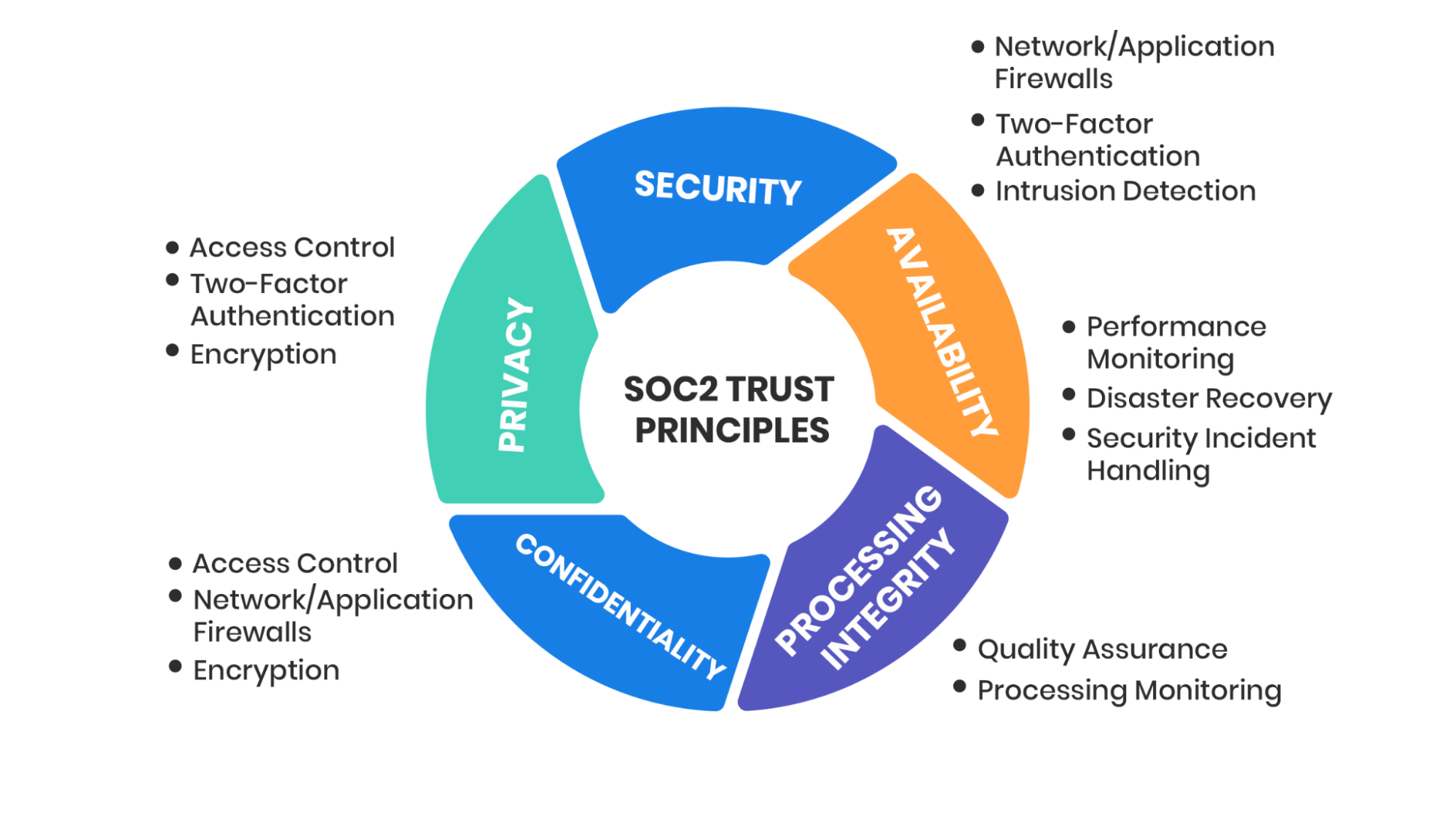 First, pick your trust services categories.
Remember that you don't need to become compliant with all five trust principles if you don't want to. 
If your firm has limited resources, you may consider pursuing just security, as it is the only required principle.
Alternatively, you could pursue the most vital principles or those which promise the most potential value based on your company and industry. 
For example, if you're dealing with personally identifiable information or protected health data, you might pursue privacy in conjunction with security.
2. Get an initial audit or readiness assessment
After picking your criteria, conduct an initial audit. You can do this within your organization, but you should bring in an external auditor for the best results. It would typically be a CPA firm specializing in information systems.
During the assessment, your auditors will ask you a barrage of questions about your systems as they actually examine them. 
In the end, you'll get a report on your current systems and internal controls. This should give you a sense of what gaps may exist between you and compliance with your chosen principles.
It also shows you what kinds of changes you'll have to make to achieve SOC 2 compliance.
3. Implement the Necessary Changes
Next, you'll implement changes to come into compliance with SOC 2. 
This can take several months to build out completely, and you'll need to ensure cooperation across several functional areas. 
Upon finishing your SOC 2 work, make sure that everyone in the organization follows them to a T. Doing so gets everyone to build good security habits. This will pay off once you bring your auditors back in to do your formal SOC 2 audit.
Also, you must maintain detailed documentation. You can use these documents as further evidence of your adherence to SOC 2 standards.
4. Undergo the formal SOC 2 audit
Inform your auditor that you'd like to undergo a formal SOC 2 audit. 
Your auditor will then examine and test your systems and controls, asking you plenty of questions about them.
Assuming everything goes well, you'll receive a SOC 2 audit report with an unmodified opinion. That means the auditor found nothing wrong on a material level.
5. Monitor and recertify
When it comes to security, the work never ends. 
You have to bring in auditors every year to check that you're still compliant with SOC 2.
The continuous work will pay off, though, when you can flaunt your firm's adherence to the most rigorous standards of security.
How to get your ISO 27001 certification
1. Get your implementation team together and develop your plan
First, assemble an implementation team. Appoint a project leader who has a well-rounded background in information security matters.
From there, the team needs to determine precisely what they must do to comply with ISO 27001, along with the estimated cost and timeline.
They can then begin drawing up a detailed outline of their objectives and plan, along with an overview of what the team hopes to achieve and how they'll do it. 
2. Define the information security management system scope
Next, the team must determine how far-reaching the ISMS will be in terms of your everyday activities in the organization. In other words, it's time to define the scope. 
Doing this right requires you to strike a balance. 
You don't want the scope to be too small, as you'll leave sensitive information exposed. However, if it's too large, the project will become too complicated and expensive. 
You'll also want to identify the bare minimum level of security you're going to need to keep things secure. This can be done at the end of your risk assessment.
3. Perform a risk assessment and create your risk management process
ISO 27001 lets you design your own risk management process. 
Regardless of what you choose, you'll have to perform a risk assessment to make decisions about this process. 
This involves five steps:
Establish a risk assessment framework
Identify risks
Analyze risks
Evaluate risks
Select risk management options
4. Develop your risk treatment plan and monitor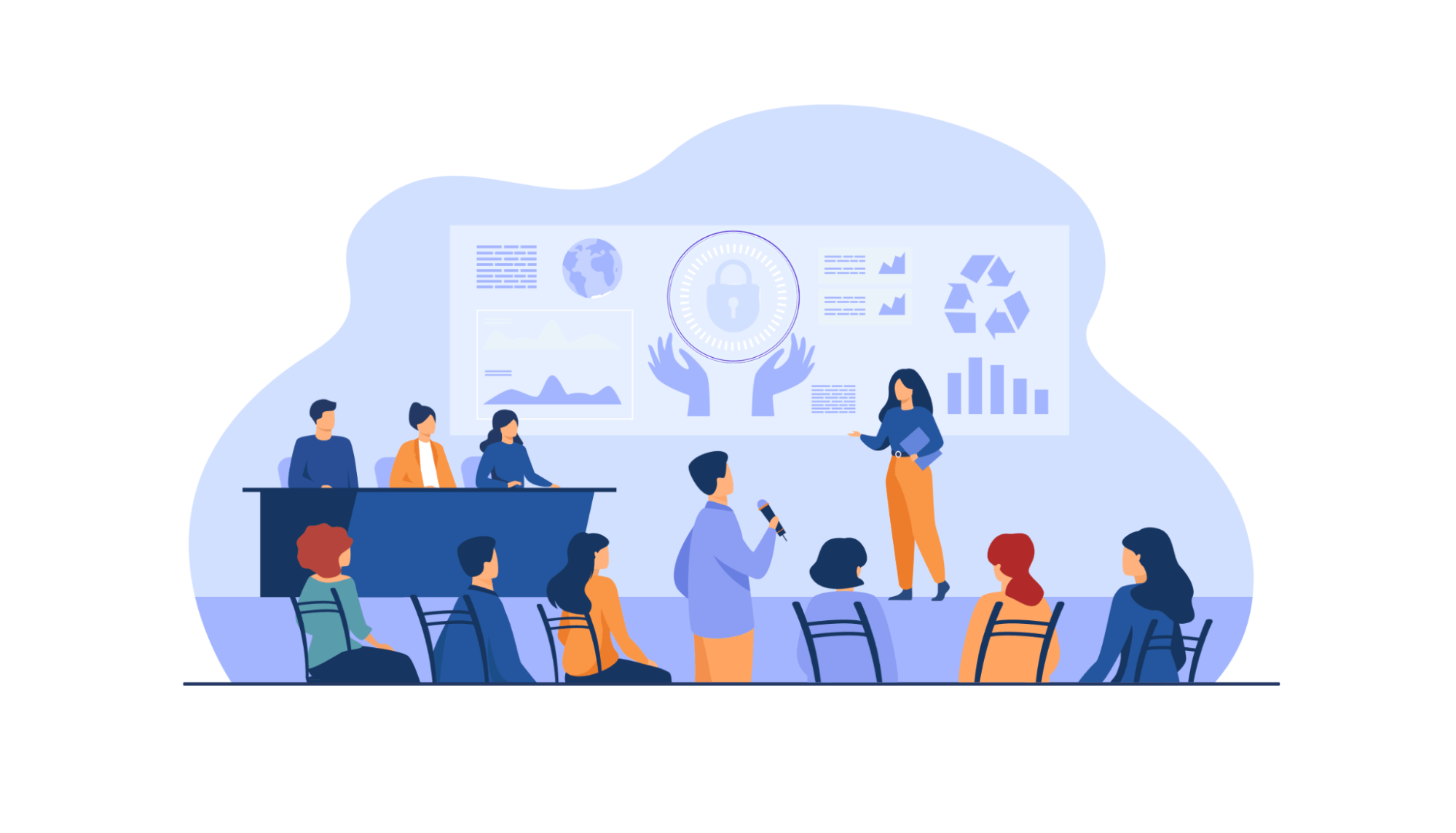 The last stage in preparing for the ISO 27001 involves actually building your risk treatment plan. 
These are the controls that will keep information within your business safe and compliant with ISO 27001 guidelines.
After you've built the controls, make sure staff members understand how they work. 
Also, you want to inform them about their duties regarding information security so you're ready for the audit.
When the controls are finished, you'll need to test them by picking criteria relevant to your project's objectives and measuring your controls against them. 
You should also conduct internal audits to see how things work in action — these can serve as a test run for the real audit.
5. Bring in the auditors
Finally, hire an accredited external auditor. 
They'll do two audits.
The first is brief, ensuring you developed your ISMS in line with ISO 27001 guidelines. 
The second goes deeper, checking that everything actually meets ISO 27001 compliance requirements. 
Make sure you're confident in your ability to pass the audit, as it will consume time and money regardless of whether you pass or fail.
Conclusion
SOC 2 and ISO 27001 have a lot of overlap — both are rigorous security standards that demonstrate your commitment to information security. Their most material differences come down to cost and market applicability.
Ideally, you will eventually achieve both. That said, SOC 2 is a good starting point for companies looking to prove their dedication to secure systems and controls, as it's a bit more flexible. 
Normally, preparing for a SOC 2 audit can take months. However, Secureframe can cut that time to weeks. Schedule a free demo to check it out, or reach out to [email protected] to learn more.
Never miss a post. Subscribe!