SOC 2 vs ISO 27001: What's the Difference and Which Standard Do You Need?
Which is better, SOC 2 or ISO 27001? It's a question a lot of fast-growing companies face when deciding which type of compliance to pursue. 
It's a tough question to answer, in part because the two frameworks are actually very similar. 
Both are designed to demonstrate to clients that you can be trusted with their data. They both cover foundational security principles like data integrity, availability, and confidentiality. Both standards are well respected globally, both involve an independent audit by a certified third party — and both require significant time, effort, and money to achieve. 
Are you better off pursuing ISO 27001 certification or a SOC 2 report? Which holds more prestige with your customers? Is one objectively better than the other? 
With this SOC 2 and ISO 27001 comparison, you'll understand the key differences between the two frameworks, plus find advice on knowing which is the right choice for your organization. 
What is the difference between SOC 2 and ISO 27001?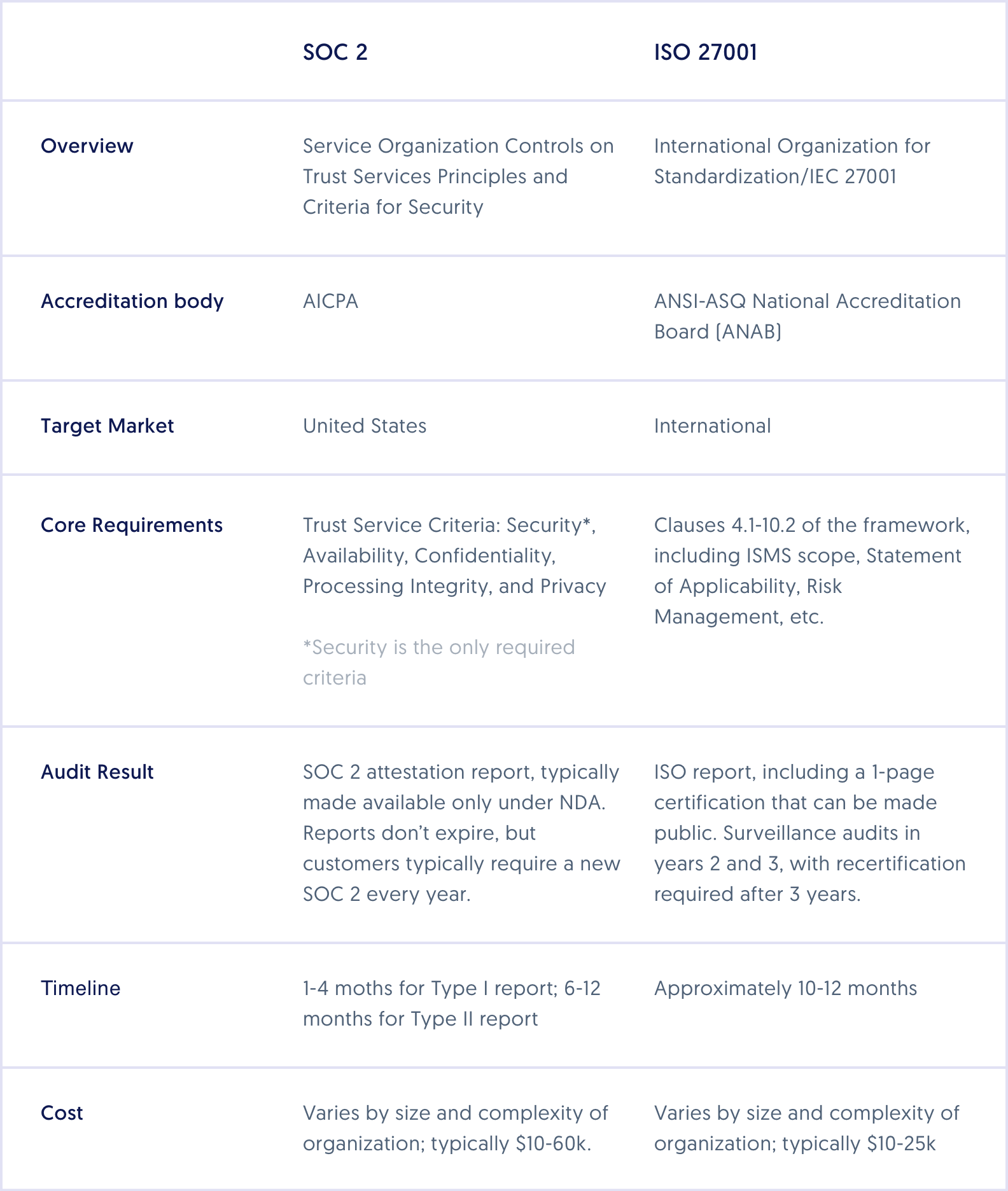 Target market
If a majority of your customers are based in the US, you should opt for undergoing a SOC 2 audit. The SOC 2 Type II has become the industry standard framework for third-party reports when it comes to information security compliance in the US.
If a majority of your customer base is outside of the US, you may want to opt for completing an ISO 27001 audit. An ISO 27001 certification is the gold standard for information security compliance internationally. 
That said, many US companies will accept ISO 27001 certification, and many companies outside of the US will accept a SOC 2 report. Ultimately, this decision comes back to what your customers are requesting during their vendor due diligence. 
As your company grows, you will likely opt to complete both audits in order to have full coverage across your customer base.
Scope
While you'll need to implement internal controls for both SOC 2 and ISO 27001, ISO 27001 also requires that you have a plan to evaluate and improve your Information Security Management System (ISMS) over time. 
Cost
While costs vary from auditor to auditor, ISO 27001 certification can be more expensive than a SOC 2 report because ISO requires more documentation to prove a compliant ISMS is in place. That said, it is possible to receive a substantial discount if you opt to complete both audits with the same auditing firm. 
Level of flexibility
With SOC 2, companies can choose which of the five AICPA Trust Services Criteria to include in their audit, and design a system of internal controls that support their selected TSC. In this way, SOC 2 is a much more flexible framework, allowing companies to adapt controls to their unique systems and services. 
ISO 27001, however, has 114 prescribed controls that organizations must implement. It also requires exact language to be used in many policy documents as part of the company's Information Security Management System
In addition, ISO 27001 focuses on information security, with separate standards that cover privacy, business continuity, and other concerns. The SOC 2 Trust Services Principles include Availability, Confidentiality, Privacy, and Processing Integrity that can be included in the scope of a SOC 2 audit to meet an organization's specific services and customer requirements. 
Audit process
For both frameworks, companies must define their security objectives, conduct a gap analysis, implement the necessary controls, accumulate documentation, and establish a method to review and continually improve security processes. 
However, assessor requirements are different. SOC 2 audits must be completed by licensed CPAs, while an ISO 27001-accredited registrar is required to issue an ISO 27001 certification. 
In addition, SOC 2 Type 2 reports typically need to be renewed on an annual basis. Most ISO 27001 certificates are valid for three years, with a point-in-time audit at the end of the first year and renewals for the second and third years. 
Audit timeline
ISO 27001 certification typically takes longer to complete than a SOC 2 audit. 
For a SOC 2 Type I report, audit readiness takes an average of 3 months of preparation work. Once audit-ready, it takes approximately 2 months to conduct the audit and receive the report in hand for both. 
For a SOC 2 Type II report, it can take an average of 4 months to get audit-ready. Once ready, the audit assessment can take between 3 to 12 months depending on your desired audit window. Once the audit window has finished, it can take an additional month to address any follow-ups and receive a report in hand.
For an ISO 27001 certification, audit readiness takes an average of 4 months. Once audit-ready, it takes an average total of 6 months to complete Stage 1 and Stage 2 audits (addressing any gaps in between) and receive your report. 
Both SOC 2 and ISO 27001 require a substantial amount of time upfront in order to build and implement the right policies, processes, and controls for your company.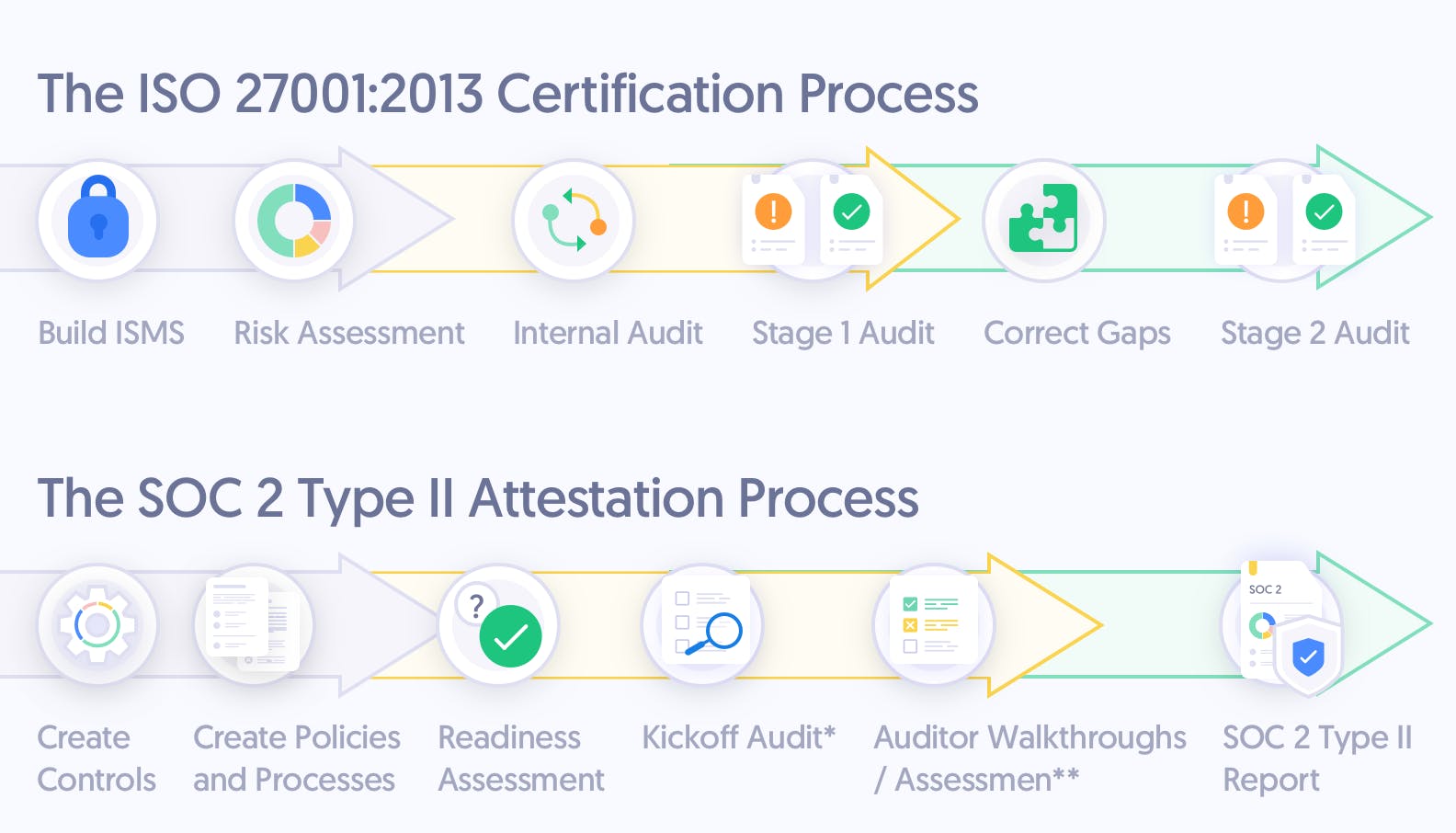 Report type
Although both security standards require an external audit, the results of the audit are different. 
Only ISO 27001 involves an actual certification. At the completion of an audit, the auditor issues a certificate of compliance that verifies whether the organization meets the International Organization for Standardization (ISO) requirements for protecting information and managing risk. 
The result of a SOC 2 audit is an attestation report, which details the auditor's opinion on whether the organization's security controls satisfy the relevant Trust Services Criteria. 
SOC 2 vs ISO 27001: Which is right for your company? 
Both SOC 2 and ISO 27001 are highly respected security frameworks that will strengthen customer confidence in your organization's security posture. Both require a significant commitment in terms of time, money, and effort to achieve. And both will help ensure your organization has best-in-class security practices in place. 
So which is a better fit for your company — ISO 27001 or SOC 2 compliance? ...Or do you need both?
The short answer is that it really depends on your customers. 
The most important factor for deciding between SOC 2 and ISO 27001 will come down to what your target market expects and requires. What are your customers asking for? You'll also want to consider the scope of controls, cost, and project timelines. 
Many organizations see the value in attaining both a SOC 2 report and ISO 27001 certification — especially since a good deal of requirements and controls overlap. According to the SOC 2 vs ISO 27001 mapping spreadsheet by the AICPA, there's about an 80% overlap between SOC 2 and ISO 27001 criteria. 
Meeting the requirements for both frameworks demonstrates a deep commitment to security and will earn trust with customers across the globe. Secureframe streamlines the ISO 27001 and SOC 2 process, making it faster, easier, and less expensive to achieve compliance with both frameworks. To learn more, schedule a demo or reach out to us at sales@secureframe.com.