The SOC 2 audit: Types, Costs Involved, and How to Prepare
SOC 2 — part of the American Institute of Certified Public Accountants' System and Organization Controls set of security controls standards — is one of the most respected information security frameworks you can pursue compliance for. 
It demonstrates your business' commitment to top-notch security in handling customer data, which protects your brand and clients while also distinguishing you from the competition.
In order to claim SOC 2 compliance, you need to undergo a SOC 2 audit.
Below is a complete guide to SOC 2 audits. We'll cover what they are, along with the two types and five trust principles, before concluding with a checklist to help you prepare for your audit.
What is a SOC 2 audit?
A SOC 2 audit is the procedure you must undergo to be able to claim your compliant with SOC 2 guidelines. 
Since the American Institute of Certified Public Accountants created the SOC 2 framework, CPA firms can perform these audits — preferably those specializing in information security and systems. 
There are five compliance requirements (known as Trust Service Principles) for SOC 2: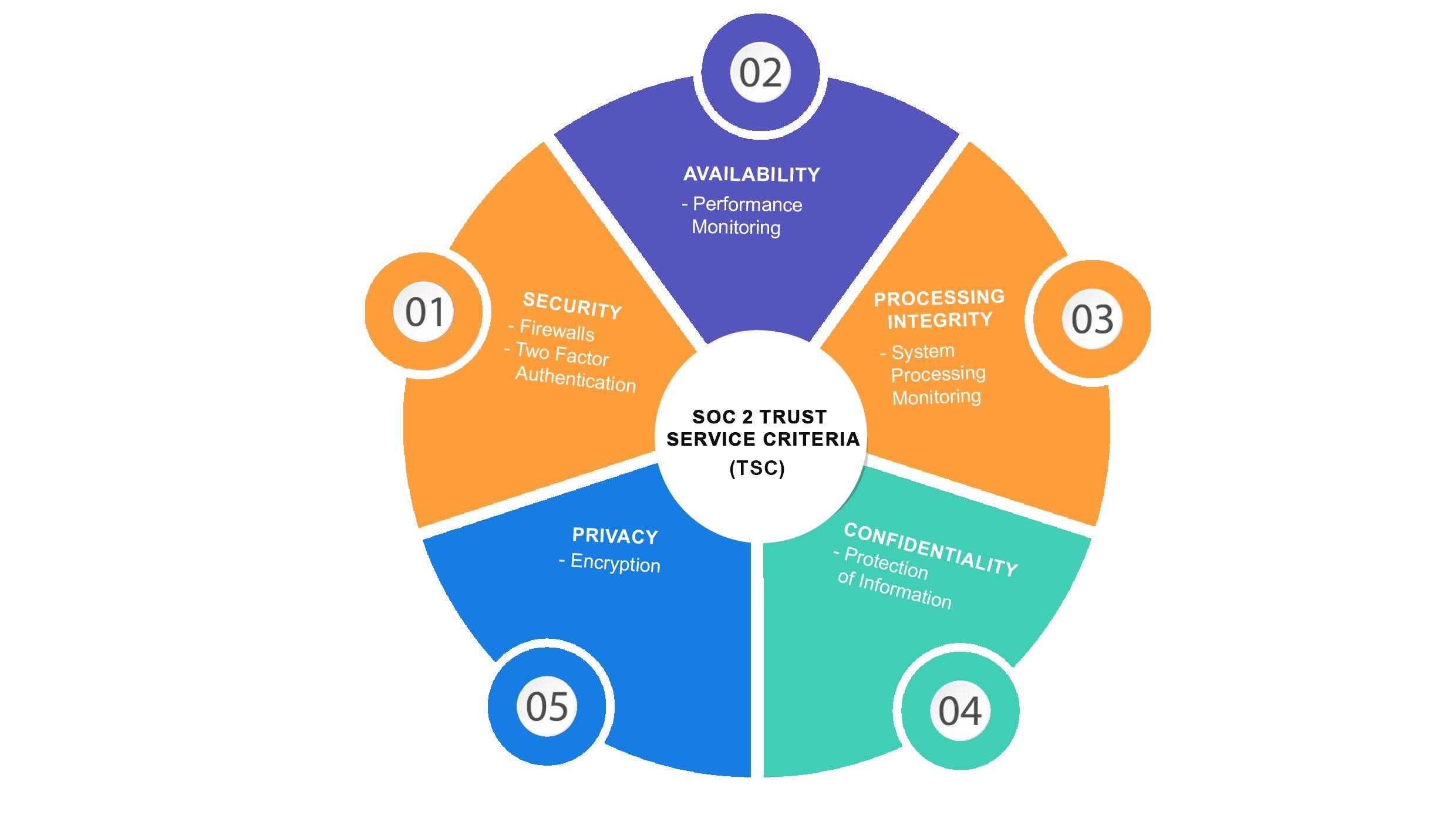 Security
Availability
Processing integrity
Confidentiality
Privacy
You can have a SOC 2 audit for just security (the only required principle) or as many principles as you'd like. 
When you successfully complete your SOC 2 audit, your auditor will issue you a SOC 2 report. The report offers the auditor's opinion regarding your controls' design and operating effectiveness according to each SOC 2 trust services principle you specified.
Passing the SOC 2 offers many benefits.
For starters, it provides assurance that you're unlikely to experience a data breach, and you're able to counteract threats. Data breach and exposure occurrences have decreased in recent years but have been trending upward in general since 2005. Complying with SOC 2 can minimize the chance that you become part of that statistic.
SOC 2 compliance also appeals to customers and vendors concerned with security. In fact, some of your clients or customers may only work with SOC 2 compliant companies. For others that don't require it, this still offers an extra layer of assurance.
Following SOC 2 also helps build a security culture within your company. Team members become more vigilant about following information security best practices and reporting any potential threats or suspicious activity as soon as possible.
All that being said, you can't be 100% sure that you're compliant — nor can you say you're compliant — without passing the audit.
What are the types of SOC 2 audits?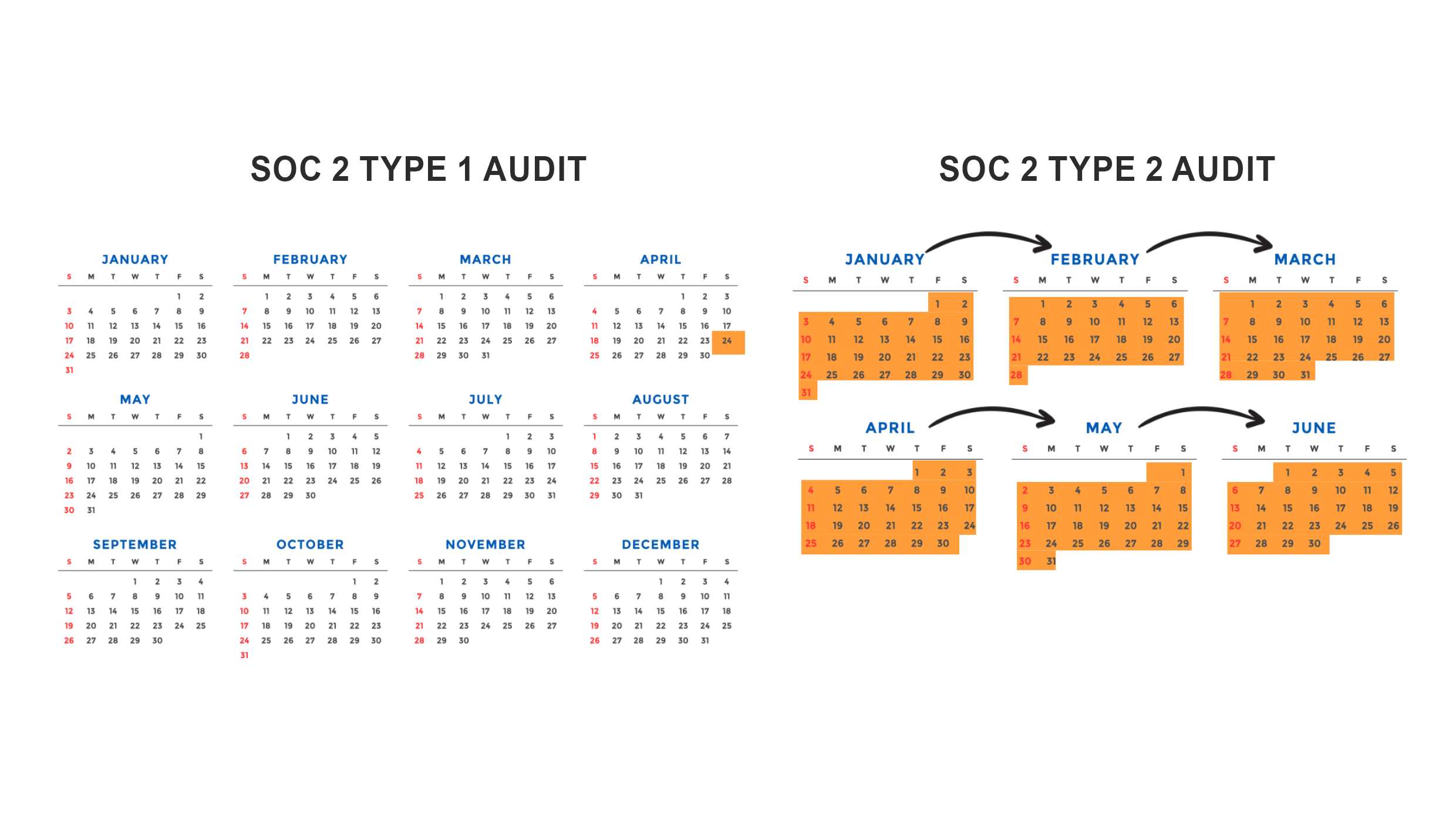 There are two main types of SOC 2 audits: Type I and Type II.
Type I audits evaluate the design effectiveness of your firm's internal controls at achieving the trust principles you specified at the outset of the audit for a specific point in time. 
Type II audits are similar to Type I audits, but they also analyze your controls' operational effectiveness and evaluate things over a longer period. 
The SOC Type II report will contain additional information attesting to the firm's effectiveness over a specific timeframe. The typical range for a SOC 2 Type II audit is anywhere from three to 12 months. Many companies choose six months, with 12 being the gold standard.
Type I audits will cost less time and money to prepare for and undergo, but Type II audits provide more benefits. With a Type II report, you can demonstrate that everything works correctly over a period instead of just one day. This provides extra reassurance to customers, vendors, and other concerned parties.
That said, Type I audits are often used as a first step toward the Type II audit.
How much does a SOC 2 audit cost?
In general, you should expect to pay anywhere between $50,000 for Type I to over $100,000 Type II. This investment is often well worth it, given that a single data breach can cost you millions.
However, it's hard to say exactly what a SOC 2 audit costs, given the many variables involved. The only thing that's for sure is that a Type II audit costs more than Type I.
You have to consider preparation costs, the fee you'll pay for the actual audit, and other associated expenses.
Preparation costs
The most obvious preparation cost is bringing your controls up to speed. 
This varies based on the trust principles you choose and how close you are to achieving compliance with them prior to any changes. You may have to purchase additional software or tools to get up to compliance as well.
The readiness assessment is an optional but incredibly useful part of the prep process.
During a readiness assessment, a CPA firm will analyze each internal control as if they were performing an audit, then tell you how close you are to being ready for the audit. The CPA will also provide recommendations for addressing any weaknesses in your processes or controls.
These assessments on their own are substantial investments.
If you hire a security consultant to help with the prep work, you can save time, but you'll also have to spend more.
Lastly, you'll incur some legal fees when reviewing all agreements with customers, vendors, contractors, and employees. The data protection policies in these agreements can impact audit readiness.
Audit costs
One of the primary factors impacting the cost of the audit is the number of trust principles you're working toward. Each additional trust principle expands the scope of the audit and requires more auditing procedures.
Your firm's size will also impact the audit fee. The bigger your company, the more you're likely to pay.
Of course, the CPA firm you hire will influence the price as well. SOC auditors with more experience will likely charge more, but their SOC 2 reports may carry more weight.
Other costs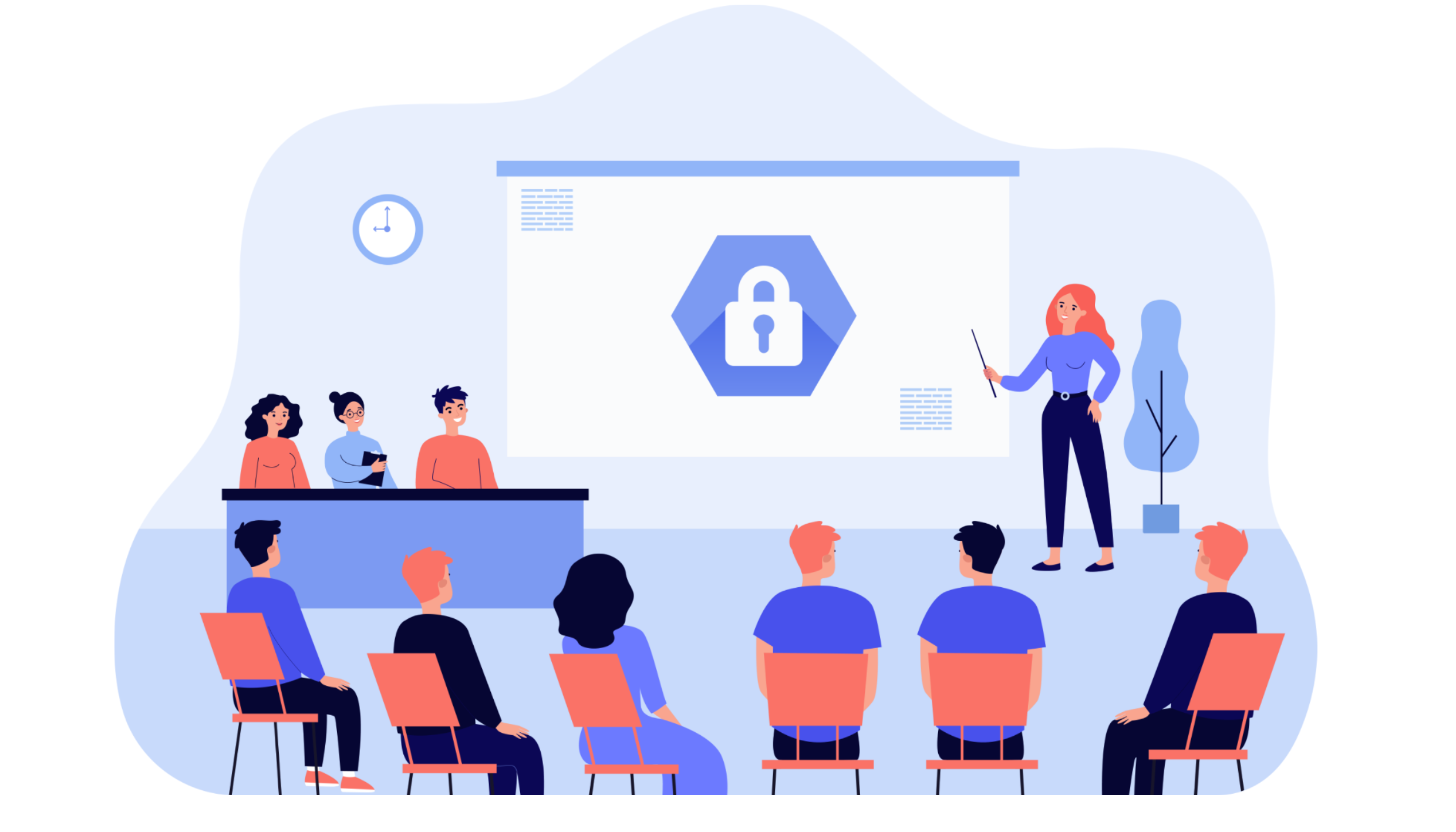 There are other more subtle costs to consider in going through with a SOC 2 audit. 
For one, you'll incur productivity costs as your employees shift their attention toward achieving compliance. 
Another cost to consider is training your staff. Whether in-house or through a third-party firm, you'll want to bring regular security awareness training to your employees. 
You'll also need to invest time in ensuring that employees understand the new controls and systems.
How to prepare for your SOC 2 audit
The SOC 2 audits process is pretty thorough and takes a lot of time. Therefore, you want to prepare for the audit adequately.
Preparing for the audit could take weeks or months, but the payoff of becoming SOC 2 compliant is worth it.
Choose your reporting period and trust principles
First of all, choose the time period that your SOC 2 audit will measure.
For Type I audits, this would be a specific day.
The AICPA recommends at least six months for Type II audits. Anything less is not as useful.
However, you can still do less than that, depending on your situation. Just know the report's information won't be as helpful.
After that, select each trust services category you'd like to audit for.
You can start with just security, go for all five principles at once, or perform as many as you can afford.
Specific industries may also want to opt for certain principles.
For example, healthcare firms must comply with HIPAA. If you're in the industry and limited in resources, going for privacy on top of security can be a good choice.
Identify controls, systems, and documentation to be audited
After choosing your reporting period and trust principles, determine which controls and systems are relevant.
Additionally, gather all documentation regarding these systems and controls. 
The auditor will then look at the documentation alongside the systems and controls.
Documents you may need to provide include, but are not limited to: 
Asset inventories
Change management information
Equipment maintenance records
System backup logs
Code of conduct and ethics 
Business continuity and incident response plans
Perform gap analysis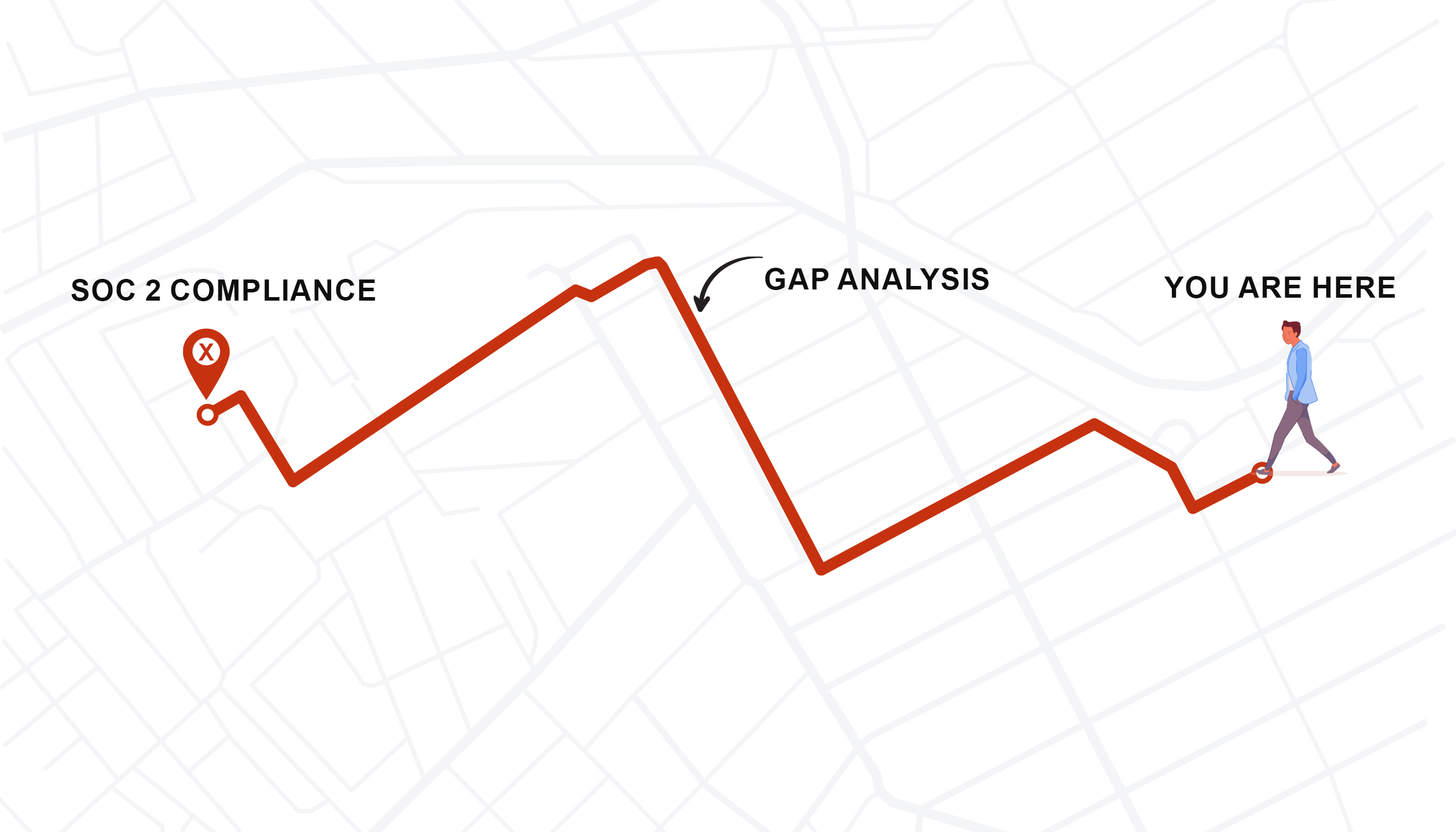 Now that you have all your systems, controls, and documents in place, you have to evaluate where you stand relative to what SOC 2 compliance requires. This is called gap analysis.
Gap analysis allows you to identify areas that need corrections or upgrades before the formal SOC 2 audit.
Remember to only judge against the trust criteria you specified. Don't waste time or resources on criteria you're not interested in pursuing.
Bring in a reputable CPA firm for a SOC 2 audit readiness assessment
You can bring in a SOC auditor beforehand to consult on any questions or concerns.
At this point, you can have the auditor perform a readiness assessment.
During the readiness assessment, the auditing firm will explain the requirements of the trust criteria you've selected.
They'll also perform what amounts to a second gap analysis, which is useful as it comes from an impartial third party.
The auditing firm will point out any gaps you still have in your controls. They'll also give you some points of focus — recommendations for supporting controls with some guidance.
At the end of the readiness assessment, the auditing firm will give you a report explaining which controls would end up in your SOC 2 audit report. It will also explain how they are relevant to your chosen trust principles and what gaps are still preventing you from meeting them.
Remember that the auditing firm can only guide you. It cannot create the controls for you. That would threaten their independence as an auditor. It's on you to implement the guidance they provide.
Undergo the formal audit
Once you feel confident in your ability to pass the audit, you can hire your auditor to come in and perform it.
Should you pass, keep in mind that you will want to bring the SOC 2 auditor in annually to ensure you're still in compliance.
When that happens, you can also pick new criteria. However, you'll have to repeat this entire process for those new criteria. That said, staying compliant in subsequent years should be much easier.
Prepare for your SOC 2 audit more quickly than ever
Preparing for a SOC 2 audit can seem daunting, but the benefits of SOC 2 compliance definitely outweigh the investments made in preparing for the audit. Following the recommendations above can provide some guidance in getting there.
Secureframe can help you cut the preparation process down from months to weeks. Schedule a demo or reach out to [email protected] to learn more about how we can help you get ready to pass that SOC 2 audit much faster.
Never miss a post. Subscribe!