SOC 2 Compliance: Definitions, Requirements, and Benefits for Business Growth
The SaaS business model is built on a foundation of trust. As Steve Bates, Global lead KPMG's CIO Center of Excellence, puts it, "customer trust is the number one currency for all outsourced IT services in the digital age." 
However, in today's cyber threat-laden space, earning customer trust can be difficult. Much of the problem stems from an inability to demonstrate that you can maintain data controls at all times. This is where SOC compliance comes in handy. 
A SOC compliance report provides customers with the assurance they need regarding your operational controls. It helps them to trust you with their data and can be a competitive advantage in your sector.
In this article, we'll discuss the nitty-gritty details of SOC 2 compliance. We'll also tell you what SOC 2 compliance is and how you can get a SOC 2 report to earn customer trust.
SOC 2 compliance: The basics
Augie Ray, Vice President Analyst at Gartner, said, "Brands that take proactive steps to address customer concerns demonstrate customer-centricity, which earns customer trust and builds relationships."
In today's threat-infested landscape, data security is the number one concern for every user organization. And so, to gain an edge over competitors, you have to show that you can protect customer data. 
What's SOC 2 compliance?
SOC 2 is an auditing framework that outlines standards for handling customer data based on the American Institute of Certified Public Accountants (AICPA) trust services principles.
They include:
Security 
Privacy 
Availability 
Processing integrity 
Confidentiality
Unlike other compliance criteria like ISO 27002, a SOC 2 report is unique to each service organization. You implement systems and controls based on security or any other trust principle relevant to your organization. 
SOC 2 compliance shows that you've established and implemented security policies and procedures to safeguard customer data. 
What's the difference between SOC 1 and SOC 2 reports
There are three types of SOC compliance reports: SOC 1, SOC 2, and SOC 3 reports. 
SOC 1 report addresses the internal controls over financial reporting (ICFR). It focuses entirely on financial reporting objectives and doesn't deal with the confidentiality, privacy, or availability of customer data. 
The SOC 2 report covers broader operational objectives for service organizations. It focuses on the internal controls aligned with security, privacy, availability, processing integrity, and confidentiality of customer data. 
There are two types of SOC 2 audit reports: SOC 2 Type I and SOC 2 Type II. 
Lastly, the SOC 3 report focuses on trust service criteria for a general use report.
Who needs to demonstrate SOC 2 compliance?
Every technology-based organization that stores customer data in the cloud should demonstrate SOC 2 compliance. In other words, SOC 2 compliance applies to any SaaS provider, cloud computing company, hosting service, or data center provider.
SOC 2 trust service criteria (TSC): Compliance requirements
Even though AICPA requires auditors to evaluate service organizations as per the trust service principles, each entity has unique points of focus. 
You have to evaluate your business model, and the customer needs to determine your right fit. The AICPA stipulates five TSCs, including:
Security: Evaluates whether your systems and controls can protect information against physical access, damage, use, or modifications that could hinder users. Security is also known as the "common criteria," as it's the only mandatory trust principle. The others are optional. 
Availability: The availability principle checks whether your system and information are readily available for use as committed to via service-level agreements (SLAs). It applies to service organizations that offer cloud computing or data storage services. 
Processing integrity: It examines the accuracy, timeliness, validity, completeness, and authorization of system processing. This also applies to SaaS and technology companies that provide e-commerce or finance-related services.
Confidentiality: It examines whether your systems and internal controls are capable of protecting confidential data. You should include this principle in your SOC 2 report if you handle confidential information, like insurance or banking data for clients. 
Privacy: Unlike confidentiality, which applies to a wide array of sensitive data, privacy focuses entirely on personal information. It evaluates whether your systems gather, store, show, use, and dispose of personal information in a manner that meets client objectives. 
Your customers need assurance that your organization can check for suspicious activities and take corrective action. To meet expectations, you'll need to set up anomaly alerts and maintain the proper levels of visibility into your systems.
What security alerts must I set up?
You should set up alerting procedures to detect:
System failure
Intrusion detection
Unauthorized access, deletion, theft, alteration, or disclosure of information 
Incorrect processing of information
Circumvention of duty segregation
Most importantly, your system should have proper controls to sound the alarm when an activity deviates from the norm. 
Anomaly alerts let you decrease the Mean Time To Detect (MTTD). This way, you can respond to security incidents in time. 
What level of visibility do you need? 
You should maintain 360-degree visibility into processes, network connections, user activities, and more. 
Ideally, you should have systems and controls that help you maintain host-based monitoring so that you have granular visibility into:
Where an attack began
Which system parts it impacts
Attack travel routes
Nature of the impact
Best possible remedial moves
Gaining host-level visibility into these incidents is critical in slashing the Mean Time to Remediate (MTTR). Plus, with visibility comes actionable information, which is vital for resolving security incidents before they escalate into system-wide situations.
What type of incidents do I need to prevent? 
Security incidents are an inevitability, given the reality of today's cyberthreat-laden landscape. Despite the high likelihood, you have to try and keep such incidents from hitting your organization. 
You should prevent any incident that endangers the security, privacy, availability, processing integrity, and confidentiality of customer data. No incident should slip through the cracks. When one does, your internal procedures should be enough to remedy the situation.
SOC 2 audit: Getting and maintaining SOC 2 certification
According to PricewaterhouseCoopers (PWC), 90% of business leaders acknowledge that building customer trust will be a key competitive advantage in the future. However, only a few are seizing upon that opportunity. 
SOC 2 compliance demonstrates strong internal control practices. This is vital in resolving any doubts that your customers have. 
That said, SOC 2 auditing isn't a simple connect-the-dots process. It's an intricate procedure that requires meticulous planning and execution. 
Here are the typical phases of SOC 2 auditing: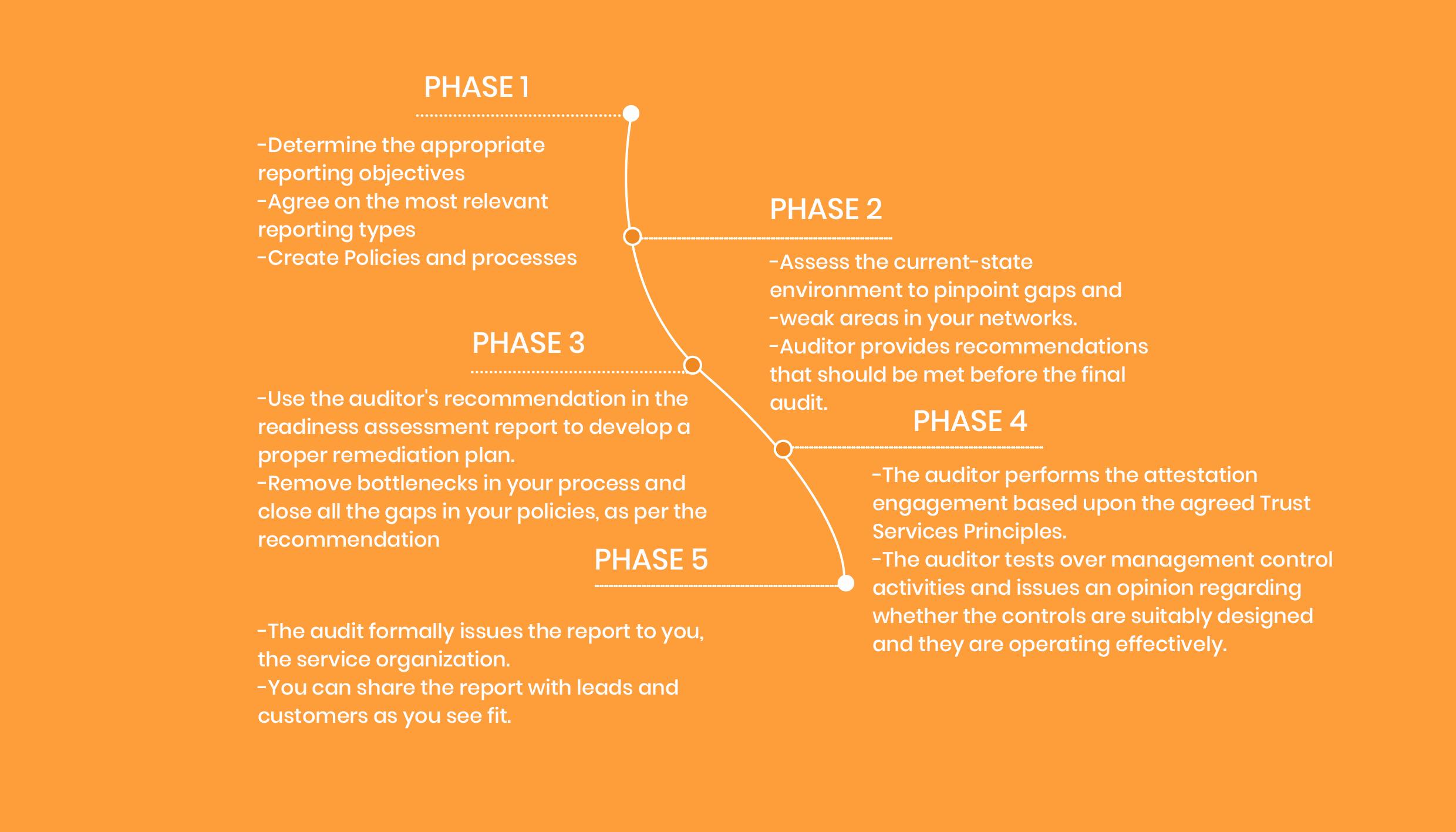 Phase 1: Determine the relevant controls
Decide your control objectives based on your contractual, legal, or regulatory obligations. Depending on why you're seeking SOC 2 compliance, you can include only security or all five trust principles.
Phase 2: Gap analysis and readiness assessment
Next, you assess the current-state environment and complete a checklist against the SOC 2 trust service criteria. The auditor will perform an analysis to determine which areas are lacking practical security controls and develop an actionable remediation plan. 
Phase 3: Remediation time
In this phase, you allocate resources to execute the remediation plan and close the gaps uncovered in the previous phase. Remediation also requires constant tracking of progress to help set a more reasonable readiness date. After passing the readiness test, you can now start the SOC 2 audit.
Phase 4: Attestation engagement
The auditing firm will set a list of expected deliverables over the trust service principles. It then performs the actual testing based on the trust service principles you've laid out.
Phase 5: SOC report delivery
SOC 2 auditing can take up to five weeks, depending on factors like your scope or number of controls. The auditor will deliver the SOC 2 audit report with four standard features:
Management's assertion
Description of services
Auditor's opinion
Results of testing
Who's authorized to perform the SOC 2 audits?
SOC 2 audits can only be performed by an AICPA-accredited Certified Public Accountant (CPA) firm. The auditing firm must be independent so as to perform SOC examinations objectively and deliver results that ooze integrity. 
Secureframe fits this profile. We have the technical expertise, certification, and training to perform SOC 2 audits. 
What is a SOC 2 readiness assessment?
The readiness assessment is a pre-audit test done to confirm whether your organization is well-positioned for a SOC 2 audit. 
The purpose of the review is to pinpoint control practices that conform (or don't conform) to trust service principles. It also uncovers areas that are lacking proper controls and helps create a remediation plan.
What does SOC 2 auditing entail? 
Typically, the auditor will scrutinize an average of 85 unique controls. You'll respond to an average of 100 evidence requests, which will require documentation to satisfy. 
SOC 2 is only an attestation report, not a certification like ISO 27001. For this reason, you don't pass or fail the SOC 2 examination. Rather, you get a detailed report with the auditor's opinion on how your service organization complies with trust principles.
Generally, when your organization's assertions agree with the auditor's opinion, you get a "clean" report. A clean report assures user entities that your organization has implemented security systems and controls and that they're functioning optimally to protect sensitive data. 
How much does the SOC 2 audit cost? 
The cost of SOC 2 auditing ranges between $20,000 and $80,000. Multiple factors influence the direct cost, including:
The size of your organization
The number of trust services criteria included
Number of unique controls, processes, and systems picked for examination 
Besides, other variables can impact auditing costs, including outsourced services like audit preparation and readiness assessment. The additional security tools you implement to close the gaps during remediation could also inflate the cost.
How long does it take to get SOC 2 certified?
SOC 2 auditing has two phases: pre-audit and the audit itself. 
The pre-audit typically takes between two and nine months to complete, and it includes the readiness assessment, gap analysis, and remediation. 
The auditing itself can take between one and five months, depending on various factors like the number of trust service principles you've chosen. 
Getting SOC 2 compliance with Secureframe can save you days of manual work. We offer a complete package that helps companies quickly go from no compliance whatsoever to fully compliant. 
Hasura, for example, got a SOC compliance report in just three months. The SOC 2 report came in at the most opportune time when Hasura needed to demonstrate the trustworthiness of its new product. 
Are there automated compliance tools I can implement?
There are multiple tools you can implement to make first-time auditing more manageable. At Secureframe, we weave software tools into your ecosystem to steer the compliance process right from the get-go. We integrate tools that evaluate the current security controls.
We also use software integrations that link with your systems and controls to collect evidence for SOC 2 compliance automatically. Doing so means that we don't have to send 100 evidence requests your way during the auditing. We only need to log into the tool to view how your controls have been operating during a specified period. 
Benefits of SOC 2 compliance: Reaping the rewards
SOC 2 compliance isn't technically mandatory; neither is it legally required. However, getting certified in the digital era offers multiple benefits, which we've highlighted below. 
1. Speeds up your sales cycle
The SOC 2 report provides third-party-certified answers to questions any prospect may pose. As the Hasura team claims, "Being able to provide SOC 2 in the RFIs of potential clients speeds up the sales cycle." 
2. Gain a competitive advantage
With the spiraling threat of data breaches, users want assurance that their data is adequately protected. A SOC 2 report lets you build trust and transparency and gives you an edge over competitors.
3. Increase transparency and trust
SOC 2 compliance report offers a fresh and independent view of your internal controls. It increases transparency and visibility for customers, thus unlocking infinite sales opportunities. 
As Anthony Heckman, head of business development UnitQ, said, "We couldn't get to the next stage of growth without processes like SOC 2 in place and couldn't have closed enterprise customers without it."
4. Proactively address risk
Using SOC 2 compliance automation tools can align internal controls with relevant trust principles. As a result, it enables you to avoid costly security breaches, saving you significant amounts (in 2020, IBM estimated the cost of a data breach to be $3.62 million). 
Get Started with Secureframe
As you've learned, SOC 2 compliance isn't mandatory or a legal requirement for your service organization. However, the benefits it delivers make it near-impossible for any technology company to compete without it. 
Getting a SOC 2 report could be the lucky break your business needs. So, what are you waiting for? 
If the complex SOC auditing process is giving you pause, we can help you become compliant super-fast without a fuss. Get in touch with our experts and unlock your business potential.