The traditional process of getting ISO 27001 certified can be pretty lengthy and involved, demanding months of preparation and multiple audits. 
Compliance automation software can slash this timeline from months to weeks. By automatically monitoring your ISMS and collecting evidence, it cuts audit preparation by hundreds of hours.
Regardless of which approach you choose, ISO 27001 certification has four phases: pre-audit preparation, Stage 1 and Stage 2 certification audits, surveillance audits, and recertifiation audits. In this article, we'll outline how long it takes to get ISO 27001 certified both with and without automation.
ISO 27001 certification timeline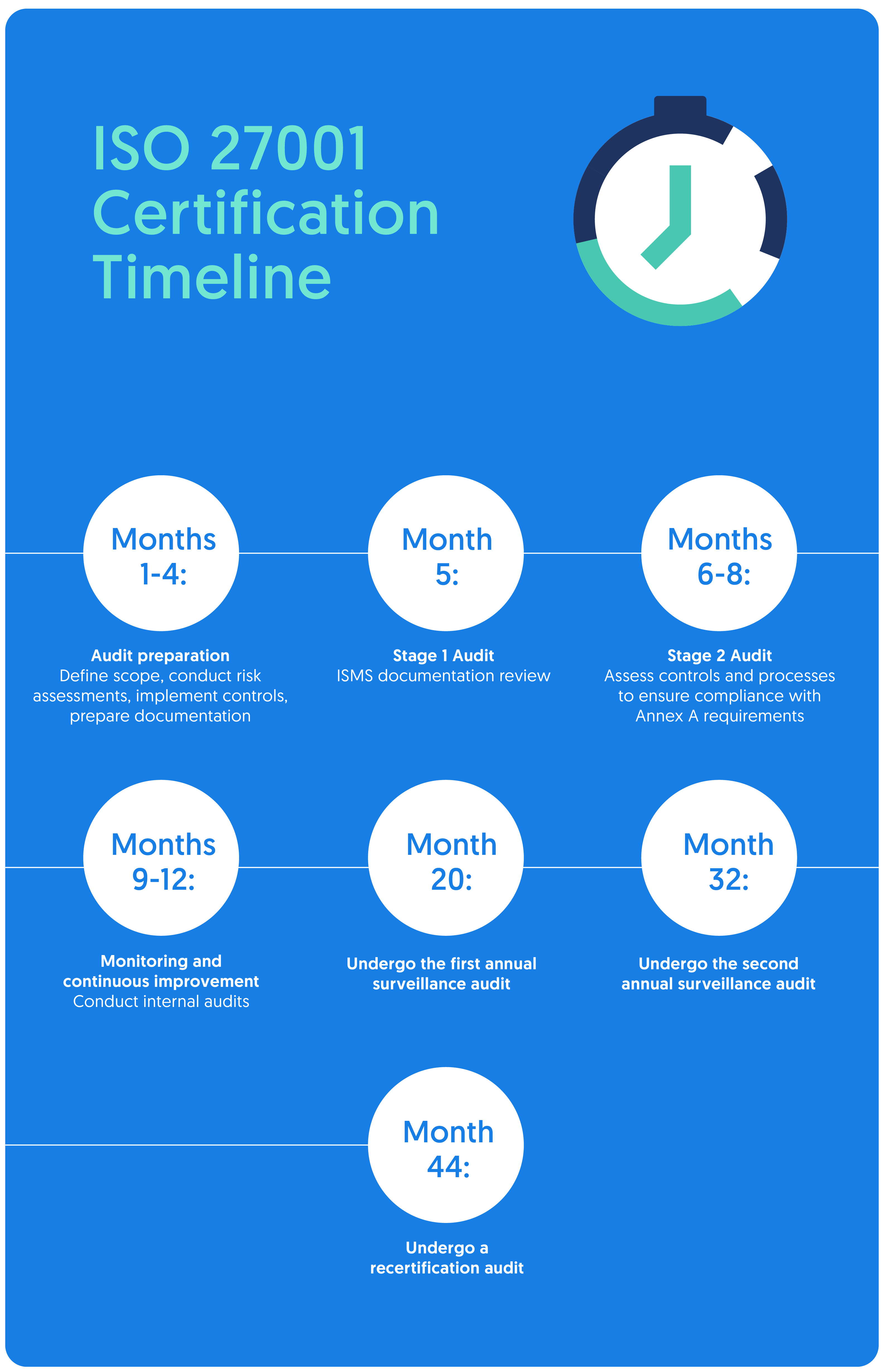 Pre-Audit Phase: Month 1 - Month 4
Step 1: Define ISMS scope
Step 2: Perform a risk assessment and gap analysis
Step 3: Design and implement policies and controls
Step 4: Document and collect evidence
Step 5: Conduct Internal Audit and remediation as necessary
Stage 1 Audit: Month 5
Step 6: Auditor reviews ISMS documentation
Stage 2 Audit: Months 6-8
Step 7: Auditor assesses security controls and business processes 
Step 8: Receive your ISO 27001 certification, valid for three years
Monitoring and Continuous Improvement: Months 9-12
Step 9: Monitor operating effectiveness of the ISMS
Step 10: Conduct an internal audit to identify opportunities for improvement
Recertification: Months 20-44
Step 11: Undergo an annual surveillance audit at years 1 and 2
Step 12: Undergo a recertification audit at the end of your three-year certification term. Recertification is valid for another three years. 
How long does it take to get ISO 27001 certified?
It depends on the size of your company and the complexity of the data you maintain. 
A small-to-medium-sized business can expect to be audit-ready in an average of four months, then through the audit process in six months. Larger organizations might require a year or more.
Those four months of audit preparation typically involve scoping your ISMS, conducting risk assessments and gap analyses, designing and implementing controls, training staff, preparing documentation, and conducting the internal audit. 
The certification audit process can take 2-3 months and is broken down into two stages. During Stage 1 audits, the auditor reviews ISMS documentation to make sure policies and procedures are designed properly. They may also make suggestions for how the organization can improve its ISMS to make it more secure. 
During a Stage 2 audit, the auditor reviews business processes and controls to ensure compliance with ISO 27001's ISMS and Annex A requirements. 
Pre-audit phase: Months 1-4
During this time, you'll define the scope of your ISMS and decide what information assets you'll want to be represented on your ISO 27001 certificate. 
Next you'll need to perform a risk assessment to identify threats and decide how to treat each risk. You may also choose to hire an outside consultant to perform a gap analysis and provide guidance on how you can meet ISO 27001 requirements. 
The audit prep stage is also where you'll need to prepare documentation, including writing security and privacy policies, collecting evidence of controls, and training your staff.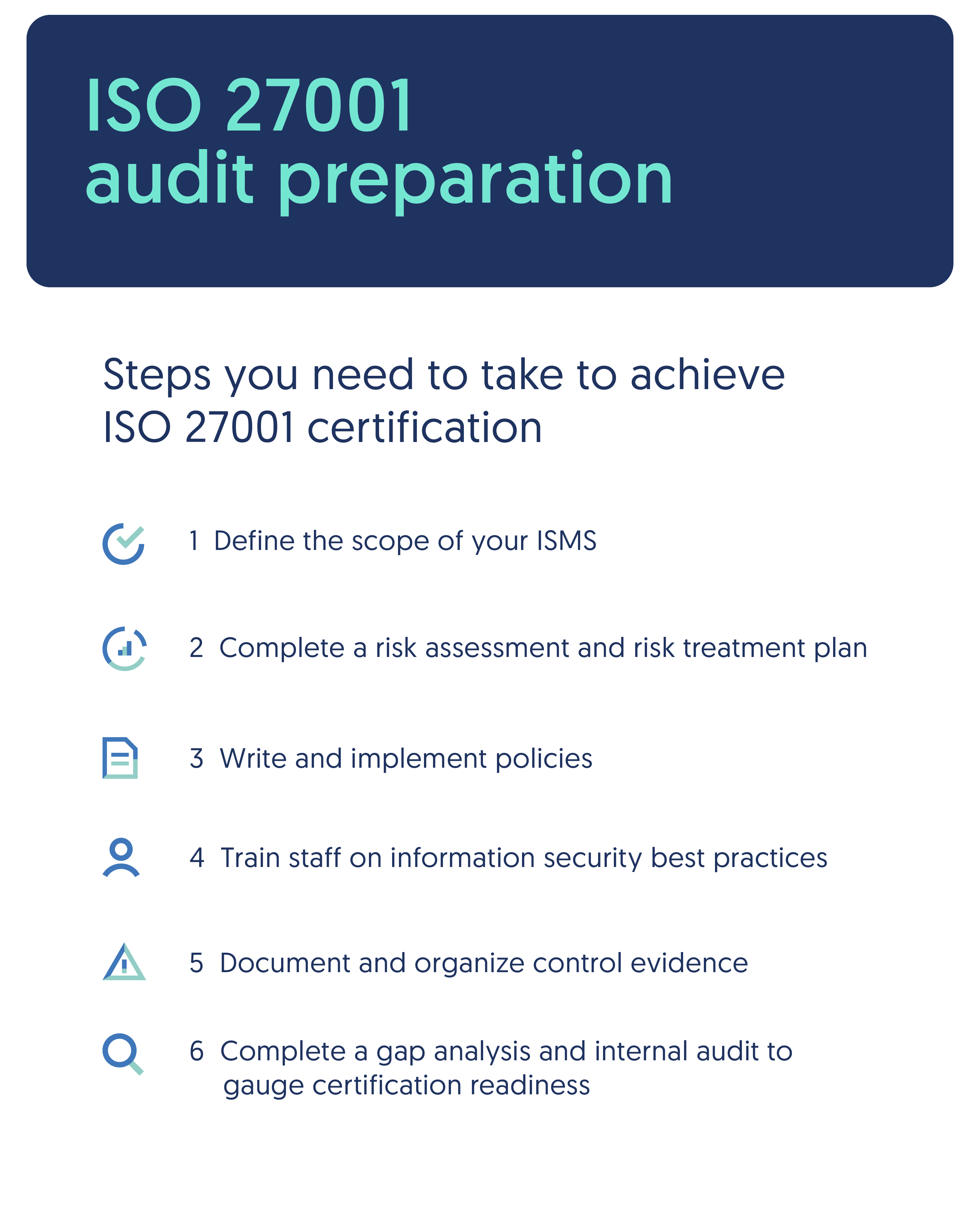 Audit phase: 1-6 months
There are two stages to an ISO 27001 certification audit. During Stage 1 the auditor will review your ISMS documentation. They'll check to make sure you have the proper policies and procedures in place and that they satisfy ISO 27001 requirements
Once you've completed a Stage 1 audit you'll proceed to Stage 2, where the auditor will review your business processes and security practices. 
After you've completed both the Stage 1 and Stage 2 audits the auditor will issue you an ISO 27001 certification, which is valid for three years. 
How compliance automation streamlines ISO 27001 certification
Traditional ISO 27001 audits require a ton of prep work. You have to write over a dozen policies, collect and organize hundreds of pieces of evidence, hunt down vendor security certificates, and do a slew of other tedious, time-consuming tasks. It's a slog.
Secureframe makes the entire process way more efficient. We help companies achieve their ISO 27001 certification in a fraction of the time — even compared to other compliance automation vendors. 
Here's how:
Automated evidence collection
Our platform automatically collects evidence during your audit window. It also ensures you stay secure by alerting you of any vulnerabilities in your tech stack and telling you how to fix them.  
Policy templates
Instead of trying to write complex and specific policies from scratch, you can choose from our library of ISO audit ready policies and customize from there. They're all vetted and approved by former auditors and compliance experts.
Audit prep dashboards
Assign tasks to individuals on your team and track your progress towards being audit-ready. You'll get a real-time view of what's looking good and what you can do to improve before bringing in an auditor.
Our customers have gotten ready for a successful ISO 27001 audit in a matter of weeks. See what they have to say about Secureframe.