If you're trying to nail down a budget for your ISO 27001 certification, it can be difficult to find clear-cut answers around how much ISO 27001 costs. 
And there's a good reason for that. The cost of an ISO 27001 certification varies significantly depending on: 
The size of your organization 
Number of office locations 
Type of data your ISMS houses 
Internal expertise vs. hiring consultants 
Naturally, the smaller and less complex your organization, the less you're likely to pay. 
That said, it can be helpful to have specific numbers in mind when estimating your own ISO 27001 compliance costs. 
On average, companies can expect to pay up to $40,000 during the audit preparation process, $15,000+ for the certification audit itself, and $10,000 per year for maintenance and surveillance audits. 
Below we'll break down the typical cost of ISO 27001 certification so you can understand the associated costs, ballpark your budget, and learn where you can save money.
How much does ISO 27001 certification cost?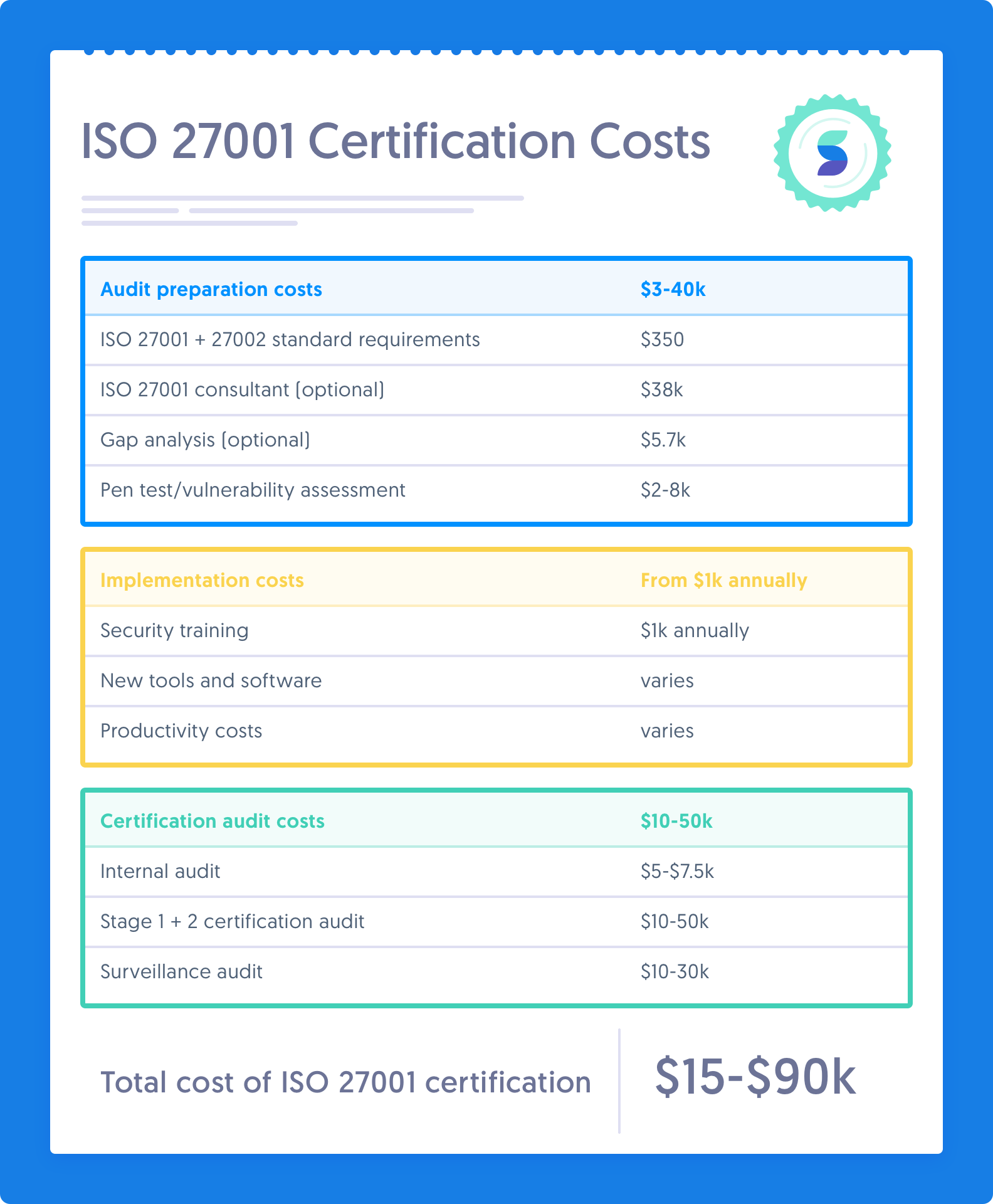 The total cost of ISO 27001 compliance can be broken down into three general categories: 
Preparation costs 
Implementation costs
Audit costs
Preparation costs
Preparing for an ISO 27001 certification audit is a major undertaking. You'll need to define your certification scope, perform risk assessments, and design controls. This list of preparation costs outlines some of the most common expenses you'll need to consider. 
ISO 27001 & 27002 standard requirements: ~$350.00
Educating yourself on ISO 27001 standards and its 114 controls is a key part of the preparation process. Since ISO doesn't make the standards publicly available, you'll have to purchase them. 
Currently, the ISO website lists the ISO 27001 price around $125 to download a copy of the standard. The ISO 27002 standard, which shares guidance on implementing controls, is available for download for $225. 
ISO 27001 consultant (optional): ~$38k
Hiring an outside ISO 27001 consultant can be a great way to save company resources and benefit from a compliance expert handling your security management. Consultants have specialized knowledge of all things ISO 27001, making them ideal guides for navigating the compliance process.
An experienced consultant knows best practices for every step of the compliance process, from building an ISMS to conducting an audit. They can help you scope your certification, complete risk assessments, and conduct gap analysis. 
How much does an ISO 27001 consultant cost? As with any other type of specialized consulting, the answer varies depending on your consultant's experience and the specific services you need. 
On average, though, ISO consultant costs hover around $38k. Pivot Point Security breaks these costs down into two pre-certification phases, noting ISO 27001 consultant rates of $1,400-$1,800 per day: 
Phase I: $20,000 — Defining audit scope, risk assessment, risk mitigation, gap analysis, and remediation plan
Phase II: $18,000 — Gap remediation, registrar selection, ISMS development, incident response, internal audit, and audit support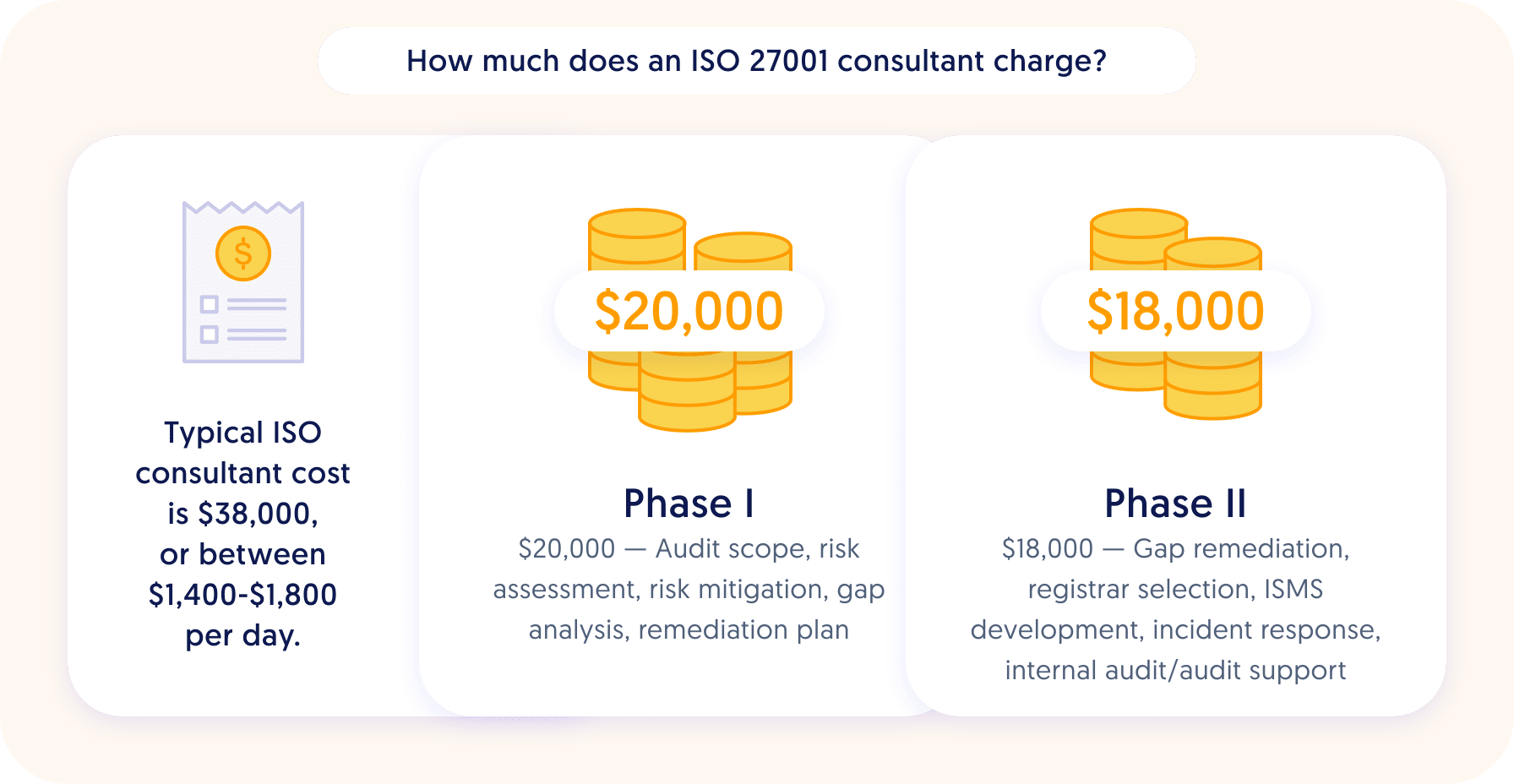 Gap analysis (optional): ~$5.7k
Building out an ISMS can be a major challenge, especially if you're trying to decode ISO 27001 requirements for the first time. A gap analysis will show you where you currently stand and what you still need to do to get audit-ready. 
During a professional gap analysis, a compliance expert will examine your security posture and compare it to ISO 27001 standards. They will then provide you with a report detailing the scope of your ISMS, any gaps you need to remediate, and an estimate of how long it will take you to get audit-ready. 
One firm offering ISO 27001 gap analysis services charges $5,700 for organizations with up to 250 employees and one location. 
Penetration test and vulnerability assessment: ~$2-8k
One of ISO 27001's requirements is control objective A12.6: Technical Vulnerability Management. It states that companies need to be proactive about discovering vulnerabilities and take action to address them. For most companies, this means either regular penetration tests or vulnerability assessments. 
With a penetration test, your company hires a third party to launch a simulated attack against your infrastructure, systems, and applications. This attack is designed to expose any vulnerabilities to strengthen your overall security posture. 
A vulnerability assessment has a similar goal of uncovering any chinks in your security armor. It involves a systematic review of the ISMS to find and prioritize vulnerabilities, and then determine how your organization should respond.  
The majority of pen tests cost between $5,000-$20,000, with the average being between $8,000-$10,000. On the other hand, vulnerability assessments can cost anywhere from $2,000 to $2,500, depending on the amount of IP addresses, servers, and applications that need to be analyzed.
Implementation costs
Your security controls are where the rubber meets the road of ISO 27001 compliance. 
When the control set changed in 2022, the total number of controls was reduced from the original 114 to 93. These controls include security policies, asset management, access control, and a dozen other requirements. 
Implementing all of these controls can be costly and time-consuming.
Here we'll list a few of the associated expenses you can expect during the implementation phase.  
Employee training: ~$1k annually
Formal security training is a requirement for ISO 27001 certification. Plus, it's instrumental in building a company culture where data security is understood and valued. 
Cyber security training typically costs $1k annually or less, depending on the type of content, level of hands-on training, and company you choose. 
Security software and tools: varies
Depending on the results of your gap analysis, you may need (or want) to invest in software that can help strengthen your overall security posture before completing an audit. This could be network security monitoring, vulnerability scanning, encryption tools, or an all-in-one security suite like Norton or Kaspersky.   
You may also choose to purchase compliance software to simplify achieving and maintaining ISO 27001 certification. This can be especially valuable for companies going through the certification process for the first time and will benefit from expert support at every step. 
Lost productivity: varies
Productivity costs are some of the highest ISO 27001 certification costs — and some of the most difficult to estimate. 
You'll likely need a member of your engineering, HR, legal, and IT team to focus on ISO 27001 certification. Writing policies, implementing controls, and collecting documentation are all time-consuming, long-term projects. As your team shifts their attention to achieving and maintaining compliance, they'll naturally have less time to focus on other projects.
After you receive your certification, someone on your team will also need to keep your ISMS up-to-date. This means monitoring for new risks and updating policies and controls, in addition to completing regular internal audits. 
Certification audit costs
ISO 27001 audit costs: $~10-50k
The initial ISO 27001 certification is comprised of a Stage 1 and Stage 2 audit. 
During Stage 1, your auditor will review your ISMS design and documentation and point out any nonconformities with the ISO 27001 standard. 
During the Stage 2 audit, the auditor will evaluate your business processes and controls to determine whether your organization is compliant with ISO 27001. 
ISO 27001 certification is valid for three years and requires periodic surveillance audits. These are recurring costs that you'll need to account for. You can expect to pay for a surveillance audit at the end of the first and second years, and a recertification audit at the end of the third year.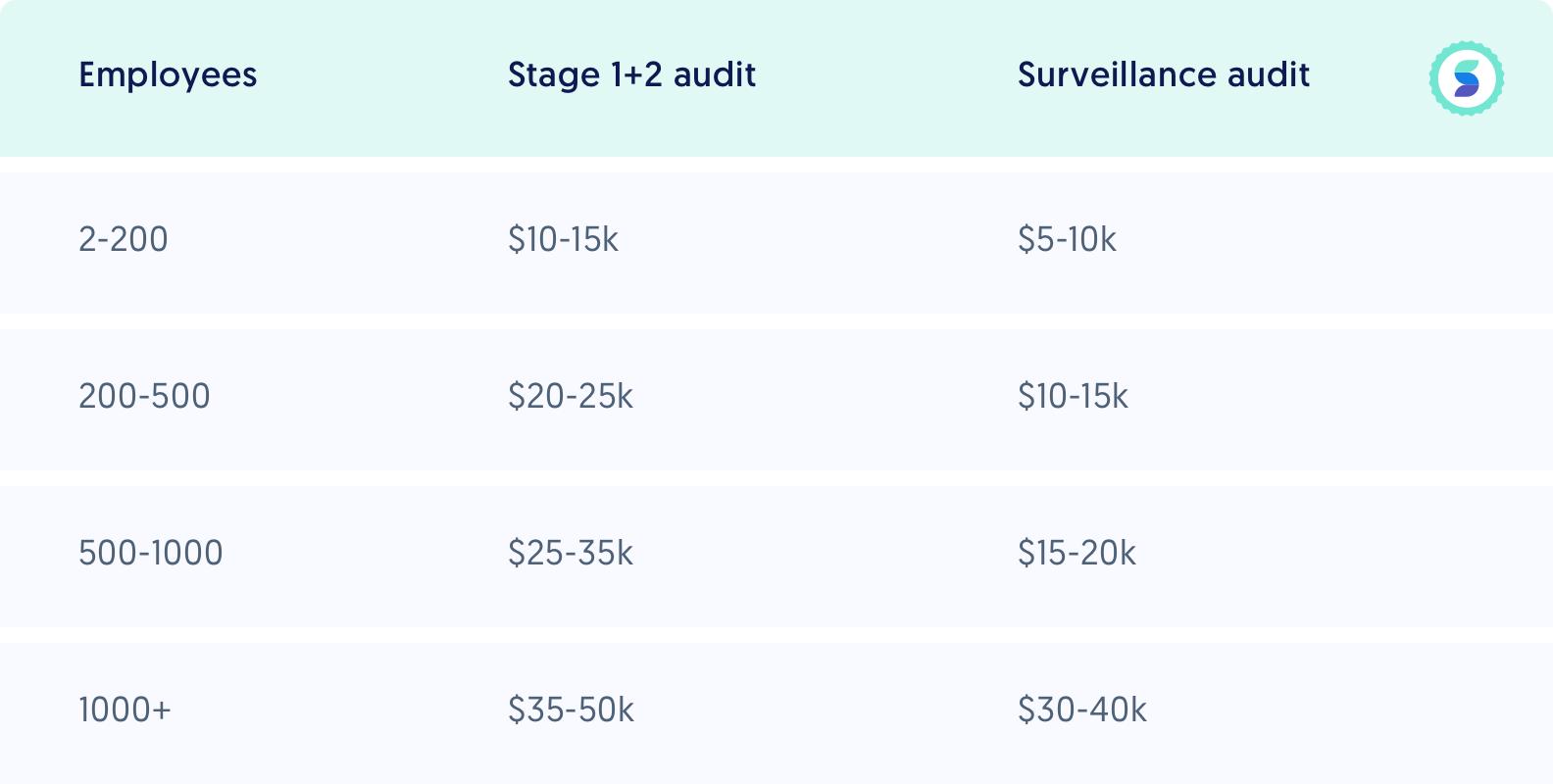 Save money on ISO 27001 certification
Achieving an ISO 27001 certification is a major investment in your company — but it doesn't have to be so expensive.
Compliance automation can bring costs down significantly by making the entire process more efficient. 
Secureframe's compliance automation streamlines the process of building a compliant ISMS, writing policies, collecting evidence, and managing risk so your team can focus on high-priority projects. And our team of in-house compliance experts saves our customers thousands of dollars on consultant fees and readiness assessments. Request a demo today.