Cloud Compliance: What It Is + 8 Best Practices for Improving It
In the last 18 months, 79% of companies have experienced at least one data breach, according to a report commissioned by Ermetic.
That same report found that 84% of companies have only rudimentary capabilities for securing their cloud infrastructure. 
To protect your company from a costly cloud security vulnerability that could lead to a breach, it's essential that you understand and follow cloud compliance requirements.
Below we'll take a closer look at what cloud compliance is. Then we'll discuss the importance of cloud security compliance and provide tips to bolster your cloud security.
What is cloud compliance?
Cloud compliance is the process of complying with cloud usage regulatory standards as well as local, national, and international laws.

In other words, to be cloud compliant, your organization's cloud computing services must follow all requirements, including:
Industry standards like the Payment Card Industry Data Security Standard (PCI DSS)
Laws like the EU's General Data Protection Regulation (GDPR)
Any internal governance policies that a company creates to achieve its goals and objectives
Let's take a closer look at these components below. 
Components of cloud compliance
Cloud compliance requirements will vary depending on your industry and the regulations that guide your business.
We dig into the components that shape general cloud compliance below. 
Standards
Certain industries outline specific instructions for properly handling data within the cloud. These are known as cloud security compliance standards.
For example, ISO includes cloud-specific security controls within ISO 27017. That means implementing specific security controls regarding the configuration of your cloud environment.
HIPAA also specifies that a covered entity and their cloud service provider (CSP) must enter into a business associate agreement where the CSP will be held liable for compliance with HIPAA Rules.
Laws and regulations
Laws and regulations — at the global, national, and state levels — also help shape cloud compliance requirements.
It's important to understand your country's laws and regulations for cloud compliance, data privacy, data protection and localization, and cybersecurity.
A few common regulations include HIPAA, PCI DSS, and SOX. 
Governance
Cloud governance controls help manage a company's data within the cloud and provide clear security policies on how to use (and how not to use) the cloud.
Companies should have guidelines on organizing, sharing, and tracking information on the cloud and expanding cloud usage. These should also cover ownership and responsibility of cloud strategy.
Why is cloud compliance important?
As of 2022, over 60 percent of all corporate data is stored in the cloud. This is double the amount stored in the cloud in 2015. 
With so much data being stored within the cloud, a business must understand its own role and responsibility for keeping that data safe.
Failure to comply with cloud requirements can result in costly data breaches. In 2022, the average cost of a data breach reached a record high of $4.35 million, according to IBMs' annual Cost of a Data Breach Report.

Cloud compliance can help you reap the benefits of cloud computing — cost-effectiveness, backup and recovery of data, scalability — while maintaining a strong security posture.
Cloud compliance challenges
While cloud solutions offer a variety of benefits, they also come with a unique set of challenges.
Cloud compliance opens the door to shadow IT by using cloud technology without explicit approval.
This term may sound scary. But in practice, shadow IT could be as simple as purchasing additional cloud storage without proper approval. Left unchecked, shadow IT can lead to lost data, an increased attack surface, and non-compliance.
Using a well-known CSP can also give companies a false sense of data security.
Take the 2021 Azure Cosmos DB vulnerability, for example. Used by brands like Mercedes-Benz and Mars, Incorporated, the database experienced a large vulnerability that made it possible for a user to steal the access key of another. This vulnerability went undetected for two years.
This shows that Microsoft Azure, like other well-known CSPs, can experience vulnerabilities — even if they have a hefty list of compliance certifications. That's why it's so important for businesses using CSPs to put a high priority on their own security management and compliance monitoring.
8 tips for better cloud compliance
Wondering how you can level up your cloud compliance practices? We offer eight tips below.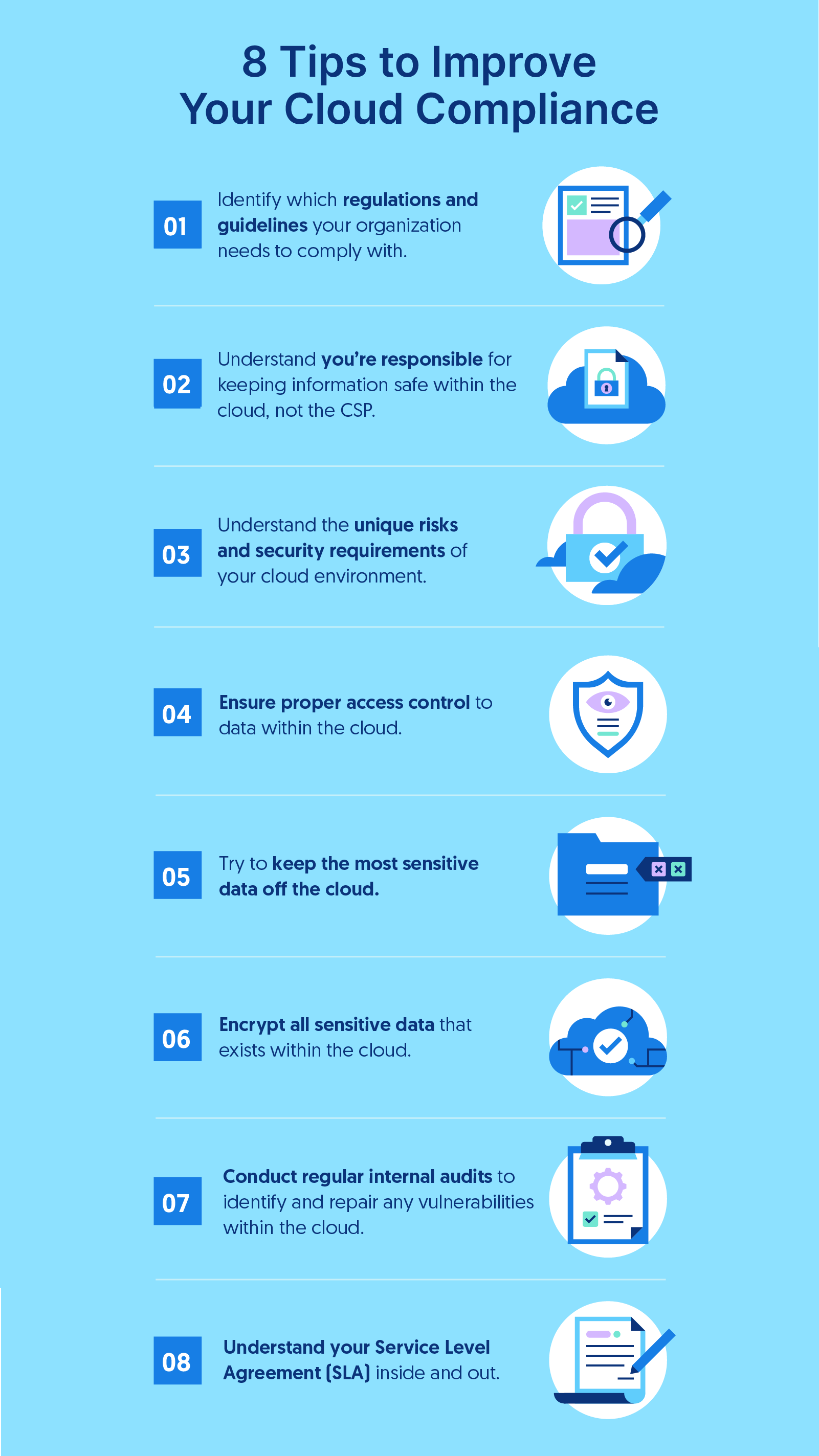 1. Identify regulations and guidelines.
The first step in achieving cloud compliance is identifying which regulations and industry standards your organization needs to comply with.
Common cloud compliance frameworks include:
Recommended reading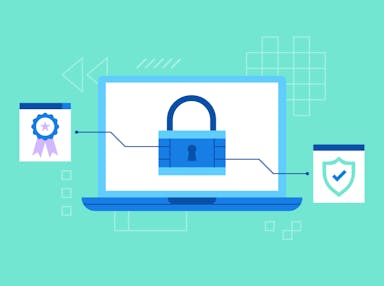 Essential Guide to Security Frameworks & 14 Examples
2. Understand responsibility.
Many cloud providers like Amazon Web Services (AWS) outline specific cloud usage responsibilities. AWS uses the shared responsibility model, which splits responsibility between AWS and the customer.
AWS is responsible for security of the infrastructure that runs all of the services in the AWS Cloud. The customer is responsible for the secure configurations of the cloud services in use as well as any customer data.
The AWS shared responsibility model leads many businesses to mistakenly think that all compliance responsibility falls on AWS. This is not the case.
The burden of compliance ultimately falls on the business's shoulders because you are responsible for the data you choose to put on the cloud and the secure configuration of the services in use.
3. Understand the unique requirements of your cloud environment.
In addition to the shared security responsibility, a cloud environment's service and deployment model affects who handles security requirements. The most common services are Infrastructure as a Service (IaaS), Platform as a Service (PaaS), and Software as a Service (SaaS). The most common deployment models are public, private, and hybrid. 
For example, in a PaaS environment, the administrator is responsible for the applications while the CSP is responsible for the physical servers, physical network, hypervisor, and operating systems. Who handles the inventory and control of hardware assets would differ for hybrid and public cloud environments.
To ensure you're following security and compliance best practices, you must understand the unique risks and requirements of your cloud environment. 
4. Ensure proper access control.
Just like companies have a process for sharing access control with new hires or vendors, you need something similar when it comes to cloud security.
Companies should establish a policy for limiting and granting access to their cloud environment and data stored within it. You can also introduce need-based access rules and expiration dates to help you keep track of who has access and for how long.
5. Classify your data.
When it comes to storing data on the cloud, it's important to know where server locations are because many regulations require servers to reside within the U.S.
Once you've chosen a cloud provider, you need to determine what types of data you want to live on the cloud. You can do this by classifying your data.
Data classification is the process of sorting data into different categories. This helps businesses more easily manage, secure, and store their data.
As a general best practice, highly confidential or sensitive data should remain on an internal network rather than migrating to the cloud.
Recommended reading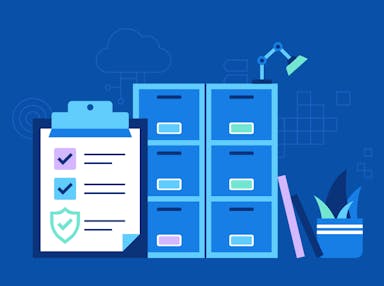 What Is Data Classification? Everything You Need To Know
6. Encrypt all sensitive data that exists in the cloud.
According to the 2021 Thales Global Cloud Security Study, the vast majority (83%) of businesses are still failing to encrypt half of the sensitive data they store in the cloud, despite 40% revealing they dealt with a cloud breach in the last year.
Encryption is key to protecting sensitive data that must exist on the cloud. Encrypting data also helps you meet most compliance requirements such as PCI DSS and GDPR.
Your cloud provider may offer encryption services, but remember that it's still the business's responsibility to protect data while it's being moved and stored.
7. Conduct regular internal audits.
One of the best ways to uncover security gaps and vulnerabilities is by conducting regular internal security audits.
Re-examine your cloud compliance to ensure it aligns with regulatory requirements. It's also a good practice to stay on top of updates to regulatory requirements so you can make adjustments proactively.
8. Understand your service level agreement and legal contract inside and out.
Simply put, service level agreements (SLAs) spell out ground rules and expectations that a company has for the cloud service provider they choose to entrust their data with.
An SLA should be very clear on roles and responsibilities, incident response execution, and data breach remediation. Everything in the SLA must be in accordance with the regulations governing your business.
Your SLA should also be a guide for how to handle problems — both expected and unexpected.
A legal contract is another important piece of your cloud security. It should highlight liability, as well as breach disclosure and incident response timeframes.
Cloud security providers and their compliance offerings
The major cloud security providers offer tools to help their customers achieve compliance requirements. Below we'll explore the compliance offerings of the three top CSPs to help you find the best fit for your business and cloud compliance needs. 
AWS Cloud Compliance
For AWS, the shared responsibility model is that customers are responsible for security in the cloud while AWS is responsible for security of the cloud. So AWS secures physical hosts, storage, and networking, while customers secure their own data and applications.
To help customers, AWS offers the following compliance offerings:
Supports the security standards and compliance certifications PCI-DSS, HIPAA/HITECH, FedRAMP, GDPR, FIPS 140-2, and NIST 800-171,
Provides Audit Manager as an optional service for AWS customers to use to automatically assess whether workload configurations align with specific compliance requirements, like GDPR and PCI DSS.
Offers activity monitoring services that detect configuration changes and security events across your system
Azure Cloud Compliance
For Azure, the shared responsibility model is more complex. The customer is always responsible for data, devices, and user accounts and identities while Azure is always responsible for physical hosts, storage, and networking. But there's another category, including applications, network controls, and operating systems. Who is responsible for this category depends on whether the service is SaaS, PaaS, or IaaS.
To help customers, Azure offers the following compliance offerings:
Provides compliance offerings that are tailored to key industries like health, government, and media
Offers an array of security auditing and logging option to help identify gaps in your security policies and mechanisms
Includes Azure Blueprints for bundling templates, role-based access controls, and policies for creating or updating compliant environments
Google Cloud Compliance
For Google, the shared responsibility model is even more complex because it details whether the customer or Google is responsible for securing each major category, including content, access policies, and hardware, depending on their service type. 
To help customers, Google offers the following compliance offerings:
Offers Assured Workloads so customers can apply security controls to their cloud environment in support of compliance requirements
Includes Cloud Audit Logs to help monitor Google Cloud data and systems for possible vulnerabilities or external data misuse
Provides secure blueprints with Google's security recommendations enabled by default to help you deploy and maintain secure solutions
How Secureframe can help you monitor and maintain cloud compliance
Managing your cloud compliance doesn't have to be complicated.
Secureframe helps you monitor and maintain cloud compliance by connecting with your cloud infrastructure including AWS, Azure, and Google Cloud. We scan your cloud provider and deliver risk reports along with tailored step-by-step guides for remediation.
Schedule a demo today to find out how Secureframe can help you manage cloud compliance.
FAQs
What is cloud compliance?
Cloud compliance refers to the adherence to cloud usage regulatory standards and local, national, and international laws that apply to organizations that store sensitive data in the cloud.
Why is cloud security compliance important?
Cloud security compliance is important for establishing standards and security measures to keep data safe in the cloud. In 2022, over 60 percent of all corporate data was stored in the cloud, which is double the amount stored in the cloud in 2015. As more data is stored in the cloud, organizations become increasingly vulnerability to cloud-related security incidents. 81% of organizations reported experiencing a cloud-related security incident over the last 12 months, with almost half (45%) suffering at least four incidents. Cloud compliance can help reduce the risk of cloud-related security incidents, protect your brand reputation, and avoid legal issues and other penalties.
What is the difference between cloud governance and compliance?
Cloud governance refers to the rules, business processes, and policies in place that help ensure company data is being properly managed within the cloud. These activities are practiced by a company for its own sake, in order to help achieve its objectives. Compliance refers to the steps a company takes to meet cloud usage standards and regulations. This is required by a third party.