Introducing Secureframe Comply AI: Faster, Tailored Cloud Remediation
Artificial Intelligence is impacting the cybersecurity landscape in significant ways, helping organizations continuously monitor systems, pinpoint behavioral anomalies, and identify and respond to threats and security incidents. Organizations are seeking software tools with AI-powered capabilities to enable faster, more informed decision making. 
Across our security and compliance platform, advances in AI are already helping organizations save time and grow revenue with security questionnaire automation.
Now, we're making it possible for customers to harness the power of AI to quickly remediate misconfigurations and fix failing controls with the launch of Comply AI for Remediation.
Comply AI: Easy, intelligent remediation
It's crucial to have the right controls in place to obtain compliance and maintain a strong security posture. Secureframe continuously monitors and automatically detects misconfigurations that do not meet information security compliance requirements. Previously, users could follow Secureframe's step-by-step guidance to fix issues in their console. Comply AI for remediation augments this capability to provide faster and more accurate remediation guidance with the flexibility for our customers to choose the method that suits their needs. 
Using infrastructure as code (IaC), Comply AI automatically generates remediation guidance tailored to your environment so users can easily update the underlying issue causing the failing configuration in their AWS environment. Leveraging Comply AI for remediation eliminates the manual work of writing code, reducing the risk of human error and improving accuracy when fixing misconfigurations. 
Copy and paste our AI-tailored code to quickly correct the misconfiguration or underlying issue or ask follow-up questions using the chatbot. Our chatbot works in real-time to provide additional details about the remediation code or to provide more tailored guidance for your specific security and compliance requirements. 
How Comply AI for remediation works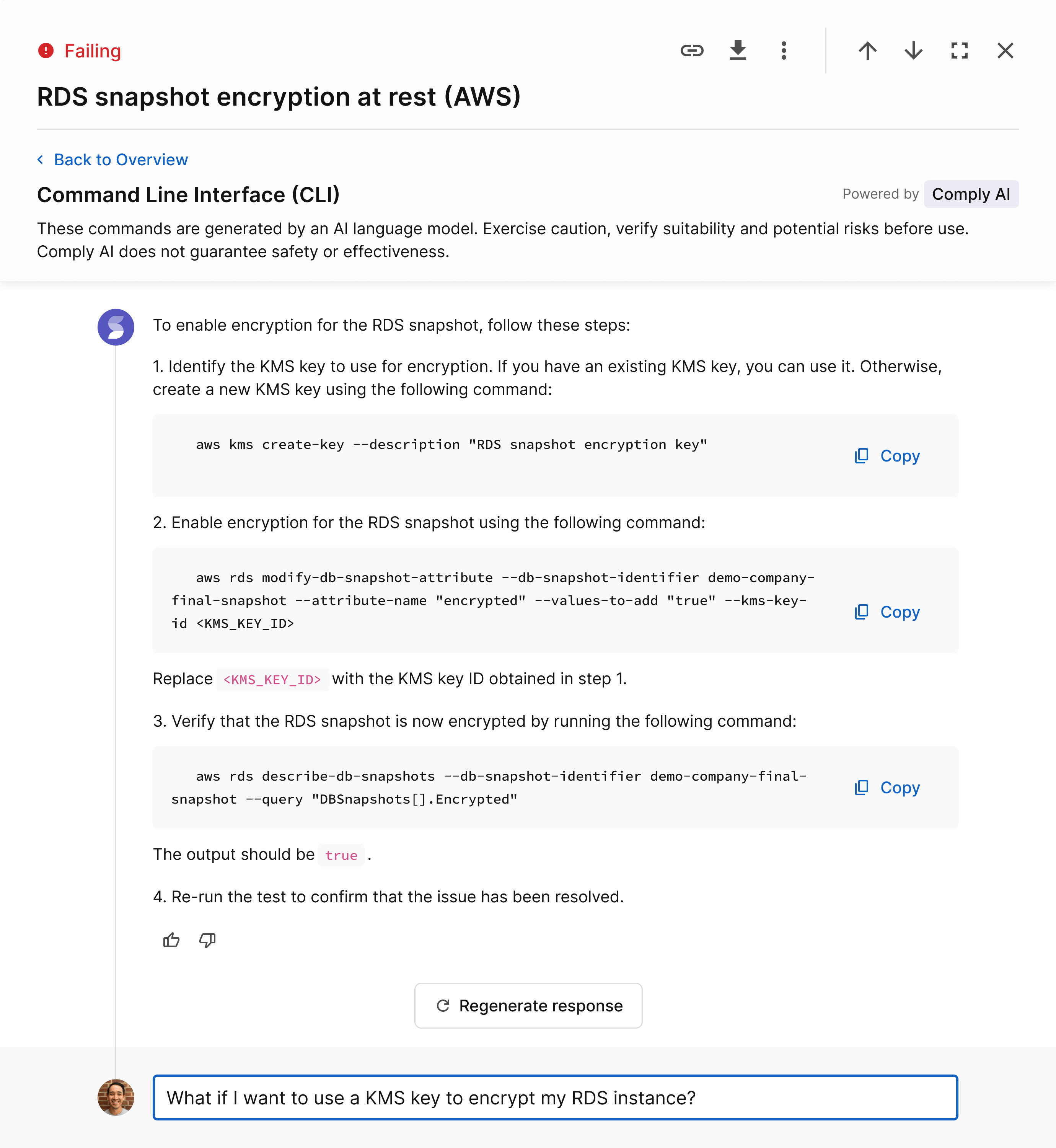 Head to the Tests pages in the platform and select a failing test for AWS
In the overview page of the failed test, choose the method you want to use to make changes to your environment (Console, CLI, AWS CloudFormation .etc) by selecting the associated button
Initial remediation steps are generated as code to copy and paste into your environment
OR you can use the chat feature for more context or more tailored guidance
The future of AI in the Secureframe platform
We value innovation and aim to provide incredible experiences with our products and services. The addition of Comply AI provides a more contextual, accurate, and tailored user experience for remediating failed tests so organizations can quickly fix cybersecurity issues and speed up time to compliance. 
"This is the next step Secureframe is taking to build AI into our products," said Shrav Mehta, founder and CEO, Secureframe. "We've already seen customers close more deals and grow their revenue using our AI-powered questionnaire automation. Now, we're finding new opportunities to streamline processes and automate tasks so they can more easily obtain and maintain compliance. We're excited about all the new ways we can further leverage AI to help our customers with their security and compliance journey. This is only the beginning."
In the coming months we'll continue to build-out Comply AI's capabilities, starting with the addition of remediation guidance for Google Cloud and Microsoft Azure. Comply AI will expand beyond cloud remediation with capabilities to support additional aspects of the compliance journey so organizations of all sizes can easily obtain and maintain compliance and build trust with their customers. 
Join us in the new era of AI by scheduling a demo of Secureframe today.