Join the 1000+ companies using Secureframe
Powerful security that's seamless and easy to use
Create
HIPAA-compliant privacy and security policies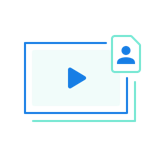 Educate
employees on HIPAA best practices
Evaluate
and enhance your HIPAA safeguards
Monitor
and maintain HIPAA compliance
How it works
Secureframe makes it quick and easy to achieve HIPAA compliance for companies working with protected health information. Our platform and team of compliance experts simplify HIPAA compliance into a few key steps — saving you time while making sure you're not subject to HIPAA violation fines.
Meet your dedicated account manager
Assign a privacy officer
Build your HIPAA privacy and security policies
Conduct HIPAA employee training
Keep track of vendors with PHI data
Send Business Associate Agreements
Evaluate and monitor HIPAA safeguards
Continually maintain HIPAA compliance
Create your HIPAA privacy and security policies
Build privacy and security policies that are HIPAA compliant. Select from our library of policies, adapt them for your organization, and publish to your employees — all through our portal.
Key Features
Choose from 40+ policies developed by compliance experts and vetted by dozens of auditors
Easily publish policies to your employees for review through our portal
Train your employees about HIPAA best practices
Track that your team has gone through HIPAA security awareness training, completed their quizzes, and accepted security policies through a progress dashboard.
Key Features
Guide employees through an automated, self-serve training flow
Get progress reports on which employees have completed HIPAA training
Keep track of vendors with PHI 
Easily add vendors who store, process, or interface with PHI. Stay secure with real-time alerts on issues and threats so that you can fix them quickly.
Key Features
Simplify PHI management across vendors
Proactively resolve threats with real-time notifications
Ensure your Business Associates protect PHI
Seamlessly send Business Associate Agreements (BAA) with any business associate that has access to your PHI. Store agreements in one place for easy management.
Key Features
Send BAAs to business associates and customers for electronic signatures
Store and manage BAAs to ensure HIPAA compliance
Evaluate and monitor HIPAA safeguards
Continuously monitor and collect evidence on your administrative and technical safeguards for protecting ePHI. We have over a hundred integrations with the most commonly used vendors.
Key Features
Assess and comply with safeguards using our 100+ integrations
Use continuous monitoring for threats and non-compliance