Compliance Glossary
Welcome to our list of commonly used security and compliance terms.
A HIPAA covered entity is a healthcare provider, health plan, or healthcare clearinghouse that is subject to the Health Insurance Portability and Accountability Act (HIPAA) Privacy and Security Rules.
Under HIPAA regulations, covered entities are required to protect the privacy and security of protected health information (PHI), which includes any individually identifiable health information that is created, received, maintained, or transmitted by a covered entity. This may include information such as medical records, insurance claims, and billing information.
Examples of HIPAA covered entities include:
Healthcare providers, such as doctors, nurses, and hospitals
Health plans, such as insurance companies, HMOs, and Medicare
Healthcare clearinghouses, which process healthcare transactions and convert them into standard formats for billing and other purposes
Covered entities must comply with the HIPAA Privacy and Security Rules, which set national standards for protecting the privacy and security of PHI. These rules establish requirements for safeguarding PHI, including technical, administrative, and physical safeguards, as well as policies and procedures for handling PHI. Covered entities are also required to provide individuals with certain rights with respect to their PHI, including the right to access and obtain a copy of their PHI, and the right to request corrections or amendments to their PHI.
Failure to comply with HIPAA regulations can result in significant fines and penalties, as well as damage to an organization's reputation. Therefore, it is important for covered entities to establish and maintain effective HIPAA compliance programs to protect the privacy and security of PHI.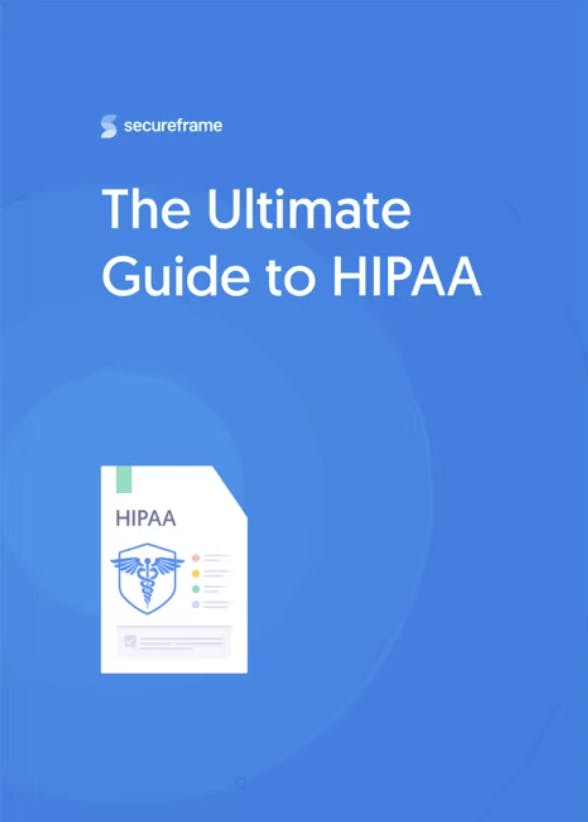 The Ultimate Guide to HIPAA
Learn the major rules of HIPAA and the requirements for compliance.
Join the thousands of companies using Secureframe