Security Questionnaire: How to Answer and Send Your Own [+ Free Template]
Imagine you're the CTO of a growing tech company. You're about to sign up with your first strategic partner. One day, they send you a list of questions: 
"Has your organization ever been compromised?"
"Does your organization use a local firewall?" 
Congratulations — you've received your first security assessment questionnaire. They may appear intimidating, but they can be an invaluable tool for your organization.
Security questionnaires are an important part of a company's due diligence process. When used well, they can help your organization build trust with new businesses. But they can be time-consuming if you don't have efficient processes in place. 
In this guide, we'll walk you through:
How to answer a security questionnaire and simplify the process 
Important topics to include when sending your own security assessments, and key questions to ask
If you need inspiration for sending your own assessment, check out our security questionnaire template.
What is a security questionnaire?
A security questionnaire is a list of questions that assess your organization's security and data privacy practices. Organizations often exchange questionnaires before going into business together. 
While you can create your own questionnaire to learn about a company's security posture, there are also standardized information-gathering (SIG) questionnaires available. 
The questions may vary but security questionnaires are a standard part of the vendor risk management process. 
Why did you receive a security questionnaire?
If you've received a security questionnaire, it means that another organization is considering doing business with you. But first, you need to show that your organization can be trusted to protect sensitive data.
Answering assessments can take up valuable time, even more so if you're receiving multiple questionnaires from a growing list of potential customers. 
As your organization grows, you'll want to have a standardized process for answering questionnaires.
How should you answer a security questionnaire?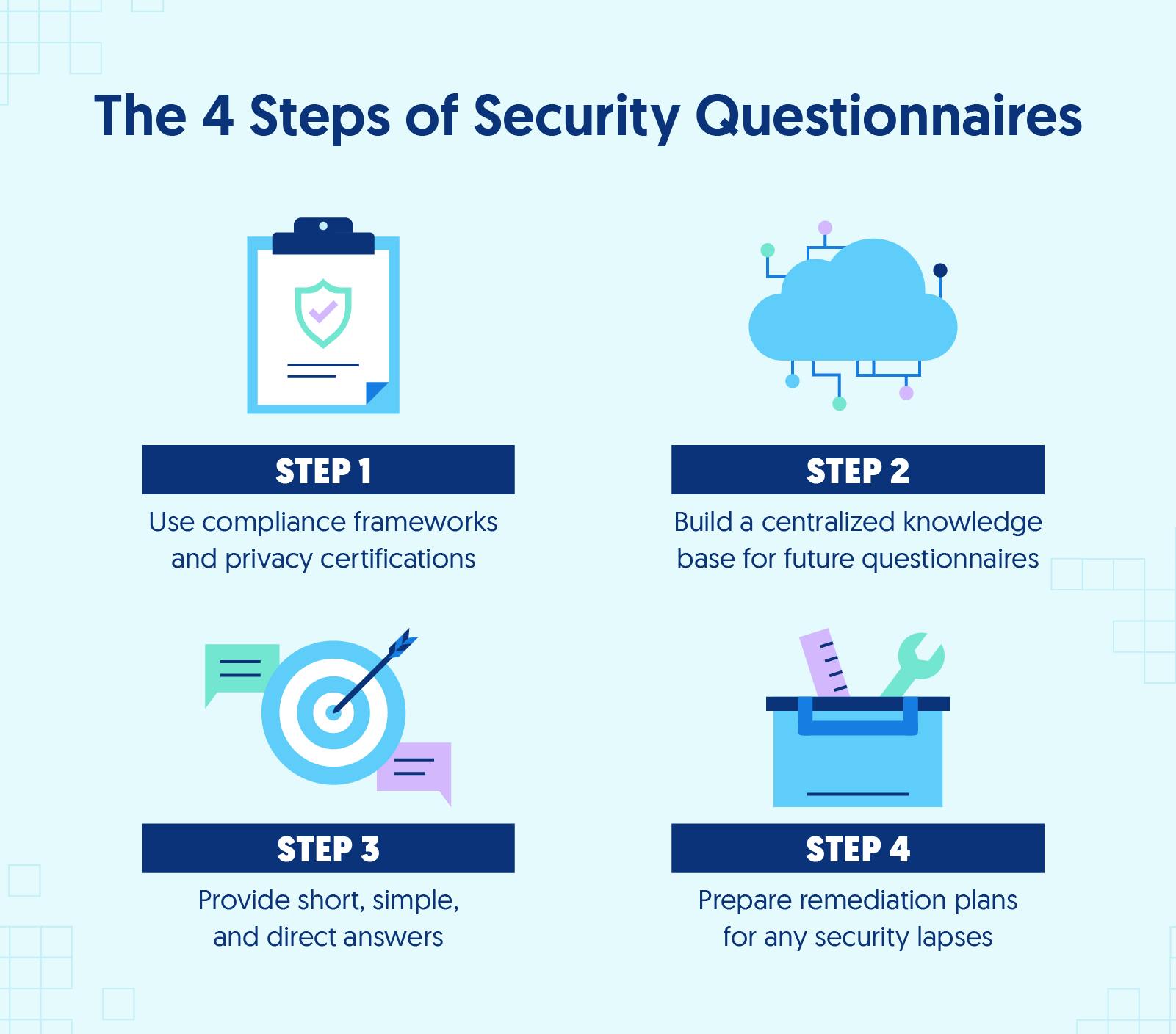 Security questionnaires are proof that your organization is attracting positive interest. Still, the time spent answering them can add up if you're not strategic. 
We'll walk you through how to use compliance audits and reports to simplify the answering process. For further simplification, we'll guide you on how to build a knowledge database and keep your answers concise. 
If you discover a security gap when answering a questionnaire, don't worry. We'll show how that can be a growth opportunity for your organization. 
Here's how to answer a security questionnaire in four easy steps.
Step 1: Use your compliance frameworks and privacy certifications 
Compliance frameworks like SOC 2 or ISO 27001 certifications will prepare your team to address most security questionnaires. 
To illustrate how this works, let's examine preparing for a SOC 2 audit. 
To pass you must:
Test the effectiveness of your infrastructure, data, risk management policies, and software
Establish that you meet one or more of the SOC 2 Trust Services Criteria: Security, plus availability, processing integrity, confidentiality, and/or privacy
Gather evidence of security controls and security policies
Run readiness assessments
Perform a gap analysis and close each gap
You can save time on future questionnaires by completing the groundwork here.
Tip: Use your certifications to create standardized documentation of your verified data security practices. 
Step 2: Create a centralized knowledge base 
You can build a knowledge database when your organization meets the criteria for various compliance frameworks. 
As you receive more vendor assessments, log each question and answer into a centralized database. Then you can make a habit of monitoring and updating the knowledge base.
Tip: Reference and repurpose relevant answers from your knowledge base for fast and consistent responses on future assessments.
Step 3: Keep answers short, simple, and direct
It's common for a security assessment to include hundreds of questions. Below are a few things reviewers expect:
Direct and complete responses: Follow instructions regarding answer length and use active and concise language. 
Honest answers backed by proof: Avoid answering "yes" to any questions if implementation is in the works. Expect clients to ask for proof and communicate honestly to avoid sounding evasive.
Unique answers that don't repeat: Similar questions may appear on the questionnaire. Avoid copy and pasting answers to save time.
Tip: Before answering questions, scan the list for any that are not applicable to your product or service. This can help narrow down the questions you might need to spend more time on by providing further explanation.
Answering each question should also help your organization define its security practices. They can even help you uncover any internal security vulnerabilities that could lead to a data breach.
Step 4: Prepare a remediation plan
Don't panic if you uncover a security gap when completing a questionnaire. Instead, you can show your potential business partners that you're a proactive and transparent organization. Here's how:
Prepare a remediation plan to align your security practices with customer expectations
Provide a timeline for when you will have met your customer's security standards
Tip: Keep lines of communication open and your customer informed about how your information security upgrades are going.
Now that you know how to prepare for and answer a security questionnaire, the next step is to create and send your own assessments.
Automate your security questionnaires
Save hundreds of hours answering questionnaires and RFPs with Secureframe's machine learning-powered automation.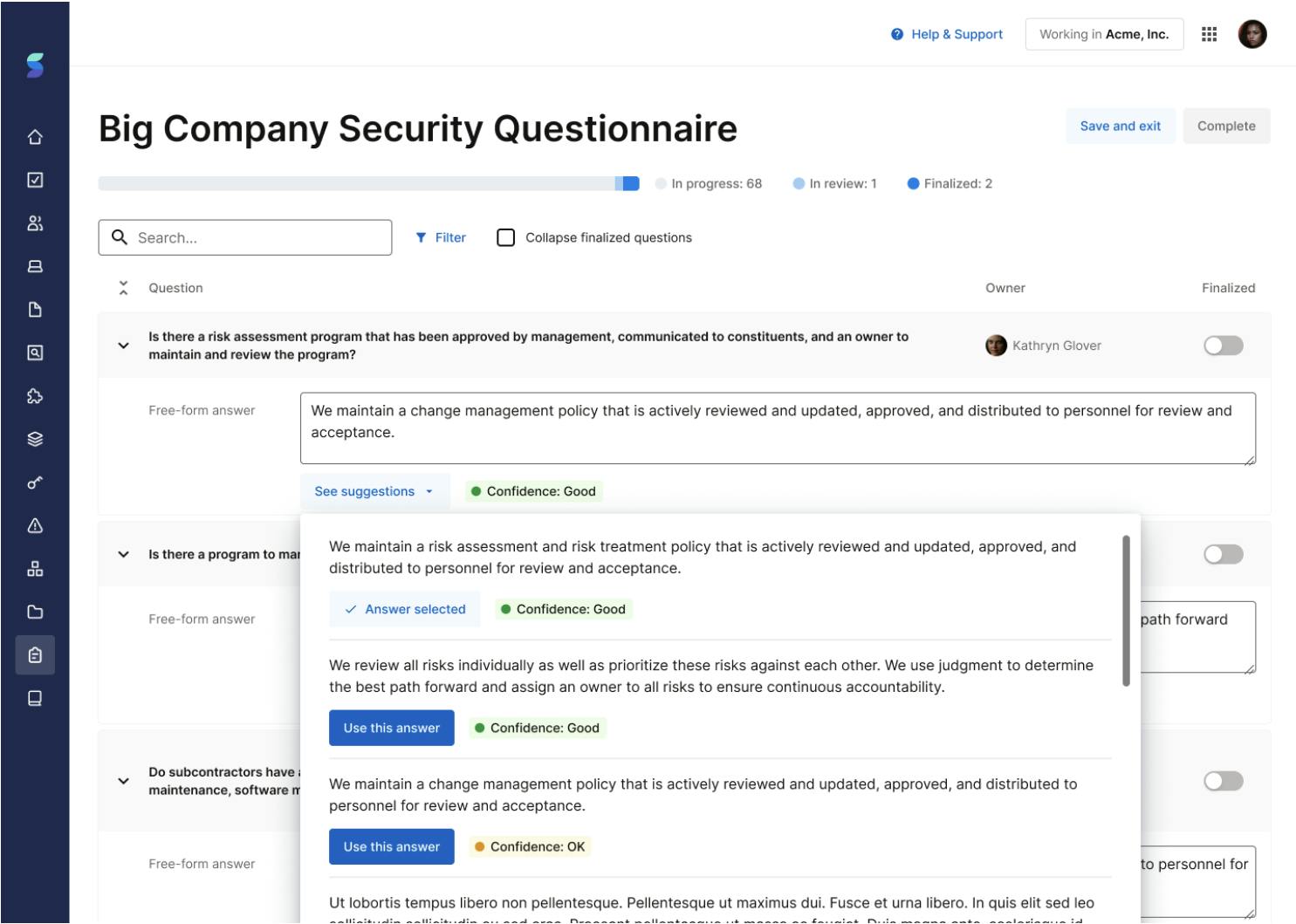 Why should you send a security questionnaire? 
Organizations can practice continuous compliance by sending security questionnaires. This could also be a competitive advantage for your organization.
According to a Ponemon Institute report, only 49% of organizations vet third-party vendors. Half of your competitors allow vendors access to sensitive information without due diligence.
Sending security questionnaires also makes adhering to data protection regulations less expensive. Research shows non-compliance costs organizations roughly three times as much as compliance. Vetting your potential third-party vendors can literally pay for itself. 

When growing your organization, sending questionnaires helps build trust with new business associates. Sending annual assessments shows that you are proactively managing third-party risk. It also signals that you are safe to work with.
There are certain topics your security questionnaire should cover that can help you close more deals. 
Which topics should a security questionnaire include?
The content of security questionnaires varies by organization. But they all have the same goal: vendor security. You want to find out if you can trust a prospective service provider to protect your business and customer data. Including the following topics should help you find out.
Security and privacy certifications
Asking about security and privacy certifications is a great place to start. See if a potential business associate has any of the following certifications:
These credentials show that your counterpart is maintaining compliance with data protection standards.
It can be simple as asking:
Can you provide proof of a SOC 2 Type 1 or Type 2 report?
When was your last ISO 27001 audit?
GRC management
Next you will want to see how a potential vendor handles governance, risk, and compliance (GRC) before entering an agreement. You want to know that your business associate has a strategy for managing risk and maintaining compliance. Are they able to balance GRC while meeting their performance goals? 
Here are some good questions to help make that determination:
What is your security team's incident response policy?
What is your mean time between failures?
How often does your organization conduct a risk assessment?
Continuous compliance
Organizations that conduct regular internal compliance audits have lower adherence costs. Non-compliance is expensive, so you want to partner with an organization that is always looking for its own compliance gaps.
To find out if your third parties follow continuous compliance, ask about their:
Policy management
Vendor management
Vulnerability management
Incident management
Data management
Risk management
Business continuity management
HR management
Questions you can ask include:
Do you train your employees on detecting cyber attacks?
How do you conduct vulnerability analyses?
Do you use a third-party vendor for data storage? If yes, what is your third-party risk management strategy?
Now that you're ready to send your own, here's how to make the process painless for you and your customer.
How to create an effective security questionnaire
Creating an effective security questionnaire is imperative to identifying vulnerabilities posed by third-party vendors. Every organization is unique so it's good practice to reference the following industry-standard questionnaires before building your own. 
Keep your completed questionnaire brief while allowing for a systematic data-gathering process. Use our auditor-reviewed security questionnaire template that lists possible questions covering administrative safeguards to severance of services.

Automate your security questionnaire responses with Secureframe 
Manual security questionnaire responses can take hundreds of hours. They can also be expensive if you need to hire outside consultants and subject matter experts to help you answer detailed questions. 
That's why we built Secureframe Questionnaires, a machine learning-enabled solution that makes it fast and easy to respond to customer questions and demonstrate your organization's security posture.
Upload the security questionnaires you receive to Secureframe, then tag the question and answer fields. Our machine learning will fill in the answers. Verify the answers or assign to your internal SMEs to edit details, then export the completed questionnaire in the original format and send it back to your customer. 
Now you can easily access answers to security questions from the comfort of your browser with the Knowledge Base Chrome Extension.
Schedule a demo of Secureframe Questionnaires to see it in action, and to learn how our compliance automation platform can streamline your security compliance.
FAQs
What is a security questionnaire?
A security questionnaire is a list of questions designed to assess an organization's security and data privacy practices. By understanding the security posture of third party vendors, organizations can make informed decisions about risks and ensure that partners and suppliers don't introduce vulnerabilities into their environment.
How do you complete a security questionnaire?
When completing a security questionnaire make sure to give accurate, up-to-date answers. 
Review the complete questionnaire to understand its purpose and scope. 
Gather input from stakeholders across the organization, including IT, legal, HR, and operations. Answer questions honestly and accurately. If you don't know the answer, don't guess, and if the question isn't applicable to your organization, explain why. 
Include evidence when necessary. Some questions might require you to offer evidence such as policies or screenshots. Be sure to send up-to-date documents and redact any sensitive information that isn't relevant to the questionnaire. 
Before submitting, review the responses to ensure accuracy and consistency. It's also good practice to keep a copy for your own records. 
Security questionnaire automation streamlines the process and saves hours of manual work by automatically completing answers to security questionnaires and RFPs based on past responses.
Why are security questionnaires important?
Security questionnaires are an essential part of a strong vendor risk management program:
Risk management: Questionnaires help organizations assess and manage third-party risk. 
Regulatory compliance: Many frameworks require organizations to ensure partners and suppliers adhere to specific regulations to maintain compliance. 
Customer trust: Completing security questionnaires demonstrates transparency and proves an organization is proactive about implementing strong data security and privacy practices. 
Improve security: Filling out a questionnaire can help organizations uncover gaps in their security posture and be proactive about mitigating risks.  
What is the best security questionnaire automation?
Secureframe's automated security questionnaires leverages the latest advances in artificial intelligence (AI) and machine learning to pull the best answers for security questions based on past responses, saving hours of manual work completing questionnaires and RFPs.