How to Build Information Security Maturity: Models + Best Practices Explained
Information security is the body of technologies, processes, and practices designed to manage and protect an organization's information assets, including data, systems, and networks.
This is increasingly difficult to do as organizations' attack surfaces grow and the threat landscape becomes more sophisticated. That's why it's important that organizations not only have an information security program established — but also a way to assess and build its maturity over time. 
A mature information security program can help organizations reduce the risk of security breaches, protect sensitive information, and ensure compliance with legal and regulatory requirements. We'll walk through how to build one below.
What is information security maturity?
Information security maturity refers to a set of characteristics, practices, and processes that represent an organization's ability to protect its information assets and respond to security threats effectively.
Building it requires a strategic approach to developing and enhancing the following:
Procedures for assessing and managing information security risks
Guidelines for selecting and implementing security controls, such as access controls, encryption, and firewalls
Policies and procedures for monitoring and detecting security incidents, including reporting procedures and incident response plans
Guidelines for ensuring compliance with legal and regulatory requirements related to information security
Let's go over some models you can use to assess your organization's level of information security maturity next.
Recommended Reading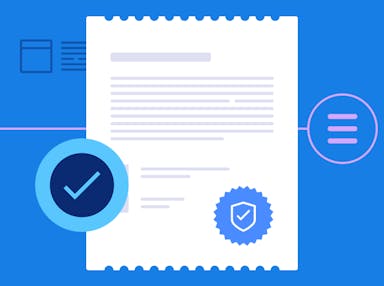 Regulatory Compliance: Benefits and Best Practices to Keep Your Business Safe [+ Checklist]
Information security maturity models
​​Information security maturity models are frameworks that help organizations benchmark their current information security capabilities and identity goals and priorities for progressing towards higher levels of maturity.
These models typically consist of a series of levels. The higher the level, the more capable the organization is of managing and mitigating information security risks.
Below are some of the most widely recognized information security models.
Please note that some models below are specifically tailored to cybersecurity. Like information security, cybersecurity is a subset of IT security. Cybersecurity refers to the efforts made to protect computer systems, networks, devices, applications, and the data they contain from digital attacks only. Information security, on the other hand, refers to the efforts made to protect the confidentiality, integrity, and availability of sensitive business information in any form, including print or electronic. So if you use a cybersecurity model, you should also evaluate your organization's capabilities to protect business information from physical actions and events like natural disasters and theft. 
Cybersecurity Capability Maturity Model (C2M2)
Applies to: Any organization regardless of size, type, or industry
C2M2 is a free tool developed by the US Department of Energy in partnership with the
Department of Homeland Security to help any organization evaluate, prioritize, and improve their cybersecurity capabilities and optimize security investments.
Organizations using this tool complete a self-evaluation based on a set of industry-vetted cybersecurity practices focused on both information technology (IT) and operations technology (OT) assets and environments.  
C2M2 has three maturity levels:
Level 1 - Initiated: Initial practices are performed, but may be ad hob
Level 2 - Performed: Practices are documented and more complete or advanced than the previous level. Adequate resources are provided to support domain activities.
Level 3 - Managed: Activities are guided by policy and their effectiveness is evaluated and tracked. Personnel have the skills and knowledge needed to perform their assigned responsibilities and responsibility, accountability, and authority are clearly assigned. Practices are documented and more complete or advanced than the previous level.
NIST Cybersecurity Framework (NIST CSF)
Applies to: Federal contractors and government agencies; also recommended for commercial organizations 
While NIST CSF is technically a framework, it can be used to assess your organization's cybersecurity capabilities for managing and reducing IT infrastructure security risk. 
It has four tiers. While these do not necessarily represent maturity levels, they do represent an increasing degree of rigor and sophistication in cybersecurity risk management practices. Tier 1 is informal, reactive implementations whereas Tier 4 represents approaches that are agile and risk-informed. 
The NIST National Cybersecurity Center of Excellence (NCCoE) and the U.S. Department of Energy (DOE) Office of Cybersecurity, Energy Security, and Emergency Response (CESER) developed mappings between NIST CSF and C2M2. These mappings were designed for organizations that were already using the C2M2 as a measurement and investment decision tool.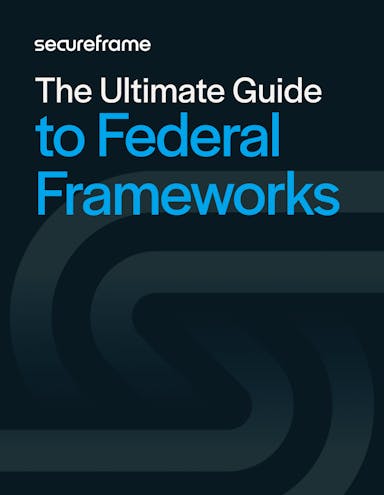 The Ultimate Guide to Federal Frameworks
Get an overview of several information security standards and frameworks created by the US government for reducing risk and improving data security.
Systems Security Engineering - Capability Maturity Model® (SSE-CMM®)
Applies to: Organizations seeking to assess and improve the maturity of their security engineering processes 
SSE-CMM, which is specified in ISO/IEC 21827:2008, was designed with the goal of improving the quality and availability of delivering secure systems, trusted products, and security engineering services while reducing the cost. 
Organizations can use it to assess and improve the maturity of their own security engineering processes, or to evaluate the maturity of third-party providers of security engineering products, systems, and services. 
It has five capability levels:
Level 1: Base processes are performed 
Level 2: The focus is on addressing project-level definition, planning, and performance verification issues.
Level 3: A standard practice is defined and focus is on coordinating it across the organization. 
Level 4:  The focus is on establishing measurable quality goals and objectively managing their performance.
Level 5: The focus is on continuously improving process effectiveness and organizational capability. 
Open Information Security Maturity Model (O-ISM3)
Applies to: Organizations looking to align security processes with business objectives
O-ISM3 is an open standard for information security management and governance developed by The Open Group, a global consortium of more than 900 organizations. Its main objectives are to: 
Enable organizations to prioritize and optimize investments in information security
Support the process of developing a high-quality ISMS with a formalized description of all information security management processes that meet specific compliance requirements
Ensure continuous ISMS improvement based on established indicators 
A core concept of O-ISM3 is that an information security program should help an organization prevent attacks on assets and achieve its business goals within the established budget in case of possible information security incidents, including attacks, technical failures, and personnel errors.
There are five maturity levels for assessing an organization's information security management processes: Initial, Managed, Defined, Controlled, and Optimized.
O-ISM3 complements and extends ISO 27001 by adding security management controls and applying security performance metrics. 
Best practices for building information security maturity
Building information security maturity involves a systematic and strategic approach to enhance an organization's ability to protect its information assets and respond to security threats effectively. Here are some steps to help you achieve this goal:
1. Get buy-in from executives and the board
It's important that executives and senior management understand the importance of information security and maturity and provide both the resources and support required for improvement efforts.
It can also help to keep the board involved. In fact, a majority of security leaders today meet with their board of directors quarterly (37.3%) or monthly (39.6%) to communicate security priorities and investment needs. 
2. Maintain an up-to-date inventory of your assets
You can't protect what you don't know. That's why creating and maintaining an accurate asset inventory is essential to information security maturity. Rather than rely on a manual method like compiling assets in a spreadsheet, opt for a tool that will automatically create and help maintain this inventory for you. 
3. Perform risk assessments regularly
Regularly conduct risk assessments to identify new threats and vulnerabilities and the impact of security incidents. The results should help you prioritize your efforts and allocate resources effectively to assess, manage, and improve the maturity of your information security program.
4. Develop and maintain an information security policy
A critical part of an organization's information security program is its information security policy. This is a set of rules and guidelines that define how an organization manages and protects its information assets, including data, systems, and networks. It outlines the objectives, goals, and responsibilities for safeguarding information against unauthorized access, use, disclosure, disruption, modification, or destruction.
It should be regularly reviewed and updated, at least annually, to keep up with your information security program as it matures and your organization's business environment, technologies, and regulatory requirements as they change. 
5. Develop and maintain an incident response and disaster recovery plan
Other policies that can help enhance your organization's information security capabilities are an incident response and disaster recovery plan. An incident response plan can help you respond to security incidents faster and minimize their impact while a disaster recovery plan can help you recover and restore critical systems, operations, and data after an incident.
6. Provide security awareness training regularly
For your information security program to mature, all employees must stay up-to-date on security and privacy best practices as well as their responsibilities in protecting the organization's assets. Many organizations require security awareness training as a part of the onboarding process for new hires and as a recurring annual task for existing employees.
Role-based training based on people's day-to-day jobs or functions is also highly recommended. For example, it's a best practice to ensure that any developers or system administrators are taking secure coding or network security training.
7. Assess and manage third-party risk
Third-party risk management is a crucial component of any information security program. You must have processes in place to assess the security posture of third-party vendors, suppliers, and partners who have access to your data. You should ensure they meet your security standards and comply with relevant regulations. 
8. Continuously test and improve controls
Continuously evaluating, testing, and improving the effectiveness of your security controls is a tenet of information security maturity. Automation can provide more reliability, save your security teams time and effort, and enable you to respond to gaps in your controls faster. 
Penetration testing and vulnerability scanning can also help you identify risks and vulnerabilities and address them promptly.
9. Implement a system for continuous monitoring
To help you progress toward a higher level of maturity, deploy continuous monitoring tools and techniques to detect and respond to security threats and non-compliance issues in real time.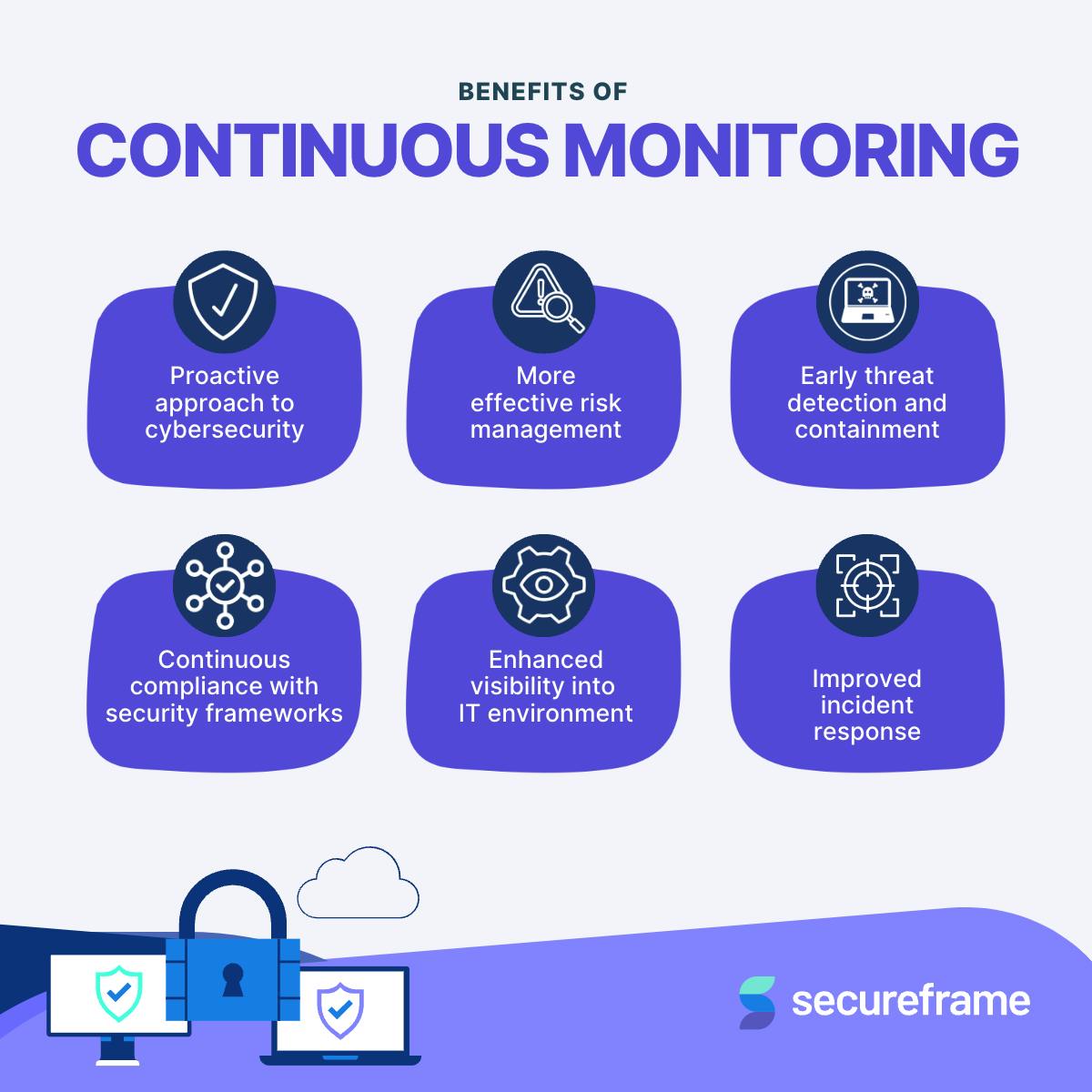 10. Maintain compliance with regulations and standards
Complying with applicable regulations and laws is essential for avoiding fines and penalties and unlocking other benefits, including mitigating the risk of data breaches and building trust with customers and prospects that you can keep their information safe. 
It's essential that you maintain a regulatory compliance program and are also able to scale it as your business and compliance requirements grow. A compliance automation platform that supports multiple frameworks and maps controls between them can be hugely beneficial.
Recommended reading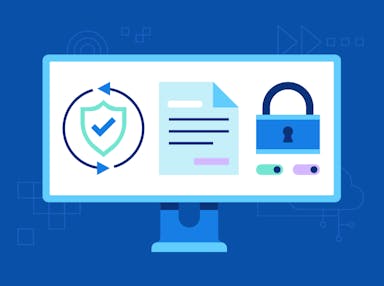 What Is Continuous Compliance + How To Achieve It
How Secureframe can help you build information security maturity 
Information security maturity is a moving benchmark that requires continuous commitment and vigilance to protect your information assets and respond to evolving threats and compliance requirements. 
Secureframe can help with every aspect of information security, including:
Schedule a demo today to learn more about any of these features and how they can help you optimize your information security maturity.