Secureframe Training: Automatically Distribute, Remind, and Track Compliance Training for SOC 2, HIPAA, PCI DSS, and More
The largest cybersecurity risk for most businesses is people, not technology. A compromised password, a successful phishing attempt, or an accidental download can quickly lead to a costly data breach. 
That's why most compliance frameworks, including SOC 2, HIPAA, PCI DSS, and others, require security awareness training to be conducted regularly to ensure all employees are trained on security and privacy best practices related to their job and/or organization. Some frameworks, like PCI DSS, require specific training on topics like secure coding practices or training related to the specific data the organization and its employees handle.
Training an entire workforce and ensuring everyone stays compliant to the latest best practices can be tedious and time consuming, especially as new talent joins your organization and as employees must complete training annually. Most security, privacy, and compliance training is also outdated and unengaging, which diminishes its effectiveness in ensuring best practices are understood and followed by employees.
Secureframe Training was developed to make training your workforce and tracking training completion easy and automatic, while also providing modern, engaging content so crucial information sticks long after the training. 
We currently provide modules on Security Awareness Training (required for SOC 2, ISO 27001, NIST, and more), HIPAA, GDPR, CCPA, PCI DSS, and Secure Coding (required for PCI DSS).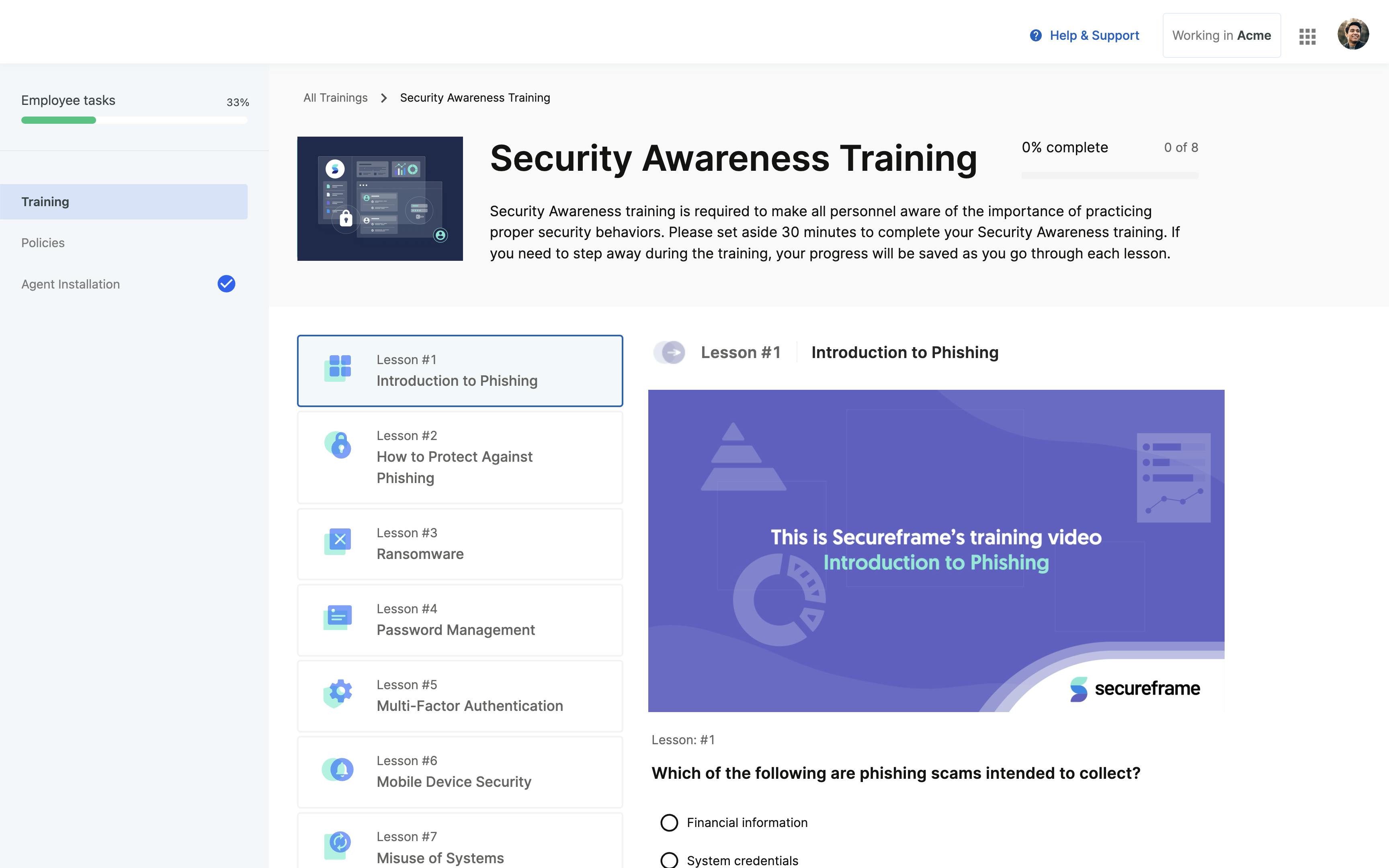 Secureframe Training is embedded in Secureframe's platform to provide a seamless experience with automation built in to remind employees to complete required training and to track training completion automatically
Secureframe's proprietary training videos are embedded in our platform for easy distribution, tracking, and reminders
Both management and individuals must be trained on acceptable use of technology, understanding what data is sensitive and how to protect it, and avoiding common tactics used by cybersecurity criminals.
With Secureframe you can:
Offload training management to Secureframe. Automate the assignment, tracking, and reporting of security and compliance training to Secureframe's platform. Employees can be assigned training at onboarding as well as on a recurring basis for annual recertification.
Provide employees a seamless, engaging training experience. Our training is embedded within the platform so you can easily distribute and assign employees training to complete. No need to onboard, integrate, or manage a third-party training vendor.
Easily segment employee training. Not every training course is applicable to every employee. Segment your workforce into groups — including contractors — and assign just the training that is required for that group's role. 
Stay up-to-date on the latest security, privacy, and compliance best practices. Framework requirements change over time and many frameworks require annual training recertification. Secureframe stays up-to-date on the latest regulations and we update the training courses so you don't have to.
Want to learn more? Watch our webinar on Secureframe Training
Fortuna Gyeltsen, one of our in-house compliance experts, discussed the importance of training, which frameworks require it, how to fulfill compliance training requirements, and best practices for ensuring not only compliance, but a workforce that prioritizes the security and privacy of company and customer data in a recent webinar. Watch it on demand here.
Ready to get started?
Ready to automate training and ensure your employees are up-to-speed on the latest best practices to protect against cyberattacks? Schedule a demo of Secureframe today.