Hiring an ISO 27001 Consultant: A Fast-Track to Compliance?
What is ISO 27001 compliance?
First, let's take a step back and get a quick refresh on ISO 27001 standards and requirements. 
ISO 27001 is an international standard for information security management. The standard places a particular focus on building, managing, and maintaining an Information Security Management System (ISMS), along with the policies and procedures that support it.
Like other security standards, ISO 27001 compliance requires companies to implement certain internal security controls (i.e., systems and processes) into their ISMS. Unlike most other security standards, ISO 27001 focuses exclusively on security management. As a result, achieving ISO 27001 compliance is one of the best ways to ensure that your security management is doing all it can to keep your organization secure.
While we won't provide an exhaustive (and exhausting) list of every ISO 27001 requirement, keeping a few key requirements in mind should give you a sense of what you need to get compliant.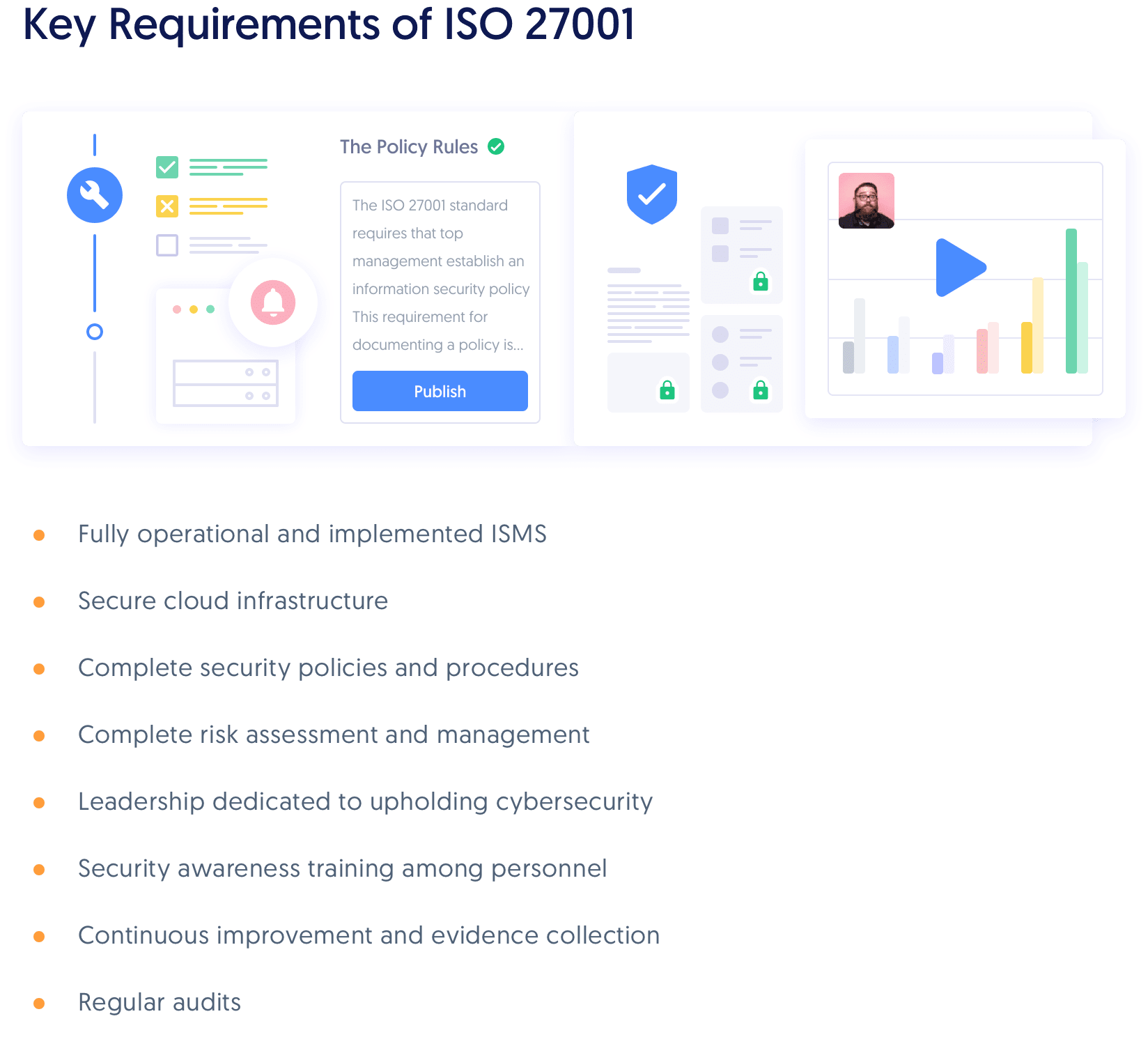 As you can imagine, meeting these requirements can sometimes require extensive overhauls of existing security management procedures or the need to develop brand new processes for tasks already in place at your company.
Though it may be hard work, achieving ISO 27001 compliance is worth the effort. Doing so not only guarantees better security for your organization, but it also builds trust with customers and business partners — which is especially valuable if you deal with sensitive data like financial information or personally identifiable information. Compliance can also lead to ISO 27001 certification, though it requires an external audit from an accredited certification body. 
Because ISO 27001 compliance requires a great deal of manual work, many companies turn to a consultant for assistance and guidance.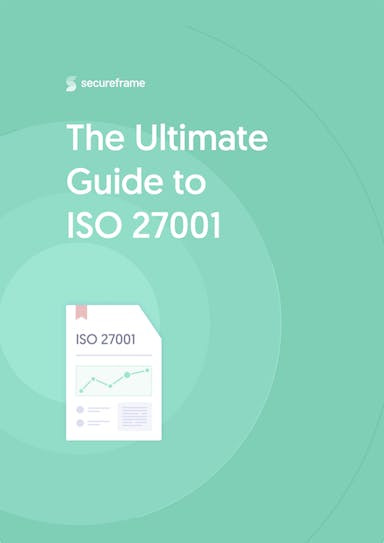 The Ultimate Guide to ISO 27001
If you're looking to build a compliant ISMS and achieve certification, this guide has all the details you need to get started. 
What are ISO consultancy services?
Hiring an outside ISO 27001 consultant can be a great way to save company resources and benefit from a compliance expert handling your security management. ISO 27001 consultants have specialized knowledge of all things ISO 27001, making them ideal guides for navigating the compliance process.
Specialized knowledge isn't the only benefit they provide. An experienced consultant also knows best practices for every step of the compliance process, from building an ISMS to conducting an audit. Consultants can also use their experience to help you build solutions that reflect your business' unique systems. 
Some ISO consultancy firms also have access to tools that can streamline documentation, audit reporting, evidence gathering, and many other tedious tasks required by ISO 27001.
While an ISO 27001 consultant is most useful when the company does not have dedicated compliance personnel, even large companies can still benefit from hiring one. Since meeting compliance requirements and conducting audits consumes a great deal of time and internal resources, most companies are usually better off hiring a consultant rather than sacrificing the valuable time and energy of their staff.
Bringing in a consultant doesn't just save time and resources, however: It also provides an objective perspective to your security posture. A third party is in a better position to catch security holes or missing links than internal staff who may view their systems with a slight bias or are comfortable with the process in place and have not fully evaluated them for security best practices. 
As we'll see in the next section, ISO 27001 consultancy firms offer services that mesh perfectly into compliance requirements.
What does an ISO consultant do?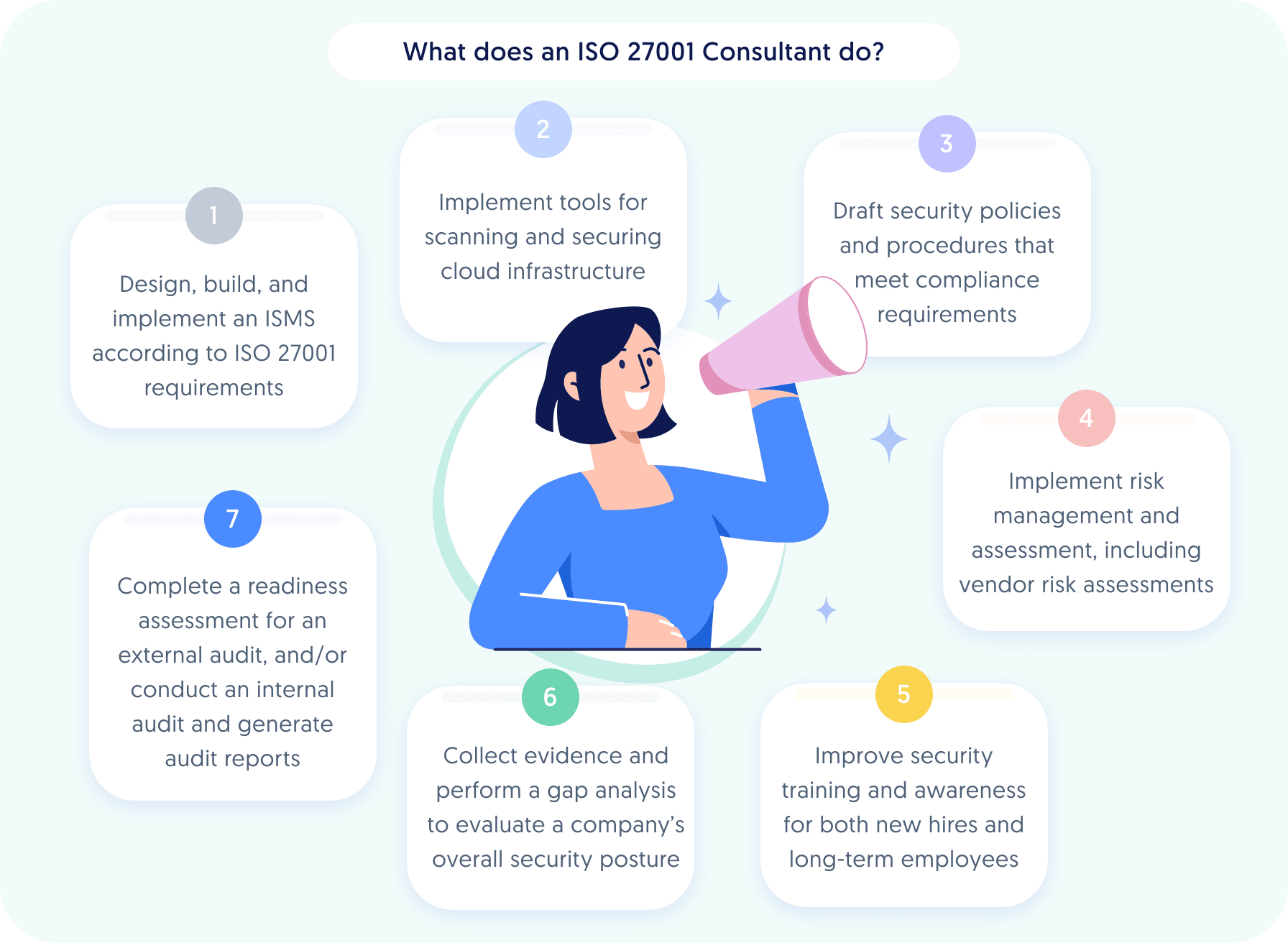 ISO 27001 consultancy firms offer a range of specialized services, from building an ISMS and conducting internal audits to employee onboarding, streamlining evidence collection, and more. While every ISO 27001 consultant is different, most offer the following services:
ISMS implementation
A functional Information Security Management System (ISMS) is the core requirement of ISO 27001 compliance. As a result, your ISO 27001 consultant can help you design, build, and implement every management system component according to compliance requirements.
But what makes up an ISMS?
An ISMS is a centralized collection of documents, processes, and technology that support cyber security. This collection includes anything from basic security policies to access control and cryptography — basically, whatever helps your organization manage, maintain, and improve security.
While the concept of an ISMS isn't exclusive to it, the ISO 27001 standard is what defines the minimum requirements for a secure ISMS. Annex A of ISO 27001 defines these requirements as 14 control sets, including basic information security policies (A.5), human resource security (A.6), access control (A.9), and more.
While there's a lot to it, a good ISO 27001 consultant can help you understand and meet these requirements while improving your overall security.
Securing cloud infrastructure
With most companies using cloud infrastructure in some way, cloud security has become another key requirement for ISO 27001 compliance.
While many of the controls that help secure cloud environments are part of a compliant ISMS, an ISO 27001 consultant should pay special attention to cloud monitoring. In the best cases, your consultant will help you implement and use tools for scanning and securing your cloud infrastructure.
Policy creation
Because it's difficult and time-consuming to write security policies and procedures from scratch, many companies resort to recycling boilerplate without truly understanding its substance, resulting in processes not aligning with policy.
As an ISO 27001 consultant gets to know your organization, they'll be able to draft security policies that meet your organizational needs and compliance requirements. 
Risk assessment and management
Risks are everywhere in the security environment: From unusual users to vulnerable vendors, identifying and mitigating risks is key to both information security in general and ISO 27001 compliance in particular.
In addition to implementing risk management and assessment, your ISO 27001 consultant should also perform and manage vendor risk assessments. Risk management is an ongoing process that involves staying up-to-date with each of your vendors' compliance status.
Employee onboarding
While an ISO 27001 consultant won't be sitting on your hiring committee, they can be a valuable resource to improve your employee onboarding.
A common problem in many companies is helping new hires become more security-aware. Even if your company is already good at conducting security training during employee onboarding, a consultant can help you make it more effective and widespread to every employee, not just new hires. Many auditors will raise exceptions if employees don't acknowledge security policies.
Evidence collection
Evidence collection is an important stage of any ISO 27001 audit. Consultants use evidence such as configuration screenshots and documentation to perform a gap analysis and evaluate how well your organization is following its own security policies.
Auditing and reporting
Last but certainly not least, an ISO 27001 consultant may also conduct an internal audit and generate audit reports. Note that not every consultant offers this service, especially in the cases of an external ISO 27001 certification audit.
In any case, a consultant will at least prepare you for an upcoming audit if they aren't performing it themselves. A consultant should also be able to generate a readiness assessment based on your preparation.
Benefits of hiring an ISO 27001 consultant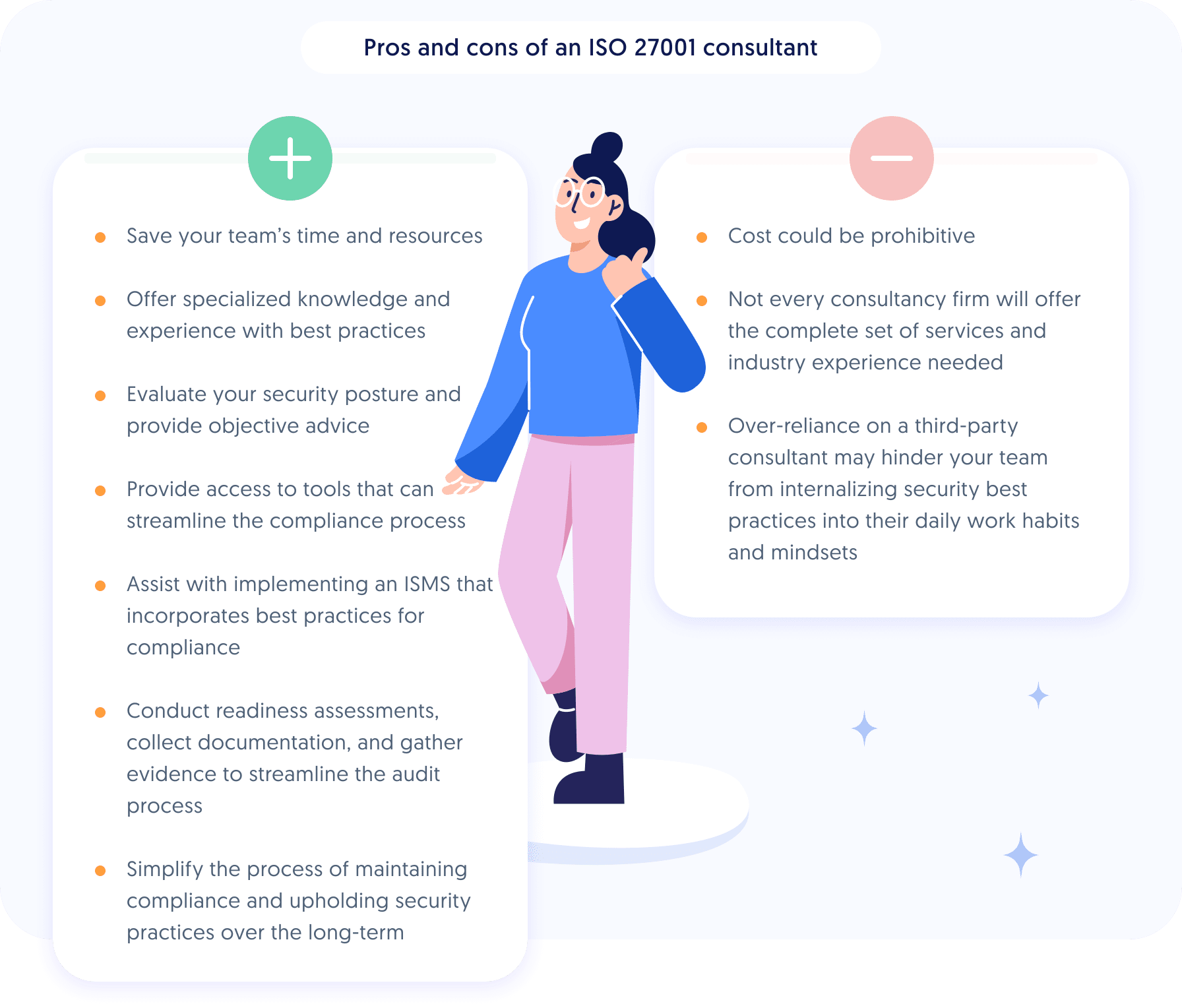 Hiring an ISO 27001 consultant offers a few key benefits:
Streamlined ISMS integration and compliance
Equipped with a wealth of knowledge and experience, ISO 27001 consultants know exactly what you need to get your ISMS fully up and running as soon as possible. Even for an existing ISMS, a consultant can help identify gaps.
By themselves, these qualities are enough to streamline ISMS integration and the entire compliance process. Even for other areas of compliance, such as risk assessments and audits, using a consultant can save companies both time and internal resources.
Easier audits and reporting
There's nothing more discouraging than going through an entire audit only to find major gaps. If an audit wasn't difficult enough, having to go through it again is a major pain.
Many ISO 27001 consultants prevent this problem by conducting a readiness assessment before the audit even begins. This readiness assessment also helps streamline the audit and reporting, since the consultant will have already collected most of the documentation and evidence required for compliance.
Less guesswork and more oversight
In addition to streamlined compliance, a consultant's expertise also provides peace of mind. By having someone intimately familiar with ISO 27001 compliance and its requirements, you won't have to guess whether your ISMS or other compliance requirements are fully implemented.
Consultants also provide an outside perspective that's useful for improving oversight and identifying key areas for improvement.
Better security for the long-term
Many ISO 27001 consultancy firms stay on with their clients long-term to help with regular internal audits and make sure that key ISMS processes maintain compliance. 
Drawbacks of hiring an ISO 27001 consultant
Despite their many benefits, hiring an ISO 27001 consultant can also come with drawbacks for some companies.
Significantly higher costs
Like any other specialized consultant, hiring an ISO 27001 consultant doesn't always come cheap. Although many companies can justify the cost through time and resource savings, smaller companies sometimes have to go without.
You're likely wondering: how much does an ISO consultant charge? As with any other type of specialized consulting, the answer varies depending on the particular consultant's experience and expertise, as well as the specific services you'd like to hire for. On average, though, ISO consultant cost is around $38,000. Pivot Point Security breaks this down into two pre-certification phases, noting ISO 27001 consultant rates of $1,400-$1,800 per day: 
Phase I: $20,000 — Defining audit scope, risk assessment, risk mitigation, gap analysis, and remediation plan
Phase II: $18,000 — Gap remediation, registrar selection, ISMS development, incident response, internal audit, and audit support 
For companies on a limited budget, an ISO 27001 compliance platform offers the best of both consultants and easy-to-use software. With consulting services available as software tools, companies can enjoy all the benefits without the higher cost.
Limited services
While almost every ISO 27001 consultant can build and implement an ISMS, some aren't always well-versed in risk management or other compliance requirements. As a result, some consultants may not provide the complete suite of services your company needs for compliance.
Achieving ISO 27001 compliance
For many organizations, an ISO 27001 consultant is a valuable asset for implementing an ISMS and achieving compliance. However, due to consultant costs, many companies are turning to compliance platforms to build an ISMS, draft security policies, and even help perform audits and automatically generate reports.
Secureframe's ISO 27001 compliance platform offers all of the services of a consultant backed by a dedicated account manager and a security expert. Request a demo today and start streamlining compliance.
Should you hire an ISO 27001 consultant?