Should you get a SOC 2 report or ISO 27001 certification?
Which is a better fit for your company — SOC 2, ISO 27001, or Both?
Both SOC 2 and ISO 27001 strengthen customer confidence in your organization's security practices. The short answer is that it really depends on your customers. The most important factor for deciding between SOC 2 and ISO 27001 will come down to what your target market expects and requires. In order to make your decision, you'll want to consider a number of factors including target market, the scope of controls, cost, and project timeline. 
Target Market
If you're based in the United States and a majority of your customers are also based in the US, you should opt for undergoing a SOC 2 Audit. Since launching in 2011, the SOC 2 Type II has become the industry standard framework for third-party reports when it comes to information security compliance in the US.
If a majority of your customer base is headquartered outside of the US, you may want to opt for completing an ISO 27001 audit. ISO 27001 is the gold standard for information security compliance outside of the US. 
Ultimately, this decision comes back to what your customers are requesting and what they would ultimately accept during their vendor due diligence. There are many US companies that would accept an ISO 27001 certificate and there are many companies outside of the US that would accept a SOC 2 Report.
As your company grows, you will likely opt to complete both audits in order to have full coverage across your customer base.
Scope of Controls
SOC 2 and ISO 27001 may have around 70 - 80% overlap depending on how specific controls are written. ISO 27001 is much more prescriptive than SOC 2. ISO 27001 requires a predefined set of controls and also requires exact language to be used in many policy documents as part of the company's Information Security Management System (ISMS).
Unlike ISO 27001, SOC 2 controls are usually defined by the company in accordance with the SOC 2 Trust Services Criteria and COSO Principles. 
The process for a SOC 2 and ISO 27001 varies slightly from auditor to auditor. Generally, you can expect the below processes for undergoing a SOC 2 or ISO 27001 audit.
Project Timeline
If you want your audit completed sooner rather than later, you'll likely opt for completing a SOC 2 Type I. A SOC 2 Type I Report can be done in your company's hand in as fast as three months. Typically, companies opting for a SOC 2 tend to first complete the Type I report and later complete a Type II. Timing for SOC 2 Type II and ISO 27001 tend to both be about the same anywhere between 8 to 13 months. Both options require a substantial amount of time upfront in order to build the right policies and processes for your company.

Because of the overlap between SOC 2 and ISO 27001, you may save an enormous amount of audit time if you opt to do both at the same time.
Cost
Cost tends to vary from auditor to auditor. Generally, ISO 27001 certification tends to be more costly than a SOC 2 report. You may receive a substantial discount if you opt to complete both audits with the same auditor. 
We summarize the differences between a SOC 2 and ISO 27001 below: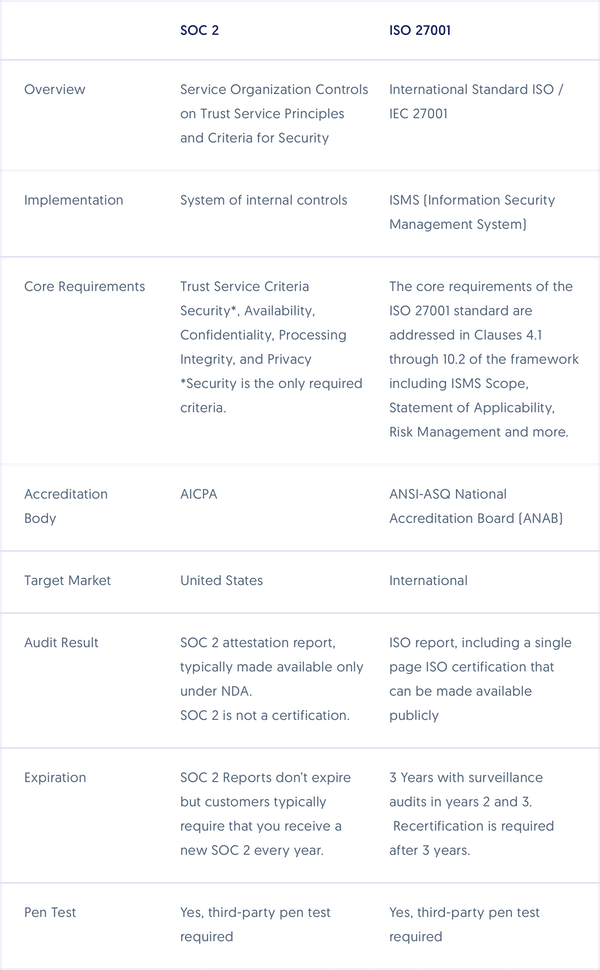 If you have more questions, or want to inquire about getting a SOC 2 and a ISO 27001, please reach out to [email protected].
Never miss a post. Subscribe!