Announcing Secureframe for MSPs, Our World-Class MSP Program and Multi-Tenant Portal
It's no secret that data security, privacy, and compliance with regulatory requirements are major priorities for small to medium-sized organizations that want to grow their customers, business, and revenues. A single breach not only halts business until it's resolved, but quickly eradicates trust that's been earned with customers. 
A report by ConnectWise, which surveyed a combined 1,000 small to medium-sized businesses (SMBs) and 500 managed service providers (MSPs), showed that SMBs expect a sharp increase in IT spend ($90B) through 2026, which will primarily be channeled through MSPs to address their cybersecurity concerns. It is clear that there is no better time than now for MSPs to help SMBs navigate the growing complexity of security, privacy, and compliance while fortifying their security posture to mitigate risk. 
MSPs who broaden their security services by including Compliance-as-a-Service will be in the foremost position to seize this growth opportunity. 
That's why we are excited to expand the Secureframe Trusted Partner Program to include our world-class MSP Partner Program and launch our multi-tenant portal to make it easy for MSPs and Managed Security Service Providers (MSSPs) to bring the power of Secureframe's compliance automation platform to their clients.
To learn how easy this is, keep reading — or watch the on-demand video replay of the Secureframe Webinar for MSPs and MSSPs, which was held on February 15.
What is Secureframe for MSPs?
Secureframe for MSPs equips service providers, who are often already providing 24x7 monitoring and management of their customers' network infrastructure, to help customers achieve and maintain security and privacy compliance to the most rigorous global standards, including SOC 2, ISO 27001, PCI DSS, HIPAA, GDPR, CCPA, NIST, and others. 
The portal was developed from the ground up with service providers, security consultants, and their clients in mind. It provides everything service providers need to deliver added value to their customers and grow their accounts.
The Secureframe for MSPs program combines Secureframe's industry-leading compliance automation platform with unrivaled support from our team of more than 30 full-time compliance experts and former auditors. Combined, they enable service providers to help resource-strapped SMBs overcome the often complex burden brought by security, privacy, and compliance regulations so that they can focus on serving their customers, expanding into new markets, and scaling their businesses. 
Secureframe for MSPs offers:
Streamlined deal management and support: Secureframe's partner portal enables service providers and security consultants to register deals and gain access to marketing, sales, technical support, and other resources to close deals faster and increase revenue.
Centralized account management: Purpose-built to help service providers manage their customers' compliance journey, Secureframe's multi-tenant portal centralizes all activities related to each customer's security and privacy compliance into a single pane of glass so service providers can support their customers quickly and easily.
Secureframe Trusted Partner Program. Not only can Secureframe help service providers achieve and maintain compliance, allowing them to stand out in the MSP crowd, our new partner program unlocks new revenue streams through our referral, reseller, and service provider options that enable them to help their customers achieve and maintain compliance. Secureframe partners have the ability to function as any or all partner types depending on their business model and preference. 
DattoRMM Integration. Part of Secureframe's commitment to the Channel includes our new integration with DattoRMM, which enables Secureframe to pull automated configuration evidence such as the presence of antivirus software, asset inventory intelligence, and more.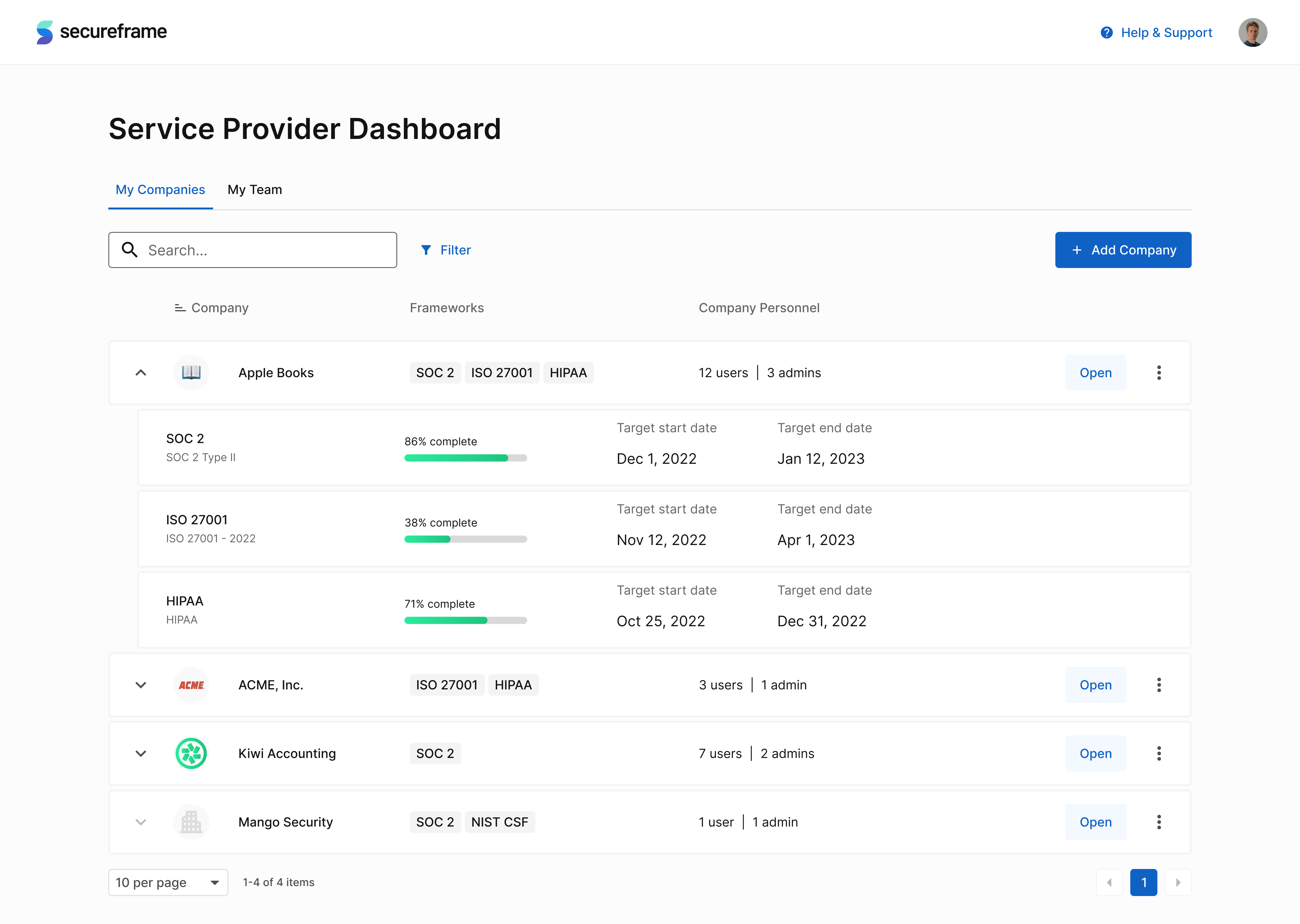 The benefits of partnering with Secureframe
With Secureframe, service providers and security consultants can:
Deliver an end-to-end security service offering by extending their current portfolio. Security and privacy compliance is quickly becoming a must-have rather than a nice-to-have as more organizations require their vendors to be SOC 2, ISO 27001, GDPR, PCI DSS, and, in the case of the healthcare industry, HIPAA compliant.
Get compliant yourselves. This can provide a distinct advantage for your business over competitors to increase revenue. Secureframe enables service providers to achieve and maintain compliance with speed and ease to demonstrate their strong security and privacy posture to build trust with their customers.
Offer guidance from our in-house InfoSec experts. Secureframe has more than 30 in-house compliance experts, many of whom have experience as auditors for top audit firms like EY, Coalfire, and A-Lign. These experts have performed audits for SOC 2, ISO 27001, and more, and leverage their expertise to help Secureframe customers automate and streamline their own compliance journeys.
Provide customers with the ability to obtain compliance quickly. Our all-in-one, modern governance, risk, and compliance (GRC) platform provides a straightforward list of requirements that a service provider's end-customers need to meet, the policies and procedures needed to meet those requirements, and automation to verify InfoSec-related tests so they can get and stay compliant quickly and easily.
The benefits of Secureframe to an MSP's end customers
The Secureframe compliance automation platform, paired with Secureframe's unrivaled compliance expertise, enables service providers to bring new value to their customers with:
Increased ability to compete. By complying to security and privacy compliance frameworks like SOC 2 and ISO 27001, companies can gain an edge on competitors who are not compliant and level the playing field with larger competitors who may have already achieved compliance, in order to win more deals.
Faster scalability. Security compliance enhances an end customer's ability to expand into new markets and move upmarket to sell to mid-market and enterprise clients. 
Reduced risk. Implementing Secureframe features, including continuous monitoring, automated tests, and vendor risk management, among others, helps ensure that end customers are proactively assessing and ensuring the security and privacy of their IT systems, people, and processes. 
Increased employee vigilance. Secureframe's proprietary compliance training ensures end customers have a centralized solution that allows for all employees and contractors to complete security and privacy awareness training to avoid costly mistakes, like falling for a phishing attack.
Accelerated deal cycles: Secureframe Questionnaires helps end customers respond to RFPs and security questionnaires fast with AI, enabling them to provide answers back to their customers to accelerate deals, unlock revenue, and better compete. Plus, the Secureframe Knowledge Base serves as the end customers compliance system of record, storing the most current details of their security and privacy posture. 
Frequently asked questions 
On February 15, channel expert Danny Obaseki hosted a Secureframe Expert Insights webinar dedicated to MSPs and MSSPs. After walking through the benefits of partnering with Secureframe for service providers and their end customers, he answered questions live. Below are some of his answers. 
1. How do I become a partner of Secureframe? And does that cost anything?
Danny Obaseki: We have a frictionless partner program. If you're interested, I would start by sending an email to partnerships@secureframe.com. One of our channel managers will be in touch to delve into what a partnership entails.
In general, there's no financial commitment. Once you qualify for the partner program, you get access to the partner portal and can start using the marketing and sales collateral we provide to articulate the benefits of compliance to your current customers as well as prospective ones. 
2. Do MSPs get a discount for reselling Secureframe?
Danny Obaseki: Yes! We have a generous revenue sharing program with our MSP partners and you get guidance from our channel management team on how to resell the platform. You would also get access to Secureframe for a discounted rate and have the ability to mark it up and generate revenue in that way. 
We have three lanes for partners. 
Reseller. Receive a discount to leverage Secureframe as a reseller.
Service Provider. Receive a discount to use Secureframe to power your managed compliance services.
Referral. Receive a reward by referring prospects to Secureframe. After introducing us to a prospective client, we take over and try to close that deal, and then you get paid a commission. 
3. Do you need to be a compliance expert to resell Secureframe?
Danny Obaseki: Not at all, we provide all the support you need. For your customers, we've simplified the end-to-end compliance journey and we provide a ton of guidance from our team of more than 30 in-house compliance experts, many of whom have been in the trenches as auditors.
The goal is to train you to become more adept at providing compliance-as-a-service, but to start off, you do not have to be a compliance expert.
4. Are NFRs available to MSPs who are partnering with Secureframe?
Danny Obaseki: You'd have to qualify but you can discuss it in more depth with your dedicated channel manager. Please email partnerships@secureframe.com to kick off that conversation.
Ready to get started?
Schedule a demo today to see how you can expand your service offerings to include Compliance-as-a-Service with Secureframe.