Regulatory Compliance: Benefits and Best Practices to Keep Your Business Safe
As an organization, you may have to comply with a range of local, federal, state, and industry regulations.
This is becoming more challenging for organizations as regulations continue to evolve to address the changing threat landscape and growing privacy concerns of consumers. Organizations that are lacking in-house compliance expertise are most acutely experiencing this pain point. 
To help you better understand what regulatory compliance is and how it applies to your organization, we'll cover the essentials below, including common regulatory compliance frameworks and best practices.
What is regulatory compliance?
Regulatory compliance refers to the adherence to laws and regulations created by governmental and regulatory bodies that apply to an organization based on its sector and geography. 
Achieving regulatory compliance requires organizations to:
Identify all applicable laws and regulations that affect the business
Discover areas where the organization fails to meet laws and regulations
Implement controls and procedures to effectively comply with laws regulations
Keep up with changes to the laws and regulations that affect their industry and country
Organizations that fail to put protective measures in place to comply with local, federal, state, or industry regulations risk financial penalties and reputational damage.
Recommended Reading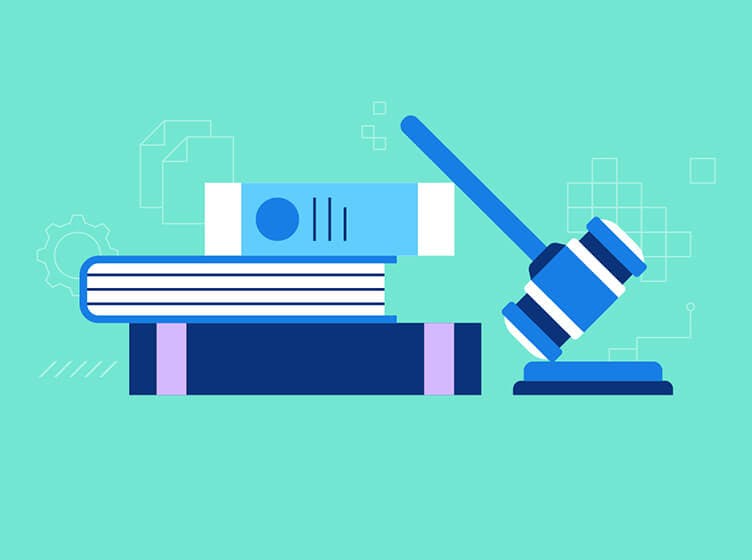 What Is Compliance Risk and How To Minimize It [+ Free Template]
Read article
Why is regulatory compliance important?
Regulatory compliance offers an organization several benefits. Let's take a look at four of the biggest benefits below.
1. Avoiding fines and penalties
It's critical to research which regulations and laws apply to your organization based on your location and industry.
For example, if you collect customer data — whether that be credit card information, website cookies, or personal identifiable information (PII)  — there are regulations you should adhere to. If you collect data from EU residents, you must comply with GDPR. Europe's GDPR is known as one of the strictest regulations, with the ICO fining organizations up to €20 million for violations.
The U.S. is also cracking down on compliance, passing several state regulations. Most notable is the California Consumer Privacy Act (CCPA), which has no upper cap on penalties. That means organizations could face potentially enormous fines if they are found to be out of compliance.
Implementing a comprehensive regulatory compliance program can help you avoid fines and penalties.
2. Preventing security breaches
Organizations in any industry that collect and store data can fall victim to a costly attack. Certain industries like healthcare and finance hold particularly sensitive information, and are more vulnerable.
The healthcare sector suffered about 337 breaches, implicating more than 19 million records, in the first half of 2022 alone, according to Fortified Health Security's mid-year report. 
Strong regulatory compliance measures can deter cyber criminals from attacking your organization and help keep your data safe.
3. Enhancing reputation
A massive security breach can devastate a company's reputation. For example, the 2022 attack on T-Mobile that exposed the private information of over 77 million people caused significant damage to the brand's reputation. Not only did the company have to notify affected customers that their data was compromised and pay $350 million to settle multiple class-action lawsuits  — the event also made global news and is viewed as a massive cybersecurity failure.
Repairing stakeholder trust after a breach is painstaking work and is not guaranteed. Regulatory compliance must be taken seriously to demonstrate your organization's commitment to protecting its data and to maintain the trust of vendors, clients, and customers. 
4. Closing deals
Most prospective customers expect their vendors to be compliant with applicable laws and regulations before signing a contract. This is especially true for customers in the finance, health care, and insurance industries, which hold particularly sensitive information. 
Achieving regulatory compliance demonstrates your commitment to keeping your and your customers' data safe. This can provide a major competitive advantage, help you close more deals faster, and move upmarket. 
Regulatory compliance frameworks
Regulatory compliance frameworks provide guidelines for how to handle personal data, patient health information, credit card information, and more. By following these guidelines, organizations can not only meet regulatory requirements — they can also strengthen their security and achieve other business objectives, like accelerating speed to revenue. 
Let's take a look at some of the most common regulatory compliance frameworks to help you decide which are right for your organization.
HIPAA
Who it applies to: The healthcare sector
The Health Insurance Portability and Accountability Act (HIPAA) is a 1996 federal statute that created standards for protecting patient health information. All healthcare organizations must follow cybersecurity practices and run risk assessments to comply with HIPAA.
The healthcare sector is the seventh most frequent target of cyberattacks, so organizations within the sector need to be vigilant.
PCI DSS
Who it applies to: Merchants and service providers who store, process, or transmit cardholder data or can impact the security of their customers' cardholder data. 
The Payment Card Industry Data Security Standard (PCI DSS) was created in 2006 to ensure that all companies that accept, process, store, or transmit credit card information operate securely. The framework is primarily intended to keep cardholder information safe. All companies handling this information must comply with PCI DSS, regardless of size. 
Unlike government-mandated frameworks, payment brands (MasterCard, Visa, etc.) enforce PCI DSS compliance.
GDPR
Who it applies to: All businesses that collect EU citizens' data
The European Union passed the General Data Protection Regulation (GDPR) to protect the data of EU citizens. It applies to all businesses that collect and process EU citizens' data, whether or not those businesses are based in the EU. The framework lists regulations related to consumer data access rights, data protection rights, consent, and more. Compliance is enforced by the Information Commissioner's Office (ICO).
The regulation is extensive — 88 pages, to be exact — and ICO is notorious for heavily fining companies that fail to comply. For example, Amazon was famously fined $880+ million in 2021 for tracking user data without appropriate consent.
CCPA
Who it applies to: Businesses and ad tech companies that manage California residents' personal data
The California Consumer Privacy Act (CCPA) was passed in 2018 to protect the data privacy and security of California residents. It requires compliance from businesses that collect user information and the ad tech companies that purchase it, even if those organizations aren't physically located in California or the United States.
It is enforced by the Office of the Attorney General in California. 
SOX
Who it applies to: Public companies in the U.S.
The Sarbanes-Oxley Act of 2002 (SOX) is one of the most well-known regulations in the United States. After a string of major accounting scandals eroded investor and public trust in the early 2000s, this regulation established stringent rules for U.S. public companies to document financial compliance and corporate disclosures in order to prevent financial fraud and protect investors and the public.
While privately-held companies and nonprofits do not generally need to comply with SOX, many of the framework requirements are considered best practices for any company to implement. 
SOX is enforced by the Securities and Exchange Commission (SEC) and audit rules are overseen by the Public Company Accounting Oversight Board (PCAOB).
FISMA
Who it applies to: The federal government, supporting agencies, and third party contractors operating on its behalf and/or handling federal data
The Federal Information Security Management Act (FISMA) was passed with the goal of better protecting U.S. government assets. It requires the federal government and third parties operating on its behalf to document allassets and network integrations, monitor their IT infrastructure, and regularly evaluate risks.
The Department of Homeland Security is responsible for overseeing its implementation.
Recommended Reading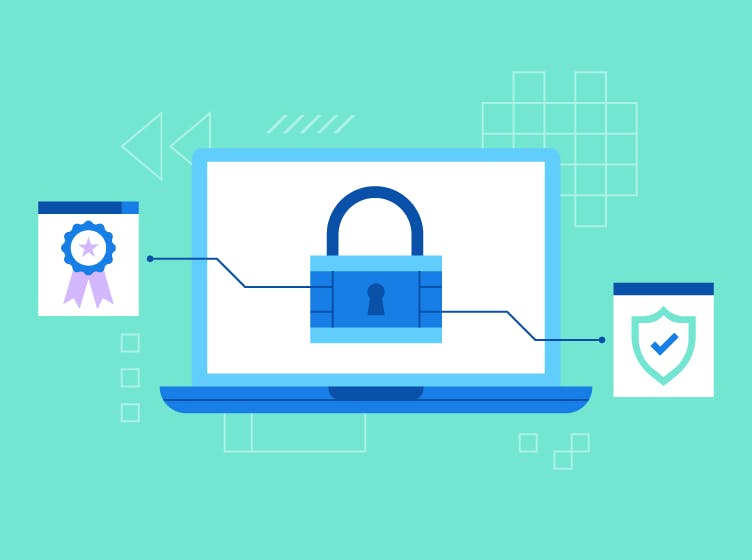 Essential Guide to Security Frameworks & 14 Examples
Read article
Regulatory compliance risk
Regulatory compliance risk is the potential damage businesses face when they fail to comply with laws and industry regulations. There are many reasons to avoid regulatory compliance risks, including reputational, business, financial, and legal implications that can affect your day-to-day business operations.
Reputational
Failing to comply with industry regulations can damage your reputation. A single data breach or exposure due to poor compliance management can result in a significant blow to your reputation and loss of clients. It may also cost millions in terms of recovery and cleanup, implementing new controls, and recovering customer trust.
Business
Failure to comply with certain industry regulations can lead to fines, business shutdowns, or impact the way you run your business. 
For example, non-compliance with the Payment Card Industry Data Security Standard (PCI DSS) could lead to the suspension of your ability to accept major credit cards like Visa and Mastercard. Customers might avoid purchasing from your company or walk away if they do not have another payment type with them.  
Financial
The financial impact of regulatory compliance risk can be drastic. Lost investors, property, and overall revenue can result from strikes on your account, breaches, shutdowns, and more. 
Financial implications from non-compliance include loss of investors, loss of revenue, and legal fees. 
For example, a multi-year investigation by the SEC determined that General Electric misled investors between 2015 and 2017 by failing to disclose the true source of much of its reported profits. GE's settlement with the SEC included a $200 million penalty for violation of securities laws related to anti-fraud, reporting, disclosure controls, and accounting controls. The disclosure of the fraud also led GE's stock price to drop by nearly 76%.
Legal
If you fail to comply with industry regulations and best practices, legal action may be brought against your company and/or employees. This can lead to costly fees, penalties, imprisonment, exclusion, or forfeiting products and property.
Failure to comply with SOX, for example, can result in penalties upwards of $5 million in fines and 20 years in prison for corporate executives. 
For businesses unable to handle the financial burden, legal issues can often lead to a company shutdown. 
Regulatory compliance best practices
It's clear why regulatory compliance is important — but how exactly to achieve it is not. Below are best practices that can help you build or strengthen your regulatory compliance program.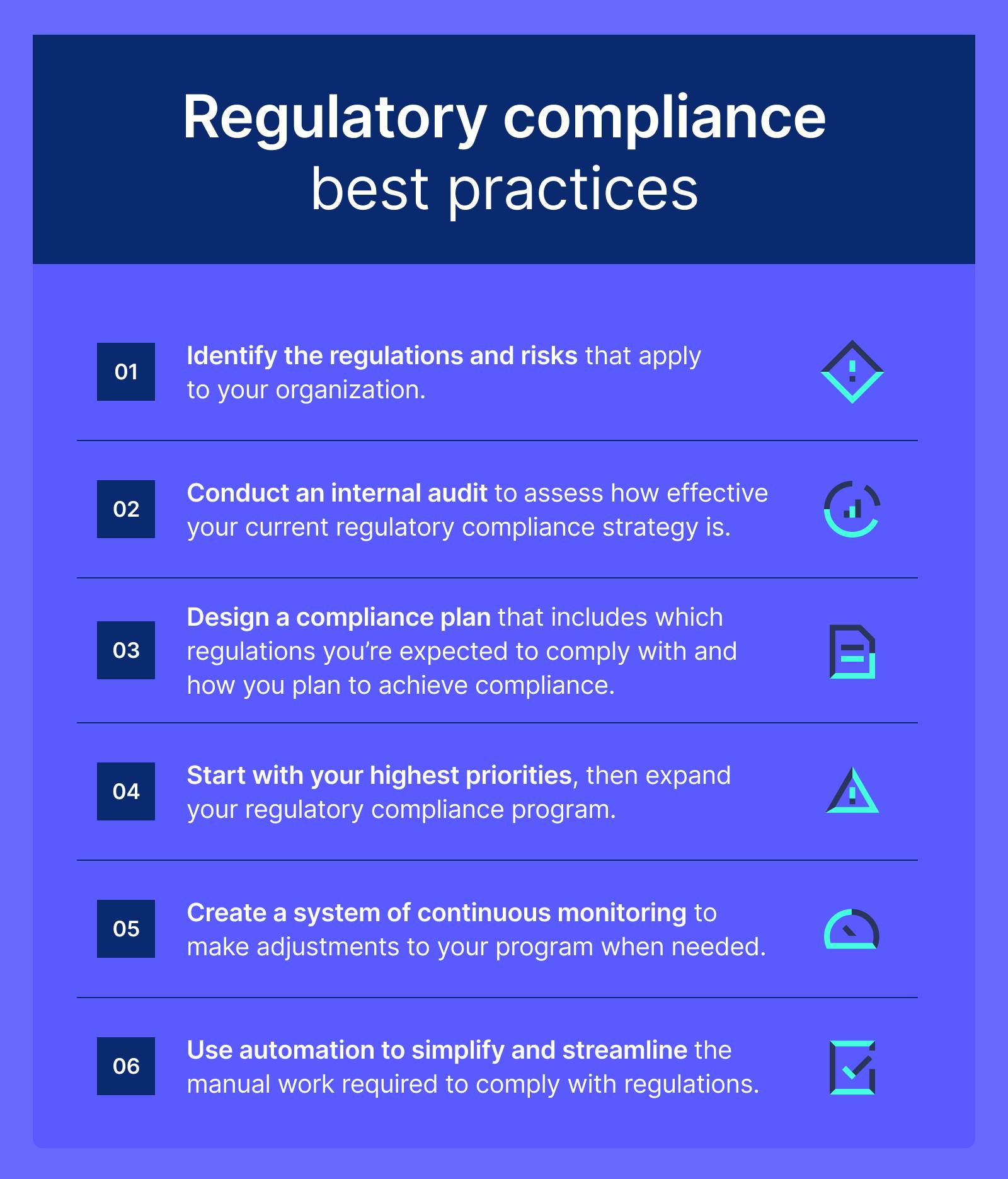 1. Identify regulations and risks
To start, identify all the regulations and laws that apply to your organization. Consider not just the well-known regulations and standards like HIPAA and PCI DSS, but also state and local regulations. Pinpoint the types of risk your organization faces, such as organizational, reputational, and strategic.
If you lack a chief compliance officer, legal counsel, or in-house experts that can identify and understand which regulations apply to your organization, an automation platform that also offers customer support and compliance expertise can help guide you through that process.
2. Conduct an internal audit 
Next, perform an internal audit to assess not only whether your business is meeting the regulations it needs to, but also how effective your existing security and compliance strategy is. With an internal audit, you may determine how many violations your company has had and how much they've cost you, for example. It can also help identify any risks that could result in additional violations and fines.
3. Design a compliance plan
Once your organization has a clear picture of the current state of its regulatory compliance strategy and the regulations and risks that shape it, you can begin to draft a plan. This plan should be created among stakeholders from IT, compliance, and upper management and include which regulations you're expected to comply with and how you plan to achieve compliance. 
4. Start with your highest priorities
Rather than try to solve everything at once, consider taking a phased approach. This approach allows an organization to start small and focus on the most important area. Start with the organization's highest priorities — like complying with a specific law or regulation to reduce a fine or violation — then expand the program. This will help show value faster, and garner continued support from stakeholders.
5. Create a system for continuous monitoring
Consider yearly or biannual audits and reviews of your regulatory compliance strategy to gauge its effectiveness and make adjustments — if the regulatory frameworks that apply to your organization don't already require them. As your strategy matures, the processes that guide your organization will become more effective. 
6. Utilize intelligent and automated tools
Automating your regulatory compliance process with the right tools can help simplify and streamline a lot of the manual work required to comply with regulations, particularly around workflows, reports, and documentation. This can save tens of thousands of dollars and months of your security and compliance team's time.
How Secureframe can help with regulatory compliance
Complying with changing regulations can be a long and resource-intensive process without help from experts.
Secureframe simplifies and streamlines regulatory compliance by automating the process from start to finish. We not only handle the implementation of regulatory frameworks, but we also consolidate audit and risk information, including vulnerabilities from cloud resources, and conduct continuous monitoring to look for gaps in controls so you can maintain continuous compliance.
As you enter new partnerships with common vendors, our software can retrieve their relevant security and access information on your behalf and provide detailed vendor risk reports to speed up vendor evaluations. You'll never have to enter another business relationship wondering whether your assets may be compromised.
To learn more about how Secureframe can play an integral part in developing a robust regulatory compliance program, request a demo of our platform today.