Choosing a framework for your organization's security program is an important task — and not just for keeping your data safe. Strong security and compliance practices lay the foundation for more efficient business processes, clear and effective policies, and well-trained staff. Not to mention more compelling competitive differentiation and increased customer trust.
But knowing which frameworks meet your business needs, industry regulations, and customer requirements can be tricky. Especially when they all seem similar.
If you've been reading up on compliance frameworks, odds are you've come across two of the most popular: NIST CSF and ISO 27001. What do each of these frameworks involve, how are they different, and which one is right for your organization? In this article, we'll lay out the basics of each framework and offer some tips for choosing between them.
The NIST cybersecurity framework explained
Let's start by digging into the NIST framework. Below, we'll explain why the framework was created, who needs to be compliant, the compliance process, and more.
What is NIST CSF?
NIST CSF was initially created following an executive order issued by President Obama in February 2013. Obama introduced the order to establish shared knowledge and best practices around cybersecurity risk and threats to critical infrastructure. 
As a result, the US National Institute of Standards and Technology partnered with both private sector and government experts to create a framework for critical infrastructure cybersecurity. The outcome was The National Institute of Standards and Technology Cybersecurity Framework (NIST CSF). 
There are a few different types of organizations that are required to comply with NIST CSF requirements. These include any organization that:
Works with the US federal government
Works for institutions supported by federal grants
Works within the supply chain for a federal agency
The NIST framework helps assess cybersecurity risk across an entire organization. To accomplish this, it divides all cybersecurity activities into five main categories.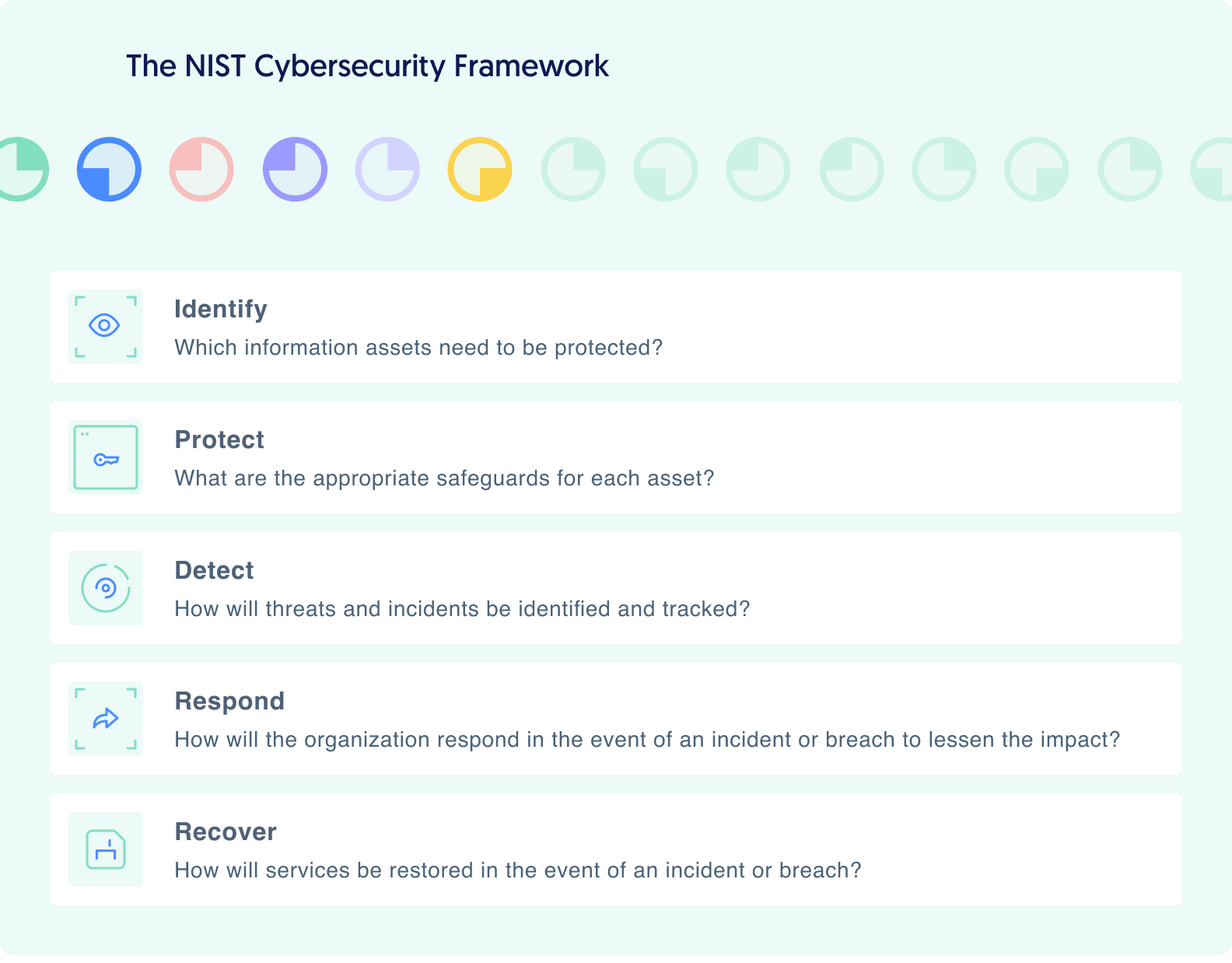 Identify
This category focuses on answering two key questions. First, what assets does your organization need to protect? And second, what risks do those assets need protection from? 
Activities center around establishing an asset management program and a risk management strategy. Start with a list of the assets you need to manage, as well as any legal, regulatory, or contractual obligations your organization needs to adhere to. Then identify who will have access to which assets and data. 
Next, identify any potential threats to those assets. A risk register or risk matrix is a helpful tool for pinpointing threats. Download a risk register template with a built-in risk matrix to get started.
Finally, determine your risk tolerance — the amount of risk you're willing to accept before you take action to counteract it. Not every risk warrants a response. For example, you wouldn't want to spend $10,000 to avoid a $100 risk. There are several ways to handle risk: mitigate it, transfer it, remediate or resolve it. Your risk management strategy should carefully consider how you want to respond to different types of threats. 
Protect
This category outlines how your organization will protect the assets you identified, either by preventing a security incident or limiting its negative impact. 
You'll need to implement internal security and access controls, conduct employee security training, create policies and processes, and establish methods to maintain stringent security protocols such as encryptions. 
Detect
How will your organization know if a security breach occurs? This category is all about detection activities like monitoring event and access logs, establishing ticketing systems, etc. to track anomalies and flag security events. 
Respond
Every organization needs a response plan in the event a cybersecurity incident occurs. Having a plan in place enables you to act quickly to more effectively contain the event, reduce its impact, and learn from the incident. 
You'll need to establish an incident response plan that includes communicating with internal and external stakeholders, incident analysis to determine the cause, and activities to mitigate the incident's impact. This response plan should also include ways to learn from the incident to prevent it from happening again and identify ways to potentially improve your response. 
Recover
Once you've responded to a security incident, you'll need a recovery plan for restoring any services that were affected and preventing a similar incident from happening again. 
Aside from restoring any affected systems and/or services, typical recovery activities include reviewing the incident, identifying lessons learned, and implementing improvements. 
NIST CSF compliance process
The NIST framework asks organizations to map their security controls and activities on a kind of matrix that identifies "implementation tiers" for each of these five main security categories. These tiers describe how mature or complete your systems and cybersecurity controls are for these categories. The implementation tiers are Partial, Informed, Repeatable, and Adaptive.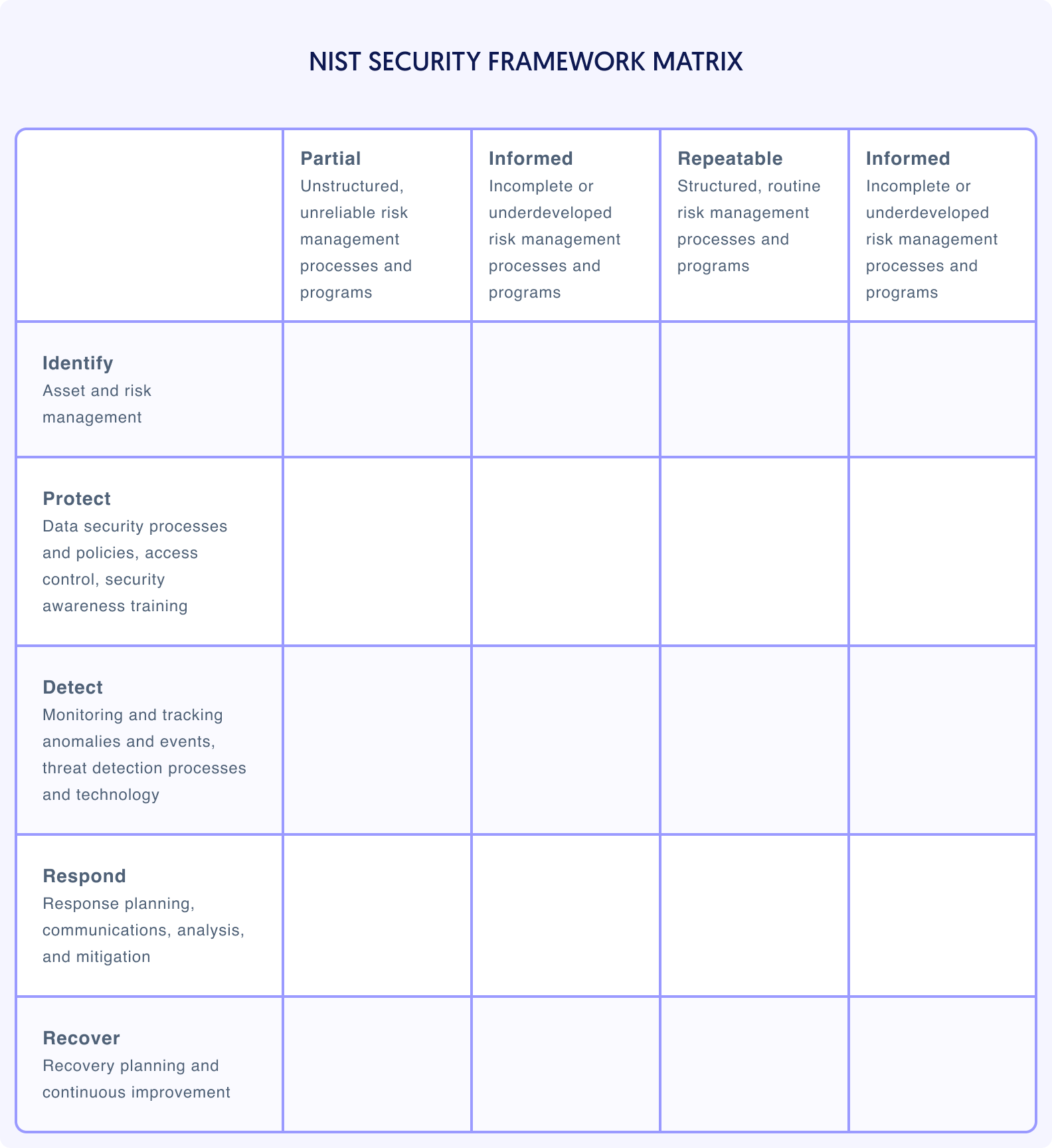 For each security category, you'll list any internal controls, policies, or processes you have in place to support it. For example, the Identify category would include your asset inventory, risk management strategy, and risk assessment processes and documentation. The Protect category would include your encryptions, firewall software, intrusion detection system, employee security training certificates, etc. 
As you might guess, "partial" implementation means your organization may have some work to do or gaps to fill for this category, while "adaptive" indicates you have a mature and responsive security program in place.
Benefits of NIST CSF
Bringing your organization into compliance with any security framework involves a great deal of time, effort, and resources. Before you begin, it's important to know what's involved and what your organization stands to gain. 
The NIST framework offers a number of compelling advantages for growing organizations, including: 
Cybersecurity best practices that have been identified by a consensus of experts in both the private and government sectors
An emphasis on risk management and communication across the entire organization. NIST CSF also encourages nonstop monitoring of risks, which helps organizations embrace continuous compliance. 
Flexibility to tailor the framework to your specific business needs while enabling scalability 
Clearly defined implementation tiers make it easier to identify and prioritize gaps in your current processes and policies
Ability to partner with US federal government agencies while also proving a strong security posture to potential private sector customers
The ISO 27001 standard explained
Now let's dive into ISO 27001, a framework that's become a gold standard for information security internationally. Below, we'll cover the origins of the framework, its benefits, and the certification process.
What is ISO 27001?
The ISO 27001 standard was established in 2005 by the International Organization for Standardization, then revised as ISO/IEC 27001 in 2013 and 2017 through a partnership with the International Electrotechnical Commission (IEC).
The International Organization for Standardization is a global entity that unites standardization boards from 166 countries. Its purpose is to ensure that national borders don't interfere with modern society's ability to develop reliable technology. The organization created ISO 27001 to counteract the rise of sophisticated attacks against information systems around the world.
The framework was designed to evaluate whether an organization's information security management system (ISMS) can protect sensitive data. It also ensures that organizations prioritize cybersecurity by focusing on continuous improvement of the ISMS.
Unlike frameworks such as NIST CSF, GDPR, and HIPAA, compliance with ISO 27001 is not legally required. But when it comes to information security, ISO 27001 certification is one of the most respected standards internationally. Many global companies will want to know you're ISO 27001 certified before doing business with your organization.
The ISO 27001 certification process
ISO 27001 requirements include compliance with Clauses 4-10 of the standard, 114 Annex A controls, plus required documentation like the Statement of Applicability, ISMS policy, and a formal ISO 27001 risk assessment.
ISO 27001 certification involves a two-stage audit process. During a Stage 1 audit, an accredited external auditor reviews the design of your ISMS. During a Stage 2 audit, the auditor will examine how your ISMS functions and whether policies and processes are being followed properly. After a successful Stage 2 audit, your organization will receive an ISO 27001 certification valid for three years. 
To maintain compliance, you'll need to conduct regular internal audits, as well as an annual surveillance audit. At the end of the third year, you can complete a recertification audit valid for another three years.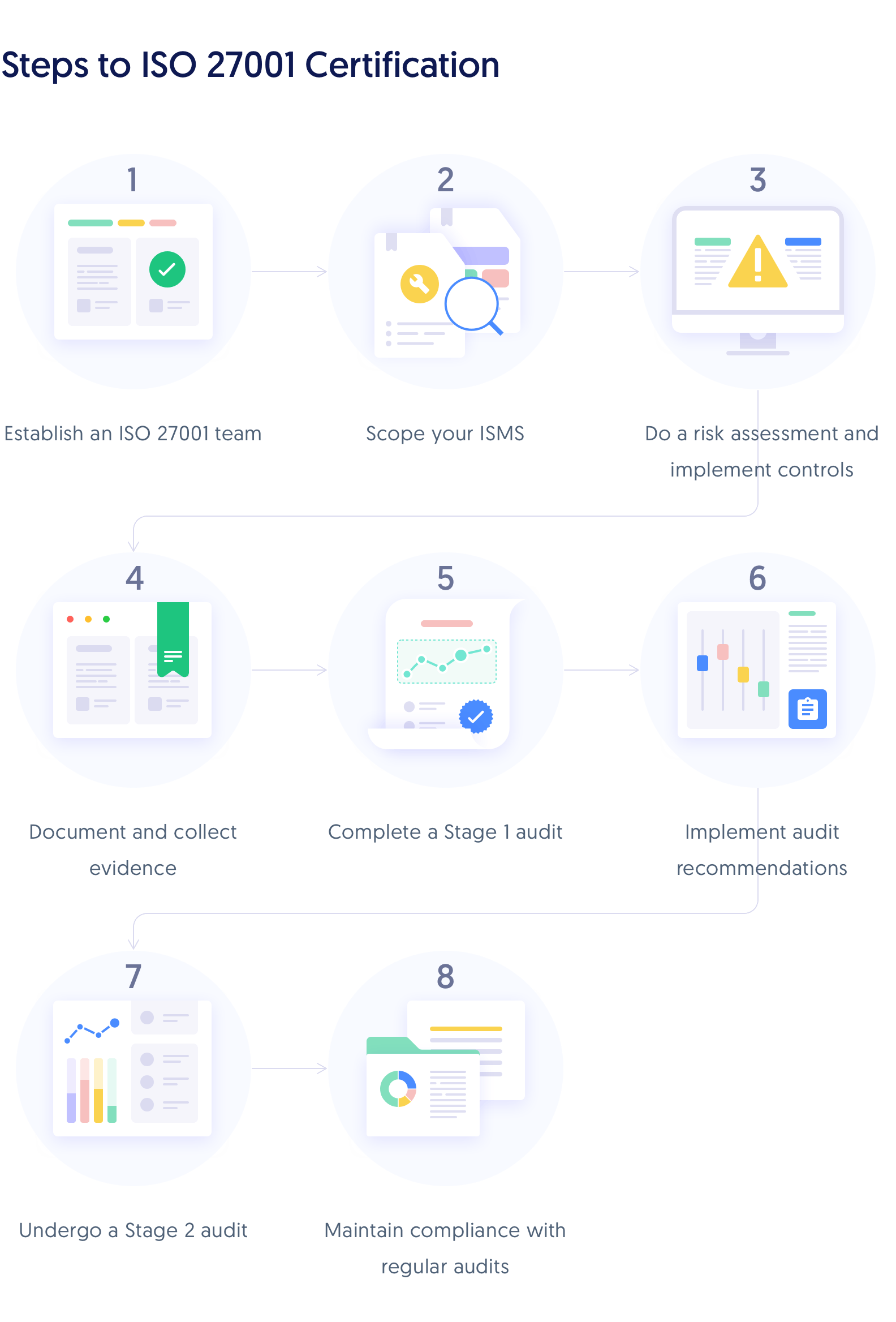 Benefits of ISO 27001 certification
Here are some advantages of having an ISO certification:
Gain a competitive go-to-market advantage, particularly internationally
Win deals against non-ISO 27001 compliant competitors
Speed up the sales cycle by removing security and compliance as an objection
Sell upmarket by gaining the trust of larger enterprises
Strengthen customer trust by proving that your service is secure. A certified ISMS offers strong reassurance about your overall security posture
Lay the foundation for a strong ISMS that strengthens security and business processes
Get an expert third-party opinion on your data security controls and policies
Build a company culture of security and compliance
Create a framework for managing security risks across the company
Improve investor and partner confidence
Streamline technical due diligence by a potential buyer or investor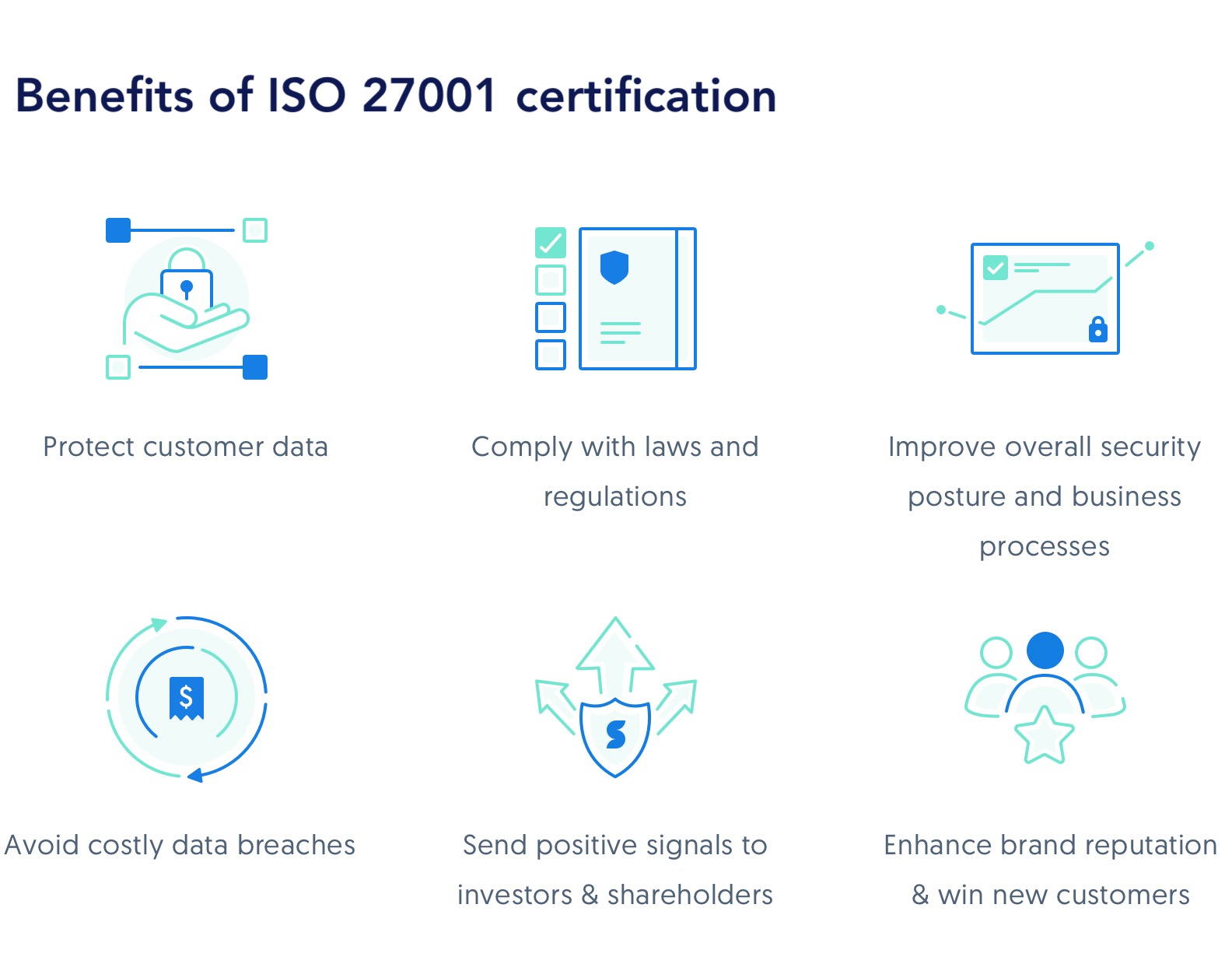 NIST vs ISO 27001: What's the difference?
Both NIST CSF and ISO 27001 help organizations implement best practices for a strong cybersecurity posture. And both frameworks focus on helping organizations better identify, track, mitigate, prepare for, and recover from security incidents and data breaches. NIST and ISO 27001 are each highly respected frameworks that signal a strong security posture and garner customer trust.
But the two frameworks are not interchangeable. Let's discuss a few key differences between the two.
Focus & purpose
While NIST CSF's flexibility means it can be applied to any organization regardless of industry or size, it was created with US federal agencies and their partners specifically in mind. Just as while ISO 27001 can be adopted by any organization, it was designed specifically to help companies build and maintain a compliant ISMS. 
Compliance process
Another key difference is in the compliance process itself. With NIST CSF private sector organizations self-certify, while ISO 27001 requires an outside auditor to verify compliance. ISO 27001 certification is valid for three years and requires both surveillance and recertification audits. NIST doesn't offer certifications. 
With NIST CSF, US federal agencies are required to submit risk management reports to the Secretary of Homeland Security and the Director of the Office of Management of Budget (OMB), but any private sector organization can simply use the framework to guide their cybersecurity program. 
Time and cost
Time and cost requirements are also important to consider and vary between the two frameworks. The NIST CSF is available free of charge and can be implemented at your own pace. The ISO 27001 standard must be purchased, and external audits incur an additional cost. 
So how should your company decide which framework to pursue?
The primary question is most likely who your customers are and what type of compliance they require from you. If you're working with or adjacent to US federal agencies or their partners, it's likely that NIST CSF will be relevant or required for your business. If you're wooing international customers, an ISO 27001 certification will likely unlock more revenue opportunities. 
Beyond that, consider the maturity of your cybersecurity program. Most companies that are still laying the foundation start by using the NIST cybersecurity framework as a guide. Its flexibility and clear-cut implementation tiers allow for a more straightforward evaluation of where to focus and remediate gaps in your security posture. As companies mature in their scope and operations, they may be ready to embrace a more systematic approach and implement a full-fledged ISMS. In this case, the benefits of ISO 27001 certification become more apparent. 
For some organizations, it's not an either/or scenario. Multiple security frameworks can enhance each other, and each approach offers its own unique benefits. Make a decision based on the risks inherent to your business, your current security posture, and the time and resources you can realistically dedicate to compliance.
Streamline security compliance with Secureframe
Whether your organization decides to pursue a security standard like NIST CSF or ISO 27001 or just wants to build a more mature cybersecurity program, Secureframe can help. Our platform streamlines the audit preparation process and makes continuous compliance easier by monitoring your tech stack for nonconformities. Learn more about our solution by requesting a demo today.