Patient records contain a lot of sensitive data — and not all of that information needs to be shared with health care providers so they can do their job. 
To determine what information is necessary (and what's not), the HIPAA Minimum Necessary Rule comes into play. 
This rule mandates that a covered entity (such as a doctor or clinic) only shares the "minimum necessary" health information with another covered entity. This rule also applies to any third party or business associate that a covered entity shares PHI with. 
In other words, this rule requires that only the protected health information (PHI) that is essential to complete a task is shared. Rather than sending over a patient's entire medical record, a clinic should only be sharing the necessary information and nothing more. 
Below, we explain how the Minimum Necessary Rule works, exceptions to the rule, and how to comply.
How does the HIPAA Minimum Necessary Rule work?
The HIPAA Minimum Necessary Rule works by requiring covered entities to make a reasonable effort to limit requests of the use or disclosure of PHI to only what's necessary. The rule also requires organizations to limit who uses and discloses PHI only to those that need the information to do their jobs.
The standard applies any time PHI is involved. PHI includes everything from your name and birth date to diagnosis and treatment notes. 
The rule also applies to electronic protected health information (ePHI), such as a digital copy of a medical record. It also applies to requests for PHI from other covered entities and business associates. 
For example, let's say a clinic has five medical providers. Only one of the providers is treating you (the patient). Per the HIPAA Minimum Necessary Rule, only the medical provider that is providing your treatment should have access to your patient records.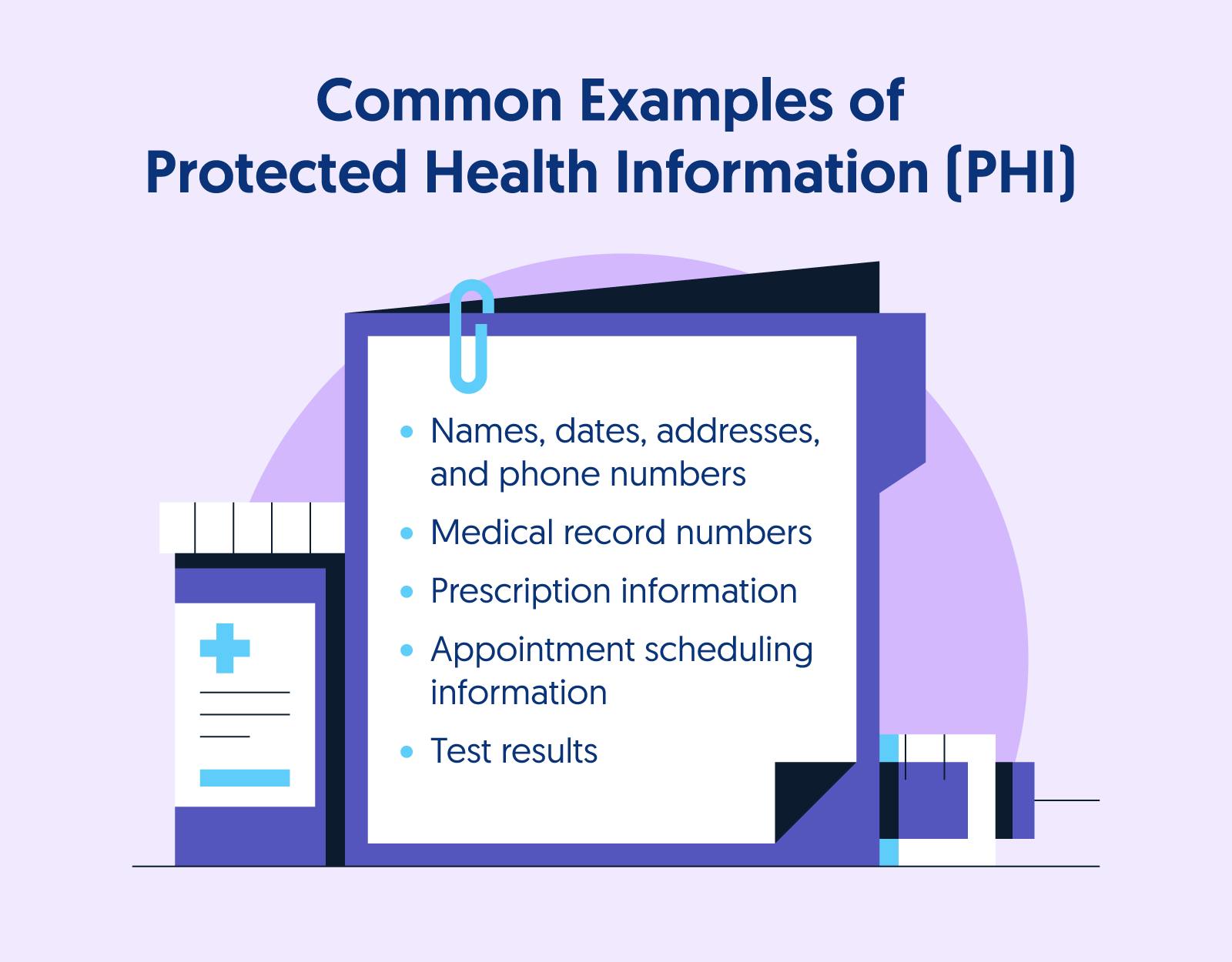 Recommended Reading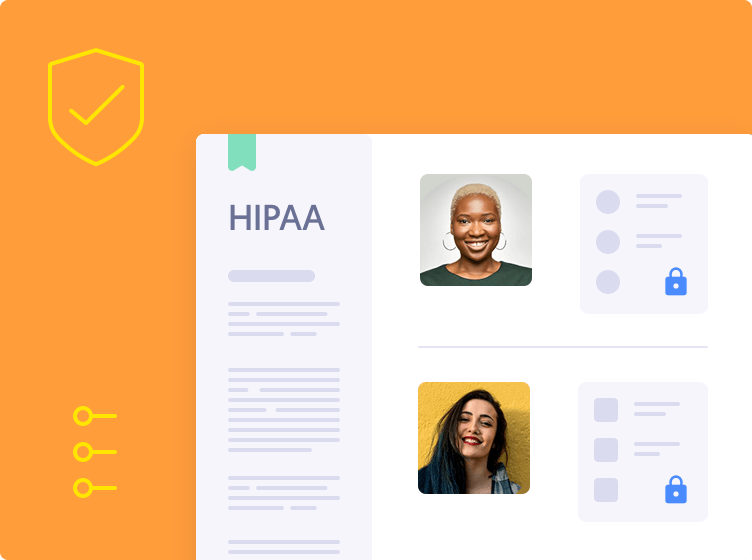 What is PHI Under HIPAA? Requirements for Compliance
The Minimum Necessary Rule in action 
To understand how the rule works, let's look at a real-world example: 
Let's say a patient's primary care doctor sends them to a clinical laboratory for routine blood work. The patient provides a requisition (or physician's order) authorizing the test. 
This requisition contains PHI that includes the patient's name, address, date of birth, Social Security number, insurance ID number, spouse's name (if covered under their insurance plan), the test to be ordered, and the diagnosis code indicating the reason for the test. 
All of the above information is necessary for processing the patient's blood work and for billing the patient's insurance company, meaning it's all necessary information. 
However, not everyone in the lab needs access to all of the information. Here's what that breakdown could look like:
Front desk/intake staff: Because they're responsible for ensuring the paperwork and information is correct for identification and billing purposes, they would have access to all of the above information except for the patient's actual blood work results. 
Phlebotomist: The person drawing the patient's blood will also need the information included in the requisition in order to verify certain patient details and create identification labels for the blood they draw. They should not have access to the patient's actual blood work results. 
In this example, the lab staff only have access to the minimum necessary information in order to do their jobs safely and effectively. The only two people that should be given access to the actual test results are the primary care doctor that ordered the blood work and the patient themselves.
Exceptions to the Minimum Necessary Rule
When does the Minimum Necessary Rule not apply? The HHS outlines six exceptions to the Minimum Necessary Rule: 
Healthcare providers making requests for PHI to provide treatment to a patient
Patients making requests for copies of their own medical records
Requests for PHI when there is a valid authorization
Requests for PHI that are required for compliance with the HIPAA Transactions Rule or other HIPAA Administrative Simplification Rules
Requests for disclosure of PHI to HHS for complaint investigation, compliance review, or enforcement
Requests for PHI that are otherwise required by law
What happens if more than the minimum necessary is shared?
The aim of the HIPAA Minimum Necessary Rule is to protect PHI from being shared unnecessarily. 
When a covered entity discloses more than the minimum necessary, this is considered a violation of the HIPAA Privacy Rule. 
When a HIPAA violation occurs, the HHS will determine whether the covered entity willfully disclosed the information and whether they've previously had a violation. Depending on the situation, consequences can result in sanctions, fines, and potentially jail time. 
How to comply with the Minimum Necessary Rule
The HHS doesn't specify exactly how to comply with the Minimum Necessary Rule within your practice. Instead, the HHS instructs organizations to "develop and implement policies and procedures to reasonably limit uses and disclosures to the minimum necessary." 
Your policy should touch on two main topics: how you plan to limit access and uses of PHI and your process for disclosing and responding to requests for PHI. 
Here are sections to include within your policies regarding the Minimum Necessary Rule. 
Access and uses
Identify the roles and specific personnel who need access to PHI in order to do their jobs
Identify the categories of PHI they need access to
Specify the conditions in which they may need access to PHI
Disclosures and requests for disclosures
Document your process for responding to PHI disclosures and requests that limit PHI shared to only the minimum amount reasonably necessary 
Develop criteria to limit disclosures to the information reasonably necessary for non-routine disclosures
Review each non-routine disclosure request against the established criteria
5 tips for implementation
Below are a few tips to help you implement your Minimum Necessary Rule policies and procedures.
1. Discover and classify PHI
In order to adequately protect PHI, you must determine the type of PHI you store and where that PHI is located. After you know where and what is stored, you can use a data classification method that works for your organization.  
You can do this manually for the physical copies of PHI within your organization. For ePHI, there are data classification tools that will scan your files to make the process a bit easier. 
2. Include a sanctions section within your policy
In your policy, outline the consequences of violating the HIPAA Minimum Necessary Rule. 
3. Train employees on the policy and its importance
It's important that all employees read and understand your policies related to the Minimum Necessary Rule. 
Conduct initial and ongoing training on the policy and its importance as well as the proper handling of PHI based on specific roles and responsibilities.
Recommended Reading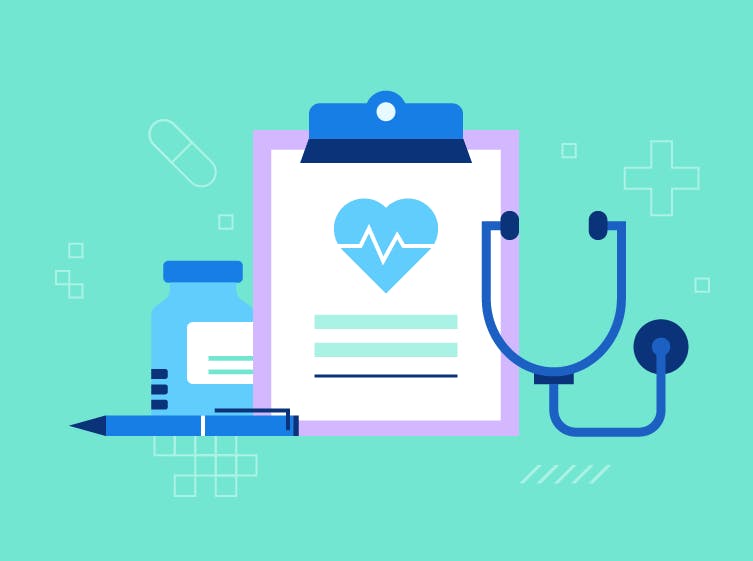 The Ultimate HIPAA Compliance Checklist for 2022
4. Develop role-based permissions
Not every role will need access to PHI. For those that do, it's important to clearly outline the categories of PHI and the situations in which they have access to PHI per the Minimum Necessary Rule. 
You can do that by developing role-based permissions that limit access to particular categories of PHI. This will help ensure that only necessary individuals have access to PHI. 
5. Monitor access to PHI
Maintain audit logs that track access and attempts to access PHI. You can implement a security software that flags suspicious activity regarding PHI access to help address a situation before it escalates to a violation.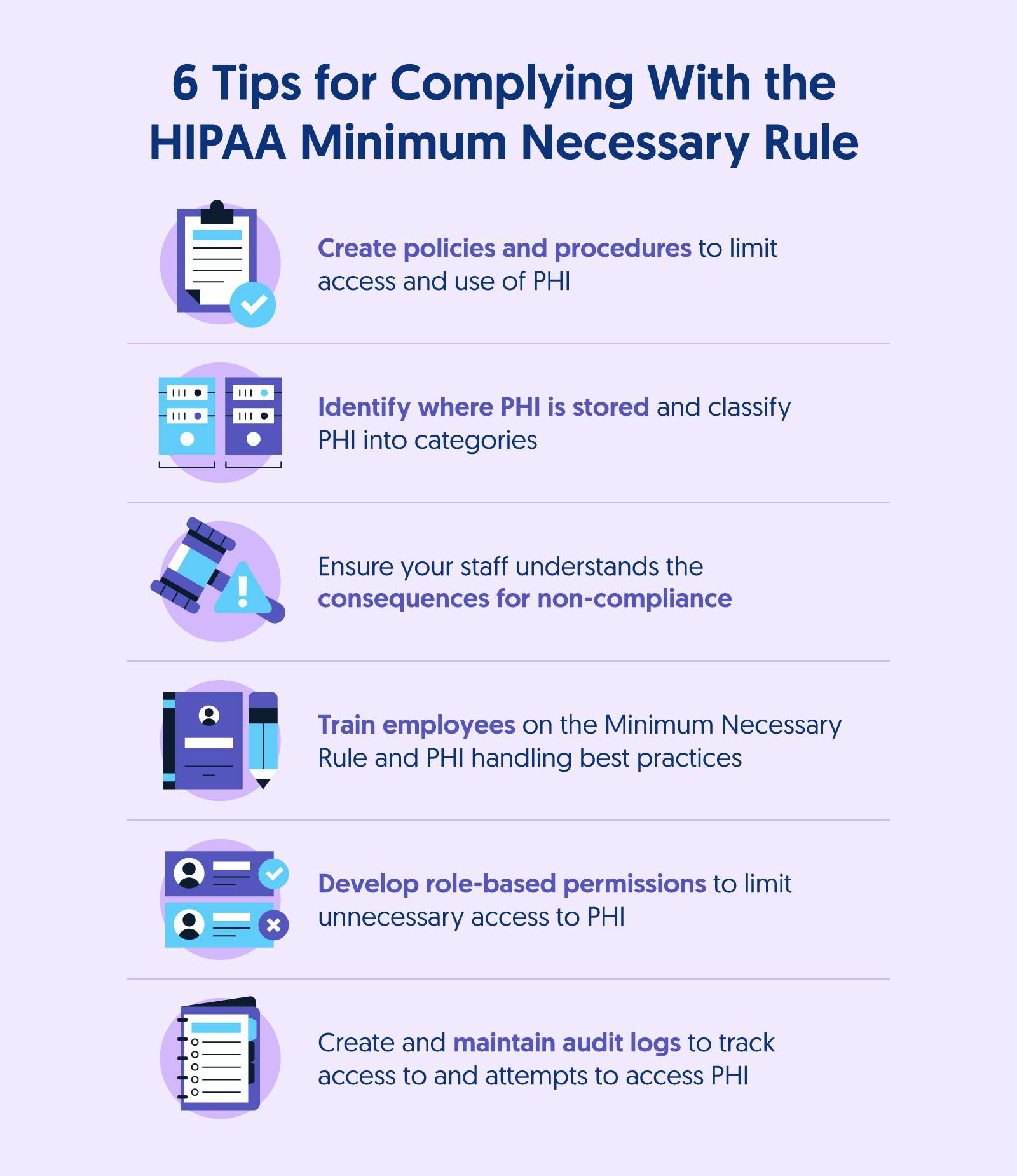 How Secureframe can simplify HIPAA compliance 
The HIPAA law can be confusing and tough to comply with. 
Our team of HIPAA experts can help you navigate policy creation and training your team on HIPAA compliance best practices. 
Request a demo with our team to find out more today.