If your organization is like most, audit season is stressful.
Employees scramble to collect and organize documents to demonstrate compliance. Your team has better things to do than sort through piles of paperwork and update spreadsheets.
Continuous compliance offers a solution to the scramble.
According to the Ponemon Institute, organizations that conducted five or more internal compliance audits per year had the lowest total adherence cost.
Now imagine an organization that perpetually monitors for compliance shortcomings — what do you think their adherence cost would be? Next to nothing.
And the benefits don't end there. Continuous compliance is also a commitment to security that benefits your brand and protects your assets year-round.
But how exactly do you achieve continuous compliance? Below, we'll walk you through how to keep your company compliant, the unique challenges your company may face, and how Secureframe can help.
What is continuous compliance?

Continuous compliance is the process of monitoring a company's security posture to ensure that it always meets regulatory requirements and industry best practices. It helps streamline the audit process by keeping you up-to-date on your compliance requirements throughout the year — something you won't get with an annual audit alone. 
Simply put, continuous compliance keeps you secure 24/7 by notifying you of any non-compliance issues that emerge in real time. It keeps you on top of industry rules and regulations and ensures that everyone in your organization follows them.
This process also keeps IT, HR, and all other departments on the same page. Constant, comprehensive monitoring keeps every department safe and helps to coordinate data protection efforts.
Why organizations need to stay continuously compliant
In today's technology-driven and ever-changing environment, staying compliant is not just a smart business practice, it's a necessity. Having confidence in your security through consistent monitoring keeps you secure and ready for your next audit. 
One alternative to continuous compliance is manually keeping a record of everything needed for an audit. But this is a painstaking and error-prone process. 
You could also wait until you know an audit is right around the corner. But this puts unnecessary stress on your employees, and it's not guaranteed that you'll be able to identify, remediate, and document any gaps you find in time.
Let's take a deeper dive into the benefits of continuous compliance.
1. Keeps you compliant in real-time
Identifying your company's compliance shortcomings in real time allows your team to be proactive rather than reactive. Your team will be able to solve any compliance issues as they arise and avoid putting out last-minute fires.
For example, traditional audit-oriented compliance opens the door to a wave of last-minute process changes. With continuous compliance, teams are empowered to always feel audit-ready, improving morale and simplifying audit seasons.
2. Significantly enhances security
Constant, automated vigilance keeps your security posture top-notch. It minimizes your risk of vulnerability and technical shortcomings by notifying you whenever an issue emerges. By keeping security top-of-mind, continuous compliance also prepares teams for future threats before they become a risk.
3. Reduces effort approaching audits
Traditional compliance opens the door to stress and inefficiency. Approaching audits, teams must suddenly devote huge amounts of time and effort to prepare. Continuous compliance lowers fatigue levels through constant monitoring and alerting, giving teams peace of mind.
4. Improves your organization's reputation
Vendors tend to keep security top-of-mind when entering new partnerships. By maintaining continuous compliance, your organization makes plain its commitment to security. Not only is this great for fostering loyalty with current customers, but it also helps attract new business.
Recommended reading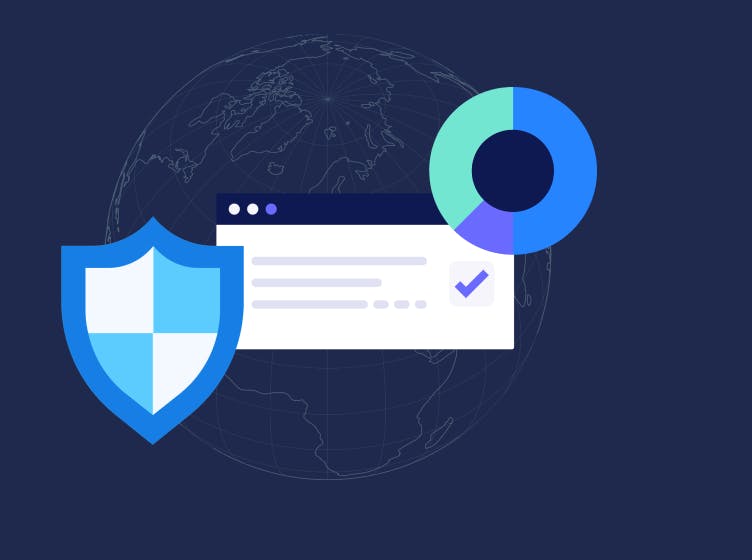 6 Benefits of Continuous Monitoring for Cybersecurity
Facets of continuous compliance 
Continuous compliance eliminates response delays whenever a compliance issue arises. That said, it requires that your organization build a framework as a starting point then expand from there.
For small organizations, this process is only possible with the help of automation. With the help of Secureframe's automated tools, you'll be alerted whenever you fall out of compliance so that you can get back in shape immediately.
These are the eight facets of continuous compliance:
Policy management 
Vendor management
Vulnerability management
Incident management
Data management
Risk management
Business continuity management
HR management 
Below, we explore each of these.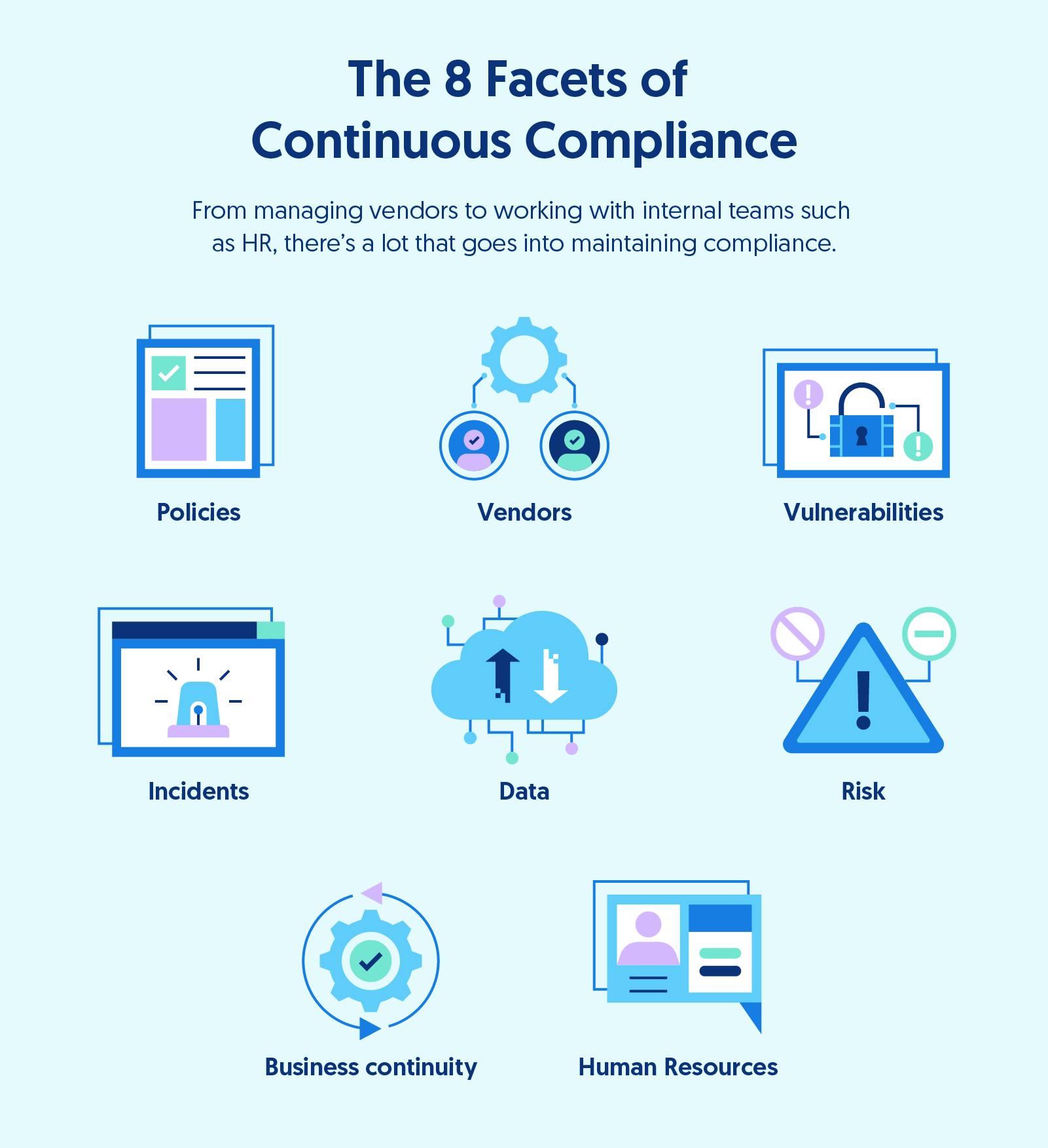 Policy management 
Policy management includes many different subtopics. These include internal rules, company best practices, and federal laws. By monitoring these internal and external policies — and ensuring all employees follow them to the letter — you can prevent violations, fines, security breaches, and a host of other issues. 
To stay compliant, it's best to revisit your policies on a regular basis and update them when needed. For example, should a law or regulation change in your industry, your team should be ready to implement updates throughout the company. Once you're mapped to these policies, it's also important to train your team accordingly.
Vendor management
Hiring outside vendors or agencies can be a great way to streamline your workload, but with outside hires come outside risks. While disclosing classified information to third parties is common practice, a recent report by SecureLink uncovered that 54% of organizations aren't monitoring the privacy practices of their third-party vendors.
To maintain control of your company's security, you'll need to manage your vendors closely. Ask for their security practices, draft and enforce a privacy agreement, and require your vendors to self‐attest documents to ensure compliance. By adding these steps to your vendor management process, you can establish security ground rules that will allow for a seamless working relationship. 
Vulnerability management
Vulnerability management is the process of finding all vulnerabilities within a given system, determining their importance, fixing the issues at hand, and documenting the entire process.
This process can include manual and automated steps, such as running tests to determine your areas of risk or using a vulnerability scanner to find issues your team may have missed. Regardless of how you implement your vulnerability management program, having one in place is crucial. It will help you stay one step ahead of those who wish to infiltrate your organization.
Incident management
Did you know that the average cost of a malware attack on a company is $2.6 million? For small or early-stage companies, an attack like this can be disastrous to your business and reputation. 
With all this money at risk, there's no denying the importance of managing and catching these incidents before they begin. 
Strategies like automating internal communications can help detect, report, and respond to incidents like hardware failures or cyberattacks quickly and efficiently. Doing so can save your company from scrambling when disaster strikes.

Data management
Data can provide insight into your company's finances, internal workflows, and how your customers interact with your brand. Needless to say, every organization needs to protect it. Data compliance refers to the process of managing your data to keep it secure.
While this process varies by company and industry, it typically involves consistent monitoring of your data sets, understanding where your most sensitive information is stored, and proper protection every step of the way.
For example, it's important to properly encrypt your data, run audits to stay compliant with various security frameworks, and conduct tests to find and fix any issues within your systems. You can also use a process called data classification to sort data into categories, which can help you better protect your most sensitive data.
Risk management
Understanding the risks present in your organization is the best way to defend yourself from a security breach or hacking attempt. It's also the best way to find any cracks in your process, allowing you to fix them before they grow out of control.
To achieve continuous compliance in terms of risk management, you'll first need to implement a risk assessment strategy. Then you'll need to identify your organization's different risk types and categorize them by urgency. This will not only allow you to better understand your vulnerabilities but will also provide insight into the levels of protection needed within different sectors of the company.
Business continuity management
There isn't a business out there today that doesn't undergo major changes from time to time. Whether you're integrating new software that suddenly crashes or bringing on a new management team member, business continuity management (BCM) is an important part of continuous compliance.
By implementing an effective BCM process, organizations can recover quickly (and more successfully) from disasters or unexpected changes. BCM includes risk assessment, response planning, recovery, and long-term maintenance. 
Delegate a team to uncover your business's weaknesses and make plans to mitigate them. Doing so can allow your organization to be better prepared for whatever comes your way.
HR management 
HR teams provide a human touch to aspects of training, workplace disputes, and policies. Yet, their understanding of your company's legal requirements should be a top priority. 
Human Resources teams deal with a lot of requests that require them to know your business's legal standing inside and out. By keeping your HR team compliant, you can create a better working environment for your employees and a risk-averse business as well.
Best practices for achieving continuous compliance 
Now that you have a better understanding of all the different factors involved in continuous compliance, let's dive into how to achieve it. 
Below, we've broken down the best practices to implement in your organization.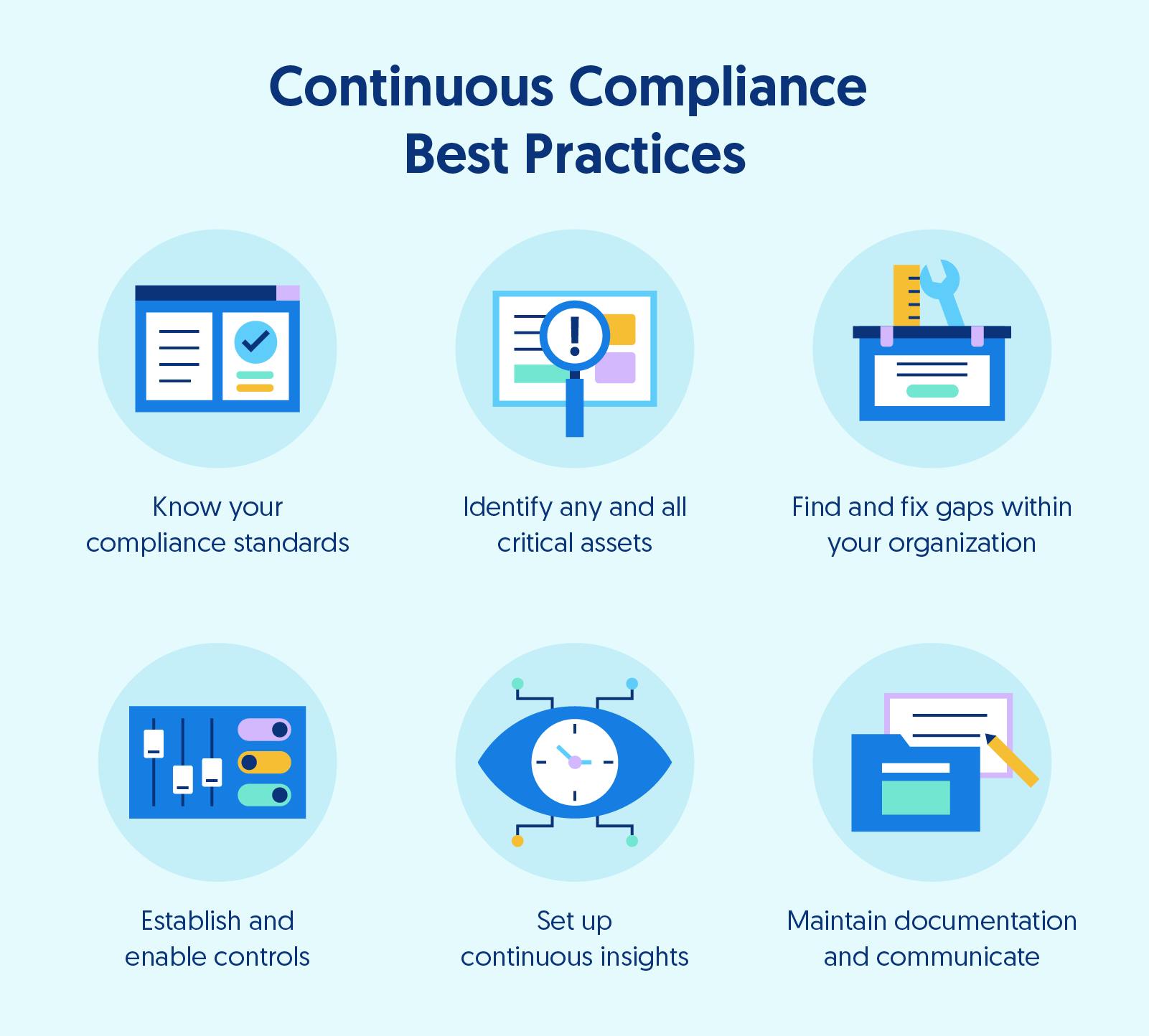 Understand your compliance standards
Compliance standards refer to the laws or regulations that your organization must follow to conduct business and avoid major fines. These standards can be at the state, federal, or international level, or they can be internal policies that companies set for how they conduct themselves.
While compliance standards vary by organization and industry, learning the intricacies of your particular standards is the first step to long-term success. Once your company's specific compliance standards have been established, you can then begin to get every part of your business up to speed and protected from threats.
Identify critical assets
In today's environment of high-scale cloud computing, compliance is more important than ever. Organizations need to be aware of how to navigate this new compliance landscape, which is home to both physical and dynamic assets. By identifying your critical assets,  you can determine how to protect them best.
For example, it's easy to say that a cybersecurity company's most critical asset is its data. But with new leaps in technology, this data is stored in multiple locations, including cloud computing systems and third-party vendors. Understanding how and where your data is stored, transmitted, and processed will help your teams keep it safe.
Identify gaps 
From security to training, there are a lot of places where gaps can occur within your organization. 
Part of compliance involves identifying and fixing those gaps on a regular basis. Doing so helps maintain overall security and internal structures. By consistently monitoring all facets of the business and checking for gaps, you can help the compliance and audit process run smoothly.
Establish controls  
Controls are the internal systems that you can use to streamline processes and stay compliant, from training and policies to audits and data monitoring.
Think of controls as your first line of defense against attackers. Whether the attack comes in the form of a data breach or an internal error, you should have a system (a.k.a. a control) to help you defend yourself. Once you determine your company's specific controls, you'll need to ensure they are properly documented and maintained to be effective long-term.
Enable continuous insights 
As mentioned before, compliance is a never-ending journey. That means your organization should always be on the lookout for opportunities to improve and catch vulnerabilities in your systems. 
In addition to regular audits, your company should also be taking proactive steps to find and fix vulnerabilities as they occur. This means running automated tests and investigating errors to keep every part of your company secure.
Maintain documentation
Saying you've achieved compliance and actually proving it are two different things. 
To avoid fines or other repercussions, you need to have the proper compliance documentation. This includes audit trails, reviews, questionnaires, system history, and written and signed policy agreements. 
Communicate
Given that there are so many subsections of compliance, proper communication is crucial to achieving long-term success. This includes interdepartmental and external communication so that everyone from HR to third-party vendors has the proper insight. By keeping communication at the forefront, organizations can avoid misunderstandings or mistakes made by departments getting left in the dark.
How Secureframe can help
Continuous compliance can be near impossible when done alone. But modern compliance software like Secureframe can simplify and streamline the process, making it faster and easier for companies of all sizes to stay compliant year-round.
Our platform provides continuous compliance through our suite of automated tooling and 24/7 monitoring with real-time alerts, all in an easy-to-use dashboard. 
We continuously scan your cloud infrastructure and alert you to anything that falls out of compliance, providing detailed instructions and expert advice to help get you back on track. 
Learn more by talking to a product expert today.
Use trust to accelerate growth