Introducing Secureframe Trust: Build Customer Trust Through Security
Compliance with industry and government regulations is crucial for any organization that wants to operate legally and avoid potential penalties. However, compliance is not just a check-the-box activity to avoid fines  — it's also an essential component of building trust with customers, prospects, and partners.
When it comes to evaluating an organization, customers and prospects want to know that their sensitive data and confidential information will be safe. To achieve that peace of mind, they want to know what measures your organization is taking to protect their data.
That's why we're excited to announce Secureframe Trust, a powerful new product that helps organizations build customer confidence around security and privacy. 
What is Secureframe Trust?
Secureframe Trust is complementary to Secureframe's compliance platform. Once your organization has achieved compliance with Secureframe, Secureframe Trust helps you showcase your organization's security posture, maintain a single source of truth on security information, and streamline the questionnaire response process.
Secureframe Trust solution consists of three core components: Trust Center, Knowledge Base, and Questionnaire Automation.
Secureframe Trust Center
Security is not just a one-time effort, but an ongoing process.
Secureframe's compliance platform monitors your security stack to ensure you remain in compliance and stay on top of changing regulations and emerging threats. Our Trust Center then gives organizations the ability to build a dedicated space to publicly demonstrate their security program with data continuously pulled from Secureframe.
Visitors to your Trust Center, including customers and prospects, are able to easily find information about the measures your organization is taking around security and compliance. Your sales and security teams can also proactively share your Trust Center to prospects and customers to help them evaluate your security posture.
Trust Center allows you to:
Show only what you want: Admins are able to choose what they want to display on their Trust Center, including monitoring checks on different security controls being met within an organization. You can choose to hide or display certain controls, and publish security documents for visitors to download.
Customize your Trust Center to your brand: We've built Trust Center to be highly customizable. Organizations can customize their Trust Center with their logo and colors, as well as use a custom domain. This ensures that the Trust Center reflects the organization's branding and provides a seamless experience for prospects and customers. 
Reduce security review friction: Visitors to your Trust Center can self-serve or request any security documents they need. Admins at your organization can manage document requests with automated email notifications updating the requester on the status of their request, whether it's being reviewed, approved, or denied. Admins can leverage an automated NDA workflow to collect NDAs from requesters looking to download access-granted documents.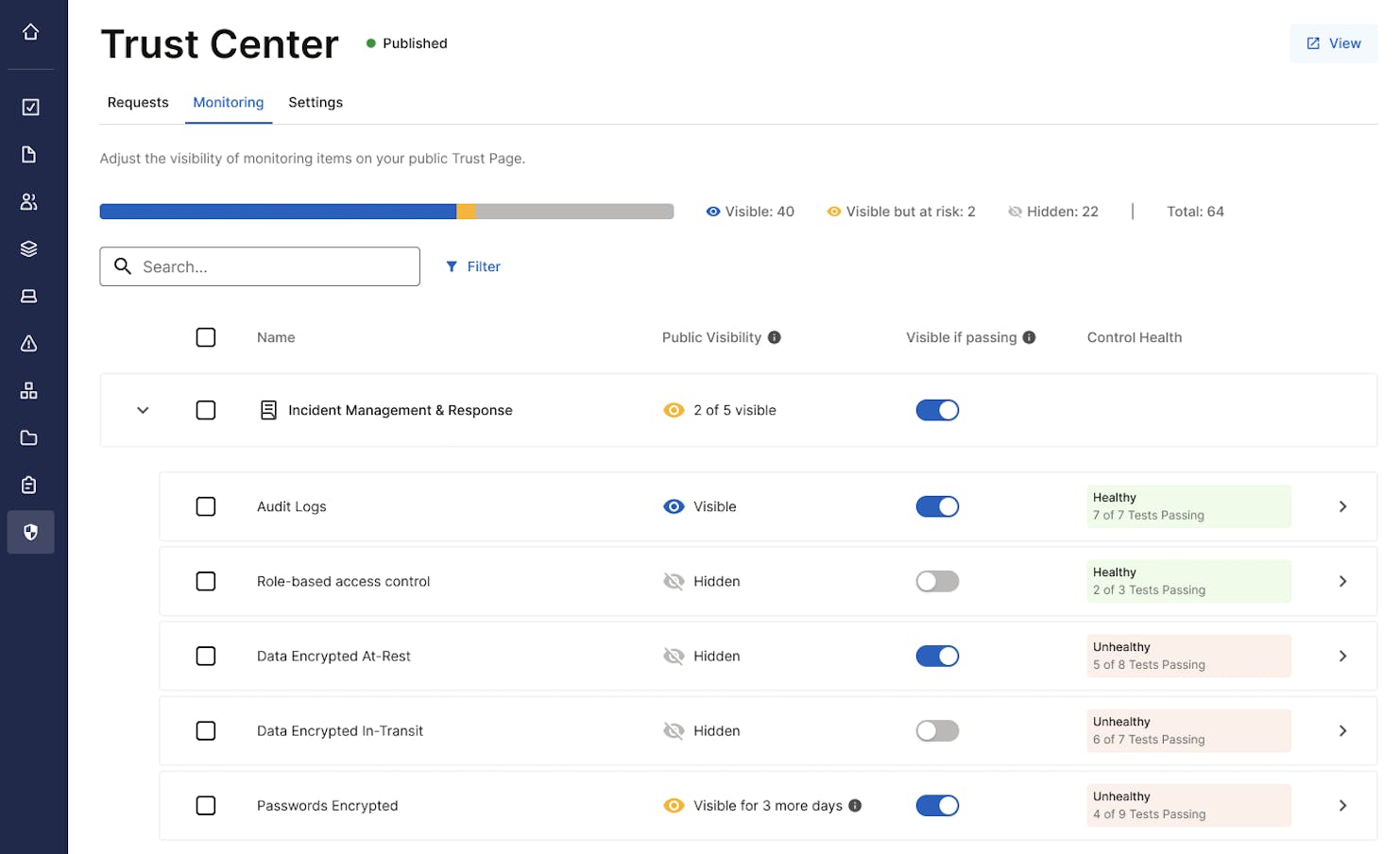 Secureframe Questionnaire Automation and Knowledge Base
If prospects and customers have additional questions after browsing your Trust Center, they may choose to submit an RFP or security questionnaire. While they are a crucial step in the vendor selection process, the process of filling out and responding to RFPs and questionnaires is known to be tedious and time-consuming, slowing down your team and taking their focus off other priorities.
Secureframe Questionnaire Automation streamlines and automates the process of managing and completing security questionnaires using machine learning and AI. Answers to completed questionnaires are stored in the Knowledge Base, which can be accessed to auto-populate future questionnaires or at a user's discretion through our Chrome browser extension.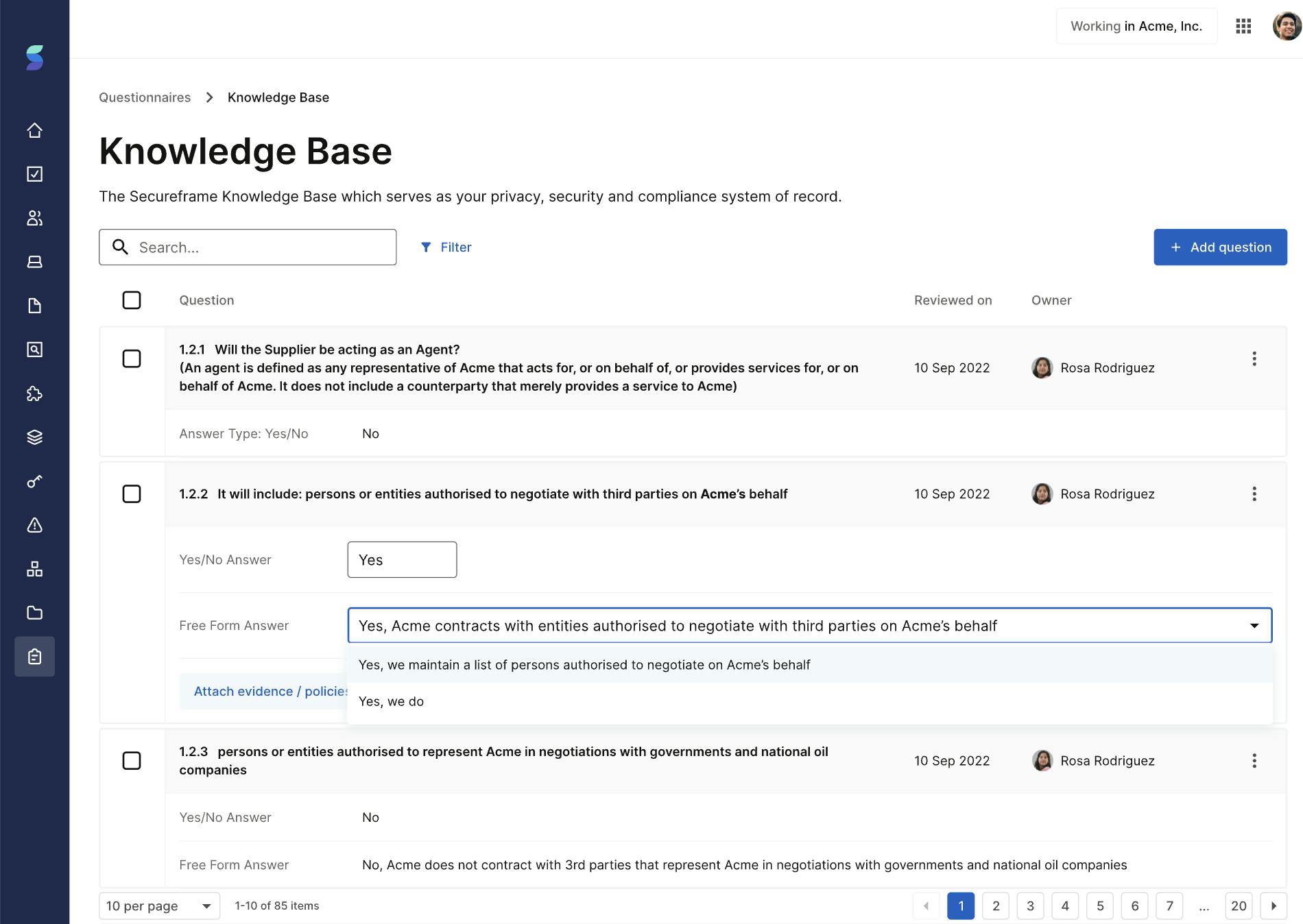 How it works:
Upload some of your completed RFPs and security questionnaires to your Knowledge Base, then tag the questions and answers.
Prospects and customers submit a questionnaire for your organization to fill out and return. 
Secureframe's ML-powered security questionnaire automation pulls the best answers to security questions with 90%+ accuracy.
Quickly review the answers provided for accuracy, and make any adjustments as needed.
Share completed RFPs and questionnaires back to prospects and customers in their original format.
Collaborate with in-house subject matter experts to keep the questions and answers in your Knowledge Base always up-to-date.
Anyone at your organization can easily access answers to security questions from their browser with the Secureframe Knowledge Base Chrome extension. 
The Benefits of Secureframe Trust
With Secureframe Trust, businesses can:
Build trust with their customers: Organizations can prove their security and compliance posture by providing security documents and completed questionnaires to prospects and customers. This will give them peace of mind and confidence in your organization's ability to keep their sensitive information secure.
Remove friction from the end-to-end process of security reviews: You can speed up the security review process while allowing your admins to maintain control over sensitive documentation.
Proactively showcase your organization's security posture for prospects. By making this information self-serve to prospects and streamlining the questionnaire and RFP process, you'll free up hundreds of hours of manual work on your team and accelerate deals to grow your business faster.
Ready to get started?
Ready to build confidence with your prospects and streamline the security review process? Sign up for a demo of Secureframe Trust today, visit our website, or contact us to learn more.