Confidently Grow Your Organization and Reduce Risk with Secureframe's New Risk Management
Risk is unavoidable in business. As your business grows and adds new employees and technology, your attack surface and risk exposure grows as well. Effectively identifying, assessing, and mitigating risk is critical for keeping your organization safe from a breach that could damage your business's finances and reputation. It's also a critical requirement for achieving and maintaining compliance. But managing risk on a spreadsheet is ineffective. 
To help organizations of all sizes build and maintain a strong risk management program, we're excited to introduce a new enterprise-grade Risk Management tool that includes an AI-powered risk assessment workflow with Comply AI and an Enhanced Risk Management module tailored to your unique business needs.
These updates provide fast, easy, and flexible ways to identify, assess, and manage risks so organizations can reduce security risks and grow with confidence. 
Risk management and compliance
The goal of any security compliance program is to ensure an organization is effectively protecting their business, employees, and customers. A critical factor in achieving this is having visibility into internal and external risks.
Compliance framework requirements for risk management focus on how an organization manages and mitigates their risks. Organizations need to show that they understand their risk and are proactively taking measures to reduce risk and strengthen their security compliance posture, like putting mitigating security controls in place. 
Secureframe Risk Management
Today, we're announcing advanced risk management capabilities to help organizations effectively manage risk and meet the criteria for compliance frameworks such as SOC 2®, ISO 27001, PCI DSS, and HIPAA. Secureframe provides everything you need to manage risk and prepare for a successful and seamless audit.
End-to-end Risk Management
Secureframe provides a seamless process for risk assessment that follows the ISO 27005 methodology. This workflow guides you to fill out information to describe, assess, and treat each risk. At the end of the workflow, you will review and complete the assessment which will be saved in the risk register. The risk register provides a table view so you can easily document and monitor all of your risks in one place including: risk description, category, assigned owner, inherent risk score, treatment, residual risk score, and status.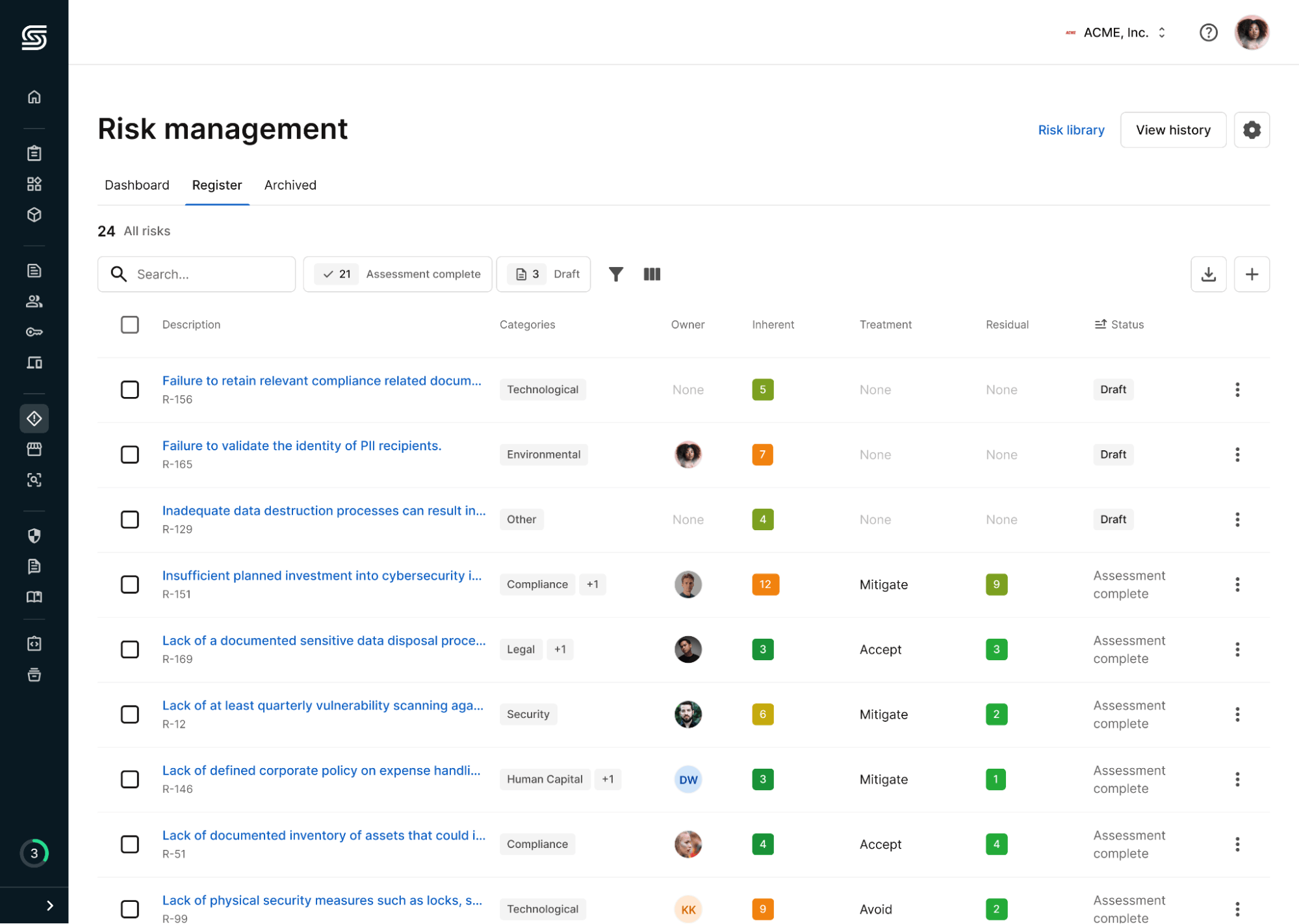 Risk library
The risk library helps you easily identify risks that apply to your organization with a list of pre-built risks you can add to your risk register. The risk library uses NIST risk scenarios with default descriptions and categories, including Legal, Finance, IT, etc. The risk library helps you jump-start your risk management program and saves you time filling out details in the risk assessment workflow. 
Risk history
Viewing historical data helps you show off the progress you've made over time. Secureframe's Risk Management module includes the ability to view a snapshot of your risk register from any date in the past. This information is accessible at any time to easily show auditors and executives the improvements you've made to reduce risk. Additionally, you can track changes made to individual risks to see what was changed and by whom. 
Control linking
Secureframe makes it easy to map your compliance controls to risks so you can seamlessly align your compliance program with your risk management program. Linking controls to risks makes it easy to display the steps you have taken to mitigate risk and helps identify gaps so you can proactively treat and respond to risk. 
Comply AI for Risk
Comply AI for Risk automates the risk assessment workflow, providing a more efficient way for users to assess risk in their environment.
This optimized process saves organizations time and reduces operational costs by eliminating manual analysis and providing almost instantaneous insights into each risk based on the risk description and company information, including its potential impact, likelihood, and recommended treatment, with clear justifications for each output. These insights enable organizations to make fast and educated decisions to improve their risk management program and strengthen their security posture. 
Fill in a risk description and owner, or import a risk description using a pre-built risk from the risk library, then use Comply AI to auto-fill most fields in the risk assessment workflow including risk score, justification, treatment, and more. At the end of the workflow, you can review and validate that the output is accurate and complete the risk assessment.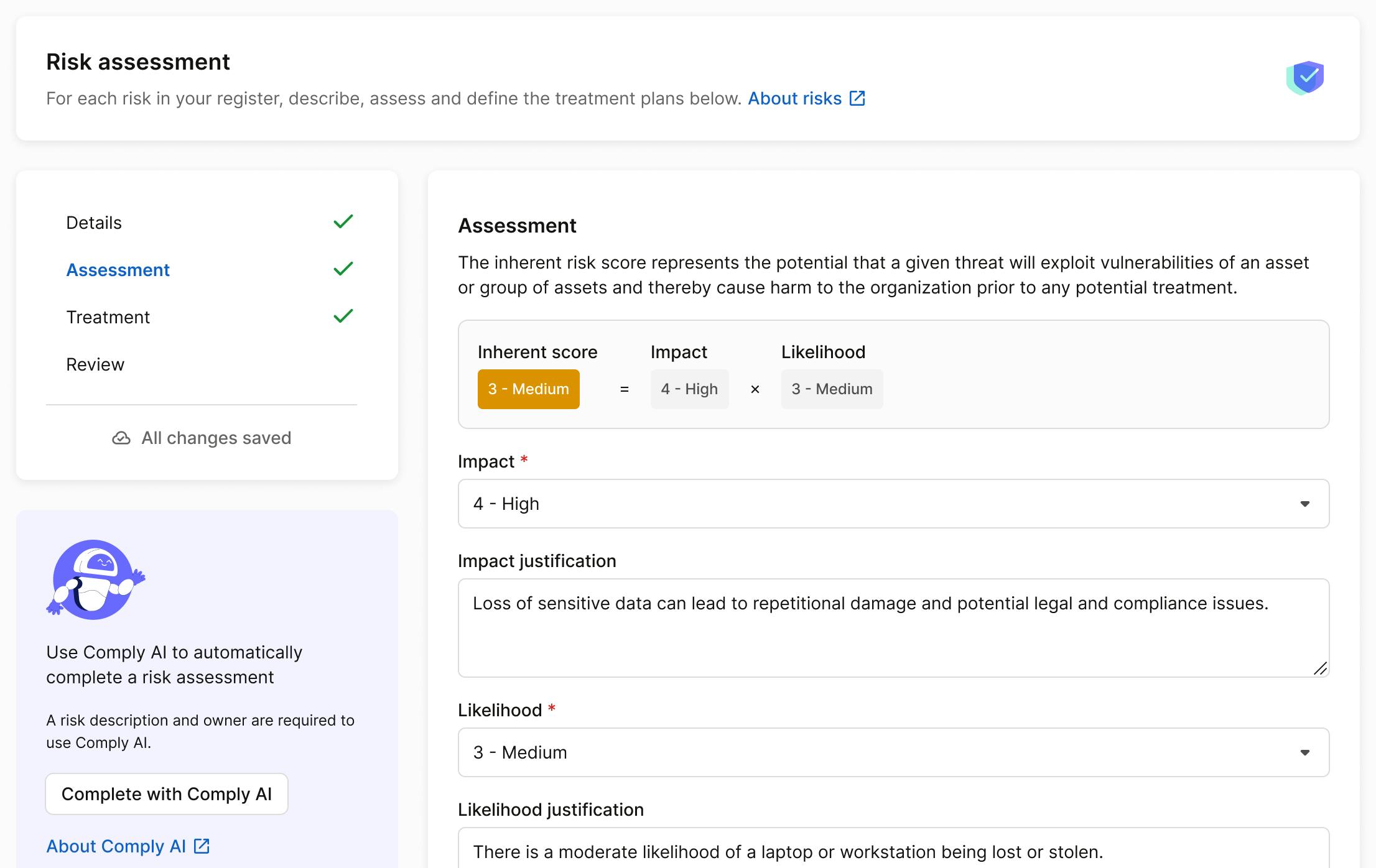 Enhanced Risk Management
We understand that risk management is not one-size-fits-all — and that as your compliance and security program matures, so does your risk management program. Growing businesses need even more robust and flexible risk management tools that can support their ever-evolving needs. Secureframe's Enhanced Risk Management module comes with powerful dashboards and customization that align with your current risk management system and meet the unique needs of your growing businesses.  
Dashboards
Dashboards provide a holistic view of your organization's risks. Visually monitor your progress over time using graphical representations of your risk data including heat maps, summary tables, trend charts, and more. Dashboards make it easy to communicate top risks, areas of concern, areas of improvement, and the overall health of your risk management program to executives, auditors, and other stakeholders.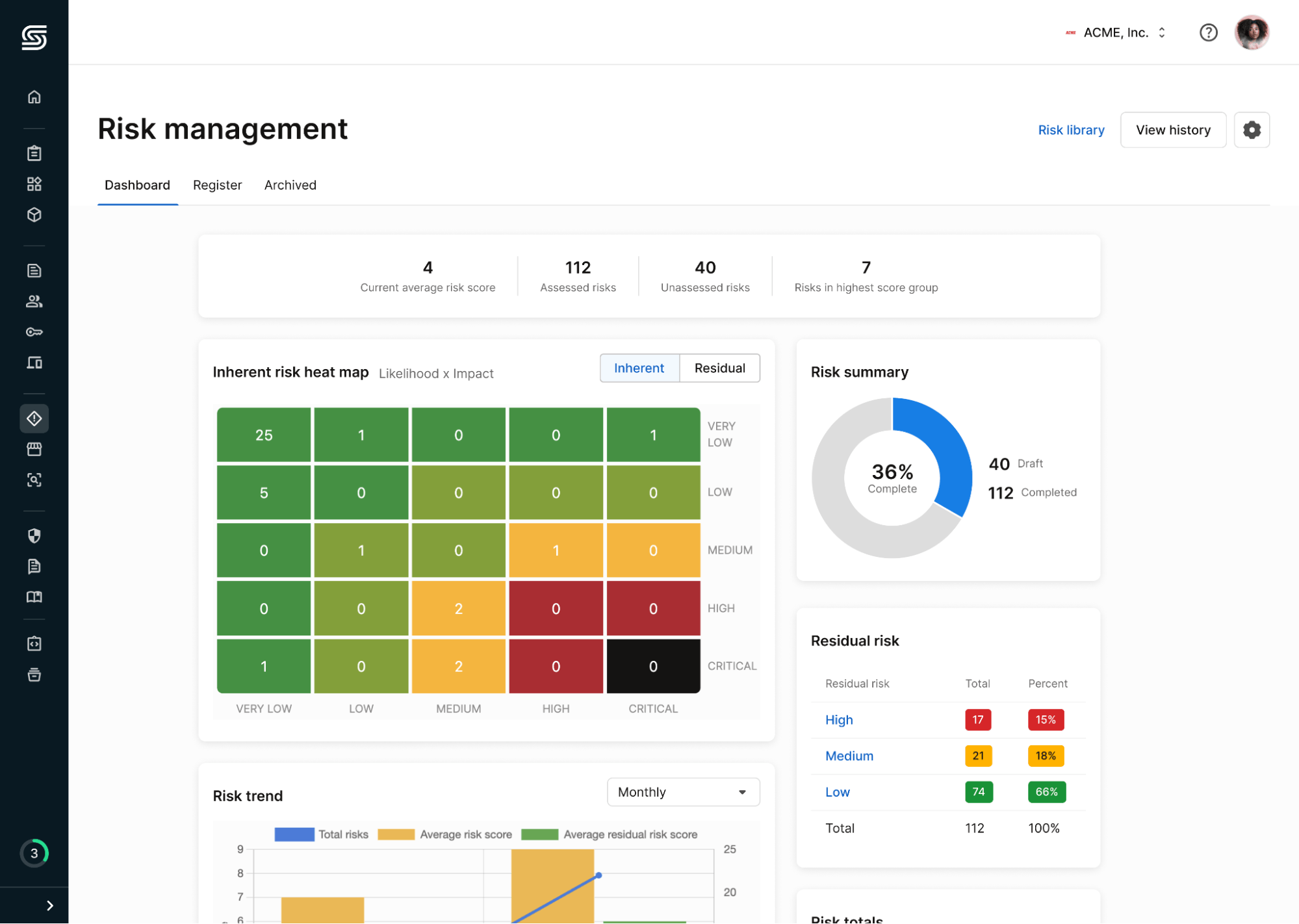 Custom scoring and tags
The Enhanced Risk Management module includes flexible options to customize your risk program — including custom scoring and custom tags. Custom scoring allows you to adjust your risk scoring scale between 1-10 and customize your risk scoring groups to align with how you define high, medium, and low risk scores. Custom scoring also makes it seamless to move risks from your old management system into the Secureframe platform.
You can use custom tags to create risk groups that are specific to your business. Filter on a tag in your risk register to get a full view into all of the risks associated with that tag to easily track and monitor that group of risks. 
How to get started with the new Risk Management module
Secureframe's new Risk Management module improves visibility into your organization's risk landscape so you can make smarter decisions to strengthen your security compliance posture. 
Learn more about Risk Management on our website or reach out to schedule a demo with one of our compliance experts.
SOC 1®, SOC 2® and SOC 3® are registered trademarks of the American Institute of Certified Public Accountants in the United States. The AICPA® Trust Services Criteria for Security, Availability, Processing Integrity, Confidentiality, and Privacy is copyrighted by the Association of International Certified Professional Accountants. All rights reserved.