Is an ISO 27001 Certification Worth It? Calculating the ROI of Compliance
Between building a compliant information security management system (ISMS), preparing documentation, and completing the certification audits, ISO 27001 costs can eat up tens of thousands of dollars and hundreds of hours of time. It's an obvious question to ask: is all of that time and effort really worth it?
Here are some of the compelling advantages of ISO 27001 certification we kept in mind as we prepared for our own audit. 
Benefits of ISO 27001 compliance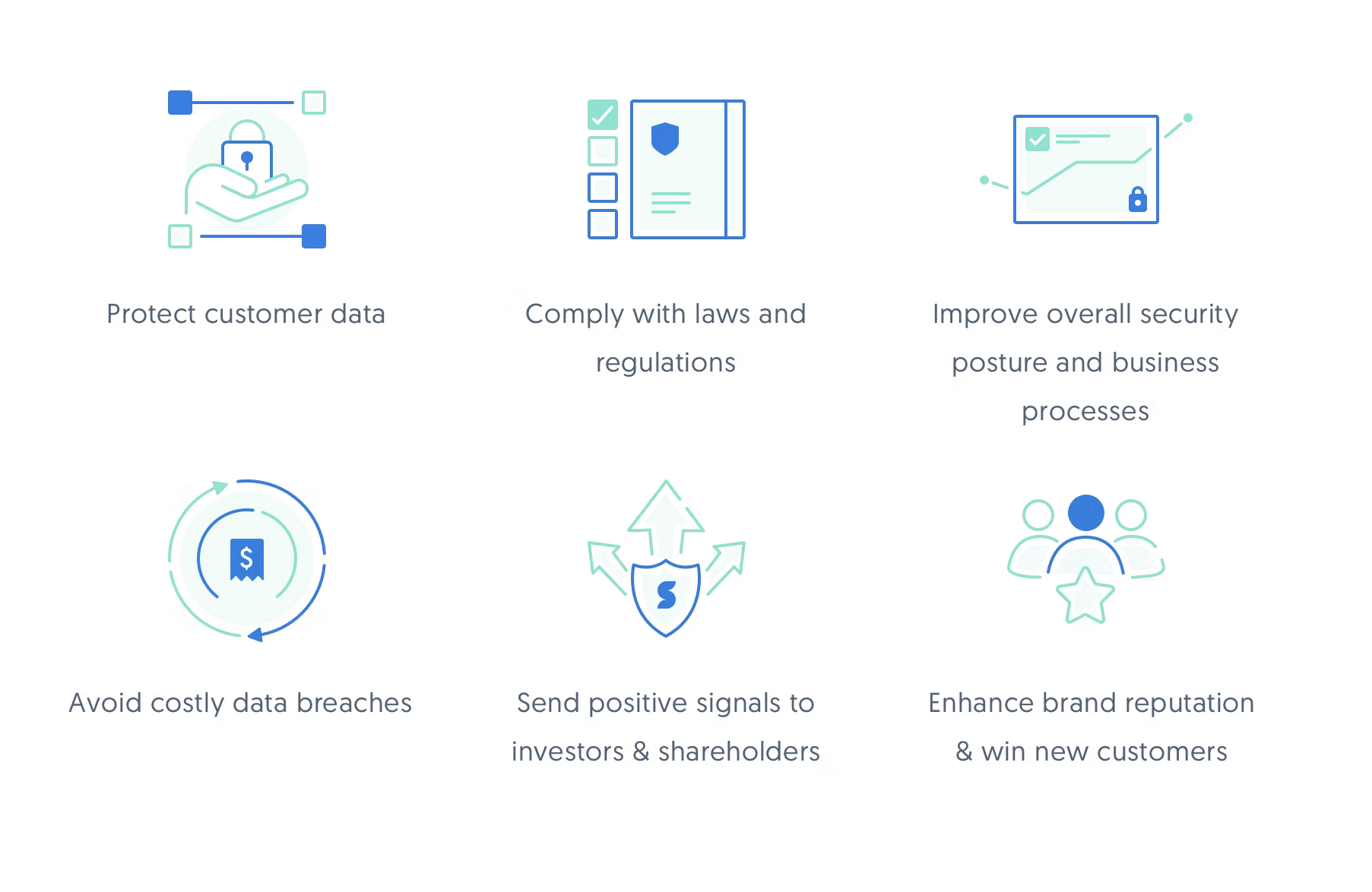 Avoid the penalties of a data breach 
According to research by IBM, the average data breach in 2021 cost businesses $4.24M. This includes churned customers, loss of new revenue, and diminished brand reputation. And those costs are rising — between 2020-2021, the average total cost of a data breach rose by 10%. 
ISO 27001's rigorous standards ensure that your systems are designed and implemented securely and in a way that significantly reduces the likelihood and impact of a costly breach. 
Enhance your brand reputation and win new customers by proving security
Compliance isn't just about avoiding something bad like a data breach — it's about building a secure foundation for your business and your customers. ISO 27001 strengthens customer trust by proving that your service is secure. 
Sharpen your competitive advantage 
The ability to prove your commitment to security with a highly respected third-party certification like ISO 27001 can be a powerful advantage against non-compliant competitors. Having a certification in hand also speeds up the sales cycle by removing security and compliance as an objection, and opens valuable opportunities to sell upmarket by gaining the trust of larger enterprises. 
Improve tech infrastructure and processes 
Without a standard like ISO 27001, it's difficult to benchmark your existing controls and safeguards. Preparing for a certification audit all but guarantees you're implementing security best practices in your business and building a company culture that prioritizes security. 
Employee training requirements, policy reviews, and internal audits are all really valuable ways to improve the way your entire organization thinks about and manages risk. Not to mention it often uncovers operational inefficiencies like conflicting policies, redundant tools, and outdated software. 
Get third-party validation for your security posture 
While many people see the audit process as another box to check on the path to certification, your auditor can be your greatest asset. They offer an expert, objective opinion on your security controls and policies. It's likely they'll notice something you've missed, or have insightful recommendations into what you could do to further improve your overall security posture. 
Establish a foundation for achieving other security certifications 
ISO 27001 controls often map closely to requirements for other standards, including SOC 2. Once you get ISO 27001 certification, the path to compliance with other valuable frameworks is often much faster and less strenuous. 
Avoid time-consuming security questionnaires 
Completing dozens of lengthy security questionnaires can monopolize a lot of valuable time for your sales, IT, and compliance teams. ISO 27001-certified organizations often complete a far less rigorous questionnaire or don't have to complete one at all. 
Prove credibility to a global market 
ISO 27001 is the leading international data security standard. With certification in hand, your organization now has proven trust with customers around the world, opening up new markets with a common language around security and compliance.  
Making a business case for ISO 27001 compliance
What do people who have actually been through the certification process have to say about whether ISO 27001 compliance is a worthwhile investment? 
73% of companies felt the cost of achieving ISO 27001 certification was either fully justified by its benefits or in line with similar standards.
At the end of the day, it's difficult to put a price tag on a strong security posture. 
What is the full cost of the information security risk facing your organization? 
What is the premium on greater customer trust? 
How much are efficient business processes, effective security policies, and a risk-conscious team worth to your company? 
How would a shortened sales cycle and enterprise customers impact your growth? Is a $60k investment in ISO 27001 certification worthwhile if it nets you a $300k deal?
We fully understand the time and resources it takes to achieve ISO 27001 compliance, as we continuously maintain our own certification with the standard. But we've also experienced firsthand how quickly the benefits outweigh the costs. 
If you're considering ISO 27001 certification, our compliance automation platform can slash the amount of time and money spent preparing for audits and maintaining certification. We continuously monitor your cloud infrastructure for compliance, and 100+ integrations automatically collect evidence to save your team hundreds of hours. Request a demo to learn more about how we streamline ISO 27001 compliance.