Introducing A Faster, Simpler Path to HIPAA Compliance
How many steps have you logged so far today? If you just glanced at your Fitbit or Apple Watch, companies are collecting and analyzing your health data at this very moment. 
The healthcare industry is relying less on traditional paper processes and more on digital systems to store and process sensitive patient information — including names, addresses, Social Security numbers, medical records, and financial information. 
The Health Insurance Portability and Accountability Act (HIPAA) established legal requirements for any organization that stores or transmits protected health information (PHI). This includes billing companies, EHR platforms, IT providers, cloud storage providers, email hosting services, and more. In short, if your company wants to do business with an organization that handles PHI, you need to become HIPAA compliant before you can sign a contract. 
Today, we're excited to announce the release of our HIPAA compliance framework, which simplifies the compliance process while ensuring HIPAA best practices. If your company stores or works with ePHI, you can complete all the necessary steps to become HIPAA compliant within our platform — from building ironclad security policies to onboarding employees and managing vendors. 
A New Way to Accelerate HIPAA Compliance
Healthcare organizations must implement HIPAA regulations into their business in order to protect the privacy, security, and integrity of PHI. This includes putting sufficient physical, administrative, and technical safeguards in place to secure PHI, as well as following five main rules: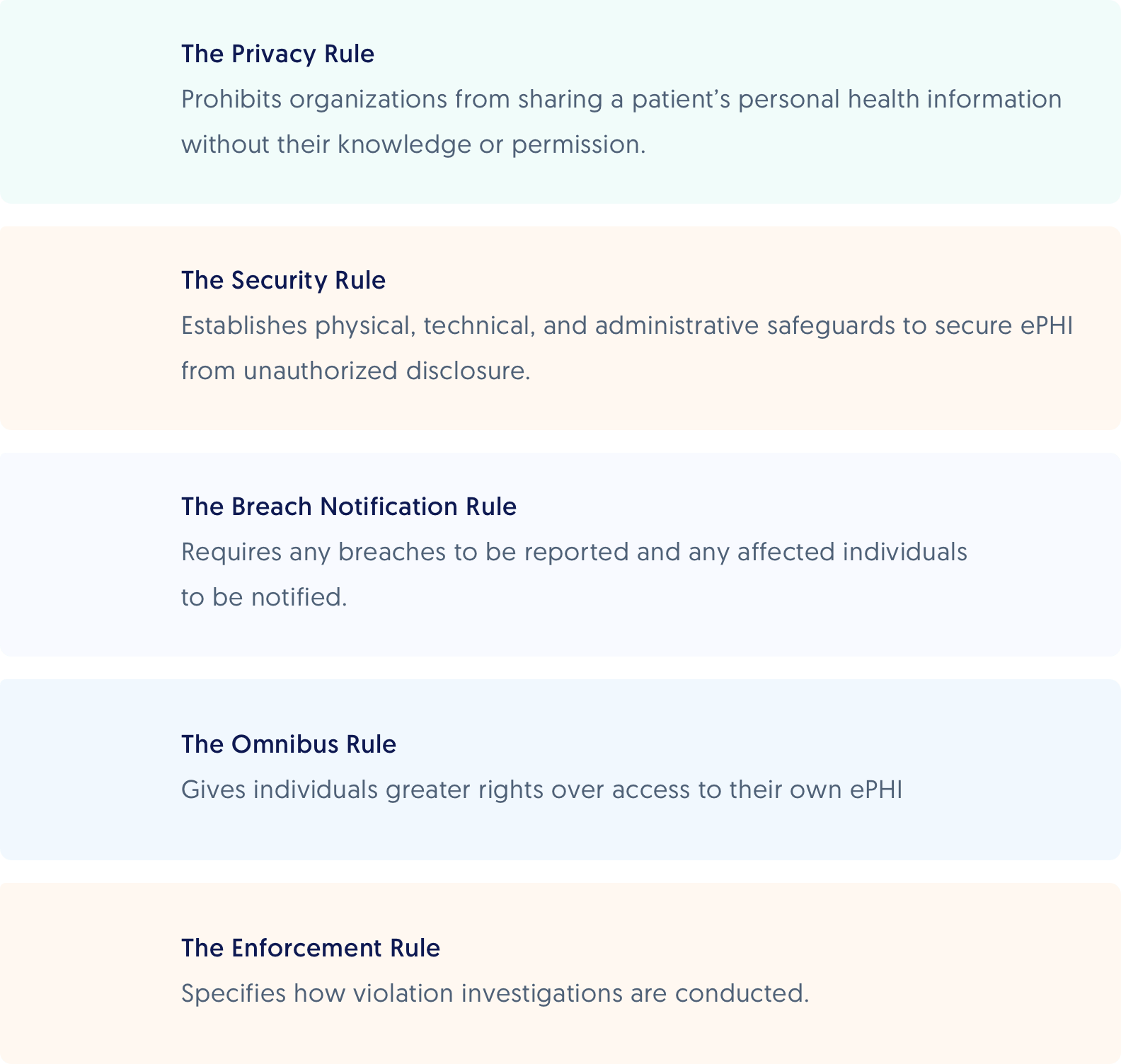 To achieve and maintain compliance, organizations must follow these established HIPAA rules and also adhere to certain standards.
Build HIPAA-Compliant Policies
Organizations are required to create and implement over a dozen policies to uphold HIPAA requirements, as well as regularly update them. 
Need to write an Automatic Logoff or Notification of Breach policy? We'll ensure you're equipped with the right policies and content required for HIPAA. Then you can customize the details for your organization and publish for your employees to review through our portal. 
Train Employees 
All employees must be trained on how to implement HIPAA policies and procedures on an annual basis. Use our HIPAA Security Awareness Training to track that your team has completed their self-serve training flow, aced their quizzes, and accepted HIPAA security policies through a progress dashboard. 
Manage Vendors and BAAs
All vendors that have access to an organization's ePHI must be documented, including signed Business Associate Agreements, to ensure ePHI is handled securely. With Secureframe, you can add and manage vendors who store, process, or interface with your ePHI for easy management. Our platform will automatically alert you to any potential issues or threats for you to quickly resolve. 
Monitor and Self-Audit HIPAA Safeguards
Organizations need to conduct annual self-audits to uncover any gaps in their administrative, technical, and physical safeguards and maintain compliance. Any gaps that are discovered during the self-audit must be documented and include a specific timeline for addressing them.  
Our 40+ integrations with the most common vendors allow for continuous monitoring and evidence collection for your administrative and technical safeguards. This simplifies your annual audit and makes it easy to maintain compliance. 
Get Started on the Road to HIPAA Compliance  
Take the guesswork out of compliance, get expert guidance at every step, and streamline the entire process with our platform. Reach out to your Sales Rep to learn more.