Data breaches can deliver a serious blow to your business and reputation — sometimes they can be fatal. 
According to research from the National Cyber Security Alliance, 60% of small businesses fold within six months of a data breach.
While PCI DSS outlines strong security practices that help prevent such data breaches, PCI DSS compliance is important because it's required by major card brands like Mastercard, Visa, Discover, American Express, and JCB.
By proving compliance, this signals to your customers that you have strong security measures in place to adequately protect the cardholder data you manage.
Why is PCI DSS compliance important?
PCI DSS requirements help merchants and service providers safeguard their business and reduce the risk of cardholder data loss. We touch on additional reasons PCI compliance matters for organizations below.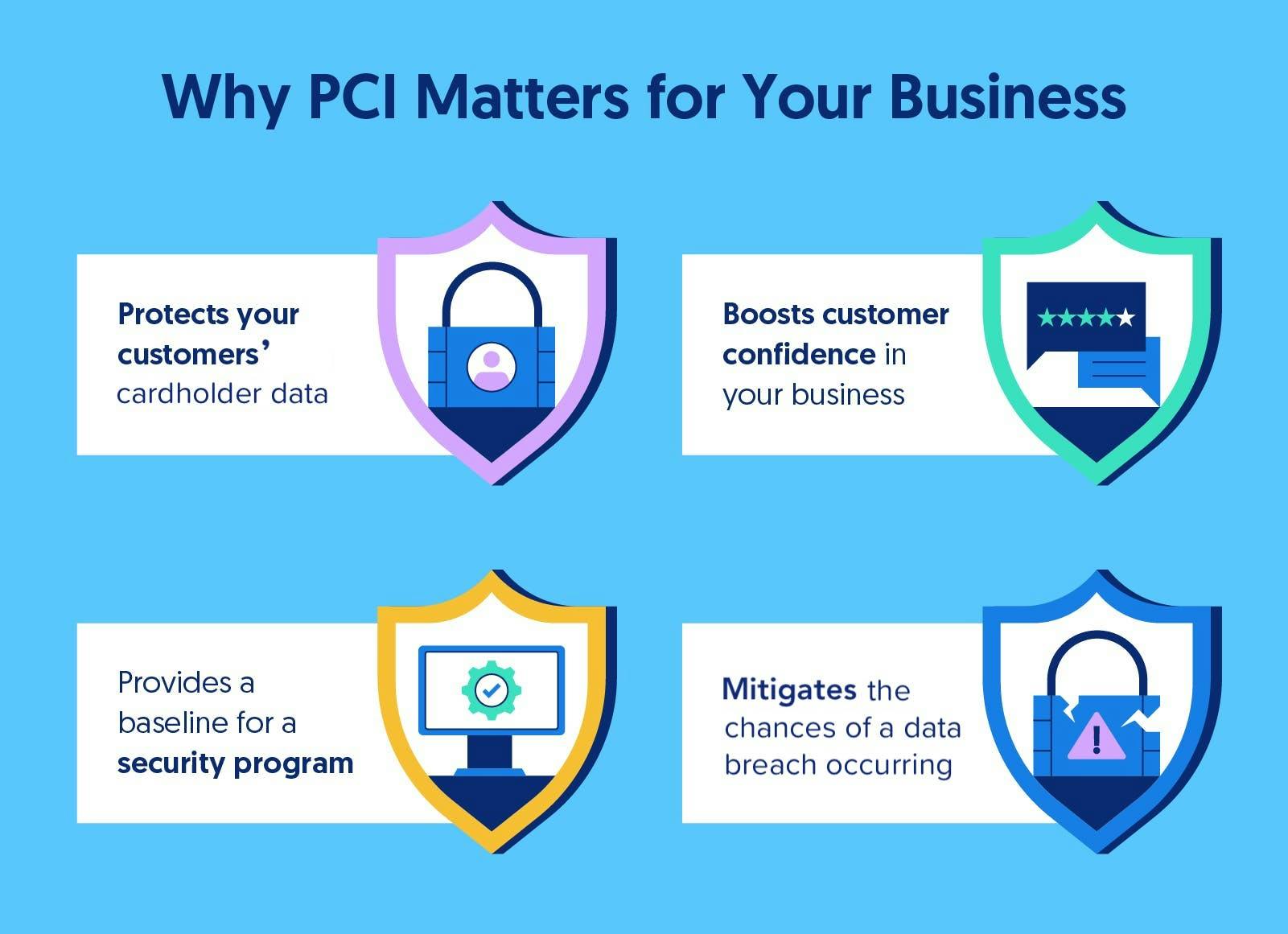 Protect your customers' cardholder data
First and foremost, PCI DSS compliance helps protect the cardholder data that customers share with you during payment or for management. 
As cyber threats evolve, it's your responsibility as a business that handles cardholder data to implement the necessary security measures to keep this data secure. The PCI DSS standard outlines trustworthy business practices and requirements to implement that will help keep your customers' cardholder data safe and help them feel confident with you handling their cardholder data.
Boosts customer confidence
PCI DSS compliance signals to your customers that you take the role of protecting their sensitive data seriously. 
When customers can see their sensitive cardholder data is safe with you, they'll be much more comfortable sharing this information with you.
Provides a baseline for creating a security program
Adhering to PCI DSS is one way for companies to measure their security against a known standard. Because PCI DSS requires such a strong security foundation, including properly configured firewalls and encryption, anti-virus and malware, as well as security policies, following the standard facilitates a strong security posture for your business.
These security requirements create the need for an overall IT security strategy that can not only help you meet PCI DSS compliance, but can also put you on track to meet other national and international security standards like HIPAA, GDPR, and SOC 2. 
Mitigates the chances of a data breach occurring
PCI DSS compliance requires a long list of security measures like vulnerability management, encryption measures, and regularly tracking systems for risks. 
These requirements will help your business proactively strengthen security controls so a data breach is less likely to happen.