Compliance with the Health Insurance Portability and Accountability Act (HIPAA) is something healthcare organizations and business associates must plan for to keep patient data safe, avoid suffering a data breach, and uphold federal law. Understanding the steps and costs involved in achieving and maintaining compliance year after year is a key part of that planning process.
How much does HIPAA compliance cost? We break down the various costs involved, list ballpark budgets for both small and large covered entities, and share tips for saving money on HIPAA compliance below.
Financial benefits of being HIPAA compliant
Although adhering to HIPAA Rules is required by law, compliance offers numerous benefits for covered entities and business associates. Here are a few of the most compelling financial advantages: 
Avoid HIPAA violation penalties
Failure to comply with HIPAA requirements can result in significant fines, and in some cases even criminal penalties. These range in severity based on the nature of the offense, and can reach $1.5 million per year and up to 10 years in jail. By prioritizing compliance, covered entities avoid the financial punishments of HIPAA violations by the Office for Civil Rights (OCR).
More efficient systems and processes
A strong HIPAA security and compliance program can improve internal processes and make your healthcare organization more efficient. It can help you identify and eliminate cost redundancies, clarify roles and responsibilities, and improve collaboration between departments.
Retain more patients
Patients entrust their health and personal information not only to their physicians, but to the entire healthcare system, from hospital systems and labs to insurance companies and other third-party service providers. Maintaining that trust is essential to retaining patients over the long term. By demonstrating a commitment to safeguarding protected health information (PHI), organizations build trust with patients who feel confident their sensitive data is secure.
The typical cost of HIPAA compliance
When the U.S. Department of Health and Human Services (HHS) released the HIPAA Final Rule in 2013, they included a table with estimated costs of HIPAA Compliance. Here are the costs they accounted for at the time: 
Notice of Privacy Practices: $80
Breach Notification requirements: $763
Business Associate Agreements: $84
Security Rule Compliance by Business Associates: $283 
Total cost of compliance with the HIPAA Final Rule: $1,210
What these figures don't take into account is all of the steps organizations have to take to comply with the Breach Notification, Privacy, and Security Rules, which can be complex and involved. For most organizations $283 for compliance with these requirements is not a realistic number, considering the time, staff labor, and technology that goes into drafting policies, defining and communicating new procedures, training staff, and implementing new software and other technologies. 
Below, we outline the traditional cost of HIPAA compliance, from cybersecurity measures to data privacy training and HIPAA audit costs. Then keep reading to find out how a compliance automation platform like Secureframe can cut costs significantly.
Risk analysis and risk management plan: $2k-20k, depending on organization size and complexity
Policy creation and implementation: $2-5k, depending on organization size and complexity
Periodic vulnerability scanning and/or penetration testing: $1k-5k, depending on organization size and complexity
Gap analysis and remediation costs: $1k-10k, depending on the current security program
Annual HIPAA training for staff: $30-50 per user
HIPAA compliance readiness assessment: $15k 
Onsite HIPAA compliance audit (if necessary): $40k+
HIPAA consultant fees: $250-300/hr 
Total cost of HIPAA compliance: $25k-100k+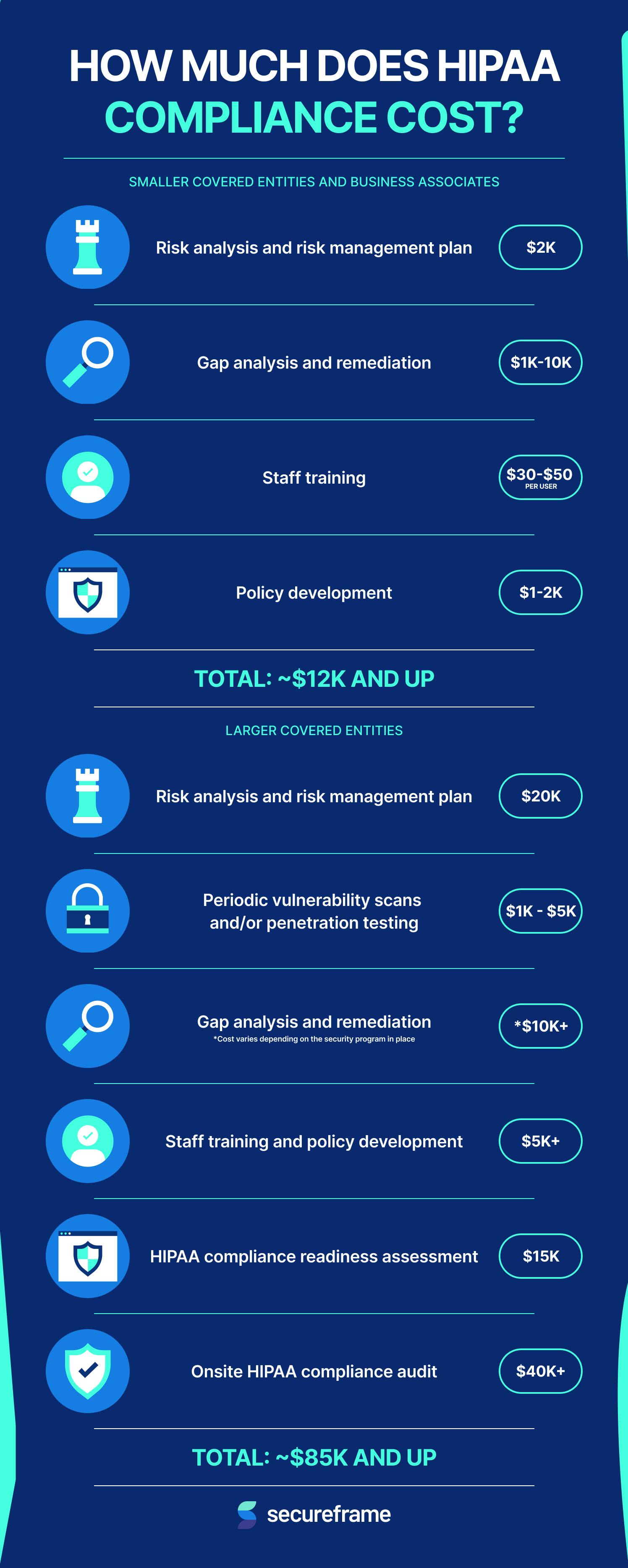 Factors that affect HIPAA compliance pricing
Several key factors influence the final cost of achieving and maintaining HIPAA compliance:
Organization type: Hospitals, healthcare clearing houses, insurance providers, business associates, and other types of healthcare providers all handle different amounts and types of PHI at varying risk levels. The costs of protecting that PHI against threats and safeguarding patient information will vary based on these factors. 
Organization size: Larger organizations can typically expect higher compliance costs. The more PHI you are responsible for, the more business associates you work with, and the greater your risk surface area, the more expensive HIPAA compliance will be. 
Remediation: The more gaps in your compliance, the more work you'll need to do to bring your administrative, technical, and physical safeguards in line with HIPAA regulations. If you already have a robust data privacy and security program in place, you'll likely need to spend fewer resources on remediation.
In-house compliance expertise: Hiring a consultant is a significant extra expense. Organizations that don't have the expertise of an internal compliance officer should account for the added cost of a HIPAA consultant when planning their compliance costs
Should you hire a HIPAA consultant?
Achieving and maintaining compliance with HIPAA rules and requirements can be a complex challenge for many organizations. For those without the required internal expertise, the question of hiring a HIPAA consultant can be an important one to consider. 
HIPAA consultants specialize in helping organizations:
Build policies and procedures
Create business associate agreements (BAAs)
Complete an expert HIPAA risk analysis 
Implement the necessary technical, physical, and administrative safeguards to comply with the HIPAA privacy, security, and breach notification rules
Get an objective assessment of the organization's policies and procedures as well as advice for improvement
All types of organizations can benefit from the expertise a HIPAA consultant offers, but organizations that have particularly complex compliance needs and covered entities that are setting up their compliance programs for the first time may find a consultant particularly helpful.
How healthcare companies can save money on HIPAA compliance
HIPAA compliance doesn't have to be so costly. Security and privacy compliance automation platforms like Secureframe will reduce costs significantly by making the entire compliance process faster and more efficient. 
Our library of auditor-approved policy templates makes it fast and easy to create your policy library, and built-in HIPAA training eliminates the need to purchase security training. An in-house team of compliance experts is also on hand to answer questions, ensure you have the appropriate safeguards in place to protect patient information, and help you prepare for an onsite HIPAA audit so you won't need to hire expensive consultants. Learn more about our HIPAA compliance software today.