 MVSP
Strengthen your security posture quickly and easily with MVSP compliance 
Secureframe helps organizations understand requirements, manage controls, streamline workflows, and automate tasks and evidence collection to achieve and maintain Minimum Viable Secure Product (MVSP) compliance with speed and ease.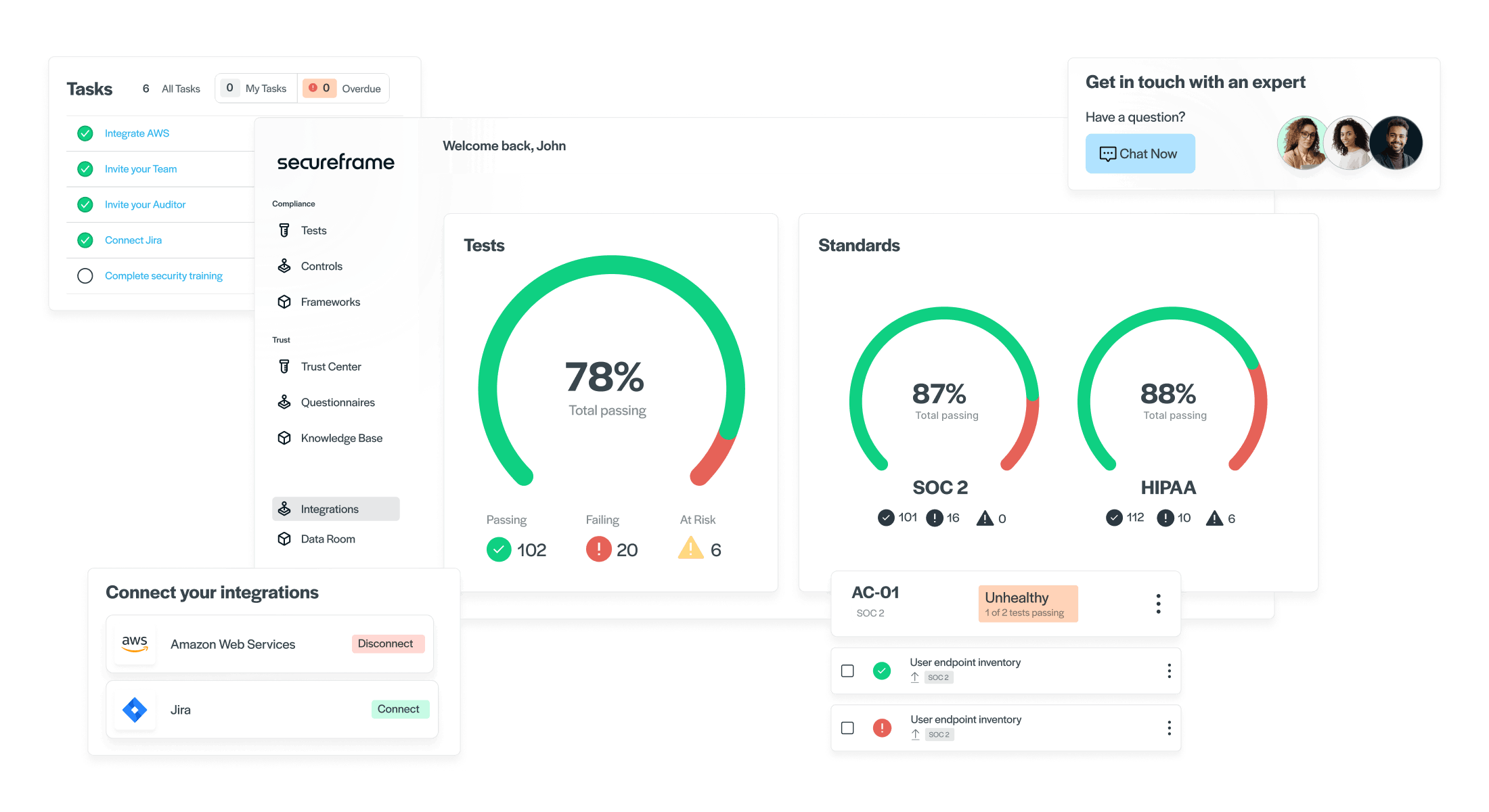 Everything you need to achieve and maintain MVSP compliance
Set up
policies and procedures needed to meet MVSP baselines
Train
and track employee completion automatically with proprietary training videos
Mitigate
your organization's regulatory, legal, financial, and cybersecurity risk
Show
a strong security posture that complies with MVSP requirements
The MVSP Standard: Security baselines for Enterprise-grade software
Developed by leading tech companies including Google, Salesforce, Slack, and Okta, the Minimum Viable Secure Product (MVSP) outlines security requirements for B2B software. Designed to simplify the procurement, RFP, and vendor security assessment process, MVSP offers a checklist of baselines to assess a product's security posture and identify gaps. All companies building B2B software or handling sensitive information are advised to follow MVSP requirements. As a contributor to the MVSP standard, we stay current on the latest MVSP requirements for you, so you can focus your limited resources on your biggest priorities.
The MVSP checklist includes four categories:
Business controls
Includes compliance with industry standards, penetration testing, and incident response procedures
Application design controls
Includes SSO, password policies, and logging
Application implementation controls
Includes data flows, sensitive data exposure, and time to remediate vulnerabilities
Operational controls
Includes physical, logical, and third-party access to organizational data
How it works
Secureframe's security and privacy compliance automation platform helps companies satisfy MVSP requirements quickly and easily. We streamline the compliance process by providing procedures and policies vetted by MVSP experts, proprietary data security and privacy training for automated employee compliance, access to in-house compliance experts, and everything else you need to satisfy requirements with speed and ease.
Meet your dedicated account manager
Set up your data privacy and security policies and procedures
Train personnel on security and data privacy requirements
Complete your MVSP readiness assessment
Maintain MVSP compliance
Set up MVSP policies and procedures fast
We provide MVSP policies and procedure templates that meet compliance requirements. Select from our library of policies, adapt them for your organization, and publish them to your personnel for review.
Key benefits
Access dozens of policies developed and vetted by our in-house compliance experts
Easily publish policies for your personnel to review and acknowledge through the Secureframe platform
Set up custom and automated tests
Leverage our pre-built tests or create custom upload tests for your organization's unique processes, policies, and controls to help you maintain MVSP compliance.
Key benefits
View and manage MVSP tests in a single place
Create custom tests to cover a use case specific to your business
Assign owners to tests to ensure failing tests are remediated quickly
Access best practice remediation steps for pre-built tests
Easily maintain MVSP compliance
We help you maintain compliance by staying current on the latest regulations. As new policies, procedures, or other requirements are added to MVSP, our platform and frameworks are updated so you stay compliant.
Key benefits
Automatically collect evidence and review processes for compliance assessments
Stay current with any changes to MVSP requirements
Manage and triage risks in once place
Track security and compliance risks with Secureframe's Risk Register. Determine risk treatments, mitigation steps, and assign risks to owners to bring visibility and accountability to your organization.
Key benefits
Assign owners to risks to ensure there's a single point person in charge of the risk
Send automated notifications to risk owners to review and update the risk on a regular basis
Track the details of potential vulnerabilities, impact on your business, and treatment plans