 ISO 27701
Automate ISO 27701 compliance
Achieve and maintain ISO 27701 certification so you can focus on growing your business, customers, and revenue.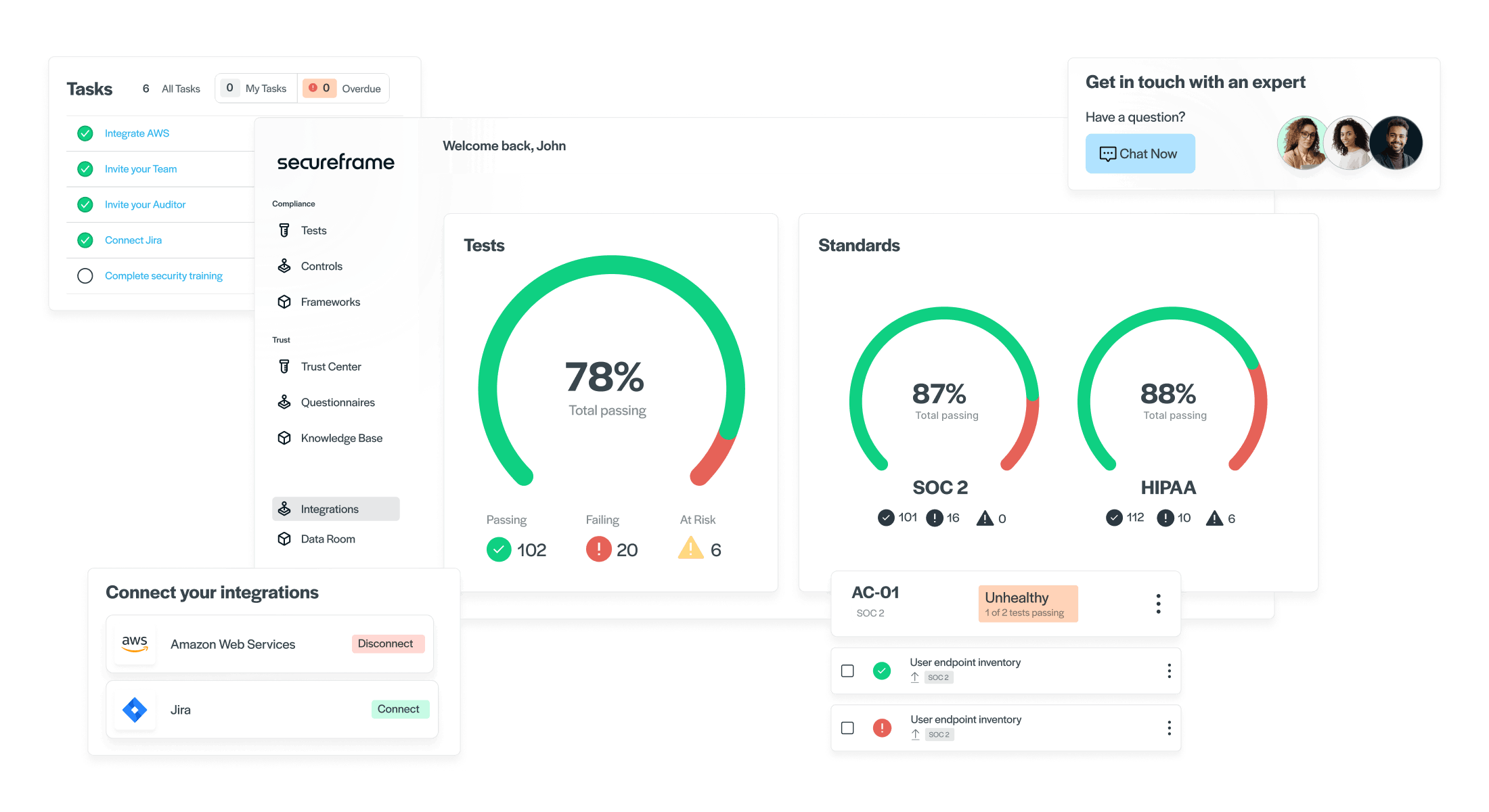 Everything you need to get and stay ISO 27701 compliant with speed and ease
Set Up
your PIMS policies and procedures to meet ISO 27701 requirements
Connect
and monitor your technology stack through our 150+ integrations
Mitigate
your organization's privacy risks
Achieve
and maintain your ISO 27701 compliance
ISO 27701: The data privacy extension for ISO 27001
Designed for data controllers and data processors, ISO 27701 is an extension of ISO 27001 certification that helps organizations build a Privacy Information Management System (PIMS) to protect personal data and comply with global data privacy standards. ISO 27701 addresses the EU's General Data Protection Regulation (GDPR) requirements while allowing organizations to incorporate and satisfy other data privacy laws and regulations.
ISO 27701 certification requirements include:
Design, build and implement a compliant PIMS
Complete a risk assessment to assess additional data privacy controls
Create and maintain PIMS documentation
Evaluate controls and remediate gaps
How it works
Secureframe's security and privacy compliance automation platform enables companies to achieve and maintain ISO 27701 certification. We make the compliance process clear by providing procedures and policy templates vetted by ISO 27001 and ISO 27701 experts, proprietary data privacy and security training for automated employee compliance, access to in-house experts, and everything else you need to get compliant.
Meet your dedicated account manager
Build your ISO 27701-compliant PIMS
Scan and secure your cloud infrastructure
Train personnel on data privacy requirements
Complete your ISO 27701 readiness assessment
Complete an ISO 27001 audit
Achieve and maintain ISO 27701 compliance
Build your PIMS
Design a Privacy Information Management System (PIMS) that aligns with the ISO 27701 standard and your organization's goals. Select from our library of policy templates, adapt them for your organization, and publish to your employees—all through the Secureframe platform.
Key benefits
Access dozens of ISO 27701 policy templates developed and vetted by in-house security experts and former auditors
Easily publish to your employees for review and acknowledgment through the Secureframe platform
Scan and secure your cloud infrastructure automatically
Monitor and configure your cloud infrastructure to be ISO 27701 compliant. Plus, no need to install agents — we scan through read-only access.
Key benefits
Monitor cloud services including AWS, Google Cloud, and Azure
Review vulnerabilities through our dashboard with associated risk scores and details.
Assess and manage vendor risk
Complete vendor risk assessments, regularly review vendors, and complete required due diligence. 
Key benefits
Perform and manage vendor risk assessments
Store, manage and review vendor security certifications and reports for SOC 2, ISO 27001, PCI DSS, CCPA, and GDPR
Automate testing of controls
Ensuring compliance with a strong security and privacy posture means consistently testing your environment. Leverage Secureframe's pre-built or create custom upload tests for your organization's unique processes, policies, and controls.
Key benefits
Filter tests by status, owner, framework, and more to get a quick understanding of your Test Status 
Ensure failing tests are remediated quickly by assigning owners to resolve them 
Create your own custom tests to cover a use case specific to your business