 ISO/IEC 15415
ISO/IEC 15415 is an international standard that specifies the quality parameters and methodologies to assess the optical characteristics of two-dimensional (2D) bar code symbols, such as QR codes, Data Matrix, and PDF417.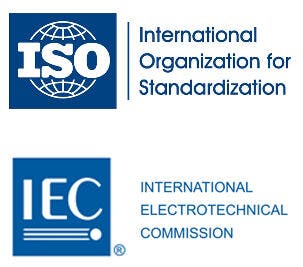 Definition and purpose
The primary purpose of ISO/IEC 15415 is to establish guidelines for evaluating the quality of 2D bar codes in terms of their optical characteristics. By doing so, it ensures consistent quality across 2D bar codes, making it easier for scanners and readers to interpret them reliably, irrespective of where or by whom the bar code was produced.
Last updated
ISO/IEC 15415 was last updated in 2011, known as ISO/IEC 15415:2011. It was reviewed and confirmed in 2018. 
Applies to
ISO/IEC 15415 applies to industries and sectors that produce, use, or rely on 2D bar codes. This encompasses a wide range of industries, including retail, manufacturing, healthcare, logistics, and any other sector where 2D bar codes are utilized for tracking, identification, or information purposes.
Controls and requirements
The standard provides:
Parameters for measuring the quality of 2D bar codes.
Test equipment specifications.
Test procedures to assess the quality of the bar codes against the specified parameters.
Methodologies for interpreting and assessing the results.
Please refer to the official ISO/IEC 15415:2011 documentation for a detailed list of controls and requirements.
Audit type, frequency, and duration
Evaluation against ISO/IEC 15415 involves using appropriate equipment to test the optical characteristics of 2D bar codes. There isn't a mandatory frequency specified for such evaluations. However, companies might assess their barcode quality whenever there's a change in printing methods, materials, or design. Regular checks can also be done as part of quality assurance processes.
The duration of the evaluation would depend on the number of bar codes being tested, their complexity, and the specific test procedures being applied.
Get compliant using Secureframe Custom Frameworks