 ISO/IEC 11801
ISO/IEC 11801 is an international standard that specifies general-purpose telecommunication cabling systems (structured cabling) that are suitable for a wide range of applications (analog and ISDN telephony, various data communication standards, building control systems, factory automation). It covers both balanced copper cabling and optical fiber cabling.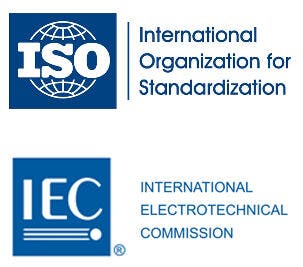 Definition and purpose
The primary purpose of ISO/IEC 11801 is to define the design parameters and provide a classification system (categories) for cabling infrastructures within different environments such as commercial buildings, homes, and data centers. It offers specifications for both the performance and the testing of these systems.
Last updated
ISO/IEC 11801 was published in 2017. An amendment was published in 2018. 
Applies to
ISO/IEC 11801 applies to industries that install, manage, or utilize telecommunication cabling systems. This spans a broad range, from office buildings and homes to large-scale data centers and industrial premises.
Controls and requirements
The standard defines several categories of both copper and fiber cabling systems, such as:
Copper: Categories 3, 5e, 6, 6A, 7, 7A, 8.1, and 8.2.
Optical Fiber: OM1, OM2, OM3, OM4, OM5 (multimode) and OS1, OS2 (single mode).
The requirements include:
Characteristics of cables, cords, and connecting hardware.
Transmission requirements.
Link and channel performance specifications.
Definitions for the different categories/classes of cabling.
Implementation and configuration recommendations.
Test procedures for links and components.
Please refer to the official ISO/IEC 11801-1:2017 standard documentation for a detailed list of controls and requirements.
Audit type, frequency, and duration
Depending on the context, audits can be conducted by internal teams or third-party assessors. The audits typically involve a combination of documentation review, interviews, system testing, and vulnerability assessments. While the standard itself does not dictate a fixed frequency, best practices suggest an annual audit or assessment, with additional reviews following significant system changes or identified vulnerabilities.
The duration of the audit varies depending on the size and complexity of the IACS in question, the scope of the audit, and the specific parts of the IEC 62443 standard being addressed.
Get compliant using Secureframe Custom Frameworks