Introducing Improved Task Tracking and Notifications in Secureframe
Navigating the complex landscape of compliance can be a daunting challenge for any organization. With hundreds of controls to monitor across your cloud environments, vendors, personnel management, and physical assets, and responsibilities spread across different teams, it's often difficult to determine where to begin on the compliance journey. Secureframe helps to automate this process by integrating with your existing tech stack and helping you to manage the various aspects of the compliance process. 
Managing compliance involves juggling a lot of moving pieces, and it's crucial for organization administrators to track outstanding issues and tasks efficiently. There are hundreds of tests that any organization must continuously monitor, and each test can have one or more errors to remediate. Managing this process can be very time-consuming to do manually.
Today we're excited to introduce some updates that will make the test remediation process much easier – Secureframe customers can now create Slack and Jira tasks and notifications directly within the platform. These integrations enable easier team collaboration, with the option to send notifications via a preferred notification delivery method – email, Jira, or Slack – empowering teams to focus on growing business.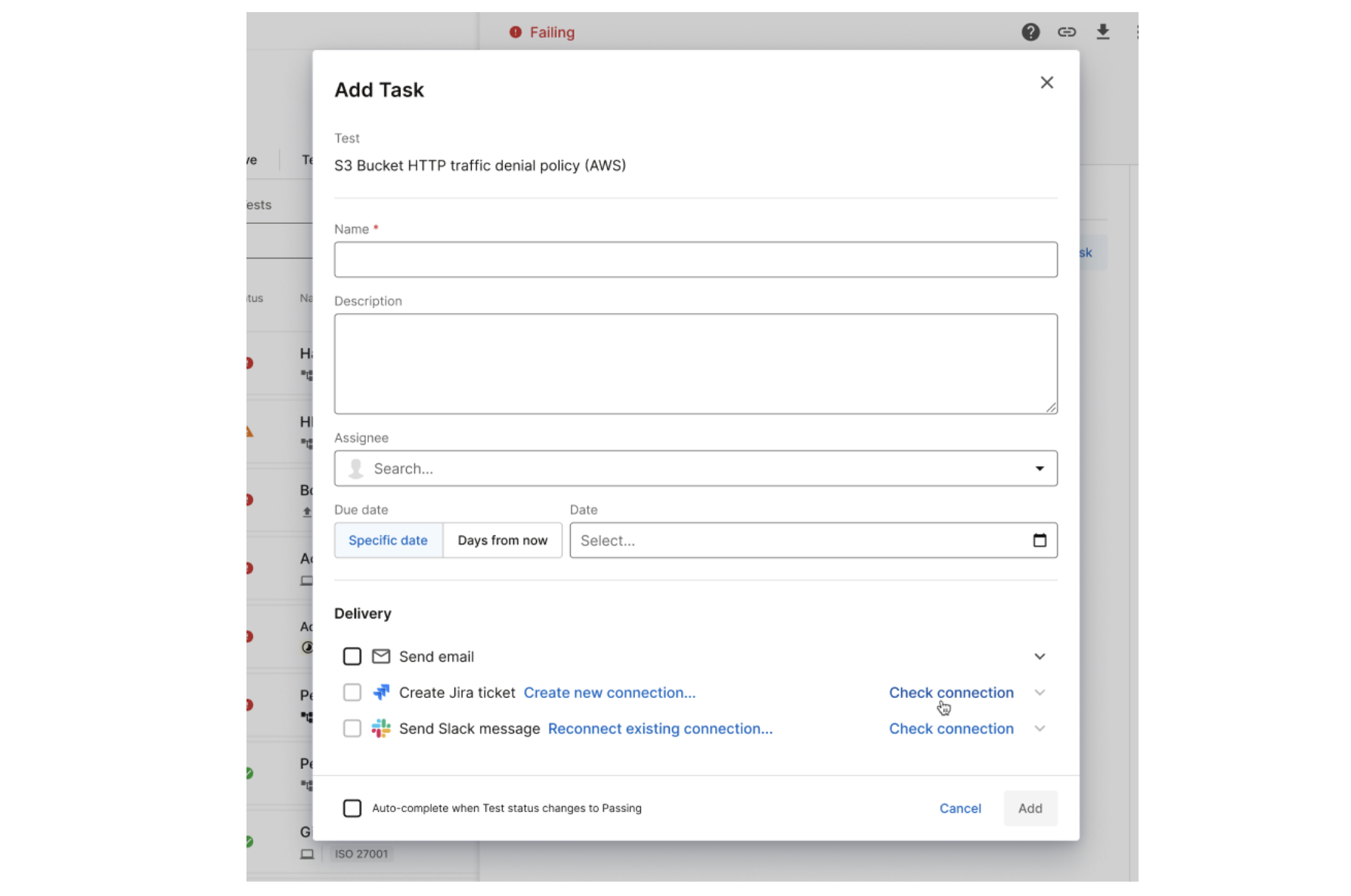 Real-time notifications for easier collaboration with Slack
To get started with Slack, click on 'Add Task', and find the option to designate a delivery method. From here, users can create a new connection and follow the prompts to integrate Slack. Once connected, users can create a task, assign an owner and a due date. Secureframe will automatically send a Slack message to the designated task owner or notify a specific channel.
With Secureframe's integration to Slack, employees can receive real-time notifications of compliance tasks, keeping them informed about any potential security risks or compliance issues. This streamlined communication speeds up test remediation and eliminates the need for employees to continuously check Secureframe for their assignments. 
Seamless ticket creation and tracking with Jira
By selecting Jira as your delivery method and establishing the connection, users can easily create and update Jira tickets directly from Secureframe. When creating a task, users can launch a Jira ticket with various parameters, such as title, description, issue type, project, and assignee. These tickets are resolvable outside of Secureframe and will update in the Secureframe platform if updated in Jira, removing the need to have to go back and forth between platforms for tracking.
Picture this scenario: Your company has recently completed the Secureframe onboarding process, and now it's time to assign remediation tests to different internal teams. With the Jira tasks integration, admins can assign owners to tasks with due dates, and Secureframe will create corresponding Jira tickets. When these tickets are completed, the tasks automatically resolve in Secureframe, and the linked Jira ticket can also be found in the test in-platform, providing seamless tracking and oversight. Alternatively, when the task is completed, the Jira ticket can automatically be marked as 'done'.
How to get started with Secureframe task creation and tracking
With this new feature, users can create a task, assign an owner and a due date, and even choose the preferred notification delivery method, be it email, Jira, or Slack. When creating a task, users can enable an "auto-complete when test status changes to passing" option, which will automatically resolve the launched delivery options and mark them as completed once the test passes. Once these tasks are created, users can track task completion progress from Secureframe and access tasks from the Tasks tab on the Dashboard page for a comprehensive overview, or access tasks from individual test pages. 
This capability helps organizations to accelerate response time to compliance issues and streamline collaboration via notifications sent directly to employees.  However, Secureframe's commitment to enhancing the compliance process goes beyond Slack and Jira integrations. This is just the first of many steps we're taking to make compliance and collaboration more manageable for our customers. 
For more information on Secureframe tasks and notifications, schedule a demo or reach out to our team of compliance experts.