Introducing Improved Policy Management with More Robust and Flexible Editing Capabilities
As your organization grows in size and complexity, you need to build extensive policies that are clearly communicated to employees. Strong policy management effectively communicates best practices for your business around security, internal processes, compliance, and more. But policy management can be laborious, requiring a significant amount of time to build your policies and requires regular maintenance of those policies to ensure they are always up-to-date. 
We are excited to announce improved functionality to our policy editor with a more comprehensive, versatile, and collaborative editing toolset and AI-powered text revisions to make building policies for your organization easier than ever. 
Comprehensive and collaborative policy editing toolset
Our new editing toolset provides the flexibility you need to build, customize, and publish your policies to meet your organizational and compliance goals. The toolset includes advanced tables, find and replace, seamless copy and paste from Google Docs, Word, and Excel, and more so you can create robust policies.  
The upgraded policy editor also includes the ability to comment on a policy. This allows you to collaborate with other internal stakeholders directly in the Secureframe platform so feedback and input on policies is documented and visible. Each comment includes the name of the person who left the comment, the time, and the date so you can easily understand which comments are most relevant and who you need to talk to if the comment needs further discussion.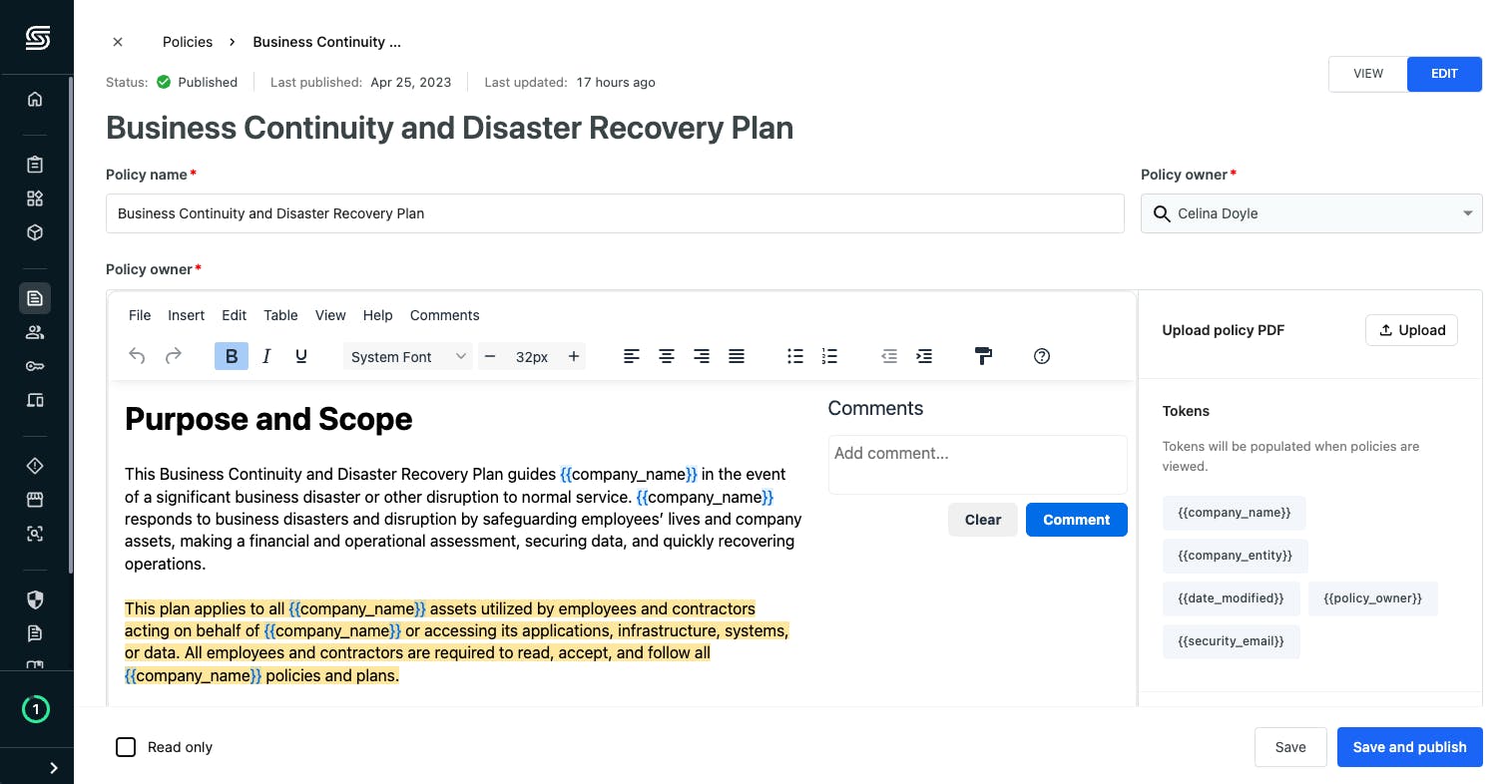 AI-powered text revisions with Comply AI for Policies
In addition, we added our latest AI-powered capability, Comply AI for Policies, which uses generative AI to help you write and refine your policies. Comply AI for Policies saves you hours of work by delivering clear and polished policies that align with the tone and voice of your organization. 
To use Comply AI for Policies: 
Highlight the area of text you want to revise 
Select from either the out-of-the-box prompts or send a custom prompt 
Generative AI will provide suggested changes
Review the changes and choose to insert the revised copy, ask it to try again, or discard the changes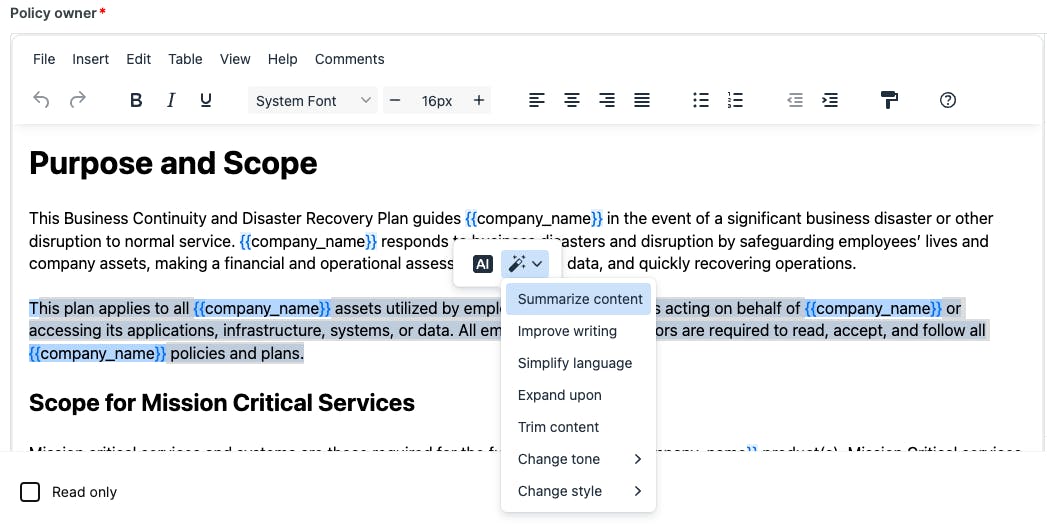 Read-only policies to support custom policies
For policies that do not require acceptance, such as addendums or SOPs, users can now mark them as read-only when editing. Employees reviewing these read-only policies will not have to select 'Accept' after reading the policy. 
To learn more about Secureframe, reach out to schedule a demo with one of our compliance experts.