Secureframe Now Integrates with KnowBe4 for Security Awareness Training
In today's digital landscape, businesses face a lot of cybersecurity risks, many of which stem from human error. Things like compromised passwords and accidental downloads are significant threats, highlighting the importance of comprehensive employee security training. That's why compliance frameworks like SOC 2, HIPAA, and PCI DSS require regular security training to ensure that employees understand and adhere to security best practices. However, training the entire workforce annually and keeping up with new hires manually can be time-consuming and hard to track.
We help our customers to achieve and maintain continuous security and privacy compliance – including employee training. Secureframe's automated compliance platform includes Secureframe Training, our proprietary training for customers, but we recognize that customers come to us at different stages of their compliance journey and may already be using a vendor for employee training. 
To improve the compliance experience and meet our customers where they are, we're excited to announce our integration with KnowBe4.
The Integration: KnowBe4 and Secureframe 
KnowBe4 is a widely recognized platform that helps organizations educate their employees about cybersecurity threats and foster a security-conscious mindset. Secureframe's integration with KnowBe4 syncs KMSAT training results to Secureframe, so employees can now complete training in KnowBe4 and their completion will automatically update into Secureframe. The KnowBe4 integration removes the need to manually track employee training completion against framework requirements around security training, and allows you to continuously monitor and collect evidence of your employees' security awareness training results so you stay audit ready all year long.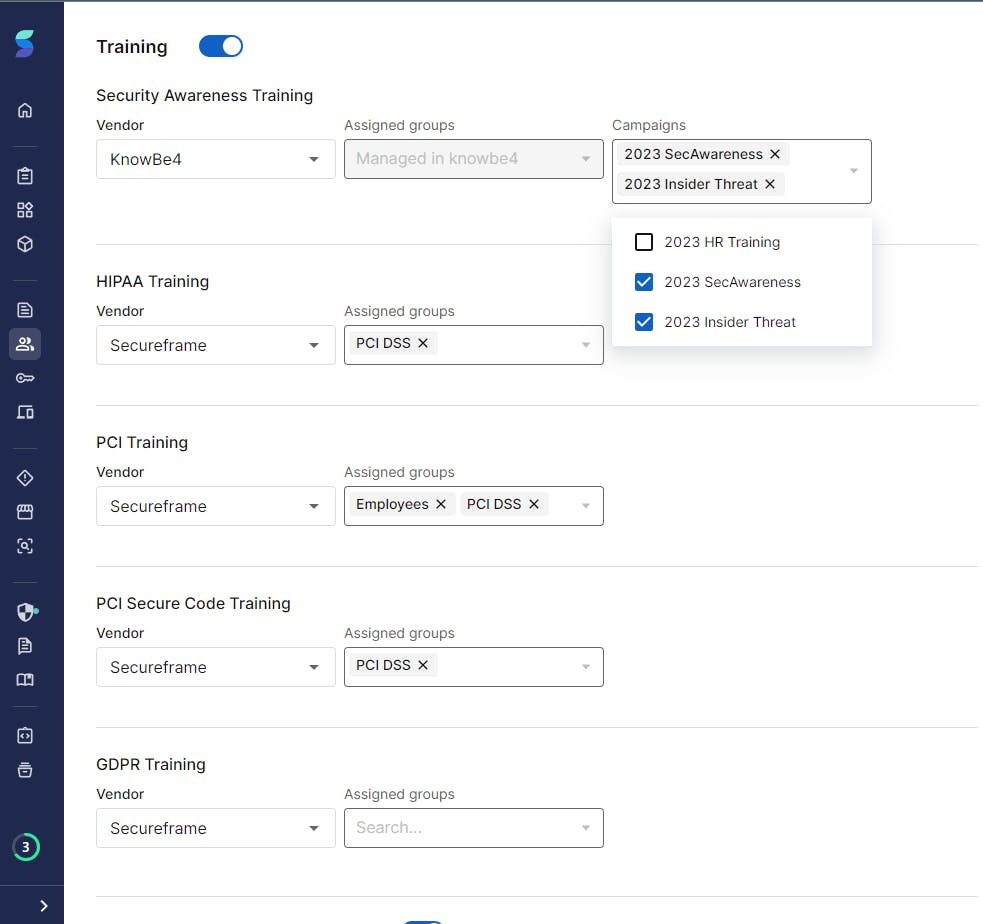 Want to use KnowBe4 for Security Awareness Training and Secureframe for another compliance training (like HIPAA, GDPR, CCPA, PCI DSS)? One of the key advantages of the Secureframe and KnowBe4 integration is the flexibility it offers businesses. Our integration allows Secureframe customers to mix-and-match security training vendors across training types - training completion will show in Secureframe for both, eliminating the need to manually track training completion across platforms.
How to get started
To get started with integrating Secureframe to KnowBe4, eligible customers** can opt in to using the integration by selecting "KnowBe4" as a vendor for training type in company settings, and select the campaigns to be evaluated. Find more information about the KnowBe4 integration in the documentation here, or reach out to learn more.
** Note: API access is required and gated behind certain KnowBe4 tiers, see here for more information.