Humans of Secureframe: Director of Customer Success Brenda Guardado on Delivering a 6-Star Customer Experience by Leading with Empathy
Exceptional customer support has become an essential differentiator for growing businesses, and I believe that one of the best ways to achieve it is to approach customer interactions with a deep sense of empathy. A 6-star customer experience depends on customers feeling a sense of sincerity, integrity, and trust with your customer success team. They need to know that you have their back. 
Throughout my time at Secureframe, I've worked to build a culture of empathy within the customer success team — one that radiates throughout the entire company. 
I give a lot of credit for this value to my family. I grew up in the Central Valley of California in a small agricultural town called Firebaugh. Total population is 8,000, the town itself only has two stoplights, and the closest movie theater is 40 miles away. 
My parents immigrated from Mexico in the '70s and only spoke Spanish at the time. I am the seventh of eight children. Spanish was my first language growing up, but I was able to quickly learn English from my siblings and school. I looked up to my three older sisters since they were the oldest in the bunch. 
My parents left Mexico with an elementary school education but always stressed the importance of furthering my schooling so I could create more opportunities for myself. In high school my top priorities were academics and extracurriculars, along with working. I took on as many AP classes as possible, participated in Academic Decathlon, raised animals for Future Farmers of America (FFA), and played sports every season including basketball, volleyball, and softball. My primary goal during high school was to graduate with a great GPA, earn as many scholarships as possible, and apply to some of the best universities in California so I could leave my small town and make a name for myself.
I was accepted to the University of California, Los Angeles (UCLA), which was my dream school. I wanted to get a head start on my academics so I started summer school at UCLA weeks after I graduated from high school. This was a pivotal moment because it was the first time I moved away from home, it was my first time being independent, and it was my first time being around people from so many diverse backgrounds and experiences.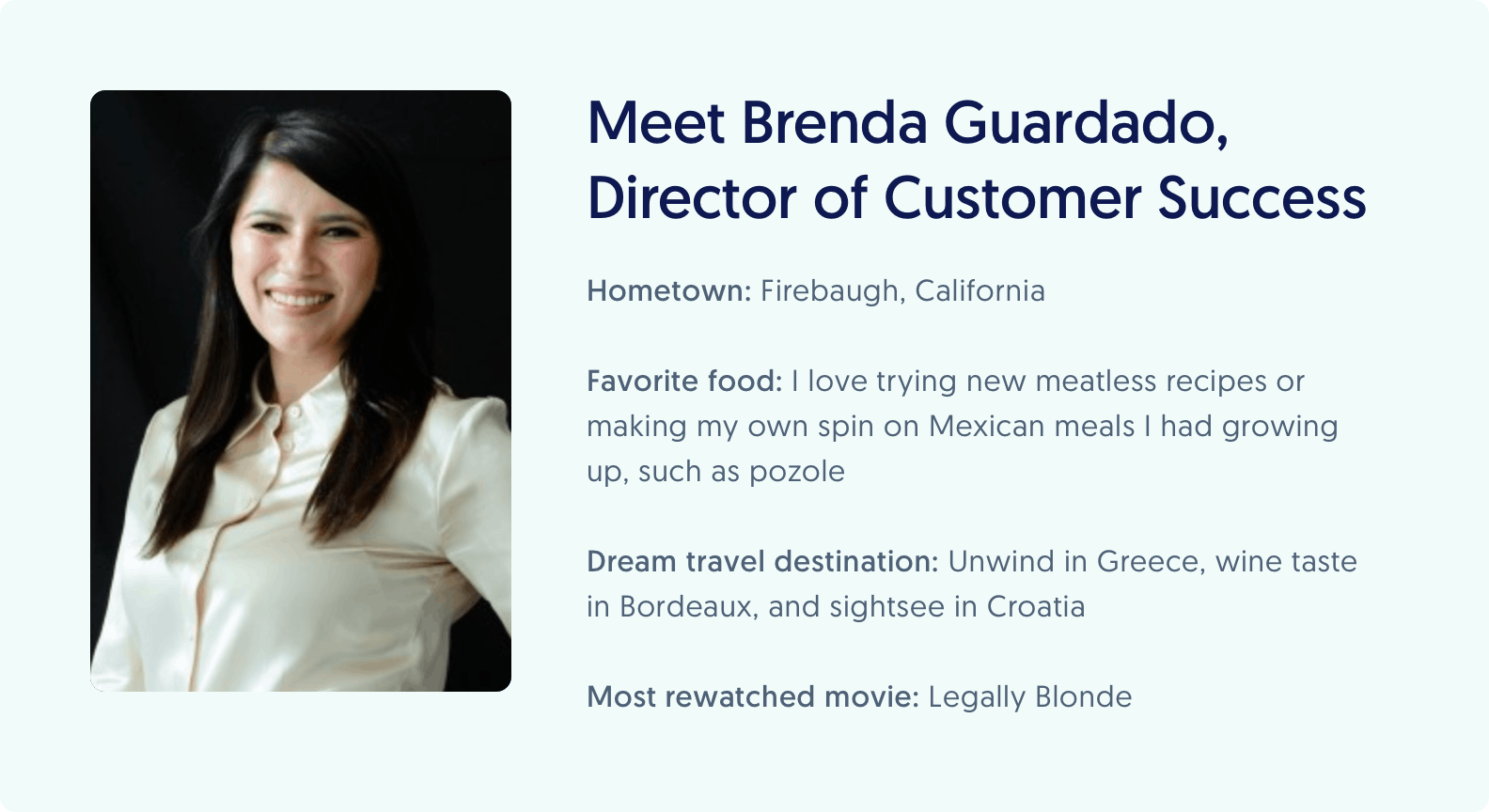 One summer I had the opportunity to study abroad in Spain, and that's when I fell in love with traveling and experiencing different cultures. I made it a goal to travel the world after college, and since then I've been to 20+ countries so far. A favorite travel experience of mine is hiking the W Trek in Patagonia (50+ miles over a few days) since it was both physically and mentally tough but absolutely worth it. I often think back to my time on safari in Kenya as well. I loved seeing the animals in their natural habitats and had the amazing opportunity to spend time with the Masai Mara tribe.
I've always been an animal lover and have volunteered at animal shelters. I became a vegetarian in 2017 and love trying new meatless recipes or making my own spin on Mexican meals I had growing up, such as pozole. I'm also now a pawrent to a mini goldendoodle, Penny, who I got in January 2020. The timing was impeccable! 
All of these opportunities I've had to meet so many people and experience so many ways of life and viewing the world have deeply affected how I approach customer interactions and the client experience I'm building at Secureframe. Empathy is the cornerstone of every interaction the customer success team has with customers — and with each other. 
Make customers smile
We understand that the compliance journey can be tough, so we want to not only deliver what's expected, but go beyond. Every day the CS team asks ourselves: how can we gift a moment of joy, however small? 
Sometimes this means breaking our own "rules." One of our startup customers in the entertainment industry was pursuing a deal with a major international studio and needed to complete the painstaking security review process. While we don't typically help with these security reviews, our team went above and beyond to walk them through and answer any additional questions from the studio about the startup's security posture. They ended up securing the deal, which had a tremendous impact on their business. 
Practice empathy
It's important we don't simply respond to the issue at hand, but also the emotions that come with it. We acknowledge the customers' feelings and unspoken needs, so they feel heard and know they matter. 
This is something we make a point to look for during the hiring process. Does the candidate have the emotional intelligence and necessary soft skills to put themselves in the customer's shoes, be an active listener, and see the bigger picture? We ask questions about their proudest accomplishments, what brings them joy, and what they want to do with their career. Does a love of helping people shine through? We want our team members to feel deep satisfaction from helping customers grow. 
I also strive to be an empathetic leader. If someone on the team has a difficult customer interaction, I remind them to take a step back and understand where the customer is coming from, try not to make assumptions, and recognize that it's not personal. They may be under tremendous pressure from upper management or have just come from a heated conversation. By making sure customers know we have their back and are their partners on the compliance journey, everyone can feel supported. 
Engage fully
Customers can sense if we aren't actively listening or if we just skim an email – especially if we provide premature answers. Before responding, we need to thoroughly read and understand what's being said, so that a customer never needs to repeat themselves. 
It's always meaningful when we get direct customer feedback that recognizes our efforts to engage on this deeper level. We often hear things like "We love Secureframe because the team is incredibly responsive and supportive," or "I love the one-on-one support we receive with the Secureframe team members. They are quick to respond, knowledgeable, and patient with our questions." 
We want our customers to know that we truly care about their compliance experience and that we are their full partners throughout the entire process. 
Help Build the Future of Customer Success at Secureframe
Achieving and maintaining compliance certifications can be a painful and confusing process, especially for fast-moving, lean businesses that don't have time or resources to spare. We want every customer to feel understood and supported throughout their entire compliance journey. 
The vision for customer success that I've built at Secureframe is to treat every customer interaction as an opportunity to build trust and rapport. We deliver on our promises and we value transparency — we don't just share the "what" but also the "why" behind everything we do. 
This emphasis on the 6-star customer experience is one of our most important competitive differentiators. Every customer gets a personalized experience and we truly care about them on a personal level. At the end of the day, what turns customers into loyal advocates is how you make them feel. That's our secret sauce. 
If this sounds interesting to you, come join our team! We're hiring for fully remote customer success roles across the US, Canada, and the UK.