Secureframe Now Integrates with AWS GovCloud to Help Customers Meet Federal Compliance or Contractual Obligations
The United States Government (USG) is increasingly requiring many of its contractors, partners, and vendors to architect their infrastructure with greater security. Several cloud service providers, such as AWS, have responded by releasing government cloud offerings aligned to USG requirements. 
We are excited to announce that Secureframe now offers an integration with AWS GovCloud, providing users the same Secureframe experience as customers operating in commercial environments.
What is AWS GovCloud?
To meet the unique compliance requirements of government agencies and regulated industries, AWS provides GovCloud – isolated AWS regions designed to address stringent federal security and compliance needs.
There are many reasons why your organization may need to operate in GovCloud regions rather than Commercial regions. GovCloud provides additional controls and security measures to ensure data protection and meet specific regulatory requirements so organizations can confidently operate in government or highly regulated environments due to compliance or contractual obligations.
AWS GovCloud applicability
While many frameworks do not specifically require government clouds, they can make federal compliance a lot more manageable in many cases. We more commonly see it in use for those subjected to these frameworks and regulations:
CJIS
DFARS
EAR
FedRAMP
FIPS 140-2
ITAR
If you are unsure if GovCloud is right for you, please contact one of our compliance experts.
AWS GovCloud vs commercial cloud
AWS GovCloud does not offer any net new services; however, there are a handful of global security enhancements. As an example, GovCloud is physically and logically isolated from other AWS regions.
GovCloud services are a subset of commercial cloud services. That said, several commercial services are not yet available in GovCloud services. For some services that are available, their functionality has been altered to increase security. 
Federal regulatory compliance made easy
Secureframe's integration with GovCloud allows certain organizations that work with government entities to streamline their compliance efforts by automating infrastructure monitoring and evidence collection. 
By automating compliance tasks such as monitoring, policies, and evidence collection, Secureframe simplifies the compliance process for organizations navigating the complexities of federal regulatory requirements, while ensuring the security of government-related workloads and data. Secureframe provides visibility around security vulnerabilities and misconfigurations in your GovCloud environment, and monitors your compliance against federal compliance frameworks.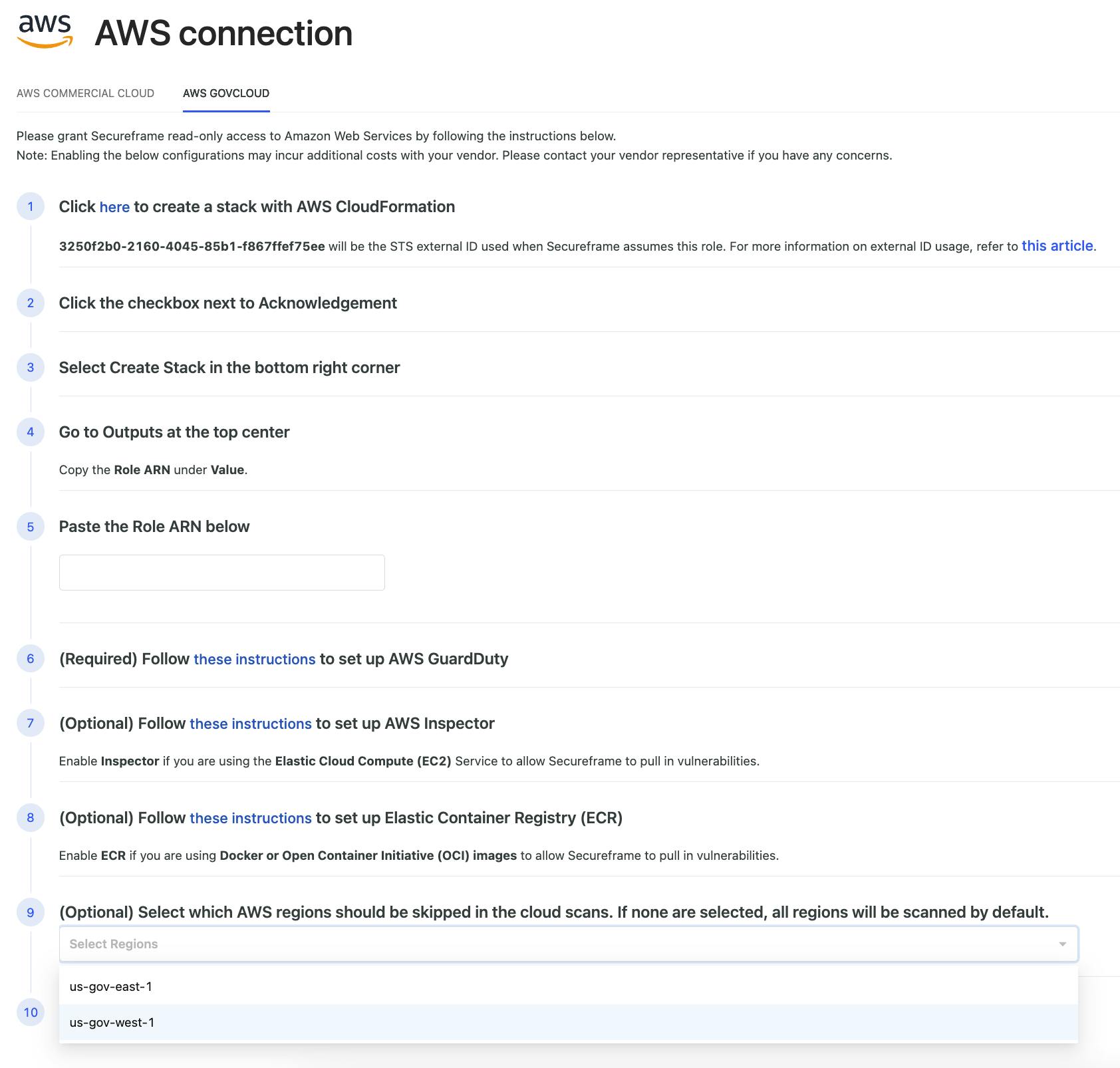 Getting started with Secureframe and AWS GovCloud
We've made the GovCloud easy for users. You'll see AWS GovCloud in the integration workflow next to AWS Commercial Cloud, and the set up process and general experience mirrors that of AWS Commercial. Secureframe supports all authorized GovCloud regions, enabling organizations to leverage the full capabilities of GovCloud for their compliance needs. 
Ready to get started with Secureframe for your GovCloud regions? Sign up for a demo of Secureframe Comply today, visit our website, or contact us to learn more.