Humans of Secureframe: VP of Sales Evan Horibe on His Philosophy of Servant Leadership
For the better part of two decades, I've developed an overall sales philosophy based on data and process, coaching and development — and creating a climate of continuous improvement that empowers individuals to succeed. Now, I'm excited to apply that philosophy to growing Secureframe. 
Secureframe represents an unmatched opportunity — one I simply couldn't pass up. These are the reasons I decided to join and what I've experienced since starting my role as VP of Sales. 
Infinite market potential and compelling challenges 
The security and compliance space is full of opportunities — and challenges. 
For our customers, the challenge of navigating, achieving, and maintaining compliance amid a complex and evolving threat landscape. For compliance automation platforms, the challenge of not only helping customers achieve compliance faster and easier but helping them become truly secure. But I've never shied away from a challenge. 
As we build out our GTM team in order to capture the current and growing market demand, our goal this year is to increase revenue by 600%. 
The goal isn't just to accelerate revenue dramatically. We plan to scale the business in a smart way so that we build a foundation for the future. This will require leveraging tested experience, methodologies, and processes, as well as discovering and creating new sales strategies and techniques.
Every customer should feel like they are part of Secureframe — they aren't buying something from us, but investing with us in order to make both their business and our business stronger.
Part of scaling the smart way is growing with an "all boats rise with the tide" mentality. The pace of Secureframe's success should be matched or outpaced by the personal career growth of everyone in the business. This means that people will be promoted into roles that are created for them.
A product and team driven by excellence
I joined QAS (now owned by Experian) and moved to Boston with a hockey bag full of clothes, having never been to the city. I started a rigorous SDR program and quickly found that I could accelerate my development and reach higher levels of success by seeking out feedback, being coachable, and developing a mindset of continuous improvement. Good is never as good as it can be.  
I was incredibly fortunate to grow with Xactly as their first AE in Denver. I was able to learn from some of the best SaaS leadership in the world. I'm proud of the really efficient models and strategies we developed, which yielded incredible results. One year I worked with an SMB rep who netted more ARR than any other AE in the company — including the Enterprise sales team.
At Brandfolder I learned how valuable it was to work interdependently across the business, which enabled us to achieve tremendous growth with limited funding. I was responsible for all net new revenue and sales/rev operations, but I wasn't alone. We didn't view the sales and marketing teams as siloed organizations; together, sales and marketing represented the Go to Market team.  
This drive to achieve excellence has stayed with me throughout my career, and it's something that I see mirrored by the executive team here at Secureframe. Every growing company I've joined has aimed to scale the company with 'A' talent. It's easy to have that goal but make compromises against it in order to get butts in seats. It was clear to me that Secureframe would be unique because the rest of the executive team shared my commitment to only bringing on top talent. 
One of the reasons I've always had top-performing sales teams was my focus on creating that climate of continuous improvement. Early in my management career, my direct managers noticed that the AEs I worked with were getting better at their jobs quicker than the rest of the sales org, and my retention rates were dramatically above any other team. 
My point of view was that I was hiring people with the same insatiable desire to improve, and then supporting and guiding their development. I believe people don't have any desire to leave a job where they are getting better and their improvements are leading to career growth.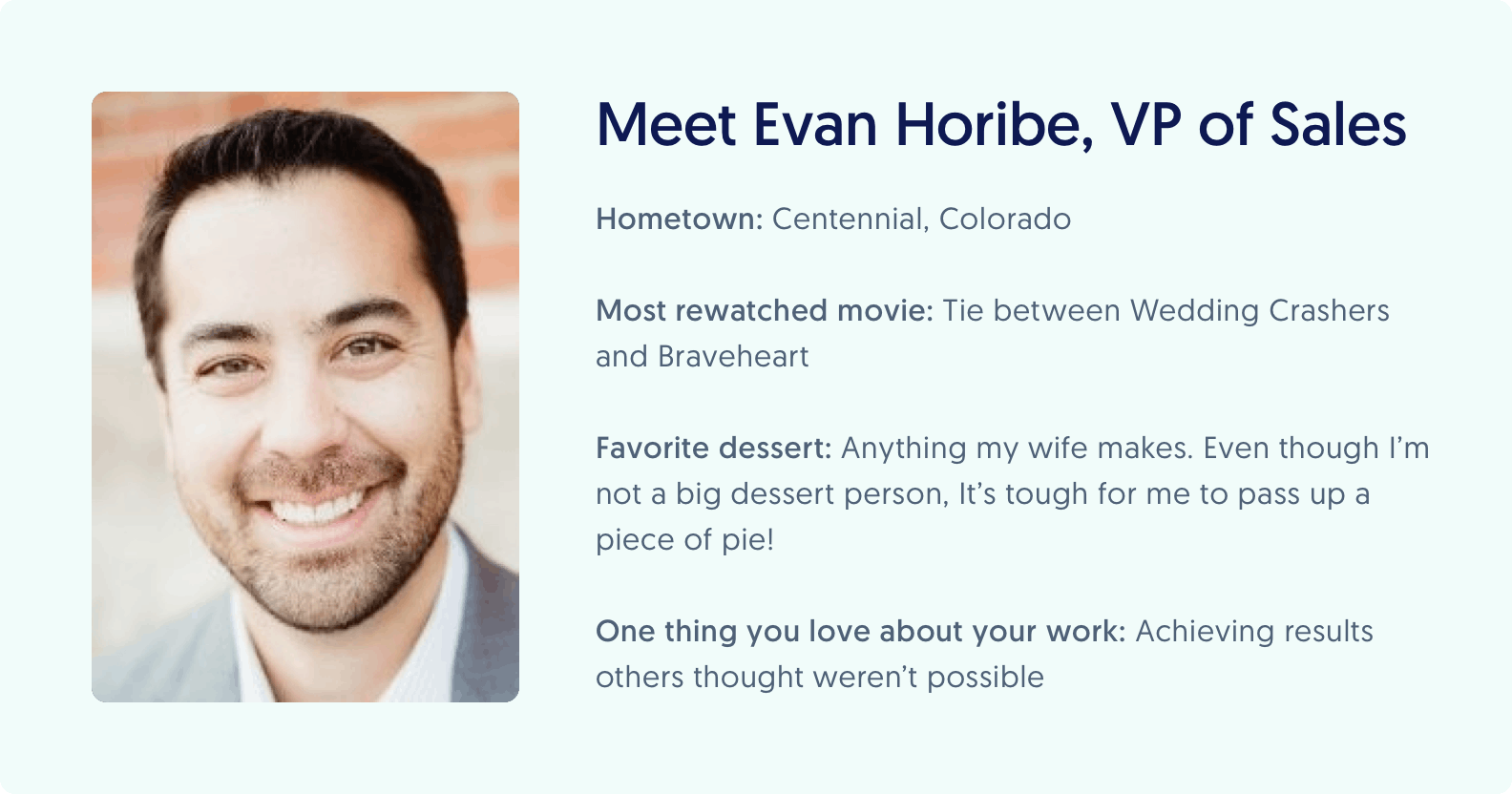 Customer obsession at every level 
I believe the right way to build a business is with shared goals and objectives. It's everyone's responsibility to ensure we're selling effectively, onboarding efficiently, driving innovative product development, and ultimately, have customers whose businesses are better because of their partnership with us.  
I've always considered it my responsibility to help build a business that aspires to 100% gross retention. In order to achieve that, our prospective clients need to have a great buying experience where they are set up for success as customers.  
An Account Executive's job is not to sell at all costs. Their job is to identify prospective companies that can benefit from what we have to offer and then collaborate with that prospect to understand if they should invest in what we're offering. Discovery is a cornerstone to making that philosophy make sense.  
Secureframe doesn't judge its worth from its own point of view but from its customers'. What's good for Secureframe should be what's good for our customers.
Established product/world fit and a chance to seize market dominance
Over the better part of two decades, I've seen firsthand that companies are only increasing their scrutiny and diligence about how vendors treat customer data. They aren't going to wake up one day and say, "Actually we don't care about your security and compliance practices… do whatever you want with our customer data." 
The problem is, for most companies, solving for these increasing levels of security and compliance is largely a human solution. I saw the problem first-hand while MongoDB was getting ISO 27001 and Brandfolder went through the SOC 2 Type 2 process. I saw the revenue impact of not having these certifications and standards.  
With Secureframe it's beyond product/market fit; it's world fit. This obstacle is something that's only going to get bigger. Years ago if you were an SMB or MM the world didn't expect you to have a SOC 2 Type 2 report, it was a bonus. Now, future clients expect any company to have the right levels of security and compliance — and be able to prove it.  
Every company I've been at has been acquired or gone public in successful exit events. The opportunity at Secureframe dwarfs any other company I've been with. 
Our goal isn't to win a space, but to define one.
A brilliant team and collaborative culture
I don't want to be part of a good company. I want to be part of the best SaaS company on the planet.
I'm energized and inspired by the people I work with and by building relationships with them on a human level, not just as colleagues. I thrive in an environment where I'm pushed to be better while being supported and guided. 
I want to be inspired by my teammates in other departments — to respect everyone's point of view and for everyone to hear me out on my ideas. The right idea should win, regardless of who it comes from. That's true collaboration, and it's why diversity in a company should be a part of the solution. 
I enjoy being around smart people and the best team out there. That's what we're building at Secureframe. 
Let's build a team that wins together
Someone once told me, "Everything that can be automated, will be automated." I believe that to be true.
But even though we're an automation company, the human element isn't lost at Secureframe. We're a group of people who care deeply about our customers and our colleagues and helping them all succeed. 
The perfect person for Secureframe is someone who seeks goals not just to satisfy them and then rest, but who is always setting new objectives and hitting new targets. Someone that wants to be surrounded by A talent — colleagues that work as hard and as effectively as they do. Someone that loves learning and is personally motivated by getting better. 
If that sounds like you, come join us! We've just raised our Series B, and as a remote-first company, we're hiring talented people across the US and Canada for positions in sales, marketing, customer success, product & engineering, and more.
Become a security expert
Get the latest articles on startup security and compliance best practices delivered straight to your inbox.
Get a Secureframe demo